"The convenience of an energy gel, with the substance and satisfaction of an energy bar" – that's the claim of the new STEALTH Juice Bar.
We'll be testing them out very soon. In the meantime, here are the details of this newly launched product.
---
Want to hear something juicy? STEALTH launches new Juice Bar.
An easy to eat Energy Bar with prolonged energy release

Available in two delicious fruit flavours, produced using real fruit juice

Vegan friendly and gluten free
Who's been there. Those hard training sessions when you can't quite catch your breath for long enough to eat an energy bar, but at the same time that gel in your back pocket doesn't quite 'hit the spot'?
The team at STEALTH Secret Training might just have the answer.
They have created an easy-to-eat energy bar, offering the prolonged energy release, refreshing fruit taste and satisfying texture of a bar combined with the convenience and ease of a gel. Along with the endorsement of pro cycling teams around the world, they have spent the last two years developing this product, ensuring no stone is left unturned, with prototypes used at National Tours, right through to the long climbs of Mount Teide and beyond.
Available in two delicious flavours; apple & blackcurrant and orange & pineapple, the bars are produced using real fruit juice, and are gluten free and vegan friendly.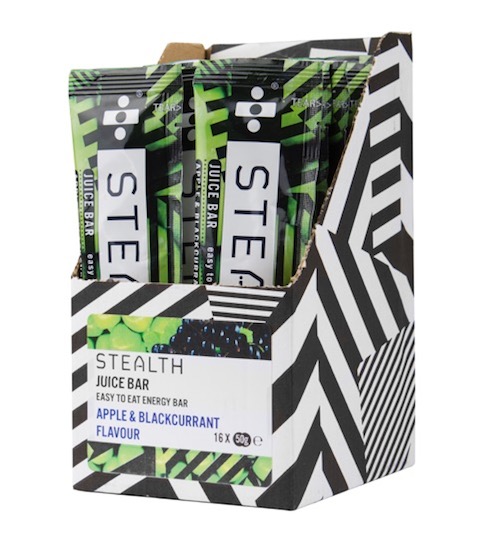 Tim Lawson, Founder of Secret Training, is delighted to be in a position to launch his STEALTH Juice Bar and says, "The idea behind the STEALTH Juice Bar is simple in concept but tricky to deliver. We wanted to produce a bar that has texture but at the same time is easy to eat, that has a refreshing taste but also the sustained energy and other nutritional benefits that you expect from a bar". Tim continues, "Over the years we have created many products which have become staples with consumers but I don't think I've ever had such exciting feedback from beta testers, and look forward to hearing what everyone thinks of it!"
And feedback has been just as positive in the pro-peloton. A representative from Team JLT Condor says, "I personally never do a decent training ride or race with a normal bar, I can never manage to chew through them and breathe at the same time, so for me this "Juice Bar" would open up an alternative to just using gels and drinks. I tried the bar during some moderate intensity road efforts and it's definitely easy to swallow whilst on the move".
Interested to see what all the fuss is about?
The STEALTH Juice Bar is now available to purchase via www.secret-training.com, as well as through a selected number of retailers.
You can also follow the team on Facebook, Twitter and Instagram to be amongst the very first to hear about all the latest news and promotions.