It's been a while since we spoke to the team at TORQ (www.torqfitness.co.uk). In fact, it was probably at the last Triathlon Show, and that surely was a couple of years ago. In that time there have been a few new products that we have been keen to try, and we had the opportunity to sample a few in recent weeks.
The team at TORQ provided us with the Explore Flapjacks, TORQ Hydration and one of their coffee blends to try out.
Explore flapjacks – £1.65
TORQ say: The new flapjacks have broadened the market for TORQ, now providing a homely, low fat, organic alternative to the traditional flapjack for the physically active person, whether they are a commuter, home worker, gravel rider or athlete.
Ideal when you're hungry during your working day or want a change from your bar or gel on your weekend ride, TORQ have added two tasty new flavours to their Explore flapjack range.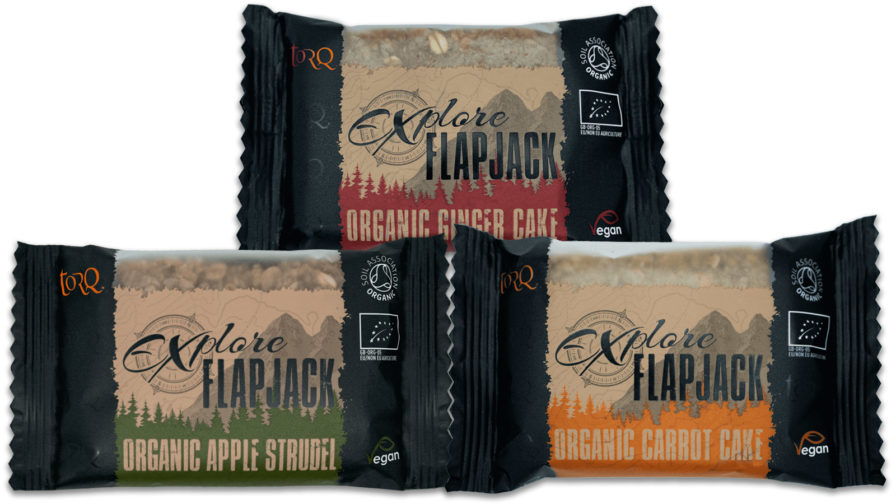 Launched last year, these organic, vegan and nut-free flapjacks have been met with great reviews, turning TORQ into an everyday brand thanks to their soft, syrupy and home-baked goodness.
TRI247 says: These can be a fuelling source for your ride but are less performance-oriented compared to their energy bars and gels. As a nutritious energy-giving snack at any time of the day, they are definitely worth a go. Handy pocket sized, dense and very tasty. Ideal for hiking or the office, we soon worked our way through the test samples.
Containing less than 2g of saturated fat, the new Banana Cake and Bakewell Slice flavours are in the shops now, or available via their website.
£1.65 per 65g bar, available in five organic flavours, Apple Strudel, Banana Cake, Ginger, Carrot and my favourite, Bakewell Slice.
Details here.
TORQ Hydration
TORQ say: You'll know that we do not believe the science, let alone the hype, around electrolyte tablets.
The Hydration formulation utilises the full complement of electrolytes with a small amount of multi-transportable carbs – 15g / 60 KCal per 500ml serving – to speed up hydration across the gut wall into the bloodstream. For athletes training indoors, this is an essential drink, thanks to its ability to hydrate you so quickly. It makes more financial sense than using an electrolyte tablet with a gel, which many do, and the use of carbs as a way to facilitate hydration shouldn't be of any concern to someone conscious of keeping their carb intake down.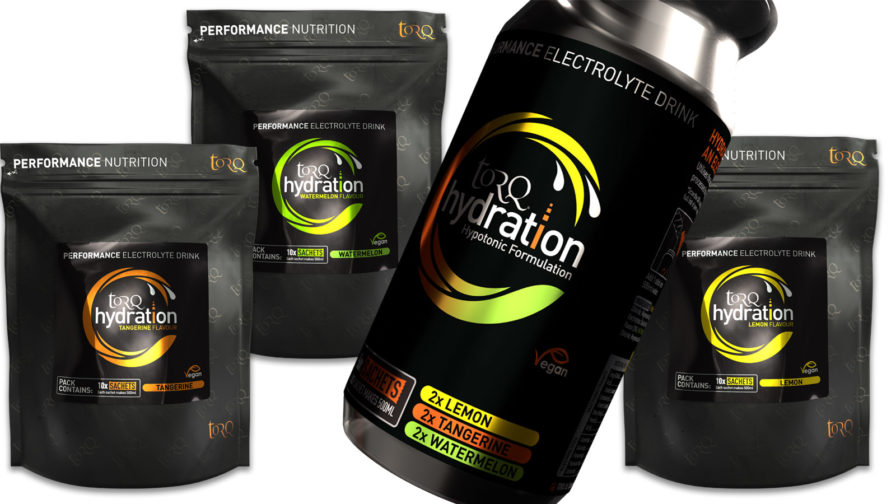 TORQ Hydration, their new Performance Electrolyte drink. If you're a regular Zwifter, or a fan of HIIT sessions at the gym, your hydration needs are frequently greater than your fuelling needs, and TORQ Hydration's hypotonic solution allows your body to rehydrate so much faster than solely using water or electrolyte tablets.
The key is the small amount of multi-transportable carbohydrate including in each sachet, alongside 5 electrolytes. The glucose and sodium components work together, driving additional fluid into the bloodstream ( 260 water molecules for every 1 glucose & 2 sodium molecules ), a process called "Facilitated Transport". In conjunction with the "Passive Transport" process of natural absorption, this combined, accelerated delivery mechanism is TORQ's performance hydration solution.
Please see the video below:
Find out more here.
With a choice of 3 mild flavours of Tangerine, Lemon or Watermelon, TORQ's Hydration is vegan too, and available in 10-sachet pouches for £9.99 (making 10 x 500ml bottles), or in an economical 540g pouch for £19.99, good for 30 x 500ml bottles. If you're not sure which flavour is for you, TORQ have a great Starter Pack option too – a stylish 500ml bottle with 2 sachets of each flavour, for only £7.99.
All three flavours mixed very quickly and thoroughly and were refreshing in use. Stand out flavour for me was the Tangerine.
TORQ Press – Three Peaks Blend Coffee – £7.50
TORQ say: The Three Peaks Blend is a carefully selected from a trio of Brazil, Honduras and Guatemala beans. This three bean collective provides notes of dark chocolate, fruit and nut with five spice, creating a medium-high bodied, low acidity blend making for a delicious early morning go to.
Beans: Brazil, Honduras & Guatemala
Body: 6/10
Acidity: 3/10
Bean Options: Whole Bean & Ground
Favoured Extraction: Espresso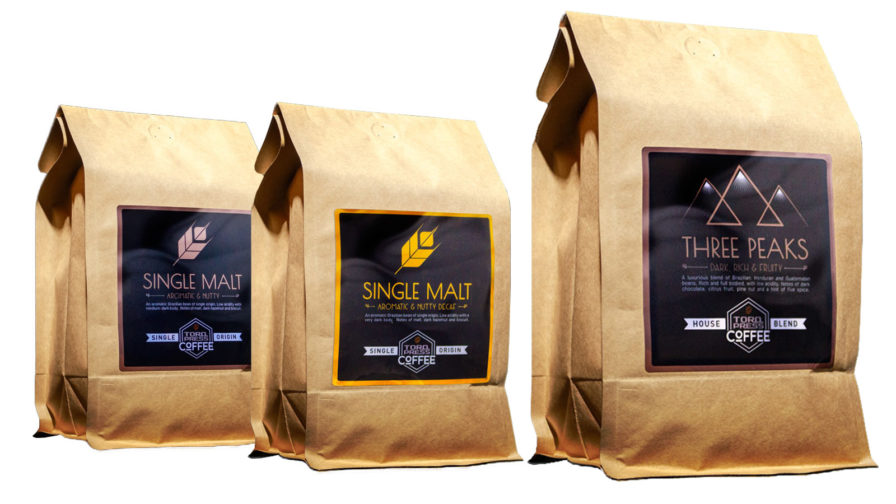 TRI247 say: Three Peaks Blend is available in whole beans, or alternatively ready ground for espresso, moka or cafetiere. In a very competitive market coffee is overtaking tea as the UK's hot beverage of choice. TORQ's offering is a fine brew, very pleasant and if you take your coffee without milk it's not bitter either.
In this sector of the market the artisan type blends command higher prices and at £7.99 for 250grams it's not overly expensive. The cost per serving is very reasonable.
Having mostly used the entire bag this week in the cafetière we can highly recommend the Three Peaks!
Please visit here to find out about their coffee range.