We have previously tried out Voom Nutrition (HERE), and today the Carnforth-based sports nutrition company launch their latest product: Belgian Chocolate & Vanilla flavour Rapid Recovery Protein Shake.
Here's what the team at Voom have to say…
"AstraGin®'s patented blend of Astragalus and Panax Notoginseng in Rapid Recovery enhances nutrient absorption by up to 40%; this includes amino acids, protein and essential fatty acids. It can also enhance your workout by increasing ATP production (for energy) in the liver and reduce inflammation in the gut wall."
"BCAA's (Branched-Chain Amino Acids) are the building blocks of proteins, which in turn are the building blocks of muscles. Rapid Recovery has a 2:1:1 blend of Leucine, Isoleucine and Valine, alongside our high-quality protein isolate, to promote faster muscle adaptations. This helps reduce the onset of DOMS (delayed onset muscle soreness) and ensures you're ready to go again for your next session. We're using a 90% protein isolate with an optimum amino acid profile, to provide maximum benefits to your muscles."
"Rapid Recovery ensures you get the most out of the hard work you put in. Long or intense exercise depletes your body's glycogen (energy) stores and damages muscle tissue. Rapid Recover has an optimised balance of carbohydrates and protein for energy replacement and muscle repair. This shake has been formulated to take advantage of the optimum post-exercise recovery window; 30-60 minutes immediately post exercise. It is designed to deliver an optimum balance of what your body needs, to help it replenish and grow, at exactly the right time."
We really liked the products that Voom sent over for test and the stand-out products last time were the Electro Energy bar with freeze dried lemon and lime and the Recover Fudge. Continuing their quest for authentic tasting products the new Belgian Chocolate & Vanilla shake does deliver on flavour; it's a tasty, chocolatey experience. Mixing was straight forward in milk with the powder dissolving pretty quickly without clumping. From a non-science perspective the shake tastes great! If you're looking for the numbers, please read on to see if Voom's new recovery shake is just what you need post training.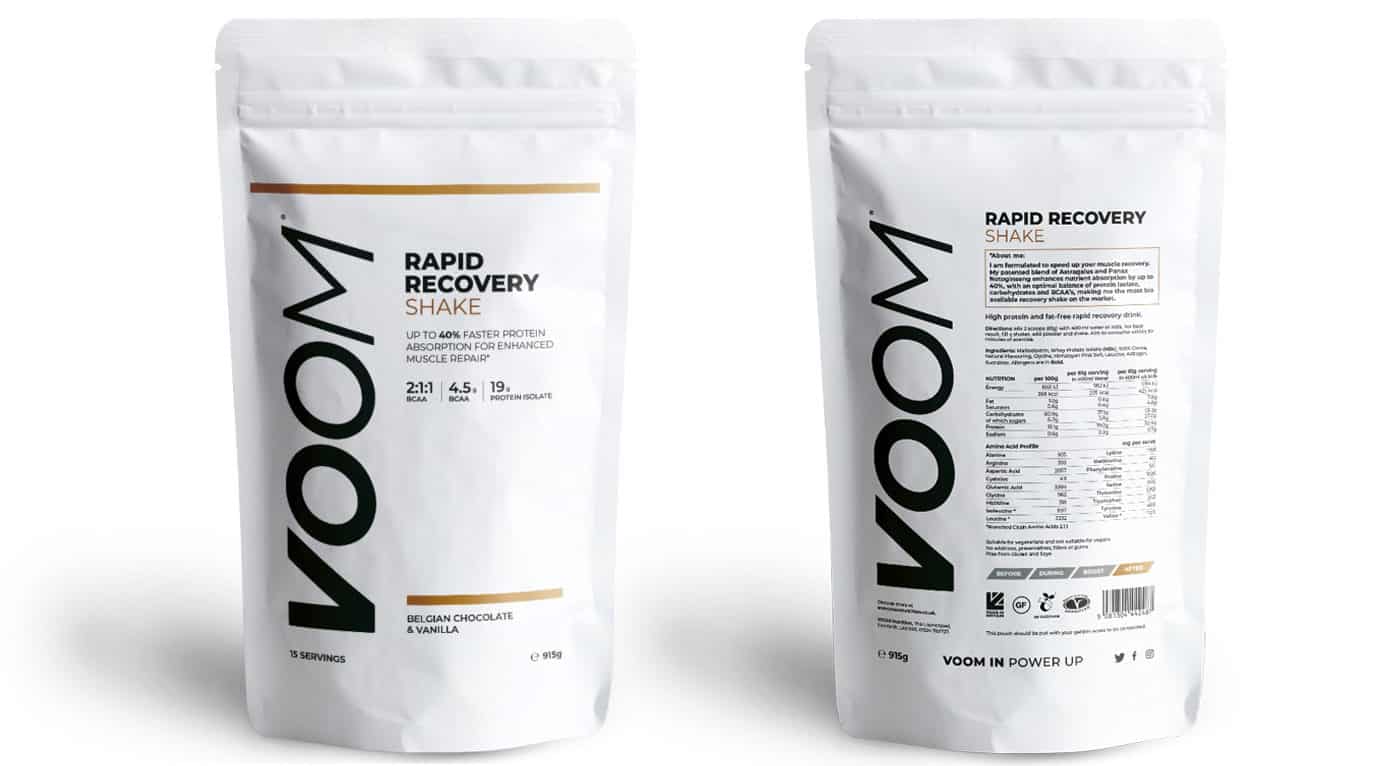 Key Features:
Repair, refuel and rehydrate after exercise
Unique formula speeds up nutrient absorption by up to 40%
Quality protein from whey isolate
Delicious Belgian Chocolate and Vanilla flavour
915g (15 servings) pouch
2:1:1 BCAA (Branched-Chain Amino Acids)
4.5g BCAA
19g Protein Isolate
£29.50
You can find out more about the entire Voom range at their website HERE.