OSB Events is proud to announce EVO2MAX as bike partner to the Outlaw Triathlon events. The British brand will offer custom Outlaw versions of their carbon road and time trial bikes at outstanding prices.
The EVO2MAX Outlaw bikes come with a specification that is ideal for the Outlaw courses in terms of gearing, wheel type and having two bottle cages as standard. With the number of feed stations on the course, no one should need to carry more than two bottles, and the gearing and wheel selection reflects a relatively flat course, which can be prone to wind.
OSB Events director, Iain Hamilton, said: "We have had a big input into the build specification of the bikes to make them perfect for the Outlaw courses. The design includes the Outlaw logo and is really eye-catching as well as being unbelievable value for money."
The price for a full carbon road bike, high quality carbon wheels, Ultegra 11spd groupset is £2,398. A full carbon aerodynamic time trial bike with carbon wheels and Ultegra 11spd groupset is priced at £3,598.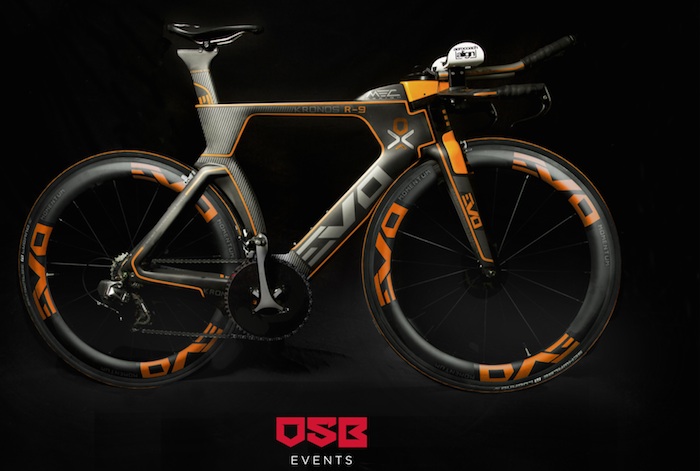 EVO2MAX was co-founded by Andy Jackson, a top-ranking UK elite amateur time trial cyclist and former age group Kona Ironman World Championship competitor, working closely with business partner and designer Stephen Griffiths to enable his vision come to life.
The bikes are crafted from the latest unidirectional high quality Modulus-Toray T800 Carbon, to deliver a stiff but lightweight fuselage. The aero dynamic design with fully integrated and hidden front and rear brakes, totally hidden cabling coupled with huge adjustability in all directions, ensures the perfect fit for almost any triathlete or cyclist.
The Kronos R-9 time trial and Nebula R-9 road bikes are available with eye-catching Outlaw paint jobs and build at special fixed prices. EVO2MAX will be exhibiting at the Outlaw Half expo on 20/21 May, where it will be possible to place orders, as well as Outlaw Half Holkham (1-2 July) and Outlaw (21-23 July).
Andy from EVO2MAX commented: "We've been working with OSB Events on the design and build of the Outlaw bike for some time, and are really pleased to be able to launch it now. The Outlaw has a reputation for high quality and an athlete focused approach, and that's exactly what we hope to contribute even more to."
Visit http://www.evo2max.com to find out more now!