A Croatian experience in Dubrovnik
The inaugural Dubrovnik Triathlon (which we previewed earlier in the year), took place last the weekend, but does it merit you making the trip next year? Journalist Tim Heming provides a snapshot of the event.
(All images, credit DT Croatia)
Where is it?
Dubrovnik. The Croatian port city that has become a magnet for tourists thanks to its historic Old Town – a UNESCO world heritage site – inviting seas and temperate climate. It's now looking to become a destination for activity breaks too.
When is it?
The inaugural edition took place on October 13, 2018. Dates have yet to be set for 2019, but triathletes should register their interest at https://earthseafire.eu/contact/
What is it?
A standard and sprint distance triathlon (plus relay options), with a sea swim in Gruz Harbour, a closed-roads bike course and a harbourside run. Entrants are also afforded a lie-in. The race needs to fit with the schedule for cruise-liners docking in port, so it's a 2pm start and a one-hour window to complete the swim.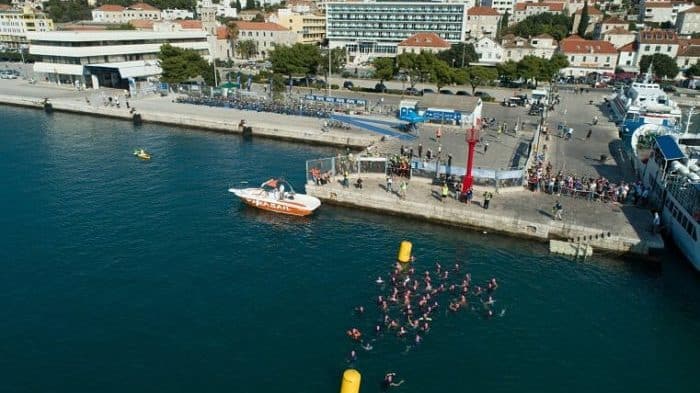 Who organised it?
Local enthusiasts, who form the mainstay of the 20-strong Dubrovnik Triathlon club, with expertise flown in from John Lunt and Co. Lunt was the course manager of the London 2012 Olympic triathlon and former owner of Human Race.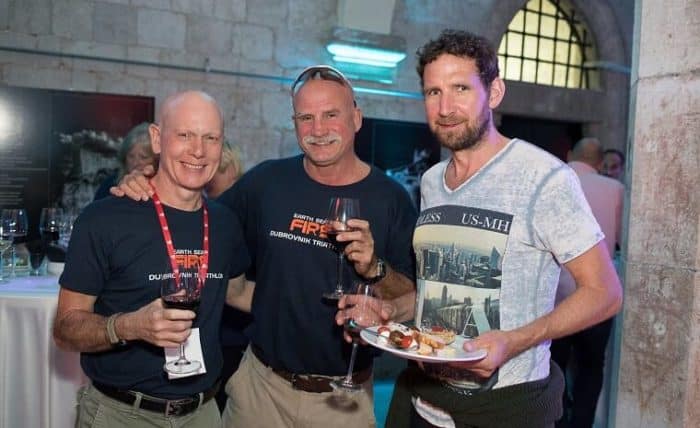 Who is it aimed at?
Anyone who wants to come and explore this historic part of Croatia and take the triathlon as seriously as they wish. The sprint distance, in particular, is tailored for beginners – the sea swim is wetsuit optional and in a sheltered harbour, and both the bike and run courses are pan-flat and on closed roads.
How much does it cost?
The 2017 entry fee was £65 (Standard) / £50 (Sprint), but included is a familiarisation swim on Friday morning (with free coffee and giant doughnuts), a pre-race reception buffet in the evening, a post-race awards bash, and a two-hour cruise in a replica 16th-century Karaka from Gruz Harbour the following morning that's well worth rising for.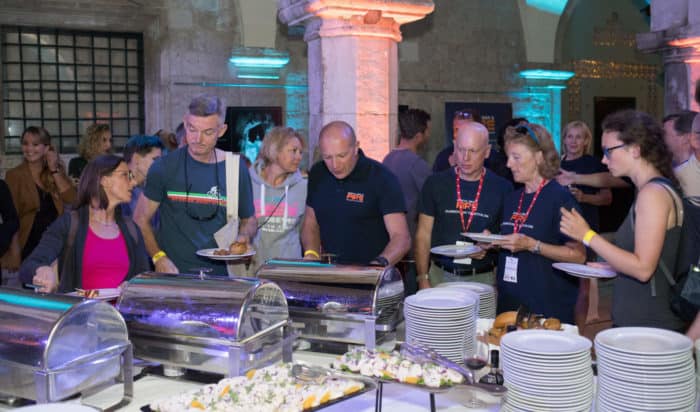 Is it worth it?
You pays your money, you takes your choice – and chances – with first-time events. Dubrovnik loves its football and water polo, but, although they are dabbling in endurance events such as a half-marathon [https://www.du-motion.com/en/half_marathon/], triathlon is a novel concept for most locals. As is clear from the driving habits, there's not a cycling culture within the city limits, meaning the closed roads are more than a nice-to-have. There are a myriad of potential hazards when you try and put on a race in a busy harbour environment, but what's delivered is a marked success. There's a friendly race experience, but also competition for those who want it, and the course is flat and fast (four laps on the bike, six on the run for the standard distance) and, thankfully (and unusually for many races), also slightly long.
Who won?
With 135 registered and 15 nationalities, evenly split between the standard and sprint options, plus a handful of relay entrants, it had a cosmopolitan event.
The standard distance men's race was comfortably taken out by Jaksa Diklic of the local Dubrovnik Triathlon club, with Slovenia's Leni Fafangel claiming womens victory, where there was also a British podium performance from Hannah Grant.
Standard
Men's
1. Jaksa Diklic, Croatia, 2:10:23
2. Luka Cupic, Croatia, 2:14:41
3. Loic Donnart, France, 2:24:29
Women's
1. Leni Fafangel, Slovenia, 2:30:34
2. Jelena Tomasevic, Montenegro, 2:35:34
3. Hannah Grant, Great Britain, 2:42:15
Sprint
Men's
1. Dragan Jovanovic, Montenegro, 1:06:03
2. Joerg Fink, Austria, 1:11:16
3. Ben Ospalak, UK, 1:12:21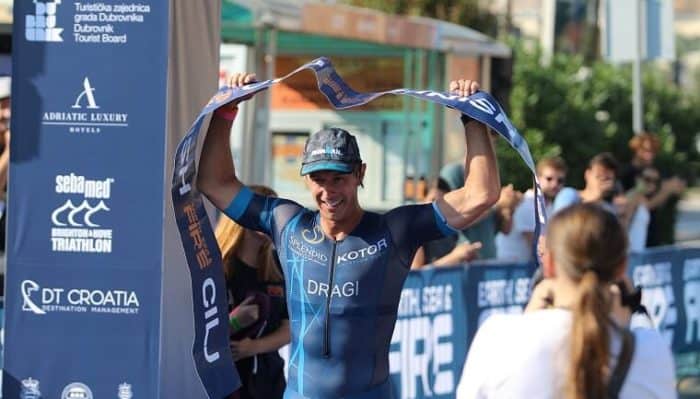 Women's
1. Fischer Apollonia, Austria, 1:18:17
2. Lucy Anderson, UK, 1:29:36
3. Zorana Medaric, Slovenia, 1:33:08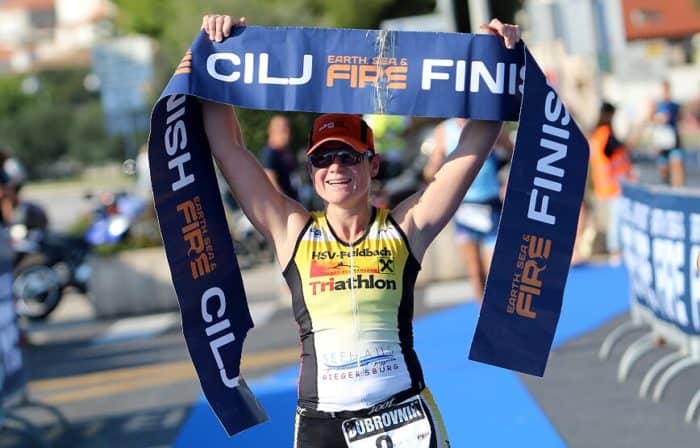 Where should you stay?
As a seaside resort, Dubrovnik is set up for visitors and offers a range of accommodation from the Adriatic Luxury Hotels such as Hotel Palace Dubrovnik to snug AirBnB apartments close to the Old Town. Staying close to the race HQ at Gruz Harbour, about two miles from the Old Town, might be preferable as the cultural sites can become hectic with day-tripping tourists from the cruise ships. Flying there is straightforward with regular EasyJet services from UK airports.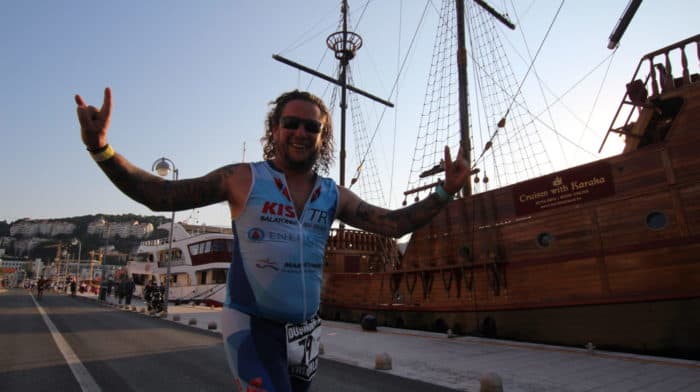 What else is there to do?
As well as the extracurricular activities included in the triathlon package, which are well worth becoming involved with, Dubrovnik's Old Town is so popular UNESCO asked the city to cap visitors at 8,000 a day. So a must-visit, but pick a quiet time. Other than that, take to the water, either by boat or swimming. Unless you escape the city, running outdoors is best kept to the coast paths, and biking within town is also slightly perilous. Putting your feet up in the sun is always a solid option.
When's the next one?
The 2019 dates have yet to be announced. But you can let the organisers know of your interest at https://earthseafire.eu/contact/