Following the announcement of the UK Government's roadmap, British Triathlon are pleased to announce the reopening of entries for GO TRI, sprint and standard distance races at AJ Bell 2021 World Triathlon Leeds along with donation opportunities to Leeds Hospital Charity, the event's official charity partner.
Whether it's used as a qualifier for the Great Britain Age-Group Team, getting back to swim, bike, run in 2021 or simply taking on a post-lockdown challenge, AJ Bell 2021 World Triathlon Leeds on 5-6 June is now open for new entries to Britain's flagship triathlon event.
Entries for the entry-level GO TRI race, sprint distance and standard distance racing, including the Yorkshire Championships and British Standard Distance Championships are now open, with TriStar, youth and aquathlon entries opening in early April.
Through the partnership with Leeds Hospital Charity, the new name for Leeds Cares, participants will have the opportunity to donate to the charity and support NHS staff deliver the best care for over a million patients and their families each year and help fund items and services over and above what the NHS can.
This year's racing will see athletes start and finish in Roundhay Park, allowing the organisers to operate an enclosed, Covid-Secure venue that will see participants from all races, from GO TRI to elite, cross the same finish line throughout the weekend.
One of Europe's largest city parks, the historic Roundhay Park has been the home to GO TRI and TriStar racing, as well as the start for the age group and elite races, in the four previous editions of the event.
GO TRI, TriStar, youth, aquathlon and sprint racing will take place on Saturday ahead of the first World Triathlon Para Series racing to take place in the UK that afternoon, with the age group standard distance open race and British Standard Distance Championships on Sunday before the World Triathlon Championship Series racing rounds off the weekend.
The final schedule is yet to be confirmed, however the routes for all races will be announced soon. For more information and to enter the event, please visit: https://leeds.triathlon.org/2021.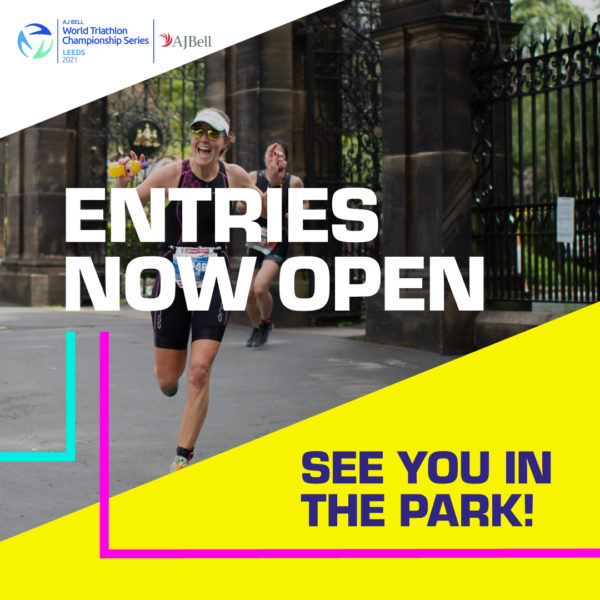 Andy Salmon, British Triathlon CEO, said: "I'm delighted that we're reopening entries to AJ Bell 2021 World Triathlon Leeds because it demonstrates the confidence that we as the national governing body have in the sport's return as part of The Big Reboot campaign.
"The past year has been a challenge for all of us and I know our community has found the lack of events and training tough, which is why it's so great that we're able to provide this opportunity again in Leeds.
"We want to offer great experiences through swim, bike, run to anyone and everyone, whether they're already in our community or not, and I'm so pleased that we can offer anyone who fancies a new challenge or who wants to put their lockdown miles to good use the chance to do that with us in Leeds this June."
Wayne Coyle, Event Director AJ Bell 2021 World Triathlon Leeds, said: "Having had to postpone last year I'm incredibly excited that we're able to reopen entries for 2021. We've been working hard throughout the winter to ensure that we can operate in a Covid-Secure manner and that we're able to offer the same great event experience.
"I want to say a huge thank you to the team involved, including our partners at AJ Bell, World Triathlon, UK Sport and Leeds City Council for their ongoing support of the event.
"Starting and finishing the racing within Roundhay Park provides us with new opportunities, but also mean that participants can enjoy more of the park, it's scenery and iconic landmarks before all crossing the same finish line."