The Zwift experience with Joe Skipper #2 – Wednesday 10th January
Last week we trained with the current ITU Long Distance Triathlon World Champion, Lionel Sanders. This week our virtual coach was the reigning ETU Long Distance Triathlon European Champion, Joe Skipper. Neither are known to be shrinking violets on the bike… and my legs are still feeling it today! Over 100 riders joined us on the virtual roads of London.
Getting ready for the @tri247 @GoZwift session starting at 7. The @wattbike is getting fired up for it! 👌 pic.twitter.com/qI9tbuvYZp

— Joe Skipper (@Noaveragejoe88) January 10, 2018
This week's session was a threshold development session called the 'Burner'. We did a similar session to this last month with Joe (HERE), but as we reported afterwards, that didn't go completely to plan due to a technical issue with the loading of the workout file on Zwift (we were all still learning in Week 2 of the TRI247 Winter Series!).
We promised we would do it again 'properly'… and this time we got five three-minute intervals at 115% of FTP in the middle, rather than four, as a bonus. Ouch.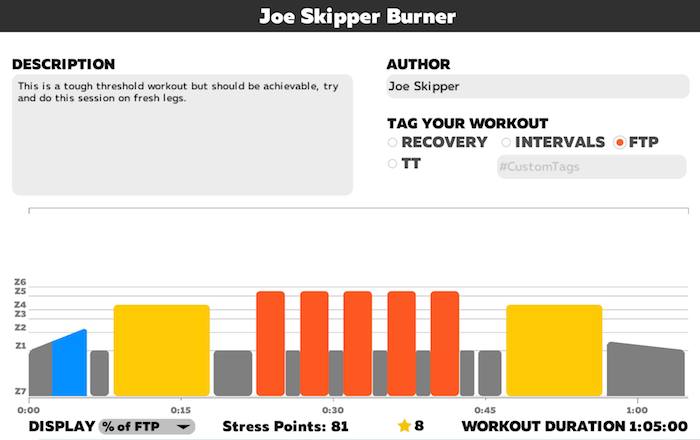 The more I use the indoor trainer and Zwift (and right now, that is almost every day), the more I learn. For almost all of the structured workouts I've done one Zwift – whether individually or in Group Workout form like the TRI247 Winter Series events Wednesday evenings – I've been running my trainer (a Wahoo KICKR), in 'ERG' mode. (More on that HERE if that's new to you). It has been an absolute revelation to me, it's brilliant, I can't sing its praises highly enough in the context of power-based structured training. It's easily one of the most impressive features of a modern Smart trainer.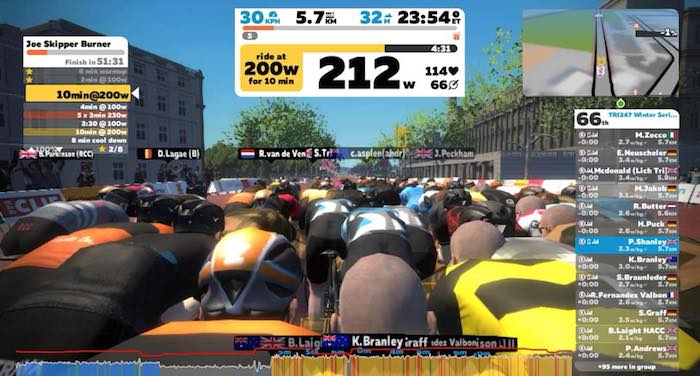 Last night I left it a little late in joining the Group Workout on Zwift (for a good reason… I was already doing a warm-up ride!), and somewhat rushing my connections just prior to the 7pm start, I didn't properly check that I was connected in ERG mode. No problem… other than having to more actively think and control the power to hit the prescribed levels, rather than (in ERG mode), delegate all the 'thinking' to the trainer and just focus on the pedalling!
It's certainly a different experience and likely a good one, as we can't yet (though I'm sure it is coming, I even tried out a prototype in Kona…), ride in ERG mode when out on the road. I definitely found it mentally tougher and, combined with a very challenging session, I was really pushed to my current (low) limits.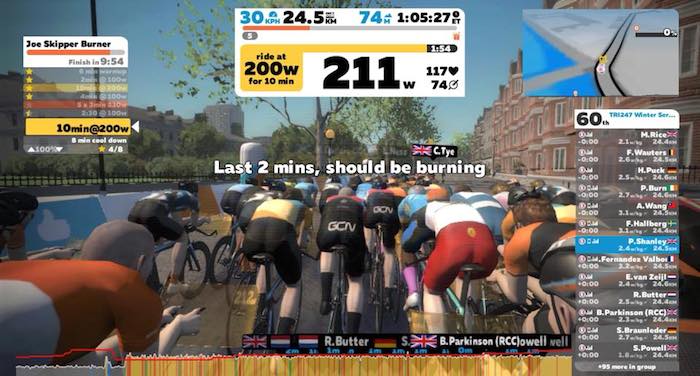 While some found the 5*3min intervals (at 115% of FTP) the toughest element, for me, just over half way through the final 10 minute block at FTP, I really thought I was going to have to stop. A burner indeed. Once again though, the group training dynamic really does help get you through it. The sight of your on screen Avatar drifting off the back of the group swiftly kicks your ego into action.
Was it a tough session? Well, my 66 minutes of effort registered a Training Stress Score (TSS) of 94. No wonder my legs are still feeling it today. This evening's effort will be a lot easier!
My dinner last night was consumed in double-quick time, while as you can see below, Joe had timed his post-workout for delivery to perfection…
https://www.instagram.com/p/BdyIBFchSsc/?hl=en&taken-by=notanotheraveragejoe
Thanks again to Joe for leading the session and to all of the riders from around the world that joined us. We'll hopefully see you again next week.
If you missed the session you can download the custom workout HERE.
Previous group workout Zwift files from the TRI247 Winter Series are available on these links, along with instructions on how to load them:
The next session?
The next TRI247 Winter Series session on Zwift will be held on Wednesday 17th January 2018 at 7.00pm UK time with the ride leader to be announced shortly. If you are not on Zwift yet, then see the details below on how to RIDE ON!
https://www.youtube.com/watch?v=XNTXAkky4qE