Kickstart your Triathlon New Year:
The most effective training to improve your bike leg…
How should you make the best of the next few months to improve your cycling ahead of the 2020 season? Lots of sun, quiet roads and plenty of time to train would be very welcome… but alas, for the vast majority that's not realistic.
Here, coach Rob Wilby from Team Oxygenaddict (team.oxygenaddict.com) outlines an alternative approach which will still allow the more time-crunched age-group athlete to make significant fitness improvements before the racing season arrives.
(You'll also be able to find out more on this topic with a FREE Webinar later this month. Full details on that and how to sign-up are provided below.)
---
The 'traditional' approach to winter bike training is that of building your base fitness through riding lots of long, slow miles.
If you have the time (and weather) to do that, it's still a valid training method. However, almost all age-group triathletes have busy work schedules and family or social lives to balance with their training, and finding lots of hours is often just not an option.
The shorter, colder days also make the logistics of training much harder, and makes riding in daylight a real challenge through the work week for most. So, how to make the most of your limited training time?
The winter focus that reaps the biggest rewards come race season is increasing your Functional Threshold Power (FTP) on the bike. In simple terms, you can think of FTP as representing the maximum intensity you could ride at for a one hour race or time trial.
You can get full detail on how to calculate FTP and FTP-Hr here >>> https://www.oxygenaddict.com/FTP-test-guidance/
By increasing your FTP over winter, when you transition to more riding outdoors in the spring, you'll be able to ride faster for the same effort.
This will translate into a significant increase in speed, for the same effort, over any race distance. This means that you might well end the winter riding your 'steady effort' outdoor ride at an average speed of two or even three kph faster than you're used to.
Be warned – this might mean that you have to look for new training partners!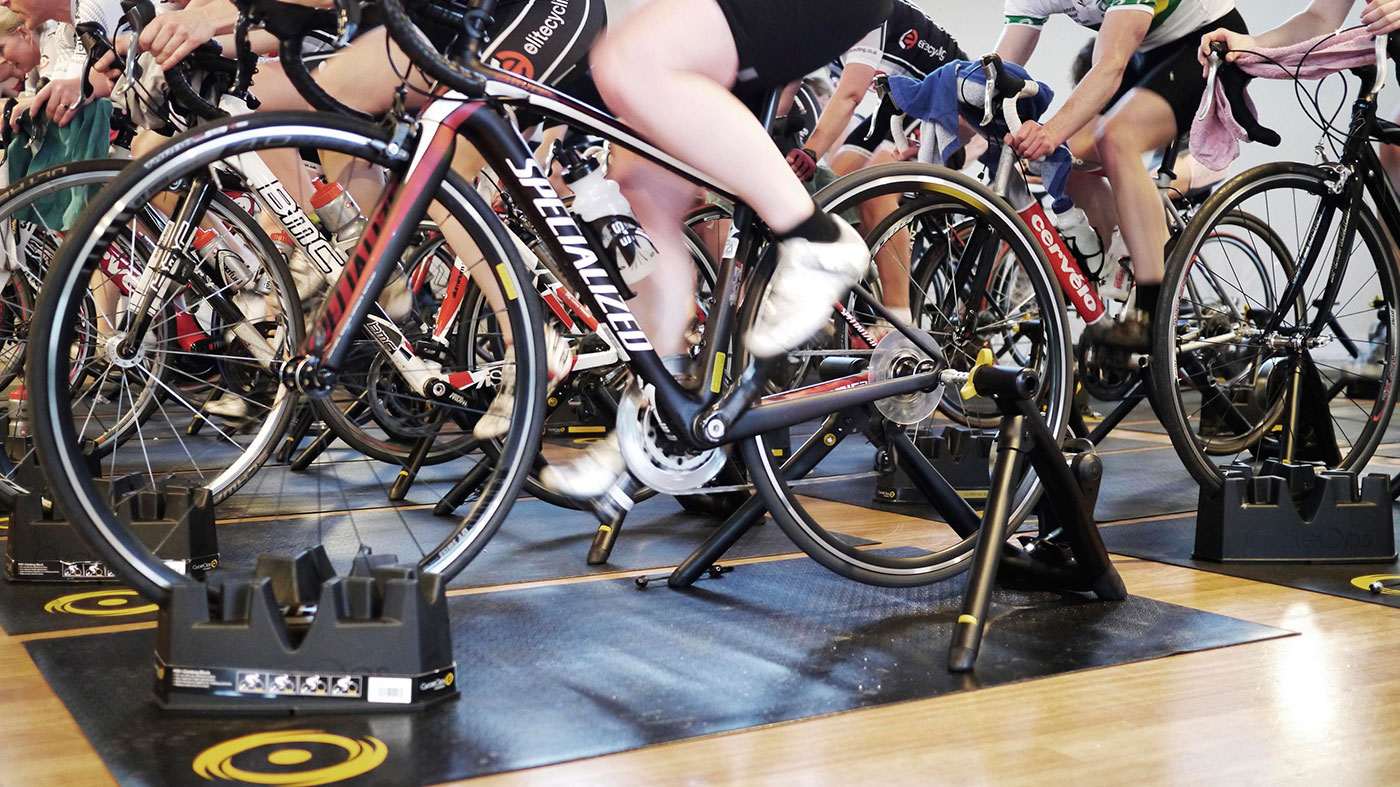 The good news is that it's relatively simple to increase your FTP – focused intervals on the turbo trainer at the correct intensity are proven to do that. Simple doesn't mean 'easy' though! You have to be prepared to spend your winter doing some hard work. But, as long as you're prepared to work hard and commit to some focussed indoor interval sessions on the bike, you'll reap the rewards and can start seeing a noticeable difference in as little as four weeks.
Our simple but VERY effective training plan for improving your bike power involves completing two of these hour-long interval sessions a week (example below), combined with a longer steady-effort ride at the weekend.
Typical results show our coached athletes getting an increase in FTP of around 8% over an 8 week block, so it's possible to end the winter in SIGNIFICANTLY better bike shape than you started it!
Example FTP interval session:
Warm up fully, for around 10-15 minutes
Complete a main set of six, five-minute intervals

, at 100% of your functional threshold power (FTP) or heart rate (FT-Hr), with a minute recovery after each interval.

Cool down for 10 minutes
Summary:
An eight-week focus on your bike training, with the right structure, will give you a significant fitness improvement from a relatively small time investment. You'll be noticeably stronger and faster on the bike, and the fitness gains will also have a noticeable crossover effect to your run fitness.
Kickstart your New Year by making better use of your valuable training time, and be in better shape than ever when spring comes around!
FREE 60-minute Webinar: Monday, January 27th at 8pm (UK time)
"BIKE POWER: The Key to Triathlon Success"
To build further upon the advice above, Rob will be hosting a free, 60-minute webinar later this month. This is specifically dedicated to educating you to make the most of your limited training time on the bike while still making big gains with perhaps less training than you thought was required.
The webinar is suitable for all, and will all include a live Q&A. You can reserve your free place HERE.

---
Special Offer for TRI247 readers
We've joined forces with Team Oxygenaddict to offer our readers a very special offer – a 30-day coaching package for just £1!
You'll get a structured training plan, appropriate to your fitness level and training history, and your goal event. You'll get coaching advice from head coach Rob Wilby and his coaching team within a private facebook group, a monthly group video coaching call, and a personal 1-1 on-boarding video call to talk you through your training plan and goals. Plus, you'll also get access to Team Oxygenaddict's members-only resource library: podcasts, videos, swim drill videos, and strength and conditioning plans.