Well, this is  a strange start to the triathlon season. Seemingly endless, glorious days to get your training off to a positive flyer! Except… we couldn't, because we had to stay at home. We have been speaking with lots of people in the multisport world to find out what they have been doing to get ready for the new normal training.
During these uncertain times, plenty of people have been learning how to train for triathlon during lockdown, or how to train for triathlon from home. Building, or simply maintaining fitness during the Covid-19 pandemic can be about keeping generally fit and healthy, maintaining mental wellbeing and for the more competitive individuals, being prepared for racing after coronavirus subsides.
Here's what the athletes from Team Voom (www.voomnutrition.co.uk/pages/team-voom) have been up to.
Team Voom have some passionate and knowledgeable ambassadors, particularly triathletes, who have kindly agreed to share their top tips with you on how to adapt sessions and keep training through the corona epidemic.
With Commonwealth athletes, medallists in ITU World, ETU European and British Age-Group competition, their ambassadors have a wealth of experience. We hope you find their strategies interesting and useful as you try to keep fit during this pandemic.
Introducing Team Voom's Triathletes:

Introducing Team Voom's Triathletes

Beau Smith

Beau has represented the GB elite team at u23 level and the age group team, notably winning the 2017 ITU world standard distance champs in Rotterdam.

Rachael Vatter

Whilst studying mechanical engineering at Loughborough University Rachael has represented the GB age group team, winning the Aquathlon Worlds in 2018 and placing 3rd in the 2020 Euro Duathlon.

Liam Lloyd

Liam has represented Wales in the Commonwealth Games and the GB elite team in various European and World Cup events. In 2019 he finished 4th at the elite world Duathlon Champs.

Samantha Sugden

Samantha has represented the GB age group team on several occasions and last year finished a frustrating 4th in both the sprint and standard distance English age group champs.

Sarah Atwood
Sarah is a runner turned triathlete who has represented GB age group team. Her international racing highlight is arguably her top 10 finish in the 2018 European Champs.
Follow Pro athletes and fitness vloggers for inspiration
Rachael – Yoga with Adrienne is a brilliant YouTube channel with a variety of yoga sessions which is helping keep me grounded too. I also really enjoy the GCN turbo videos which can motivate you whilst doing indoor bike sessions.
Liam – I'm enjoying keeping up with all the athletes I already follow, both pros and local athletes. It's brilliant to see the different ways athletes are adapting to keep going and stay motivated.
Samantha – Liam Lloyd – Seriously! I like his videos and they actually inspire me to do something. It's a bit cliché I know but I've also done a few of the Joe Wick's P.E. sessions with my daughters.
Beau – I've been enjoying following former ITU World Champ Non Stanford who has been blogging in a nice, down-to-earth style about her experiences suffering a 14-day quarantine (with her Aussie pro triathlete fiancée Aaron Royle), confined to a 23rd floor hotel room in Sydney! She's also put a couple of entertaining stories on her Instagram. For swim specific exercises Richard Varga, the Slovakian fish, has posted some great stuff on Instagram too.
Make the most of your daily outdoor exercise allocation
Rachael – I'm sticking to biking inside on my turbo or the Wattbike and using my allotted time outside to run. This means I'm able to do brick sessions whilst sticking to the rules and avoids the accident risks of cycling which would further strain the emergency services. I'm cautious of overloading myself given additional free time so am sticking to my regular schedule of running 3-4 times a week.
Liam – I tend to do my running outdoors, and on any day I don't run I get out for a ride. I'm lucky to have a Wattbike at home and enjoy putting music on and getting a session done from the comforts of my home. On my long rides I like to include a café stop to the kitchen! I certainly need more fluids whilst sweating it out on the Wattbike so for a 2+ plus session I go through 2-3 litres of fluid with at least a litre of Smart Hydrate. I also start a ride with a Protein Recover Fudge to preload the muscles with energy then from an hour in I use the Pocket Rockets.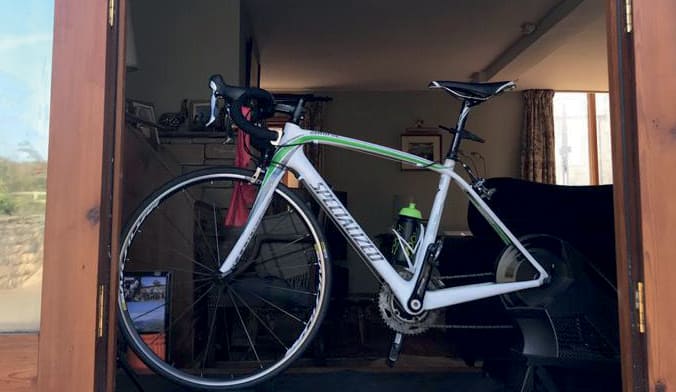 Samantha – At the moment it's more about 'exercise' than 'training' for me so I'm using allotted time outdoors to do a short cycle with my two daughters to keep them active. Thankfully the weather has been mostly nice and they enjoy it once I've got them out the house.
Beau – I plan my week in advance which helps give me a routine but also decide which discipline I should opt to do outside on any given day. If I want to run then that's normally outside, although I do have access to a treadmill which I can use to run on a day when I want to cycle outside.
Adapt sessions or training plans
Liam – If you are struggling to get out for a long ride you can do part out on the roads before finishing off on the indoor trainer. Alternatively, add in some high gearing work to keep that strength endurance in the legs.
Beau – Deciding the specific aim of a training session can really help you adapt it so if I want to do some faster running and I would normally do distance based intervals on the running track, I try to create a time-based session which I can run on the lanes near my house. If you now find yourself doing solo sessions which once would have been done with friends, training partners or club-mates is it possible to still virtually do it together through Skype, Zoom or another platform?
Sarah – With no upcoming races in sight I've been training mainly for health and happiness, with the aim of keeping baseline fitness so I can ramp up and sharpen up when racing is an option again. Training at the right intensity does improve the immune system, however too much or too intense and you can have the opposite effect. I've tried to scale it back a little to try and reduce that risk whilst doing enough for the mental and physical benefits I enjoy.
Essential equipment and training aids for home workouts
Rachael – I've invested in a pull-up bar so hopefully I can strengthen my shoulders. I also have a weighted vest which can add more resistance to a number of different exercises, and a resistance band to aid with glute and hamstring workouts. A resistance band with swim paddles attached can also simulate swimming.
Liam – I have a Wattbike for indoor cycling and would like to get a treadmill although its nice to get outside for my runs at the moment. I have started using Zwift whilst on the Wattbike which is motivating and with the number of athletes on there its great for meet ups. The races on there are one of the biggest benefits, allowing a competitive side to get that race intensity simulation – it's easy to get carried away though so make sure to balance your training plan.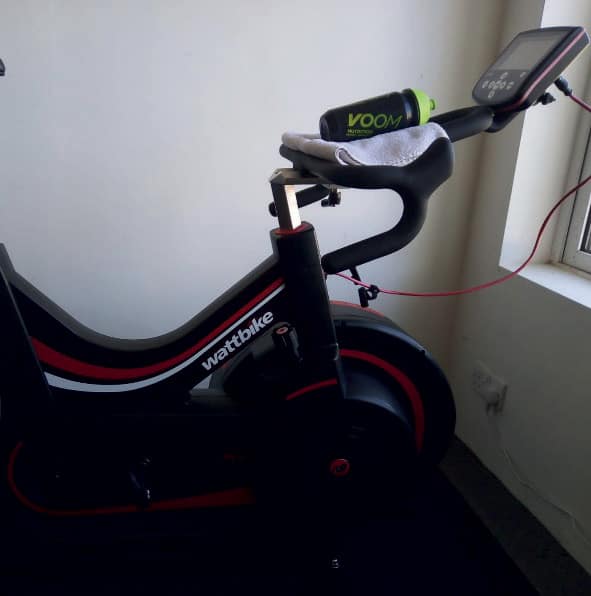 Samantha – When did you last use a hula hoop!? I'm certainly feeling my abs after hula hooping with the kids in the garden.
Beau – Most recently I've resorted to using a 24 pack of tinned dog food as an almost 10kg weight! Other than that my resistance bands have been used a bit more for prehab exercises previously prescribed by a physio and I'm able to do some great structured sessions on the Wattbike.
Sarah – I've purchased a kettle bell, some resistance bands and swim cords as I was worried about losing all my swim fitness and regressing to where I started a few years ago. I also looked at buying a large paddling pool but with the midges up here in Scotland I did question how much use it would get!
Focus on strength & conditioning or 'prehab' exercises
Rachael – I've started doing yoga to help keep me grounded as well as to build core strength. I'm also focussing on certain muscle groups during home strength exercises and circuits. Shoulder and arm strength to keep up my swim fitness as well as glute and core strength are key areas.
Beau – The extra time at home has allowed me to include more rehab work on a shoulder niggle and some general prehab on glutes, core and hamstrings. I've been working with a physio via Zoom to do appropriate exercises, mostly body weight but sometimes using whatever I have to hand as small weights. I'd really recommend working online in this way with a physio or S&C coach as they can be really creative and innovative with exercises you can do at home.
Liam – As I make the move to longer distance triathlon this year I have started to increase my training volume. With more time at home now, I have been able to commit further to rehab and strength training which I'm definitely finding helps me feel stronger in training.
Sarah – I plan to do more strength exercises; I've invested in a book on triathlon-specific strength exercises and a friend has sent me a core strength programme to do. That said, I am still getting out to do my biking and running whilst we still have that opportunity.
How's training been affected?
Rachael – I usually training 14-18 hrs a week with around 12 of those being with club-mates or a training partner. I find group training hugely beneficial as time passes more quickly on longer rides and I'm more motivated to go training knowing my team mates will be there. Now we can't train as a group it can be more difficult to get motivated to train, and a large amount of my training was also done in the pool or gym which isn't an option now.
Liam – I haven't let it affect my training too much and tried to maintain my usual routine as much as possible. My peak races were later in the year so the training plan has also stayed the same. The only difference being I'm no longer swimming so have replaced that with a bit more strength and conditioning (S&C). I remain as motivated as ever – I am naturally enthused about training and I enjoy it, racing is a bonus for me!
Samantha – Having undergone a splenectomy in 2018 my compromised immune system puts me on the vulnerable person list so I can no longer do my job as a nurse in the high-risk hospital environment. I was looking forward to a full and active year in triathlon but now I am simply surviving, exercise is purely for mental wellbeing. I am lucky to live in a small quiet town so can get out for a short run or bike and stay socially distant but even going to the shop is too risky. Am I sweating it out on my turbo? NO. I don't feel like it so I'm not beating myself up.
Sarah – Just before the UK outbreak of Covid-19 I was due to take annual leave. Although I couldn't go and see my family or do my first multisport event of the year I was advised to still take the annual leave as we might struggle to take time off later in the year. I ended up taking a week and a half off training, studying about Covid-19, doing extra shifts in one of the hospitals and helping set up a local Covid assessment centre. I then managed to get some good quality training in which was needed to clear my head! Since returning to work I've managed to keep up my running and biking (mostly outside enjoying the improving weather and quieter roads), but swimming is now out of the question. My Pilates class has obviously been cancelled but I'm still trying to do small bits each day.
Beau – Obviously swimming is cancelled which actually allows me to focus more on the other two disciplines and add in more S&C than I would usually do. Like many people I'm now working from home which offers some flexibility to work slightly different hours and train at different times to either increase or decrease recovery time between sessions. The biggest effect for me is probably motivational with the lack of upcoming races making it difficult to see much point training. This has positively resulted in my pursuing exercise more for enjoyment; more time running on the fantastic local trails and less time chasing times on a running track.