Time for something new? How about trying Road Racing?
Long before he made the switch to triathlon, two-time Outlaw Half winner Karl Alexander was a decent cycle road racer on the domestic scene. Racing in the Premier Calendar races and winning plenty of other events along the way, Karl has a very solid background in the discipline – and still takes part in Road Races now, alongside his triathlon objectives.
However, if you are new to it, how would a triathlete start Road Racing? Here is part one of a series to help you along that journey.
---
How many triathletes have participated in single discipline events? I often see on social media platforms fellow athletes racing a 10k or half marathon, entering a masters swimming gala or riding Time Trials, but there is a very limited number of triathletes that will enter cycle road races.
There are many great reasons to give road racing a go. The increased pace of a 45 minute criterium is an amazing workout and will push you far harder than you ever could achieve on your own and the constant accelerations, either attacking off the front, closing a move down or sprinting out of corners makes it a high speed interval session.
For many, the thought of a road race can be quite daunting, the idea of riding shoulder-to-shoulder, wheel-to-wheel with others at speeds approaching 30 mph can make you nervous, but it really doesn't have to. In this article we'll look at what you need to do to get to the start line feeling confident and ready to race.
If the only bike you own is a TT/Triathlon specific bike, you will need to purchase a road racing bike; you will not be allowed to participate in a race on a TT bike. It's also a no no to ride a TT bike on larger group club rides, which we'll look at now.
As triathletes we're used to riding either alone or in small groups with other triathletes, and this can lead to poor bike handling especially at speed and when cornering. One of the first steps to road racing is by joining a local cycling club and joining in on the larger group rides. Riding in larger groups will give you valuable experience of bike handling and increase your confidence of riding safely in the bunch. Importantly, learn from those around you, there will be no doubt riders that regularly race, ask them questions or simply watch the way they ride, the lines they take through corners and position themselves to better understand bunch riding skills.
As well as group rides many clubs will offer 'Chain Gang' rides. These rides are usually held on mid-week evenings over the summer months but some, more race focussed clubs, will continue year round with larger clubs having groups of different abilities.
Chain Gang rides will often follow the same routes so that any riders that are dropped (unable to continue at the pace), can group together and finish the ride. On a Chain Gang the group rides in a single column with the lead rider doing their turn before swinging off and allowing the second rider to come through and take their turn. This keeps the pace of the ride very high and simulates racing conditions very well.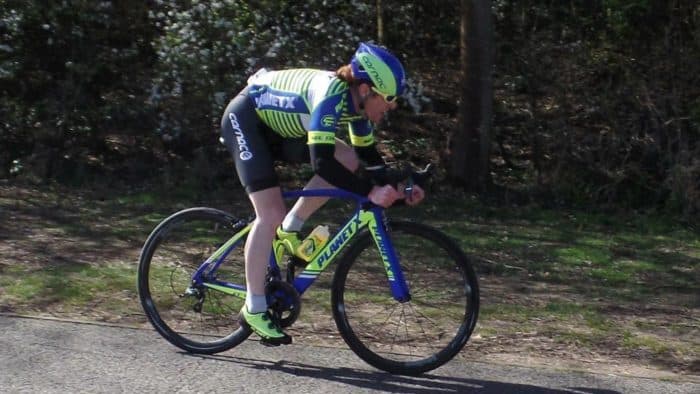 During these rides, watch those riders that race regularly; they will be very smooth when coming through to take their turn, not upping the pace and 'surging' through. If you're finding the ride difficult you can take shorter turns on the front allowing you more time to rest in the wheels, taking shelter by drafting or miss a couple of turns by sitting at the back of the group and allowing the rider swinging off to slot in just ahead of you. Be careful though, if the pace increases and the gap opens it won't be long until you're riding alone.
So, you've joined your local club, you've ridden in a large group and can hold your own on the chain gang, now what?
First of all, to race any British Cycling event you'll need to join and take out a racing licence. Once you have done this you can select an event. Events are categorised based on rider ability with 4th category being the start point for all riders. Many race organisers will run 4th cat only races so you'll be racing against riders of similar experience.
The best resource for finding races is of course the British Cycling website where you can filter your race search to find exactly the races you want. A top tip here is to register for the race online, many events fill quickly and you may not be able to enter on the line. As Triathletes we're well used to this process, so this shouldn't be an issue.
The best events to start off with for beginners are closed circuit races. As the name suggests, they are held on closed roads either purpose-built cycle racing circuits, airfields or large establishment perimeter roads and will normally follow the format of 'an hour + 5'. This simply means that the field will race for approximately one hour and once the time has elapsed there will be a further five laps of the circuit to complete.
Cycling events aren't expensive to enter with most races being around the £15-£20 mark. The most expensive aspect to racing bikes are the bikes and equipment themselves. As with Triathlon there is always an eagerness to buy the latest go-faster product but, as Eddy Merckx once, said "Don't buy upgrades, ride up grades!"
In the next article we'll look at training and basic racecraft.