Training with Lucy Charles
Wednesday night (13th December) was the first of TRI247 Winter Series on Zwift, and what a way to start the series with the opportunity to train with super talented Lucy Charles using a training session set by her coach (and partner) Reece Barclay.
"I thoroughly enjoyed leading the first of the TRI247 Winter Series group sessions on Zwift. The atmosphere was buzzing for the entire hour session, having everyone there just makes you work that little bit harder. Thank you to everyone for joining in. I hope you all had as much fun as I did. Same time next week?" – Lucy Charles
Well what was it like to take part in? TRI247's Paul Shanley takes us through his first experience of Zwift and Zwift group rides:
TRI247 Winter Series: Lucy Charles, Over-Unders
The workout was titled "Over-Unders" and consisted of 60 minute workout with 5 x 5 minute efforts with plenty of rest mixed in. The group function on Zwift works really well and before the workout starts you are held in a holding pen on mock turbo trainers (oh the irony!). You can see the breakdown of the workout on the left of the screen with a list of riders ready to ride on the right, along with messages from riders.
As ride leader, any messages from Lucy appear in the centre of the screen and really do add to the experience and help bring the workout to life.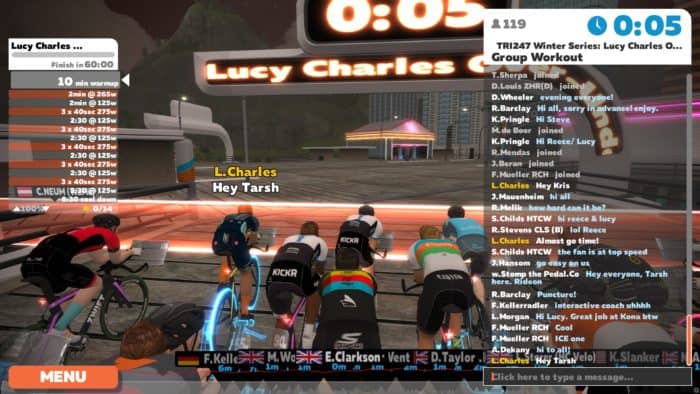 As soon as the workout started the top of the screen is then filled with the numbers you need to hit and the workout breakdown on the left changes as your work you way around the course. The display is clear on what you have to do and it is pretty stress free following the workout; other than the stress of trying to hit the numbers. With a large group the start was a bit crowded but it soon smoothed out with Lucy riding at the front of the group where I seem to find myself in around 80th place for most of the ride.
I did notice a few names in the line up that I know (and that have..) ripped the legs off me on the road, but with the group function we can all train and ride together to our own ability which is really good. On some of the rest periods there was a bit of chat/banter going on which helped lighten the mood and it does help you feel more connected to the group.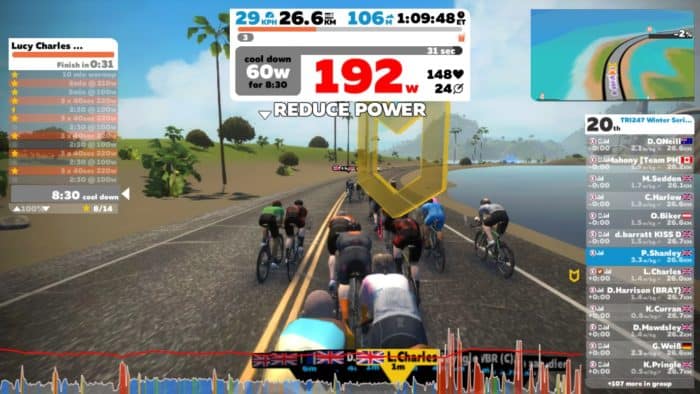 If you missed the session you can download the custom workout HERE.
The next session?
Next up in the TRI247 Winter Series is going to be headlined by uber-biker Joe Skipper and will be held on Wednesday 20th December at 7.00pm UK time. So get ready to RIDE ON!