Triathlon Training Camp: Col Du Peuch
Where the world's fastest motorsport drivers train…
Chin close to stem, arms folded close to body, shoulders narrowed to create a wind-cheating aero tuck, I shoot along a beautiful winding descent with my goal being simply not to get dropped by the rider in front – a world class motorsport driver following the racing-line and cutting the apex of the corners with aplomb.
Then suddenly disaster almost strikes… I realise I have taken the corner too wide/fast and need to straighten up. Heart in mouth I come to an abrupt stop, but upright. Deep breath, absorbing the scenery, I then hammer on the pedals turning my 52-11 gearing as fast as possible in an attempt to get back on to the group.
It's Wednesday, day three of the Aston Martin Racing World Endurance Championship (AMR) team's bonding week at the impressive Col Du Peuch.
AMR are a factory team within the FIA World Endurance Championship, which includes the famous Le Mans 24 hour race. AMR have three race teams – #95 GTE PRO; #97 GTE PRO; and, #98 GTE AM (www.astonmartin.com/racing/teams/aston-martin-racing-team) – and they had a highly successful 2017 season which included winning the WEC GTE AM Driver's Championship and winning the GTE PRO category at Le Mans.
Col Du Peuch is based in the Dordogne region of France; quite simply the scenery, terrain, and lack of traffic, make this an appealing location for a training camp.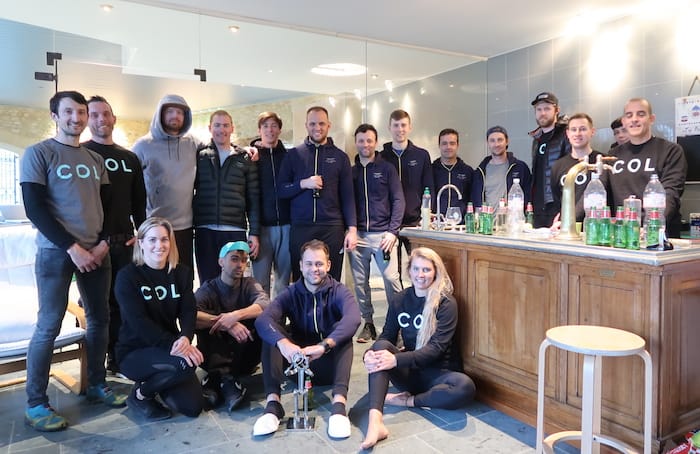 When looking at the blank canvas that was a 'chateau' in the vast countryside, Pete Webster and his business partner Simon Dolan had a vision, a vision to create the ultimate cycling and triathlon training camp.
Webster has been involved in the cycling industry for 12 years as well as working in the human performance side of elite motorsport.
Utilising his background, Webster says Col Du Peuch's USP is that, in addition to providing its guests with high quality riding, by offering a bespoke and tailored training camp it aims to provide the complete athlete experience.
Easy to say, but what does this mean and can Col Du Peuch live up to this heady aspiration?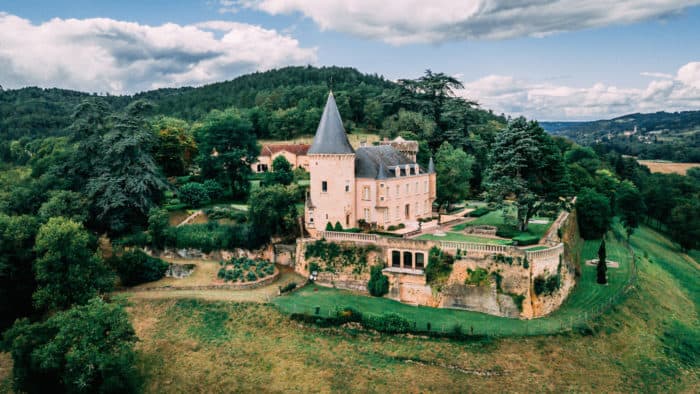 As with all training camps, there's the reality of getting there. Monday involved a short flight from Gatwick and a 90 minute transfer from Bordeaux airport.
After checking in we set out on a leg loosener/familiarisation ride around the local area – even from this 'taster' it's clear the roads can be best described as quiet, steep, and challenging.
Accommodation
Col Du Peuch is in effect three lavishly converted/renovated properties situated around Chateau du Peuch – two sets of accommodation and the gym/relaxation building. I checked into Le Petit Peuch which had a spacious full-service kitchen and lounge area, and a large shared bathroom with a rainfall shower head (the Kingsize room has an en-suite).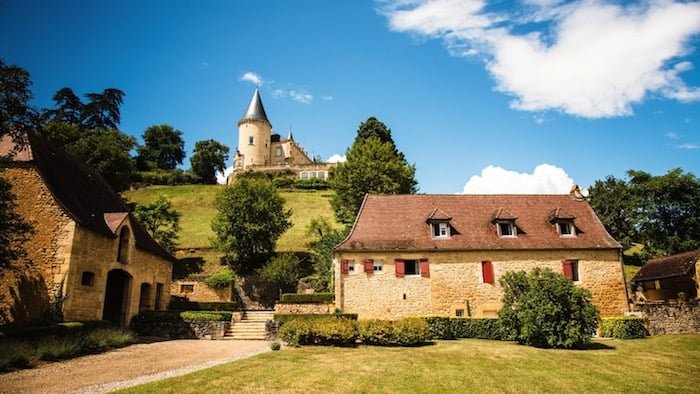 However, I spent a lot of the week socialising with the AMR drivers in their accommodation, Clos du Peuch. In addition to five twin bedrooms, Clos du Peuch had a large open lounge, kitchen, and dining area – the chefs (see below) cook and prepare your meals in front of you, which is pretty cool.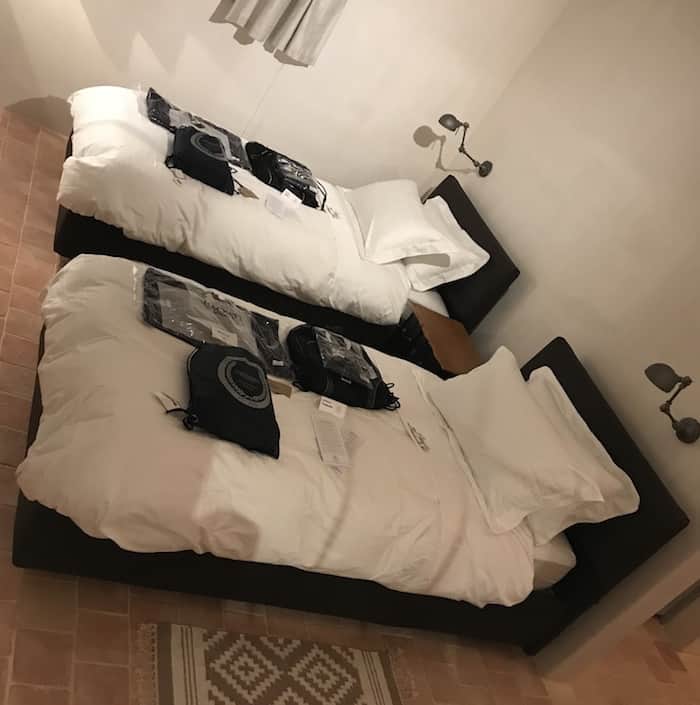 One of the main attractions of Col Du Peuch's environment is that you really can switch off from everyday life and focus on training/recovery. However, if you want to continue posting on social media you can – although, as you'd expect in remote countryside, the reception and internet connection is intermittent/not the strongest.
Postural analysis and treatment
On Monday evening we experienced the first particularly impressive off-the-bike offering – individual postural analysis and treatment. Susie Jones put you through your paces, this included being filmed carrying out functional and dynamic exercises – in short, compared to the AMR drivers I am very inflexible.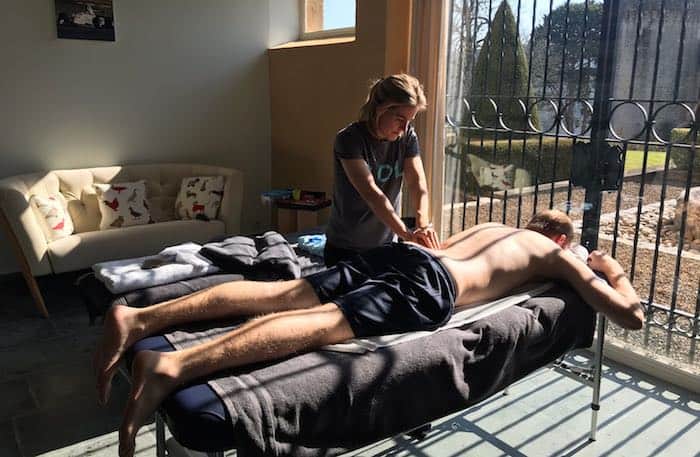 Everyday throughout the week the AMR drivers and I benefitted from treatment and massage provided by the skilled Susie Jones and/or John Camilleri.
I have had many sport massages and the one from John was one of the best I have had; whilst the insight provided by Susie shall put me in good stead for this season and ahead.
To put this in perspective, back home a massage and treatment session can cost between £40- 60 – we got one everyday!
Food
Wow… Col Du Peuch's two resident chefs cooked up culinary masterpieces for every meal, top marks for presentation and taste!
At first I wondered whether it was just me that wasn't used to such exquisite food, but the AMR drivers assured me that it was quite out of the ordinary for them as well.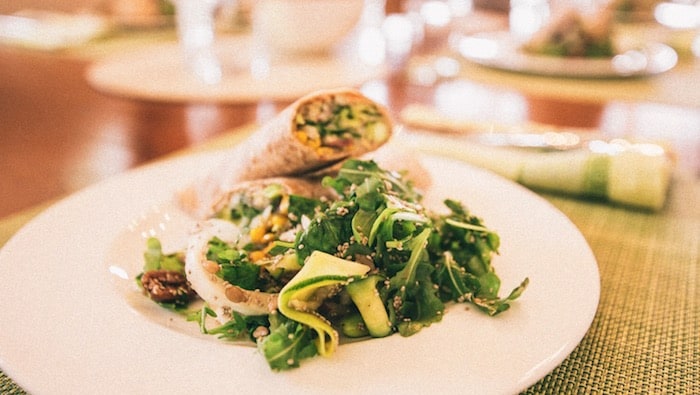 Although there was a set menu, the chefs were very accommodating and more than happy to amend a meal if someone didn't like what was on offer. For example, Ross Gunn of AMR isn't a fan of mushrooms!
Yoga
Tuesday was a big day and it kicked off with a sport specific yoga session, next to the fitness pool and not far from the sauna. The daily yoga sessions were led by Becky Gosney who as well as knowing her 'downward dog' from her 'warrior II' pose recently rode 1,000 miles across Australia for Mind – the Mental Health charity.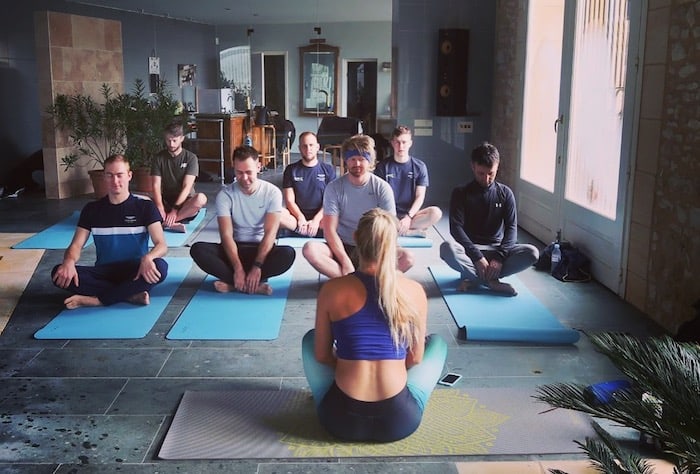 Being pretty fresh to yoga, even being sat in child's pose was pretty challenging. However, I was not alone and although some of the AMR drivers were like a piece of string others were closer to my rigid cardboard – the groans (mostly me) and laughter (mostly those looking at me), along with the heat made for a buoyant and supportive atmosphere.
Physical testing
After yoga came the fun stuff – the physical testing to establish where we were all at fitness-wise. With motorsport athletes like Jenson Button starring in triathlon age-group racing, as well as the fact you have to have high-end endurance to compete in Le Mans etc., I was intrigued to see how I measured up to the AMR drivers.
https://www.instagram.com/p/Bgk31h7Bcrl/
The testing included core strength analysis, reflex challenges (including 5 minutes on the Batak Pro – which is tough!), and a lactate threshold test.
The gym facilities are high calibre, no expenses spared – including free weights and a multi-exercise/station octagon. However, the addition of a running machine would be beneficial.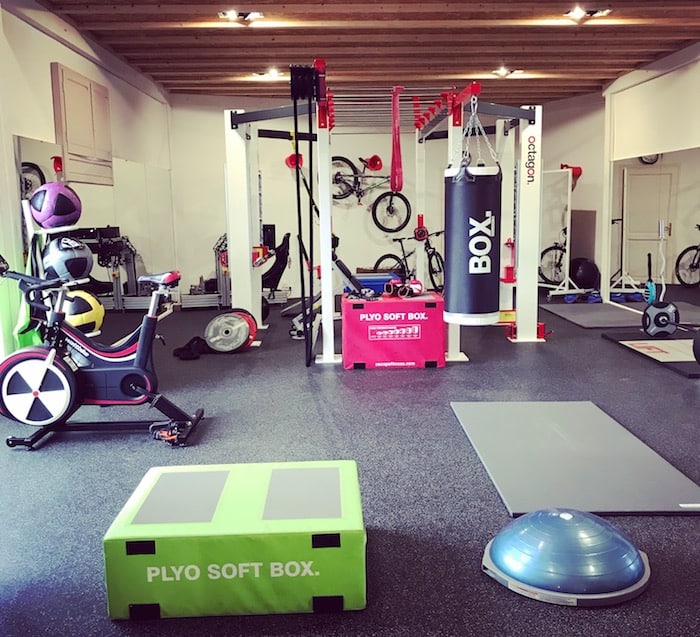 The lactate tests were carried out on two Wattbike Pros and involved the set power being ramped up every three minutes and your blood being taken each time. Col Du Peuch explain the test results (your lactate threshold and your power/weight ratio), to educate you as how to train, as well as using them to allocate the riding groups for the week by ability.
https://www.instagram.com/p/BgjmDQwDz90/
I was pretty pleased with my results, especially with the limited riding I have been doing. It was great to see that my physical capacity is good and it was nice to push myself, but at the same time it was interesting to see that some of the AMR drivers were natural athletes, such as Marco Sørensen – he has some serious horsepower.
https://www.instagram.com/p/Bgtvo3-luPd/
Bike Fit
Athletes have the option of bringing their own bikes which the resident mechanic will help them assemble or they can hire a steed from Col du Peuch – Specialized Tarmac SL5 equipped with Shimano Dura-Ace mechanical – at a cost of £200 for the week.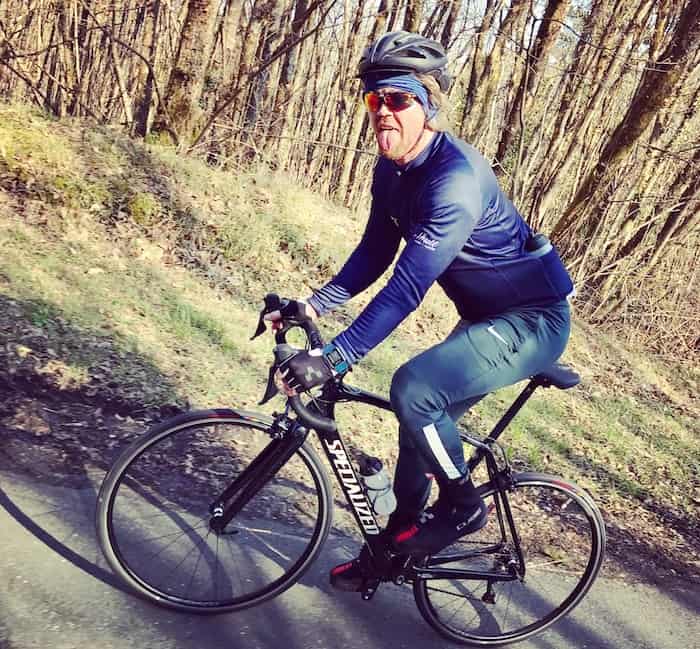 As part of the initial testing and set-up, Callum Hughes (a pro Xterra triathlete and Retül bike-fitter) carried out bike fits. I'm glad he looked at me, I needed to move my saddle forward a fair amount and noticed improved power output immediately.
The plan for the rest of the day was a long ride in which we'd practise riding in a group and tackle some 5-7km climbs and after a bit of down time complete a 10km off-road and hilly run.
The ride exceeded my expectations – going up was a fun challenge, whilst the descending was exhilarating.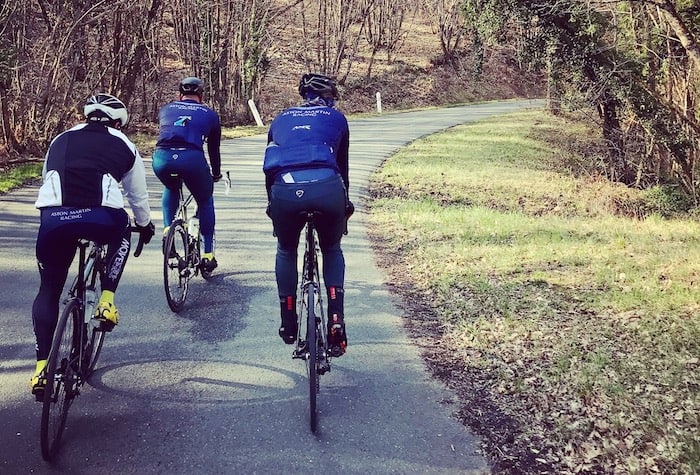 Pete Webster and his guides marshalled the groups well – with several of the AMR drivers being recreational cyclists at best the terrain pushed them to their limits, but Webster and his team had us riding as a tightly knit group two abreast along the flat valley base.
A nice, and practical touch, was the following support van which provided drinks and food (and vocal support). The nutrition was tasty – the flapjacks made by the chefs were superb (almost too nice!) and the Veloforte bars were very nice (once you mastered how to open them on the fly).
Reflecting the flexibility of the week's structure, in collaboration with the AMR drivers, Webster decided it best to move the off-road run to Wednesday morning (and take out one of the two rides scheduled for Wednesday afternoon).
I was pleased with this decision, the week looked pretty heavy volume-wise for a trained triathlete let alone those that are relatively new to competitive cycling. Further, since the driver for the week was team-building, it was refreshing to shift the sessions around to ensure everyone was able to take part.
Also, it allowed a few of us to play some terrible (although competitive) tennis; I was really keen to make the most of the boules/pétanque pit, but couldn't find any willing participants.
Run
Running off-road is always more stimulating than simply trotting along the tarmac. The location of Col Du Peuch lends itself to some stunning run routes and there is definitely room for the various trails to be explored further.
I'd describe the route we followed as 'advanced'. It was an out-and-back route, so navigation was easy, whereas coping with the steep up and the technical descents required 100% concentration.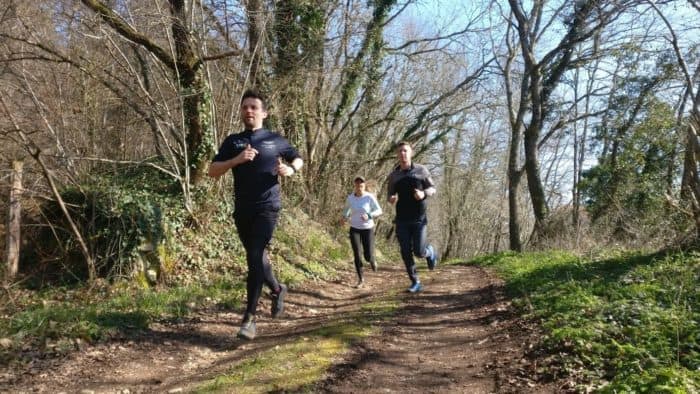 This was in effect a 'recon' expedition for the AMR drivers as this was part of the proposed run route for the hotly contested end-of-the-week triathlon.
Swim
In preparation for the big event on Friday, the AMR drivers got acquainted with their HUUB Design tri-suits and high-end wetsuits. The Derby based company had supplied an array of its award winning suits, including the Archimedes II (made popular by the Brownlee brothers) and the Albacore.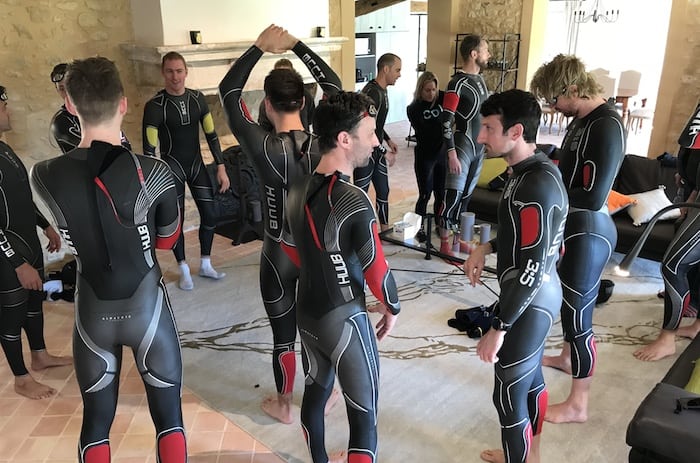 It was quite a sight seeing the AMR drivers trying to put on the high-end suits. Callum Hughes and I shared our experience and gave tips on how to expedite getting the suits on and, importantly, getting them off as quickly as possible in T1.
Wetsuits on, we took the short 5 min walk to the nearby lake. The lake is a good size for carrying out drills and lapped swim sessions (it's comparable to an Olympic size pool, if not a bit bigger).
I was told that last year on the same week the water temperature was described as 'balmy'. However, this week it was positively 'Baltic' and the planned swim became more of a 'dip' save for the hardy few who swam a few laps.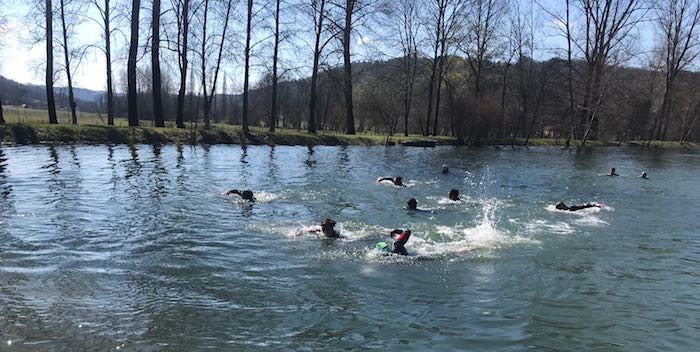 The elephant in the room when discussing Col Du Peuch as a triathlon destination is the lack of a heated 25m pool. I'd argue that to be a truly triathlon focussed training camp a large pool is required – Webster acknowledges this and confirmed there are plans to add a large pool to Col Du Peuch's training facilities.
Triathlon
After a week of fine food, high-end rehabilitation and recovery, and beautiful but challenging riding, the big day arrived. In their race teams of three – #95 GTE PRO; #97 GTE PRO; and, #98 GTE AM – the AMR drivers were to complete 60 lengths of the saltwater pool (quite rightly, it was decided the lake was too cold this week), two 20 km loops which each included two tough climbs and two steep descents with sweeping hairpins, and finally a 5km off-road run.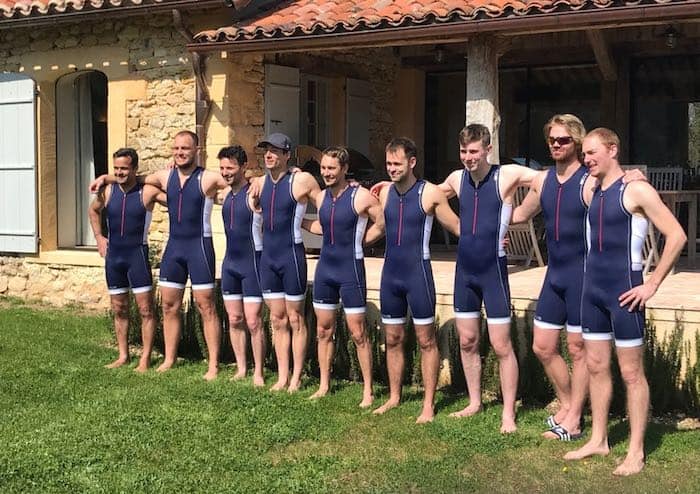 Each team was to work together, to start as a team and finish as a team. The competitive spirit of the elite drivers was evident on Thursday evening as they discussed tactics – including how to break up the swim; and, how to approach the bike leg with the challenging run to follow.
A particular consideration from the week's training was that some of the best riders were also the weakest runners, as is often the case in triathlon.
There lies a conundrum – was it best for the strongest riders to ride on the front of the team of three (allowing their team mates to draft them) to get the fastest bike time whilst being aware this could hinder the individual's performance on the run?
Marshalling the bike route I saw at first hand the AMR drivers' team-work, with the stronger riders such as Alex Lynn riding on the front of their group on the flat and pacing their team mates when the road went skywards.
The triathlon was hotly contested, but team #97 GTE PRO took away the coveted trophy. I wonder where this sits compared to winning Le Mans?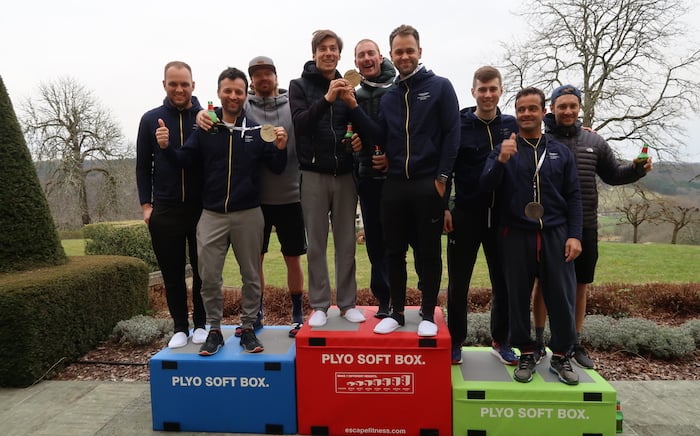 Interested?
Col Du Peuch is undeniably a high quality training location and I thoroughly enjoyed my time there with the AMR drivers.
If you too would like to experience the beautiful countryside, eat like a king, use the high-class facilities, and live like a full-time athlete for a week, I suggest you contact Col Du Peuch (www.col-du-peuch.com) to discuss your bespoke cycling/triathlon holiday.