Together we're Totally Triathlon Training
Race Force (www.raceforce.co.uk) team up with Total Tri Training (www.totaltritraining.com) to bring the ultimate training week for all abilities including more for the female athletes out there.
Race Force and Total Tri Training have been working as partners for the last few years and have now launched their 2018 training camp, bringing together the signature traits of a Race Force trip alongside elite level coaching and education offered by the highly experienced and varied coaching team of Total Tri Training.
Race Force are taking on all the logistics so the coaching team can focus on exactly that…coaching. They bring all the things you love about Race Force trips to camp, including your very own mechanic with you all week for help with bike assembly and packing, adjustments and repairs as needed and general Q&A to leave you more educated about your bike than ever before.
It goes without saying the Total Tri Team have got incredible calibre. Their recent trip to IRONMAN Florida is a testament to that. The team brought home a Sub-9, a Kona Qualification and some extremely impressive PB's all around, but there is more to this coaching team than that. The Total Tri Training roster has a strong female line up with Claire Sutcliffe, Bethan Hughes and Zoe McLennon all actively racing and coaching athletes themselves, and Race Force MD, Kate, is also due to join the coaching roster for the 2018 season.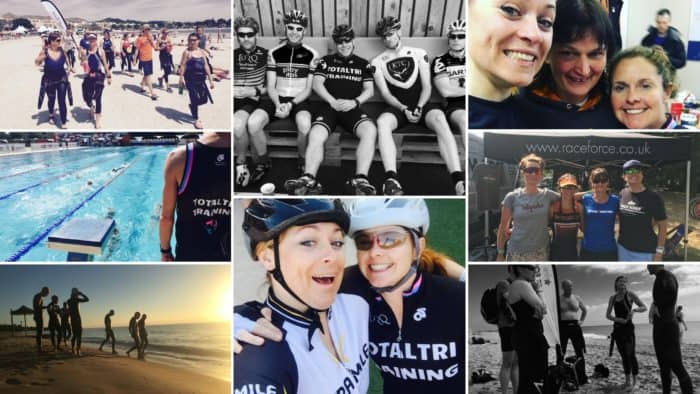 Kate Linsley, MD of Race Force says: "Our Race Force trips attract a decent female split of 23%, many of which we're hoping will come and train with us too. We are running our Ladies camp alongside this week to bring all the lovely ladies who might normally have been a little intimidated by the higher volumes of testosterone flying around these kind of environments. Our ladies will train just like the men, with access to groups from beginners through to advanced with flexibility each day to push as hard or a little as they like, surrounded by like-minded individuals who they can share a glass of wine with at the end of the day if they wish. With such a strong female coaching line up we have lots of female specific experience and stories to share throughout the week in our ladies seminars and Q&A sessions too."
Chris Standidge, Founder & Head Coach of Total Tri Training says: "Kate and her team run a very slick operation and as our camps have grown we've found the administration a distraction from what we are really there to do; focus all of our attentions on the athletes. From the minute you sign up you will feel well informed and at ease. We're excited to welcome a more female contingent to our camps too. There is a lot to learn from our female athletes and having more on camp with us will really enrich the experience for all."
Both Kate and Chris feel strongly that Training Camps are not just about clocking up a massive number of training hours in a week. This camp is much more than that you'll also have access to:
Technique sessions to assess you as an individual and coaching points for you to work on.
Fitness testing to get a good understanding of your current status across key indicators.
Daily education and Q&A with the coaching team on a variety of key topics.
Click HERE to find out more.