Training Camp Profile: RnR Tri Camps
RnR Sport's (www.rnrtricamps.com) end-of-season camp is based out of Neilson's 'The Retreat' in the gorgeous Greek village of Sivota.
Advertised as being suitable for anyone from complete novice to experienced Ironman triathlete, we were keen to see whether RnR Tri Camps could indeed deliver a training camp suitable for all. Experienced triathlete Ross Macdonald and his novice girlfriend Gemma, were the perfect couple to put this to the test.
---
The destination
Getting to The Retreat, with its four-star accommodation, involves a three and half hour flight from the UK to the Greek airport of Preveza, followed by a 1 hour 15-minute transfer by coach to the resort. The coach journey itself is enjoyable as you track the coastline (and get a first look at some of the roads that you might be cycling along later in the week!).
You could be quite content to remain within the grounds (and waters) of The Retreat for the majority of your stay, as the average Neilson guest might choose to do. Nestled on a hillside a short walk from Sivota village, your base for the week enjoys unspoilt views out to sea and of Corfu in the distance. It makes for quite a setting at sunset (and at sunrise should you be setting off at dawn for any activities).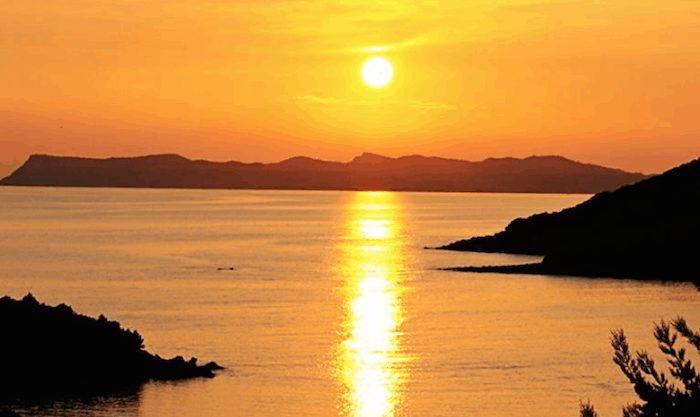 The Retreat includes breakfast and lunch every day as well as four evening meals per week. A great selection is available so no matter your dietary requirement, your hunger levels or your protein needs, you will be well catered for. The average guest is spoilt for choice in any quest for land or water-based activities. On-site activities include tennis, volleyball, table-tennis and use of the lovely outdoor gym and yoga studio. Down at the beach, Goat Island provides protection from the chop of the Ionian Sea for all levels to try sailing, windsurfing and kayaking.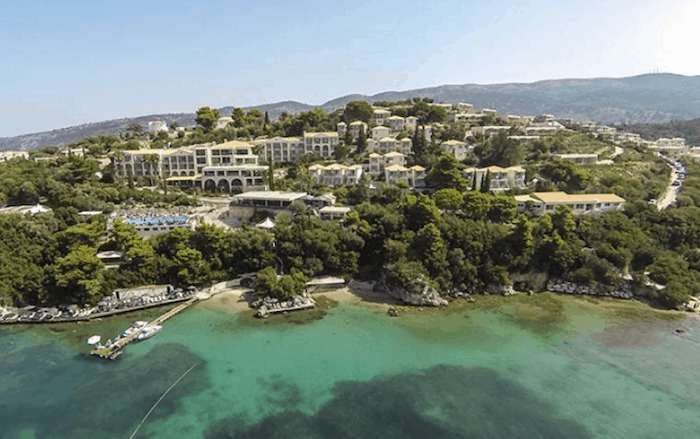 Optional extras include treatments such as sports massage for those wanting a pamper, to water-skiing for those seeking additional action. Family and friends who join you at The Retreat will be kept fully occupied when you are absent, and the kids club ensures that the whole family is welcome to join.
The Coaches
Once the RnR Sport Tri Camp is added to the equation you really do have a packed schedule to make as much or as little as you want to with. Ryan Bowd, Ralph Hydes and Robbie MacNab, between them, provide the skills and experience to ensure a tailored plan for each athlete on camp to develop and progress, no matter their level. With one coach to every four athletes, the camp is very personable with relationships forming immediately between everyone.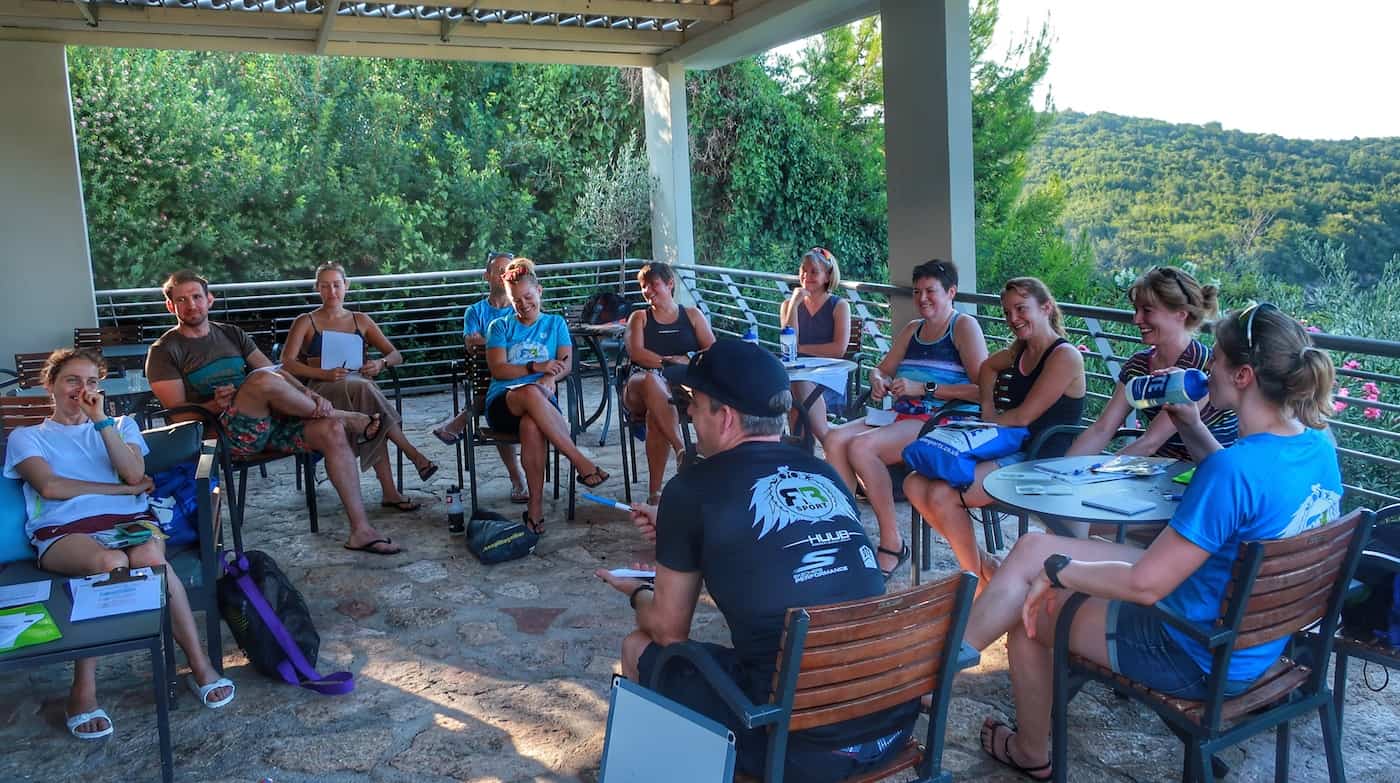 Eating, training and socialising together are optional but encouraged and this ensures a good bond throughout the week when developing your existing skills. The schedule for the week was a full one, although all activities are optional. The majority of sessions are completed in groups, with sub-groups forming as and when necessary. Bike hire, both road and mountain bikes, is available in resort and with a great range on offer the need to take your own trusty steed is negated.
Swimming
Whilst The Resort has an outdoor pool available for swimming, the only real need for it is when assessing technique. It would otherwise be a shame to use the pool when you have the warm and clear waters around Goat Island to explore. RnR's 'swim safari' is a fantastic start to the week as you complete a full loop of the island as a group whilst under the watchful eye of the coaches, who take up positions in kayaks alongside. These same waters provide the facilities for beach swim start practice and a swim time-trial along the coast which, based on our experience, will no doubt show that swim sighting is a skill which everyone needs to master!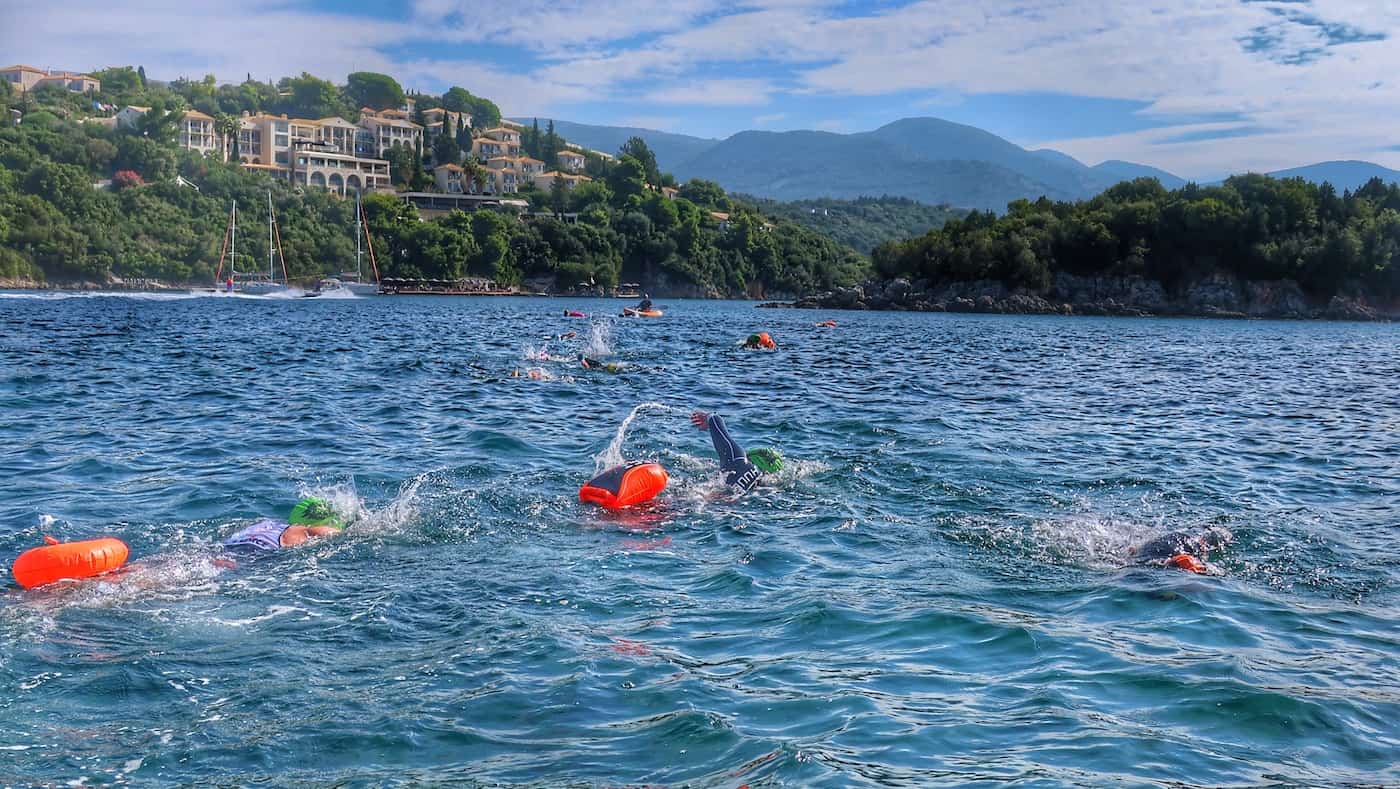 Cycling
Whichever way you depart Sivota, you will hit hills, but the direction you head will determine how difficult the immediate hills are. The first ride will likely be a lovely group spin along the rolling roads to Perdika, with little notice taken of the final hill due to the promise of ice-cream and coffee at the top. However, not everything during the week can be as pleasant as the weather.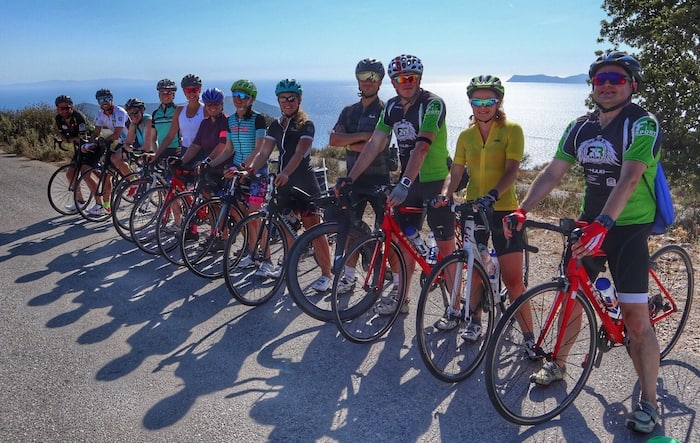 A triathlon camp would not be complete without some hard sessions and some competition. Enter Church Hill Time-Trial, a one-mile blast up an average 6% climb. Whilst entirely manageable at this gradient, should you want to suffer then this is the time to do so. Especially if Ralph is chasing you down for top honours! Beyond this hill is a fast descent which makes for an ideal location for you to hone the skills you have acquired during the bike handling and descending skills session. Further still is a fast, flat road for some group drafting and chain-gang practice. Within minutes confidence is high and… there is a gap of 50 metres to the front man. A re-group prior to the biggest climb of the day ensures that coffees are still hot by the time everyone has met at the café.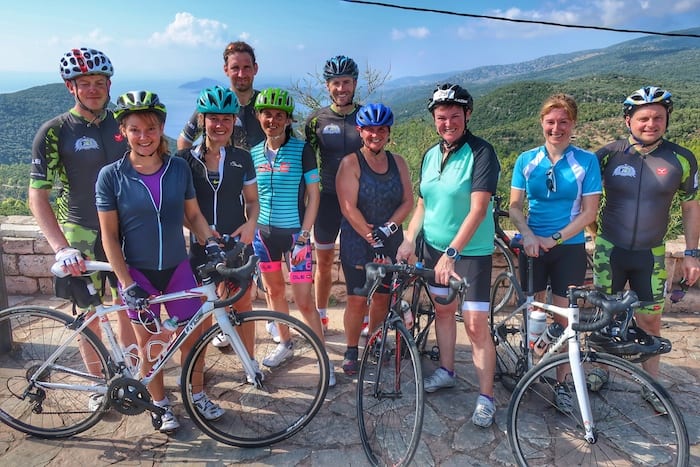 Running
Plenty of running opportunities exist and the road to Perdika is a great choice for a longer session. Two group sessions take place, with the coaches on hand to offer guidance on aspects such as stride, downhill and uphill technique, and pacing. Given the other activities on offer there really is not much need to try and run any more than a few times during the week.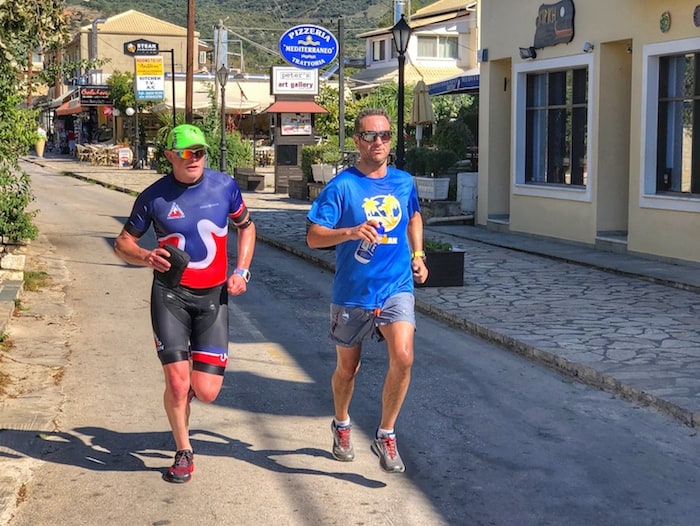 The fourth, fifth… and sixth disciplines
Technical sessions are scheduled for beach and deep-water swim starts, bike handling, cornering and descending, and bike mounting and dis-mounting, whilst a general discussion on training and race nutrition provides plenty to think about.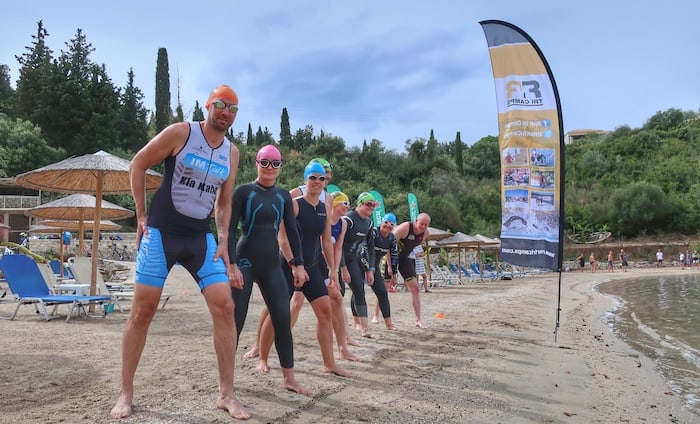 Ryan, Ralph and Robbie also offer one-on-one sessions during the week to provide individual guidance and plans. Discussing lifestyle, planning and wellbeing with Ryan is invaluable for any athlete at any level, whilst Ralph and Robbie between them provide technical expertise on swim stroke analysis, run technique, strength and conditioning, and nutrition.
Race practice
The RnR Greek camp finishes with the 'Sivota International Triathlon'. A permanent fixture in the Sivota sports calendar, this sprint triathlon (750m/20K/5K) brings together Nielson guests, Nielson staff and RnR camp athletes for some friendly race practice as well as ultimate bragging rights.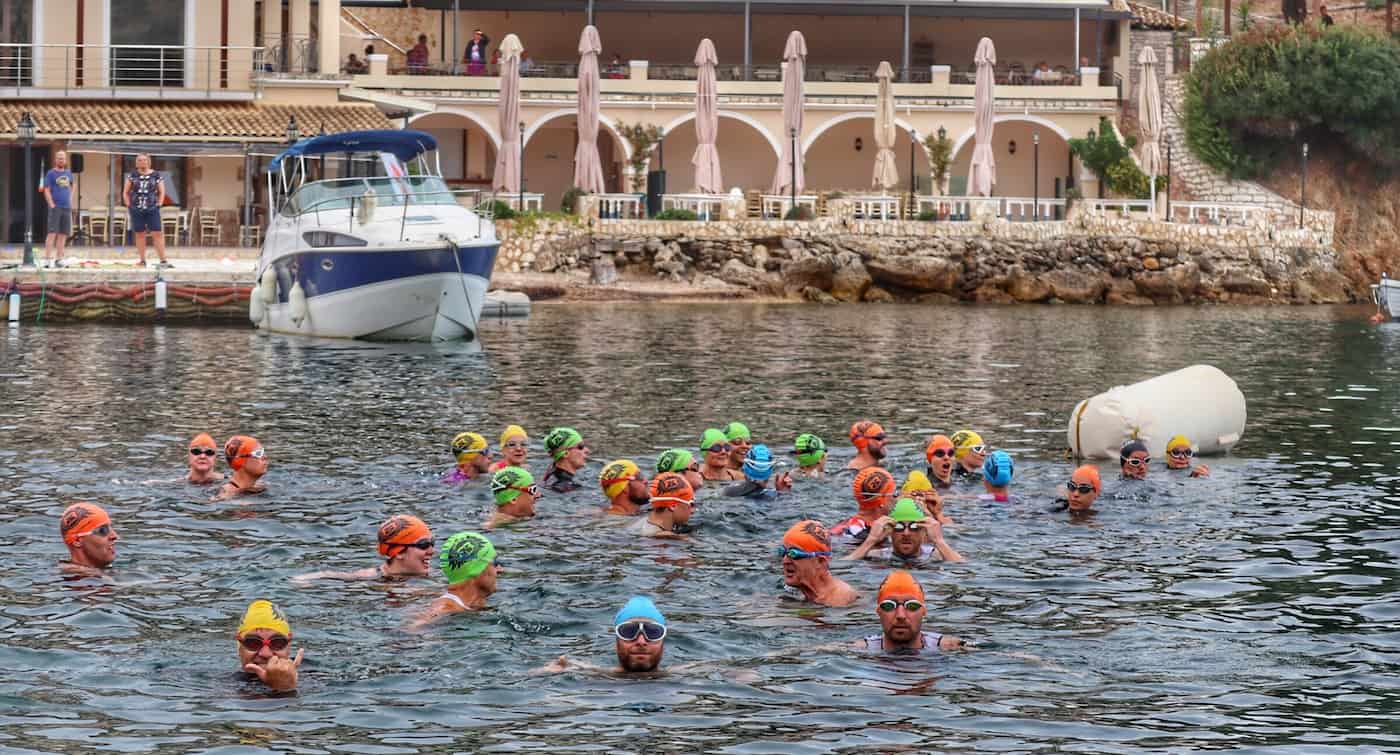 A flat course with a four-lap run around the marina during which your 'normal' holiday-maker is attempting to enjoy a harbourside breakfast ensures fast racing and a fervent atmosphere. After a number of victories by Nielson staff, the RnR Sport team were extremely pleased to enjoy a camp victory in 2018.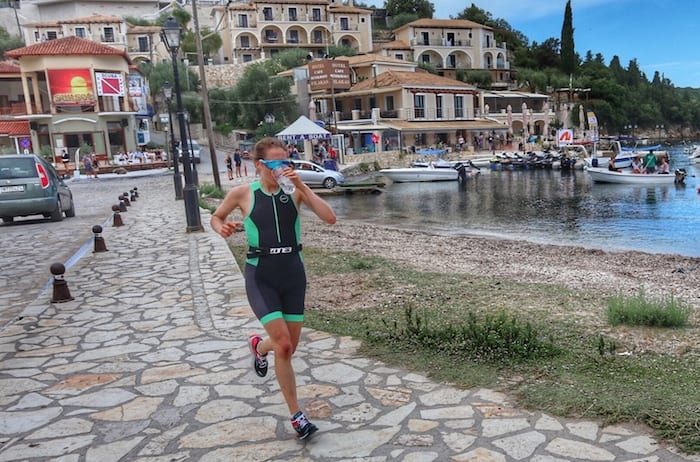 The overall experience
Having run camps at The Retreat for 15 years the RnR team know exactly what is required to ensure that this end-of-season camp works. A great knowledge of the local area and excellent relationships with the Nielson Active Holidays team ensures that the schedule runs flawlessly. Due to its timing, the atmosphere on the camp is noticeably more relaxed than those early season camps and this makes it a great opportunity to concentrate on any weaknesses which may have been identified during your racing season. That relaxed atmosphere equally makes it more unnerving for someone new to the sport who wants to practice away from the usual testosterone.
And back to the question posed at the start of this article – did RnR provide a training camp experience to suits athletes of all levels? Absolutely! Whatever your goals, you will be well looked after, will learn a lot and just as importantly, have a fun too.
RnR Sports are running a camp at Neilson's 'The Retreat' Sivota Beach Resort from 22-29 September 2019. Alternatively, if you are looking for an early season camp as preparation for events in 2019, RnR Sports also run a camp at Sands Beach Hotel, Lanzarote, from 24-31 March.
Early bird prices for 2019 bookings pre December 31st 2018 have the camp coaching fee element for both camps reduced to £300 (instead of £400 for Lanzarote, £449 for The Retreat). Bookings can be made for Greece here (https://www.neilson.co.uk/tri-camp) or for Lanzarote via www.RnRtricamps.com.
---
Tri247 will be following Ross Macdonald throughout 2019 in a series of articles entitled 'Breaking Nine'. As the title suggests, Ross is targeting a sub-9 hour Ironman in 2019 and we will be following his preparation and training in the build-up to his A-race.