Triathlete James Ellis exceeds expectations at London 2019
"Putting my marathon demons to bed…"
Ahead of Sunday's London Marathon, I published the experience of triathlete John Borton who recently had a fine run at the Boston Marathon. John is the team-mate and friend of another triathlete, James Ellis, who ran on Sunday.
Last year James had the crushing blow of qualifying for the IRONMAN World Championship in Kona… and then being hit by a bus just before the event and being unable to race. After making a strong recovery, Sunday's London Marathon was a big target for James… and not only because John had surpassed his PB for bragging rights in Boston!
He went into the race with memories of disappointment from 2018, but with very high expectations. Would that be a dangerous cocktail? No… he smashed it, and this is how it all went.
---
Virgin Money London Marathon 2019: James Ellis
I seem to be making a habit recently of following on the coat-tails of John Borton, and continuing this trend you have the dubious pleasure of reading my quick recap of the London Marathon 2019.
Given his stellar run at Boston and excellent article set the bar pretty high, I will try my best to match it. (Read 'beat' – cause that's what team-mates and friends do, right?!)
Build up
Pretty much ever since my hugely disappointing run at VLM 2018, my thoughts had turned onto how I could do better in a year's time. Whilst there is a tendency amongst athletes (and triathletes in general?), to go for the "I'll just work harder" approach, I did try to look a bit more holistically at my training.
The result was probably a combo of the two. I definitely trained a bit smarter, and did some more run and bike intervals. But, undoubtedly I also simply ran more miles, more consistently. However the key difference here was that I didn't throw in any really big weeks, which history has taught me puts me into the 'red zone' where I know I end up breaking down with injury.
The key session was my Tuesday evening intervals at Battersea with the famed Cottage group (basically a bunch of fast runners). Run by Mark Lloyd and Phil O'Dell, this is effectively a race masquerading as training, where the only goal is not to get dropped! A phenomenal group of hard working and down to earth athletes, Cottage has been the single biggest change to my running over the last two years, and has really reset the boundaries of what times I considered possible to run alongside holding down a full-time job.
Race week
I arrived at race week absolutely in the form of my life, feeling confident that I had put the hard work in and having had some good spring races to prove this. It was now time to rest up the legs and settle on a pacing and nutrition strategy.
I'm very fortunate on this front to be supported by the TORQ Performace Tri Team, so I have no excuse to not to be well fuelled. We all know how crucial this element is, but the value in giving it proper thought really can't be overstated – there is nothing worse than wasting months of training by not giving your body the chance to show what performance it had in there!
https://www.instagram.com/p/BwhmXZ7jwLj/
The target had always been to get that sub-2:30 clocking, but after my 70:01 half (a sprint finish never was my forte), and solid Battersea sessions I felt if I had a really good day I might just squeak under 2.28. With that in mind I settled on heading out at just under 74min pace which equates to ~3:30 mins/km. The message to my parents the night before who I knew would be glued to the tracker the next day read, "A good race will be 17:30 5km splits +/- 15 secs".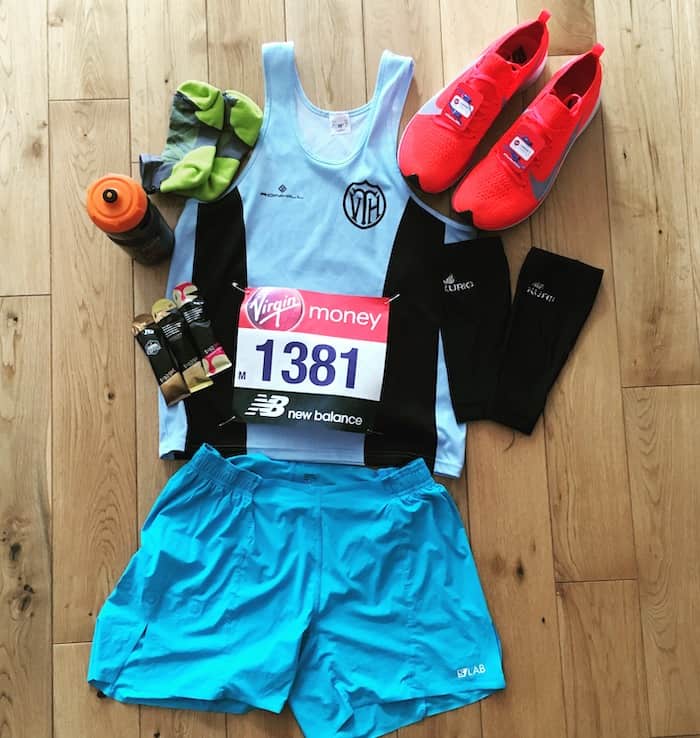 Race day
As usual the day began with a bowl of porridge and then getting to Blackheath before those awful couple of hours to kill before the gun goes. I had my custody pre-London chat with regular TRI247 contributor Joe Spraggins, got some serious FOMO from my Ful-on Tri team mate Tam Ede who got to fan-girl tri legends Chrissie Wellington and Lucy Charles-Barclay, and cross checked strategies with the army of Cottage entrants in Championship Start.
Finally the race was on and fairly quickly I settled into a good rhythm, teaming up with Chris Oddy (Cottage member, naturally), as we ticked off those early kilometres. Whilst the first 5km was covered a bit quicker than planned (17:12), the opening stage is a bit downhill so I didn't worry too much.
Fast forward another 10km and the pace was still right on track, although as it turned out this was probably the most difficult part of my race. I was so desperate to get that sub 2:30 and almost every step I was questioning "Is this too fast?", "How do my legs feel?". Obviously at this stage I couldn't answer those questions, but having Chris around was certainly super helpful as it added some familiarity to what I was doing. We picked up another Cottage regular Xavier Gruot at this point and formed a strong working group. As we approached half-way we couldn't help but speed up, as the wall of noise and support was pretty astonishing. To have so many people out there cheering us on was an unbelievable feeling, and as the photos showed I couldn't help but smile!
I went through half-way in 73:16 – definitely quicker than planned – but felt it was a calculated risk. Having a plan is important, but we can't become completely bound by them, and I had read some interesting articles on FastRunning and TRI247 about getting that balance right. I was feeling good, it was not crazy fast, and meant I could stick with the Cottage working group which I thought would be helpful.
From this point onwards I can honestly say the race was a real pleasure. A year ago I was already struggling at half-way, and the rest of the race was pretty miserable. This time around, every step forward was a step better than last year, and a knowing that I was still feeling good gave me such a boost!
By the time I hit 30km I knew that a sub 2:30 was entirely within my grasp, and whilst I hadn't bothered to do the sums in my head, I knew that we must still be ahead of 2:28 pace as I'd barely slipped from 3:30s. Chris had moved away a bit, but my pace was holding strong and he was just motoring. Some enthusiastic cheering from my girlfriend Siân around Canary Wharf indicated that she knew just as much as I did that the race was going well at this stage!
10km to go. By this point pacing strategies can be forgotten and it is just a case of keep going and empty the tank. TORQ Caramel latte gel consumed – very tasty and went down well even given the GI stress your stomach is under at this point of a marathon – and I was into the final effort. Undoubtedly I was tiring by this stage, but fortunately I had the headroom to increase my effort to just about hold pace, and mentally I was still really dialled in. I thought about the disappointment of last year's race, the crushing blow of missing Kona with injury (hit by a bus a week out and broke my shoulder). I had some serious making up to do. Great marathons don't come along all that often. I was not going to let this one go.
At 40km I was still holding it together, and whilst I'd stopped looking at my watch a good while back, the race clocks informed me I had about 8 mins to do the last 2.195kms to break 2:27. This was the first time I had any idea quite what a good time I was on for. Arms pumping, knees driving I was basically just a slower Kipchoge (more on him later). The photos would suggest something a tad less elegant. Either way, the line was approaching and I could see the clock rolling through the mid 2:26s. I was going to do it – and some!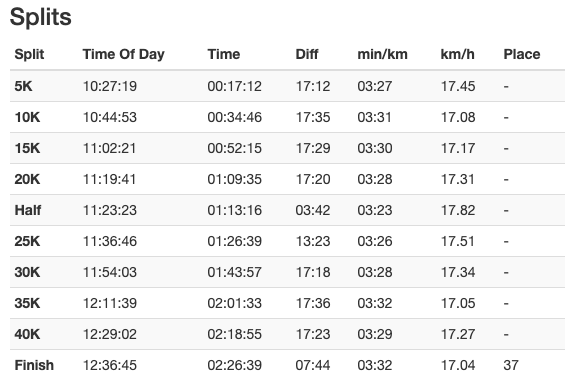 The finish
I never was great at concise, sorry… fortunately the finish line is in sight for you too. Alas you do not yet get a Strava achievement for completing this massive monologue…
I stopped the clock in 2:26:39. Well inside my goal of 2:30, and even well below the stretch goal of 2:28. RIP PB of 2:38:30 – finally I had put that one well and truly to bed! Incidentally, I'd also reclaimed bragging rights from John *fist pump*, not that we track these things or anything.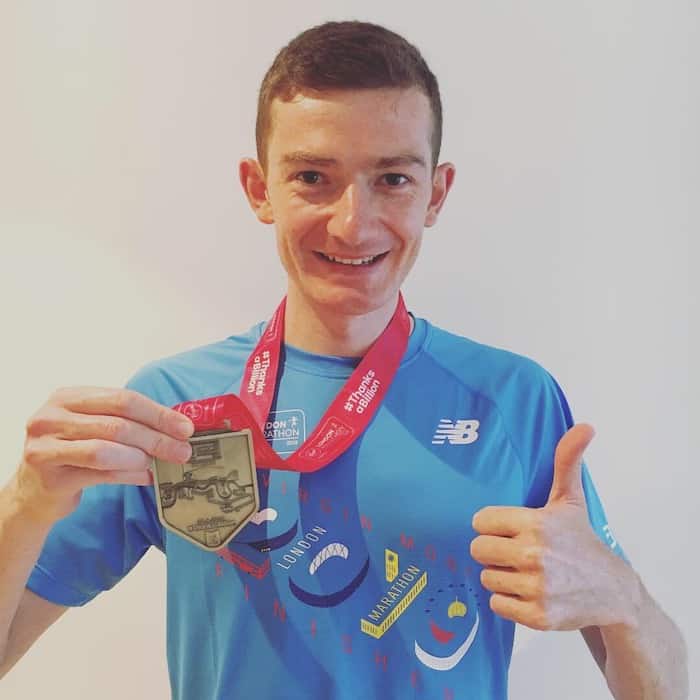 The combination of exhaustion and elation was a heady mix, made all the better by the whole raft of insane times my Cottage mates had also smashed out. My marathon demons had finally been put to bed, and I'd run a time which put me in a bracket I'd previously considered the realm of only genuinely quick runners. It's not often I'm completely satisfied with my performances, but today was one of those rare occasions where I was just super happy with how things had gone.
The final cherry on the cake came a day later when I was commuting home from work and as I was going through Battersea and spotted Kipchoge having a wander around the park! After pretty much falling off my bike in excitement, I just about managed to pull myself together enough to say hello. The great man offered up a photo opportunity I was not going to turn down, and even managed not to laugh when I said I was really happy with my 2:26 yesterday! Joking aside, it was a very special moment to get to shake the hand of running royalty, and certainly something I won't forget in a hurry from an all-round memorable weekend.
Thanks very much for reading – and bring on the tri season!