"Borton does Boston"
This coming weekend, we expect to see plenty of Age-Group triathletes running the London Marathon. Final preparations all done? Have a read of this, you might pick up a few valuable tips…
While London started in 1981, the oldest annual event is the Boston Marathon (www.baa.org/races/boston-marathon), held every year on Patriots' Day, the third Monday on April. John Borton was one of the many British athletes running this year, a triathlete with some lofty Ironman ambitions later in the season.
Training around a full-time job and conscious of those triathlon goals, John still had a great run in Boston and smashed his pre-race expectations.
This is his experience, what he did and the things he learned along the way.
---
Boston Marathon: Recap and Reflections
It is the final run up to the London Marathon on Sunday and athletes will be well into what I consider the hardest part of the marathon training, the taper! The constant battle in finding the balance between absorbing the months of training stress, staying sharp, avoiding getting sick and not letting our mental demons takeover. Two weeks ago I was in the same position as I was in the final preparations for the 123rd (and my first) Boston Marathon.
I'm relatively new to the marathon. Boston was only my second marathon (if you discard the three Ironman races I've finished), and I can quite confidently say that the marathon is probably the most brutal event I've done. In my recap below, I am hoping that I can provide a bit of insight into my preparations, how I weaved the training as part of my bigger (triathlon) racing goals this year, provide a bit of insight into the race itself and some tips for those who might be looking to do the Boston Marathon in the coming years. In short, if you can, you should – It's an amazing race and I still have that post race buzz!
The Training
My Boston journey started last year when I completed my first marathon (Liverpool) obtaining the qualification standard needed to apply for the race. I didn't start thinking about training properly until after I was officially registered in October for Boston.
When I plan my training I take a traditional approach and start with splitting my planned races for the season into the following categories, A, B and C. The Boston Marathon was an A/B race for me as it was not my top priority for the year but still a race I wanted to perform well at. My top priority for 2019 is IRONMAN Copenhagen in August where I have the lofty goal to go sub-9 and potentially a Kona qualification – fourth time lucky, perhaps….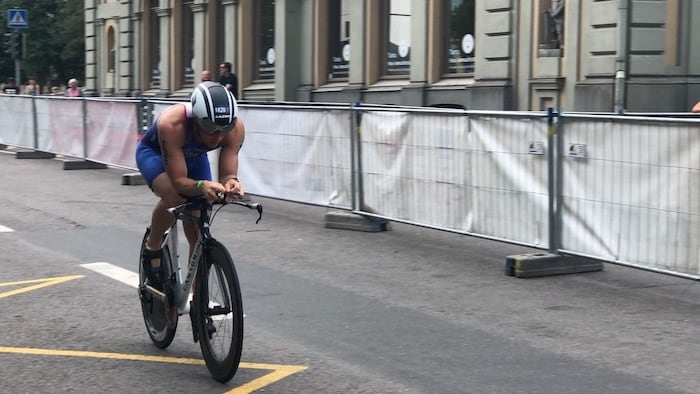 So with all that in mind, I needed to make sure I found the right balance. All-in-all the main thing for me was to stay consistent and continue my normal triathlon training routine, with a slight bias not to swim as much ;-).
My typical training week looks like the following;
3-4 bikes per week – 95% structured indoor training using TrainerRoad and typically around 4hrs upwards. As the weather improves I start to venture outside more (I'm a fair weather cyclist!)
3-4 runs per week including one brick session. Mostly outside, some inside on Zwift Run (which I really like using – makes a treadmill so much more bearable). I shoot for distance in running and aim for 25miles per week which grew steadily to 40miles at its peak pre-race. My run structure is nothing revolutionary and is typically split into one run in each of the following categories; Intervals, Tempo, Brick and Long run (normally on a Sunday).
I probably averaged one swim per fortnight (planning to increase this now we are in Triathlon season)
Early part of the year I also focused on strength training and like to go and workout at my local Crossfit gym in London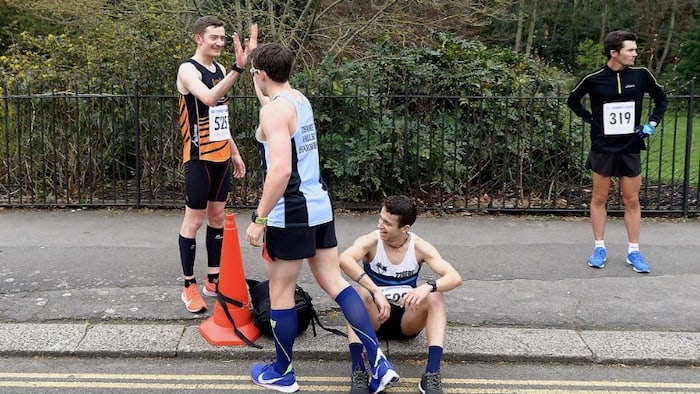 The race
My race number was 2431, which meant I was ranked 2431st leading into the event. That meant I started in Wave1 Corral 3, behind close to 2000 (although all speedy) runners, which probably worked out positively for me in the long run! Although I had to weave through the pack for the first three miles or so, due to everyone being a strong runner meant that the pace was still high enough not to ruin the goals but not too fast to mean I went out too hot and potentially risk blowing up later on.
Boston isn't a flat race, it's actually a net downhill with constant undulations that left me struggling to find any sort of rhythm. I was constantly looking my watch to see how I was doing from an average pace, actual pace and running power perspective (I used a Stryd running footpod – I am a big fan, although I am not experienced enough yet to use the number shown for much…), and this helped tremendously as I did my best to hold it together as the conditions made it a tough day out on the course.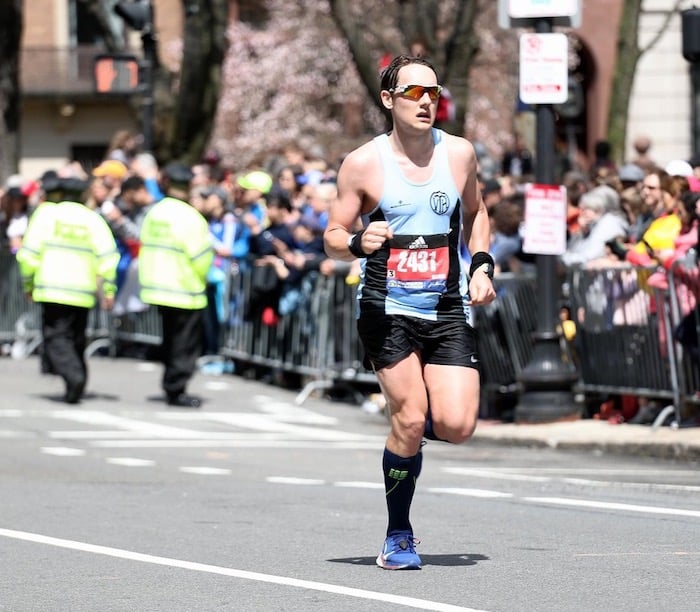 The weather in New England is renowned for being unpredictable (who knew!) and it felt like we had a mixture of everything on race day. First it was the monsoon that passed over us whilst queuing for the buses and travelling to the start. Then it was the lightening that caused us all to be a bit alarmed! Once the rain cleared the sun started to come through an overcast sky, you'd have thought that this would now be ideal running conditions. However, with the humidity ranging from 85%-100% and a slight cross-wind, this threw a bit of spanner in the works… I knew it was going to be a tough day when I passed through the second aid station (mile 2!) and picked up a cup of water, not to drink but to instantly throw over my head thinking, surely I shouldn't be this warm already! I would later learn that I was not the only one feeling like this and that a lot of people were struggling to adapt to the conditions sufficiently.
The result
So… the result! My official finish time was 2 hours 35 minutes and 41 seconds. For me this is an 18 minute personal best and 9 minutes inside my target time set at the beginning of the year. I was absolutely over the moon and am still slightly in shock that was my finish time! My pace was 5.55 minutes per mile (I still can't believe I am able to hold that).
Placings …. 221st Overall, 206th Male, and 181st Non-Elite. I'm so pleased with my time and where I ended up and blown away by the high calibre of runners at the event.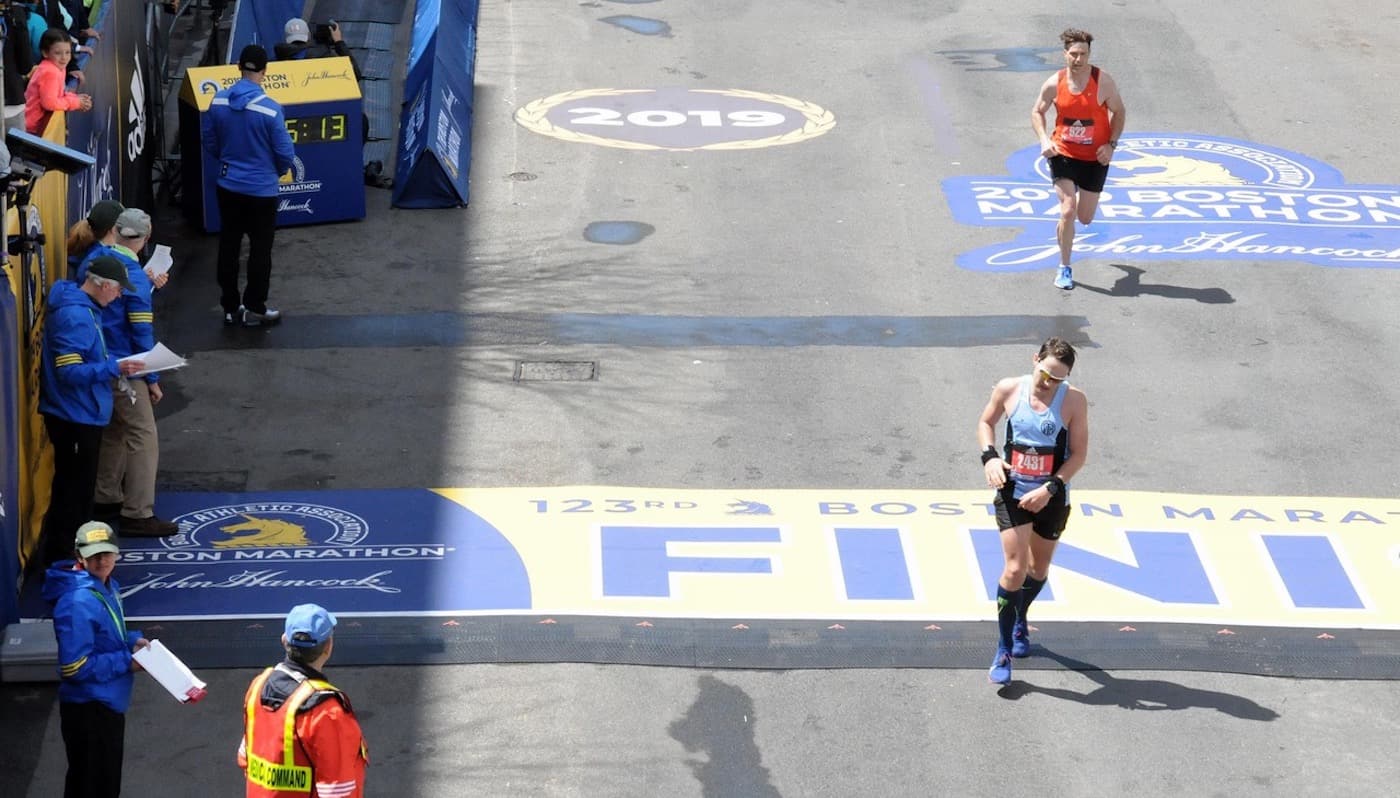 My takeaways from Boston 2019
Be prepared for the unexpected in New England
Something I hadn't fully appreciated pre-race was the unpredictability of the weather in New England. I lost count of the number of conversations I had pre-race once I arrived in Boston about how checking the weather forecast is pretty much useless and that it can turn on a dime. Remembering the forecast and stories from 2018, I made sure I had range of kit with me so I had options on race morning.
Also… remember that what you take to Hopkinton, if you want to have it after the race, you have to carry it yourself back to Boston! This was something I learnt the day before but a great point to know for next time! Other people in the know had brought old clothes they were planning to donate as well as one couple who took a waterproof sheet with them for the start!
Consistency in training is key
I work anywhere from 45-70hrs per week for an Aerospace and Defence company and have a pretty varied schedule which typically has me spending a lot of time on the road. That can make fitting my training in a challenge. Sometimes fitting in all the training on the plan is not feasible, however my mentality is always something is better than nothing. If the plan has a 5x1mile efforts and you don't have time for the full session, then doing 3 reps is better than writing the session off completely. Also, ensure not to beat yourself up mentally if you diverge from the plan. Life happens, do what you can and keep looking forward!
Being adaptable on race day
Most people go into a race with a plan, and in most races we can execute this plan and then we consider the race a success. There's an adage that I take from my working life, "All plans are perfect, until you start executing" and in Boston (actually, I would guess in marathons in general), this is 100% the case. There are too many factors to try and control, so my lesson learnt is… don't! Manage the uncertainty and be ready to adapt on the day. Just like we had on race day, the weather can throw a number of curveballs that make many plans irrelevant. Mid 20 °c and 86-100% humidity in April are not really conditions that many will be training in over the winter, I definitely wasn't. It was those who adapted their race plans on the fly who succeeded versus those who tried and stick to a rigid plan.
Be wary of setting your own limiters
This is a big one for me. I thought I had an expectation for what my capabilities would allow me to do (I was always aiming for sub 2:45 or 6.17 per mile), but two weeks before the race I entered a warm-up 16 mile race. This turned out to be a turning point for me where I averaged 5.43 per mile. I couldn't believe it and started to realise that maybe I was capable of more than I had thought!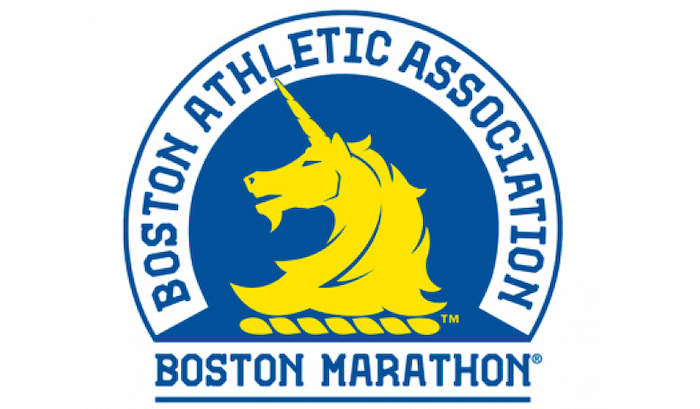 The Boston Marathon is harder than it looks… and better than expected
The profile for the race looks fairly unassuming, I had even thought quite fast. It's 6 miles of downhill, followed by 9 or so miles of flat-ish roads before the first of the 3 major climbs start which finish with Heartbreak Hill topping out at mile 21 before the final 5 miles downhill into Downtown Boston. However, don't be fooled! Firstly, if you look closer you will notice that the race is rarely flat and actually constantly undulating, even during the first 6 miles. Secondly, unlike on the bike, in running downhills are not always your friend! Be conservative during those first 6 miles and remember the race doesn't really start until mile 19!
With that being said, I was overawed by the support on the course. From fellow runners, spectators and volunteers there was not a quiet point anywhere along the route and that certainly helps pull you along (especially around Wellesley College – you could hear the cheers from a mile away!). The atmosphere surrounding Boston both pre and post marathon is amazing; it feels like the whole city is supporting you which makes this event incredibly special.
For those who got this far through, I hope you found this article interesting and helpful. As you can probably tell I am really happy with how my Boston 2019 experience and to all those running London 2019 this weekend – Good luck, run your race and above all enjoy the experience!