Struggling with the IRONMAN run?
Top tips to conquer the IRONMAN marathon from two of Great Britain's best athletes
Skechers Performance are once again the Official Running Shoe of the IRONMAN European Tour, and also support many athletes who have been proving their worth over the IRONMAN marathon, consistently, in recent years.
We asked two of their top athletes, David McNamee and Lucy Gossage, for their advice on what has worked for them in conquering the IRONMAN marathon.
---
David McNamee
With an 8:28:05 finish time in 2016, David McNamee is the fastest British athlete ever at the IRONMAN World Championship. Third at IRONMAN South Africa in April, set a new Scottish record of 8:07:31 – while also maintaining a remarkable feat of never having been beaten by another British athlete in six career IRONMAN starts. Much of that success is due to the consistency and speed of his run. He even set the fastest marathon time at Kona in 2015, his first attempt in Hawaii.
David's advice for IRONMAN run success…
Run length versus run frequency
"Increase your session length rather than the number of sessions per week to prepare for an Ironman. Three longer runs a week will usually provide greater benefit than five shorter sessions. It also gives you more time to focus on the swim/bike."
Get strong on the bike with this practical session
"A good run starts from being fit and strong on the bike. If you finish the bike leg with nothing more to give it doesn't matter what sort of run shape you are in. A good session is doing 5-6 hours on the bike where you try and lift the pace over the last 90 minutes to your target IRONMAN pace. This followed by a short run off the bike at IRONMAN pace will get your body ready for race day."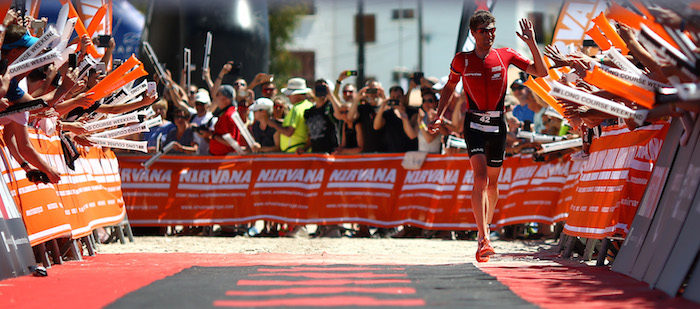 The mental approach to an IRONMAN marathon
"The start of the IRONMAN run is one of the hardest parts, both physically and mentally. Your legs have just ridden 180km and now they have to adjust to a running stride. A good tip I use on race day is splitting up the marathon into smaller sections, like 5km and setting a goal of what you want to achieve in each section. For me the first 5km the goal is to settle into race pace and make sure I get proper fuelling started from the beginning. Even if you mess up a section you just need to put it behind you and start fresh from the next one."
David's Skechers…
Lucy Gossage
The Duracell Bunny is without question one of the most popular and consistent IRONMAN athletes in the country. A top ten finisher at the IRONMAN World Championships in both 2015 and 2016, Lucy has won IRONMAN Lanzarote, IRONMAN Wales and IRONMAN UK (three times!), collecting a total full-distance IRONMAN podium haul of ten top three finishes.
Lucy's advice for IRONMAN run success
Run success starts from cycle training (and bike leg race fuelling)
Lucy's most important piece of advice for a successful IRONMAN run echoes the sentiments of David, "everything starts with being as strong as you can on the bike. Without that, however fast you can run fresh, won't matter when you get on to the run course."
"I've had races like New Zealand (2016) where I'd been able to do very little run training (because of injury) but was really strong on the bike, compared to Lanzarote (2017), where I was in much faster 'pure' running form, but wasn't as strong in terms of cycle training and that was reflected on race day. Despite being in very different run 'form', both runs were very similar time wise."
"Remember too that the bike leg is also essential in terms of keeping hydrated and ensuring you keep on top of your nutrition. You don't want to arrive at T2 on 'empty'! That is not always easy, so make sure you trial your approach in training."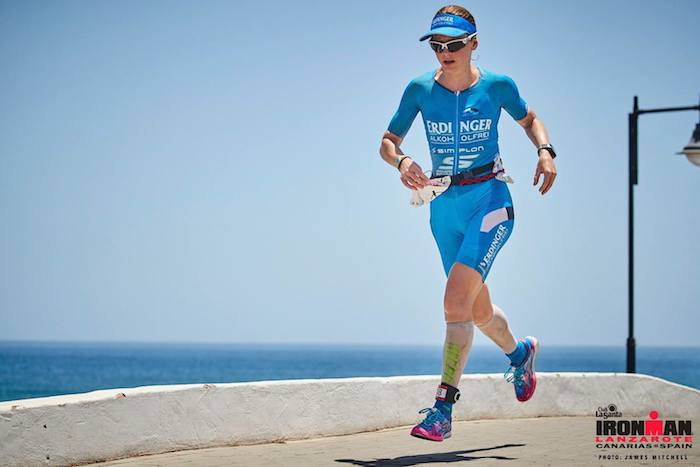 Run long (but not too long)
Lucy believes in consistency in training, not in performing only one "out of the park" training session. "Leading up to an IRONMAN I will do several two hour runs, and one two and a half hour run, but no longer than that. I also keep the pace steady (slower than IRONMAN race pace), partly for injury prevention and also because I would typically do those runs the day after a big bike ride. I feel that I benefit much more by doing a steady two hours and then being able to train properly the next day, than really push the distance / pace, and potentially be wrecked for most of the next week"
An IRONMAN 70.3 can be perfect preparation – timed correctly
Lucy has always enjoyed racing – but also believes there is a practical reason for racing a middle distance event prior to your key goal.
"I feel that a middle distance race about five weeks out from your A-race IRONMAN is about perfect. It gives you an opportunity to freshen up as you taper into it. The race itself is a quality session, and you still have time to recover, learn and build towards your primary goal."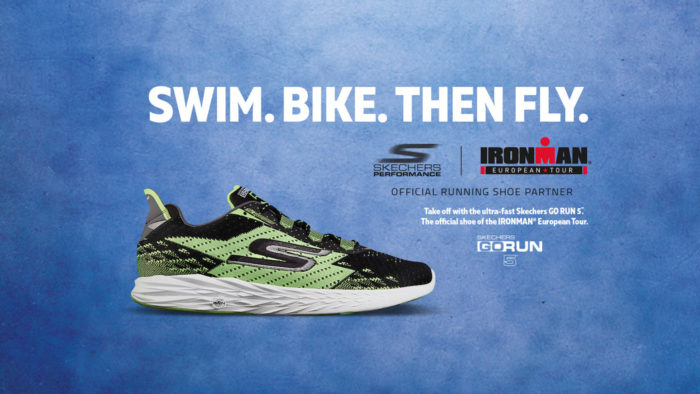 Cut out the fibre! The 'white' diet!
Lucy has had good success with changing her diet two days before the race, to eliminate fibre. "I've found that going to a 'white' diet – white bread / white rice / rice / pudding – and ice cream and chocolate (!) – in the two days before the race really helps avoid toilet problems on race day. It seems to have worked well too for several of my friends who have done similar."
Speedwork, yes… but just some
"For most people, even a lot of top age-group athletes and Pro's, success on the marathon during an IRONMAN is more about strength than 'speed'. Typically, you are not running that fast relative to your 'pure' running times. So, I do run faster than race pace in training but for me personally, that might only be once every two weeks. Doing something like a parkrun is a really easy / practical way of including that within your overall plan."
Lucy's Skechers…
Lucy chooses the GOmeb Speed 4 (below left) for racing, and for training uses the GOrun Forza 2 (below right). For more on the Skechers range, visit www.skechers.com.