London Workshops with Hall of Fame swimmer Karlyn Pipes
News here of two evening 'Faster Freeestyle' swim workshops in London next month, which should prove very popular and have the limited places sell out very quickly.
When I was over in Kona in 2017 at the IRONMAN World Championship, I was fortunate to be introduced to Kona resident and 200+ times Masters Swimming World Record holder, Karlyn Pipes. A member of the International Swimming Hall of Fame, Karlyn gave me a swim lesson in her Endless Pool. I can say from that experience that I learned a huge amount in a short amount of time.
She's a great teacher, full of energy, communicates well and importantly for me at least, keeps things simple and focuses on the things that work – straight away.
Changing my stroke within an hour, she explained – in very easy to understand terms – how to help resolve some major flaws that had been in place for several decades. You'll never see me lead any swim out of the water, but from that experience alone, I would highly recommend this opportunity to attend one of Karlyn's Faster Freestyle workshops while she is in London. Honestly, I don't think you'll be disappointed.
---
Faster Freestyle Workshops – Moberly Sports Centre, London NW10
International Swimming Hall of Fame swimmer, Karlyn Pipes (www.karlynpipes.com), is hosting two swim workshops in London in March 2019.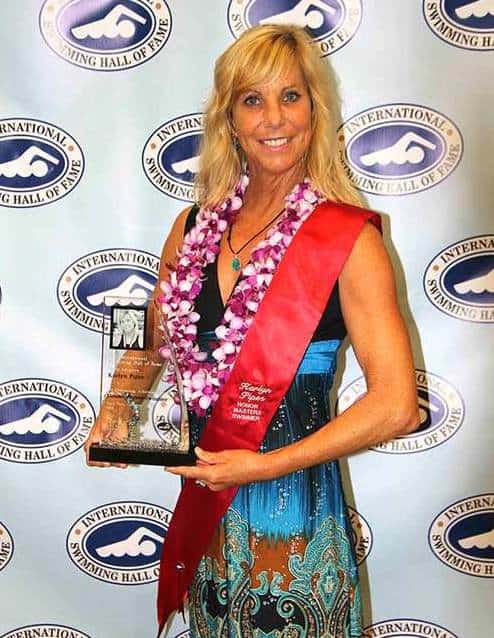 Karlyn offers Faster Freestyle workshops that are designed to help swimmers and triathletes discover the easy way to swim faster. Using simple and easy to understand drills and techniques, after just one session you will be a better swimmer!
This workshop begins with an hour in a classroom setting to discuss past and present freestyle techniques followed by about 1:45 in the water for the step-by-step Faster Freestyle progression and about 15 minutes to wrap up. Registration includes: Aquatic Edge Cap, detailed written supporting material and light snacks.
Moberly Sports Centre,
25 Chamberlayne Road,
London,
NW10 3NB
Dates
Two dates are available for the Faster Freestyle Workshops:
Tuesday 26th March 2019 – 6:00 to 9:00 PM
Wednesday 27th March 2019 – 6:00 to 9:00 PM
How to register
Bookings for the events can be made on the following links:
More about Karlyn Pipes
Visit Karlyn's YouTube Channel HERE and Wikipedia page HERE. You can also listen to Karlyn on this Trispecific Podcast.
Facebook | Twitter | Instagram | Coaching Website