"Swimming is the cruel and most demanding of the three disciplines and wants your utmost attention".
And that, says Dan Bullock, Head Coach at triathlon swim specialists, Swim for Tri (www.swimfortri.co,uk), is exactly why planning to leave the pool alone for months when your season ends is not a great strategy for your performances next year.
Here are his thought and approach to off-season swim training.
---
Don't leave it too long!
As the season possibly winds down and your competitions are over, then you should absolutely take a break from training.
Taking a break from training will refresh the mind and body and allow you to take stock of strengths / weaknesses and areas to work on in the off season. A break from swimming is two weeks; any more and you really feel the impact as you try to come back. Three months of not swimming is 30+ sessions missed. One swim session per week is six days of unlearning before you start again. Imagine three months. Rhythm, balance and coordination will all be out of alignment. Breathing will be laboured, feel for the water obliterated and that all-important swim fitness component compromised.
When it comes to the bike you have some alternates that will keep you fit and challenged. A spin class, mountain biking, various new terrains, time trialling. Running offers the chance of a treadmill, cross country, fell running, new terrains and pathways. All suitable replacements to your normal running routines but not so different that you would lose form. In fact, running cross country would probably be a great way to build some strength in your running mechanics.
Don't ignore the pool…
Unfortunately, we do not have that luxury in the pool. You cannot replace the water. You can supplement with a VASA dry-land swim bench, and it is a great supplement but you cannot replace it. Sorry to say it but swimming is the cruel and most demanding of the three disciplines and wants your utmost attention.
Missing a few months is the worst thing you can do for your swimming performances next year. There is no real substitute unlike the bike and run where there are cross overs. You can swim and learn the other strokes, improve your swim specific dryland strength & conditioning, compete in masters racing, try water polo but when it comes down to it, swimming up and down a 25m or 50m pool is necessary on a regular basis for your endurance, technique and fitness. This research came to light recently:
'increases in training volume resulted in faster swimming times, and its effect was more pronounced in older swimmers. We concluded that there was a graded positive relationship between yearly increases in training volume and improved swimming performance'

Stephanie S. Lapierre, Brett D. Baker, Hirofumi Tanaka
Consistency…
I would estimate for each session missed you need at least two to come back to bring you back up to speed. From those who regularly miss the Autumn and take a lengthy break, it is not until March that we see them come back to form.
These are the results from one of our weekly fitness sessions. Every few months we test over 10mins and see how far swimmers can swim. It is fairly simplistic but proves a reasonable test of technique and fitness. If the courses do as they say then the swimmer should through a process of improved technique and fitness swim further in the 10mins available. We perform this at the start of a fitness course and the end 10 weeks later. Most of the year we see the courses successful i.e. 70% swim further at the end compared to the start. Xmas throws up a small blip but where the Autumn was not swum it takes months to get back to the bigger numbers.
Even if the swimmer does ramp up to an improved March or May, notice that those numbers while better than the last, they are not as good as their biggest scores in the Spring of 2017.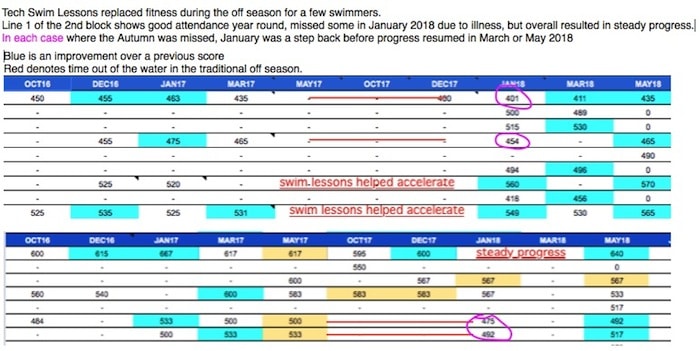 You cannot substitute or cheat steady year-round progress. One of my swimmers works as a teacher and takes full advantage of the six-week school summer holiday having prepared and planned for a late Spring race. Fair enough, this is the plan, this is how family dictates what is done with the off season but it is very hard getting her back into the water before Xmas due to such a long period of time out. The routine has gone and getting up early or finding the time now is a burden.
Resources
There are 40+ free sessions on our website available for download and in the blog. I say this as no doubt you might feel Dan has an ulterior motive, i.e. to line his pockets. Honestly, I want you to help yourself avoid the usual January blues when so many struggle back into the water. Try to minimise the time out of the water in the off season. Stay in the pool, try other strokes, a winter challenge – there are many on the SpeedoON platform or how about a Marathon Swim.
You could spend a few weeks improving technique or learning to tumble turn. Stimulate the mind with some new challenge – but please, don't stay out of the water!