Planning to go (very) long with your swimming?
Dan Bullock is the Head Coach of triathlon swim specialists, Swim for Tri (www.swimfortri.co.uk). The Christmas period can bring with it swim challenges outside of the norm for many, and for some, the challenge of the 100×100 (10km) set in the pool.
In this feature, Dan looks at the challenges of long-distance swimming, why such a session might have merit to your triathlon or long-distance swim event goals – and how best to approach a challenge which should not be underestimated.
---
Silly Season (and 100 x 100…)
I called this article 'Silly Season' since it is the time of year when overly long swim sets seem to take place and swimmers are challenged above and beyond their usual sessions. Christmas Day Hyde Park, Moonlight & Midnight, New Year's Day, long, cold and open water dips. There are Championships in unheated Lidos and of course Xmas Day sea swims.
If you want to travel and swim then there is probably something to suit you somewhere. This list, while a few years old, is pretty comprehensive – Outdoor Swim Society.
One of my favourite pools, Hampton Lido, is open 365 days of the year and you can book in a moonlight swim. This pool is heated so if you are looking to continue your training over the Xmas period, head South West out of London past Richmond and you will find it.
College Years…
In particular though I wanted to touch on the Xmas themed 100×100 challenge that for some reason pops up at this time. I first stumbled into this during my College years in Ohio. Coach Hammond had a fondness for a big final 10km main-set during our December Winter training periods when there was no studying to be done, so we could swim even more. From the chart below you can see his fondness for distance in December!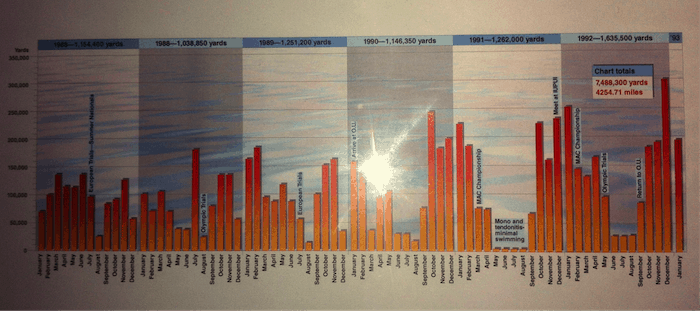 A few days before Xmas we would usually be allowed to leave campus, but not before a morning three hour swim that included a 10km main-set. (50x 200, 10×1000, straight 10km in 1992). My last year he went with the C x C as we arrived and were greeted with the cryptic message on the chalkboard.
100 x 100m Long Course meaning in the 50m length pool rather than the 25 yards we trained and raced in the collegiate system. Odd swims were off 1:25, even swims a "very generous" 1:30! Having got my pacing wrong I don't recall the last 12 as I blew up spectacularly. These were the days before gels and energy drinks.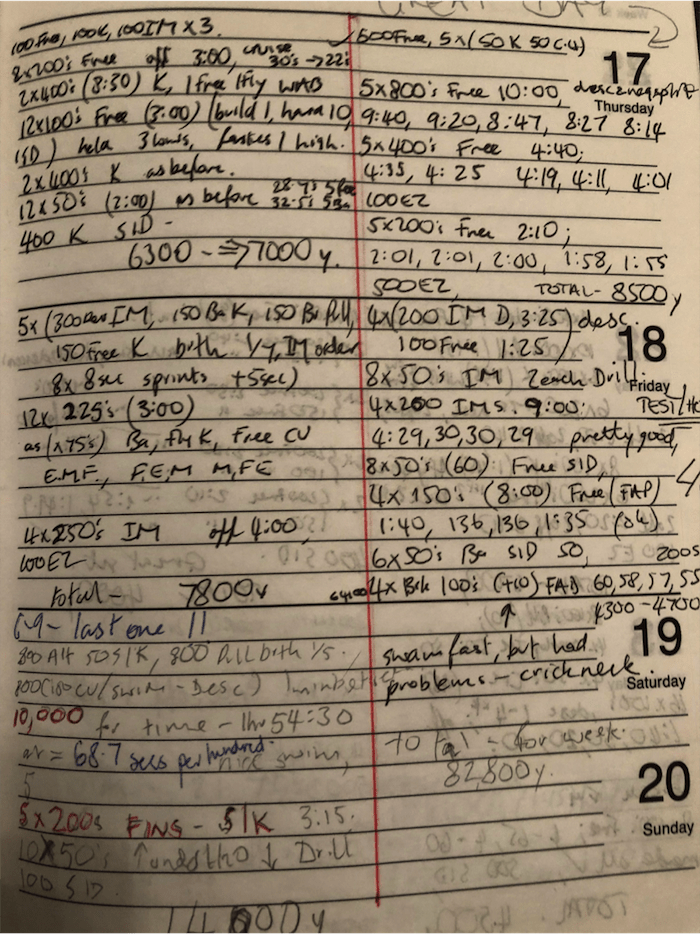 In memory of Steve…
More recently we now swim this set at Charlton Lido in December to remember Steve, a local legend who first came to Tenerife with us on a training camp. Steve and some friends started this in 2015 and now his friends continue it to raise money for Kent Air Ambulance while remembering Steve after we sadly lost him in a bike accident while out training.
On 20th December 2015, a group of 6 keen swimmers assembled at Charlton Lido's 50m outdoor pool to swim a classic set of 100 x 100m off 2 minutes to get ourselves fitter and front-run the turkey over the festive period. Sadly one of our group is no longer with us. During the Easter weekend in 2016, Steve Wand was fatally injured while out training on his bike and the world lost one of the fittest athletes of his age group.
I look forward to this poignant swim and have finished it twice now. It is a great legacy for Steve and a lovely morning of swimming as friends gather and recreate something Steve enjoyed. Whether for charity or remembering someone, as a fitting memorial the added weight of a good reason to finish will help you finish as the going gets tough. Which it will.
Why go long?
No matter how steady you start, how fit or how well you fuel, this is a long way and it will test you. Perhaps that is a good place to start; with the 'why?' would you swim 10km question.
Well, there are lots of open water 10km swims so it might make sense to see if you can hit the distance now. If you don't make it there is plenty of time to alter your training and revaluate for the Spring or Summer. Contemplating the Marathon Swim 10km next year? A good way to break down the 10 x 1km blocks they offer is to further sub-divide to 100 x 100m swims. Often the rest period on these 100 x 100 swims is 15-20secs so you get a feel for the distance without too much of a chance to recover.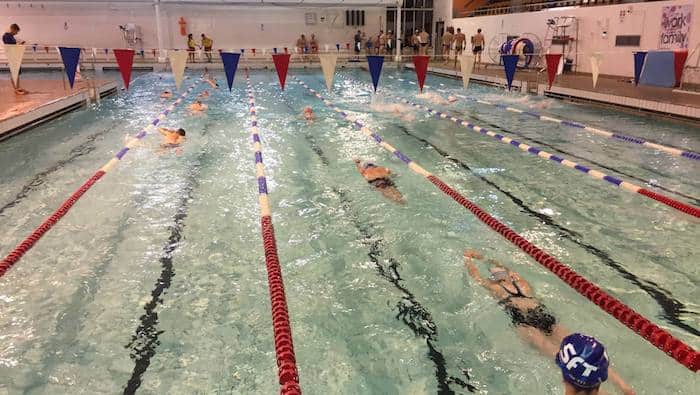 For whatever reason you might get caught up in one of these challenges, over-distance training is one reason to give them a go as we rarely venture this far in our usual training. Since so many people are now chasing the 14km Thames Marathon, the 10km Dart event, the Jubilee swims, Lock to Lock and Chillswim Lake Coniston, this long distance challenge has relevance.
Being able to replicate the race distances this early can be encouraging. Equally, if you only make 75 x 100 then you know the additional work needed to be successful. Steven Munatones, in his book Openwater Water Swimming, recommends being able to swim past your distance by as much as 30% to use as a buffer if conditions, temperature and tides get bad. Not a bad thing to have that much more in the tank just in case when it comes to an IRONMAN or the Swimathon at 5km. Being able to do double or just over now is quite the reassuring safety blanket regarding your preparation. Perhaps then you can focus more on your weaker run leg knowing the swim should be ok. But of course, don't neglect the swim completely!
Do these types of long swims help?
Confidence, mental toughness and tenacity are all tested along with the physical demands. Do you have to do it to swim an IRONMAN? No, of course not. Will you feel like you can comfortably swim the distance next year, then bike and run? Yes, I think you should be very positive.
I love the challenge of long distance events. Often taking you beyond your current limits and exploring what you may or may not thought possible. 3+ hours in the pool is also a nice long time to be working on stroke defects and allowing you a good amount of time to refine and perfect a certain element of your stroke that might have been causing issues.
Key point to Success…
Stay injury free. This is critical and my main fear when we give these big distances a go while underprepared. Be careful. If I suddenly up my distance significantly then usually my elbows get irritated with some kind of inflammation. I was recommended wrist curls by a Physio to help reduce the effect.
Preparation, it is getting a little late for one of the big Xmas themed swims to suddenly increase your swim distances dramatically, but adding dryland to strengthen the shoulders and reduce the likelihood of issues can help. I swear by prehab to keep my shoulders healthy now. Work on scapular, posture and strengthening the small muscles of the shoulders to counterbalance the FC effect. Rowing I feel helps with a reverse motion as does double arm backstroke.
Leading up to the event. Rest from a few days out leaving your last big swim or hard effort on the Wednesday if performing at the weekend. This is a big training event so it should not impact your regular training significantly, but to turn up tired will hinder your chances of completion and enjoyment. Don't forget to be familiar with and own several pairs of comfortable goggles. Losing a swim hat to a split is unlikely to spoil the day but goggles leaking will.
Nutrition. Trial and error – now is a great time to see what works and what does not in the relative safety of a pool event. If it goes wrong in terms of what sits nicely and digests well then it is better here than half way across Lake Coniston. I like the Hydro Gels as they are easy to carry in a wetsuit (by the shin), and don't need water to help them go down when I am racing long OW events, so I usually stick with these on long pool swims. Jelly beans, crisps, pasta, bananas have all been spotted on poolside.
Like I said, trial and error. Sometimes the nutrition component is ignored while the brain needs some motivation and excitement during the 60-70 block of 100m swims where fatigue is kicking in but you still have at a long way to go. Keep drinking and keep water bottles stocked up with electrolytes and energy drinks.
Counting – Last year we set an interval of 1:45 and swam blocks of 10. This meant each block took 17:30 so we rounded it up to 18mins. 10 blocks of 18mins was spot on 3hours.
Some used watches, some used the clock, a nice 55 or 05 setting will help your counting, i.e. 10 swims off 1:55 means you might start on the red top of the clock and finish your 10 when the red hands sweeps around as follows.
0, 1:55, 3:50, 5:45, 7:40, 9:35, 11:30, 13:25, 15:20, 17:15 finishing at the 19:10
Rest an extra 50 secs to start again on the 20 mins. 10 rounds at 20mins each, having started at 9am, you will be done by 12:20. Have fun with the numbers, it will help pass the time. Don't solely rely on your watch, you never can tell if it will be 100% accurate.
Keeping going. As mentioned, with a charity and completing the swim for £££'s looming over you, these are great ways to keep going. Swimming in a pool, in a group, with teammate encouragement, the energy and positivity created means it is much harder to exit than a solo effort. If you are injured or unwell then of course be sensible about this, there is no point making things worse. Equally, I wonder at the wisdom of swimming through a big event, especially an optional one, if under the weather. Whether your cold has gone from head to lungs or not. If it is optional, reconsider.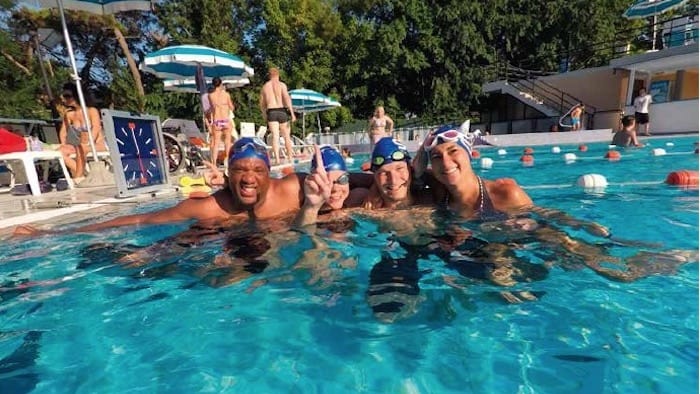 Be careful in the later stages with your push offs; cramping will be highly likely as fatigue, dehydration and lack of fuel kick in. Performing a streamlined push off will position the legs in exactly the ideal cramping position. Keep the ankles loose with simple rotations while resting and frequently stretch the calf muscles.
In Summary
Plan ahead and have friends/family to help with driving after the event. Dehydration and fatigue can take their toll. One year at Charlton the boilers were stuck on high and we boiled in 29°c pool water. Dehydration headaches made driving really dangerous. As soon as you finish and feel ready, food, massage and stretching will all aid your recovery, so don't hold back and be sure to bask in the glory.
Good luck and well done!