Inspired by the ÖTILLÖ but don't know where to start? Help is at hand…
From a seemingly bonkers idea in Sweden, the ÖTILLÖ (island-to-island) event of SwimRun / Swim-Run / Swimrun (take your pick), has effectively created its own sport, with a World Series and an increasing number of events attracting athletes all over the globe. Given the disciplines, it is a natural attraction for triathletes looking to take on a different challenge.
That said, Swimrun is more than a 'long Aquathlon' – so, how would you go about taking your first steps?
Well, Duffo Events (www.duffo.co.uk) are organising a Swim-Run Training Day on Sunday 6th May 2018 to help you make that transition.
The day will consist of
A two hour coached session, followed by
A practice race, to put all of your learning into practice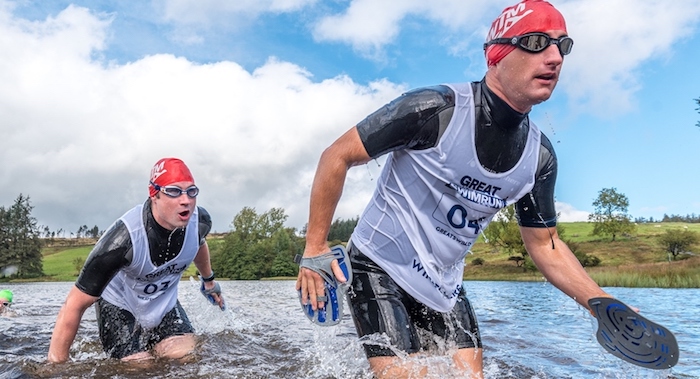 WHEN
Sunday 6th May 2018
There will be a morning (10am to 12pm) and an afternoon (12:30pm to 2:30pm) option for the coaching, with the informal Swim-Run race for all taking place at 3pm.
WHERE
The Lavender Patch, Hilton, Derby, DE65 5FZ
WHAT
Coaching from BTF coaches, lasting two hours and consisting of practical sessions in and beside the lake, information on kit, running as a pair and entering/exiting the water.
PRICE
**** Just £20 ****
Yes, that really is an absolute bargain! And that includes the opportunity to practice during the informal 'race' on a route marked course.
Enter as an individual but you have the chance to nominate a partner (who must also register for the event), to work with during the session and race. Don't worry if you don't have a partner, as they will pair you up on the day.
KIT?
You will need…
Goggles
Wetsuit with tri suit underneath
Old trainers
An old pull buoy
Swim cap / swim balaclava
Socks – light pair which don't get too heavy when wet
Old lock laces
Screwdriver or drill
Marker pen
(But don't worry… there will be experts on hand throughout the day to talk about and demo the kit you need, appropriate footwear, nutrition requirements, strength and conditioning training as well as recovery and rehab)
BOOKING?
For more details on what looks like a fantastic introduction to the Swimrun, CLICK HERE.