Group workout with Lionel Sanders tonight on Zwift tonight
7pm, UK-time, Wednesday 3rd January 2018
Today is the day for session #4 in the TRI247 Winter Series on Zwift (www.zwift.com), with this week's workout set and lead by the reigning ITU Long Distance Triathlon World Champion, Lionel Sanders – full details HERE.
(Check out the previous events so far with  Lucy Charles | Joe Skipper | Lucy Gossage)
Ahead of tonight's session, we asked Lionel for his thoughts and motivation on the structure of the session. It sounds like it is going to be a tough one… come prepared to work. Hard!
Lionel's words of motivation for this session…
"This is a bread and butter set for me. If you want to race well in September and October, then you will never skip this workout or cut it short, as this is what will allow you to push big power at the 70.3 and IM distances, and expect to run well afterwards. If you are doing it right i.e. if your FTP values are accurate, then about three quarters of the way through the 3 minuters you should start feeling the finger tips pulsating, and getting a little uncomfortable in your skin. The last couple are usually very painful, but in reality that is where the workout really starts. If it doesn't hurt, then your body was likely already equipped to perform the job you are asking of it, and thus it is at that point that you are finally crossing over into an area where you don't have adequate machinery to perform the job. The big efforts at the end are mainly to ingrain in the body that we do not slow down at the end of the workout, but rather, pickup the effort. "
As always, we strongly recommend that you check that you have your FTP set correctly within Zwift before the session begins, to ensure that your personal interval targets are manageable. If in doubt (been over-indulging at Christmas?!), better to drop it down by 10/20 watts before the ride, than be forced to stopped halfway through. The great thing about a Group Workout on Zwift, is that everyone can train together, but at their own personal power targets. Fear not, you don't have to match Lionel's power output!
The Lionel Sanders Intervals Session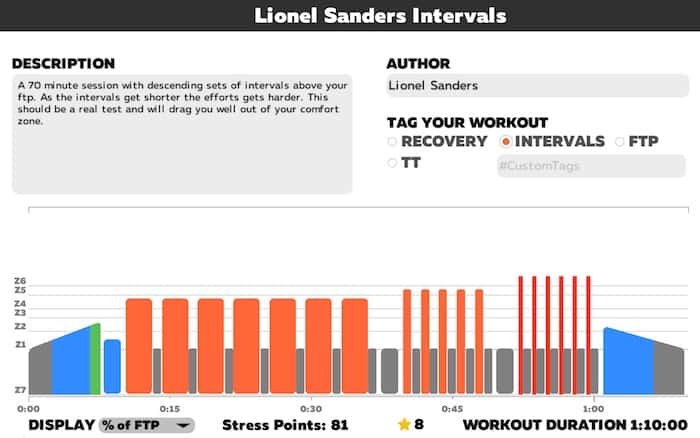 How Lionel Sanders uses Zwift in his training