FREE Zwift Custom Workout Plan – 50 Shades of Power!
As part of the TRI247 Workout Series on Zwift we now have available from last night, the '50 Shades of Power!' custom workout file used and set by TRI247 Editor, John Levison.
This session represented the 50th edition of our weekly group workouts on Zwift. More than 100 athletes from all over the globe joined us, as they do every week. If you've not tried it yet, you can join us every Wednesday evening at 7pm, UK-time.
You can also find links to the files of ALL of our previous sessions below too.
Session details
As it was a 50th session, the '50' theme was reflected in the session structure, which including 50 power elements that, assuming you hit all of them closely, would result in collecting all 50 stars…
This is a variety session, which includes a range of elements inspired by previous workouts in the series:
An short, progressive warm/up
Six short, but sharp, 'spikes' to conclude the warm/up and ensure the legs are ready to go.
A relatively gentle first set of two short 'sweetspot' blocks
Next up some microburst intervals
The pyramid all at or above FTP level, with short recoveries
Another sweetspot block, to allow a little bit of recovery, before…
Finishing with 10-minutes of over/unders. One minute above FTP, one minute just below – repeated through five times,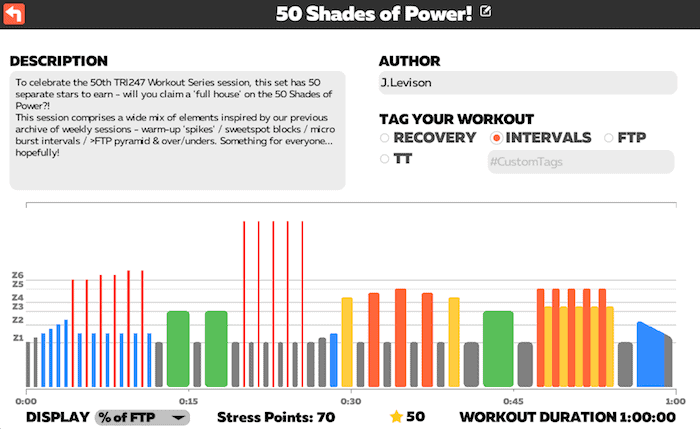 Without doubt, that final 10minutes over/under block was the toughest element of the evening. The first 40 minutes seemed to fly by, but as the effort from the previous work built, it was clear that the final 10 minutes was going to be a tough one. It certainly was… but I made it through, and seemingly the group did too! Another quality hour of work where the group environment really helps.
If you want to repeat the session at any time – or indeed try it for the first time – here is the custom workout that we used.
Join us at 7pm on Zwift, UK time, every Wednesday for another quality session.
Custom Workout downloads from previous Zwift sessions:
For details on how to add workout files to Zwift:
The .ZWO file stands for a Zwift Work-Out file. When someone creates a custom workout (whether it be you, a friend, or a coach), Zwift generates a .ZWO file that contains the entire workout. You can share it with your friends or other Zwifters – or add their workouts to your device – by following the steps below.
PC / Mac
Go to your Documents\Zwift\Workouts folder, find the ".zwo" file, and send it to your friend. Any .zwo files you move to your Documents\Zwift\Workouts folder will be added to your custom workouts menu the next time you launch the game.
iOS
In order to add custom workouts to iOS, you need to also have a computer with iTunes installed. It's not currently possible to create custom workouts on iOS (as of 01/2017).
Plug your device into your computer and open up iTunes.
Click on your device in iTunes, then click "Apps" and scroll down to the "File Sharing" section.
You should see Zwift listed, and it should have a "Zwift" folder. Click that, click "Save To," and save it to a location of your choice.
Find the saved Zwift folder, and copy all the workouts you want into the Zwift/Workouts folder
Go back to iTunes, click "Add," and choose the Zwift folder with the new workout files. You'll want to "replace" the folder on the device with your newly modified folder.
Click "Sync" to save the changes to the device.
When you start Zwift, they will show up in your Custom Workouts section at the bottom of the available Workouts.
Source: Support Zwift