FREE Zwift Custom Workout Plan – Club Relays Madness!
As part of the TRI247 Workout Series on Zwift we now have available from last night (22nd August), the 'Club Relays Madness!' custom workout file used and set by TRI247 Editor, John Levison, for the latest group workout.
You can also find links to the files of all of our previous sessions below too.
The session
The 'Club Relays' is one of the longest-standing and most popular events on the domestic triathlon calendar. In its 28th year in 2018, the National Water Sports Centre event is another sold-out event, attracting close to 1800 athletes and 440 teams, competing for Triathlon England National Championship medals. It was also the inspiration for this session.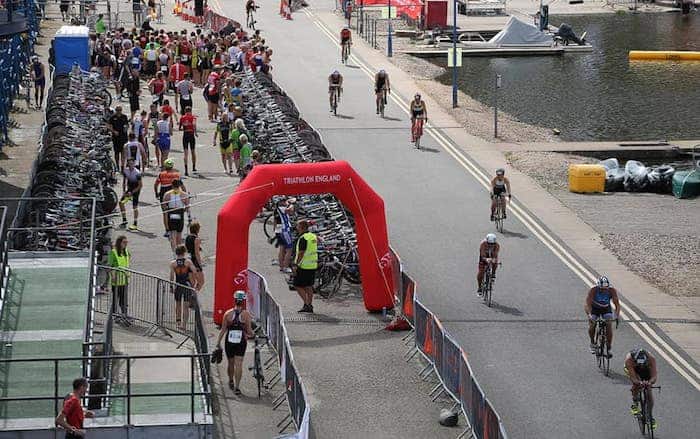 The workout includes four sets; within each one you increase the effort from Tempo, through to Threshold and then (briefly) into VO2 Max, before a short recovery. Repeat four times – one each to represent each team member in the virtual relay team!
You can download the file here (and check out the installation instructions below):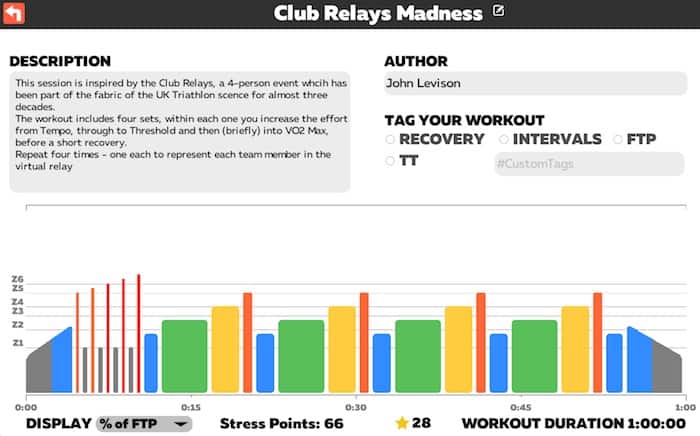 Custom Workout downloads from previous Zwift sessions:
For details on how to add workout files to Zwift:
The .ZWO file stands for a Zwift Work-Out file. When someone creates a custom workout (whether it be you, a friend, or a coach), Zwift generates a .ZWO file that contains the entire workout. You can share it with your friends or other Zwifters – or add their workouts to your device – by following the steps below.
PC / Mac
Go to your Documents\Zwift\Workouts folder, find the ".zwo" file, and send it to your friend. Any .zwo files you move to your Documents\Zwift\Workouts folder will be added to your custom workouts menu the next time you launch the game.
iOS
In order to add custom workouts to iOS, you need to also have a computer with iTunes installed. It's not currently possible to create custom workouts on iOS (as of 01/2017).
Plug your device into your computer and open up iTunes.
Click on your device in iTunes, then click "Apps" and scroll down to the "File Sharing" section.
You should see Zwift listed, and it should have a "Zwift" folder. Click that, click "Save To," and save it to a location of your choice.
Find the saved Zwift folder, and copy all the workouts you want into the Zwift/Workouts folder
Go back to iTunes, click "Add," and choose the Zwift folder with the new workout files. You'll want to "replace" the folder on the device with your newly modified folder.
Click "Sync" to save the changes to the device.
When you start Zwift, they will show up in your Custom Workouts section at the bottom of the available Workouts.
Source: Support Zwift