FREE Zwift Custom Workout Plan – Gill Fullen's Lactic Legs Challenge
As part of the TRI247 Workout Series on Zwift we now have available from last night, the 'Lactic Legs Challenge' custom workout file, from the session lead by multiple European and World Age-Group Champion, Gill Fullen.
As the name suggests, it's a challenging session giving an insight into the training that she does under the guidance of her coach, Perry Agass.
Lactic Legs Challenge Details
The session is very simple in structure… but not quite so easy to ride.
Sandwiched between a five minute warm up and five minute warm down, the main set comprises 20x two minutes 'on', one minute 'recovery' for a full hour main set.
The aim of this workout is to build resistance, strength and resilience – and so it is strongly suggested that you try and keep your cadence relatively low throughout. Towards the end of the hour, you'll likely find you have little choice in that regard anyway, as the fatigue from the previous efforts builds. It is a challenge – but one that can be done, as proven by around 100 riders that joined us last night.
In absolute terms, the power targets are not high – it is maintaining consistency through the set that will provide the rewards (and those 'Lactic Legs'), so do make sure you don't get carried away at the beginning of the workout, thinking it is easy. For power targets, we've set the 20 reps as:
5 @ 95% FTP
5 @ 105% FTP
5 @ 95% FTP
5 @ 105% FTP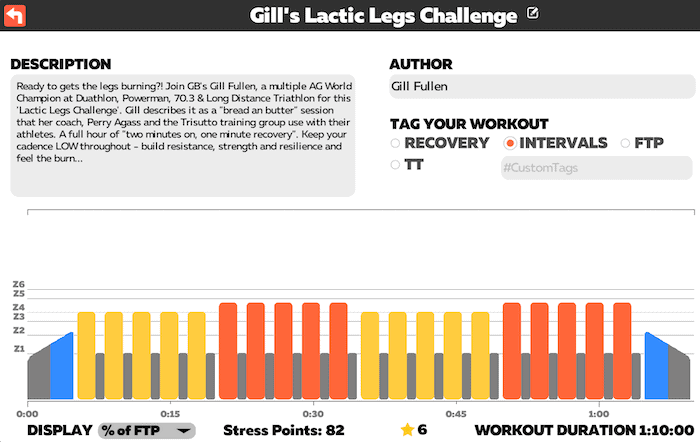 If you want to repeat the session at any time – or indeed try it for the first time – here is the custom workout that we used. Hope you enjoy it.
Join us at 7pm on Zwift, UK time, every Wednesday for another quality workout.
Custom Workout downloads from previous Zwift sessions:
For details on how to add workout files to Zwift:
The .ZWO file stands for a Zwift Work-Out file. When someone creates a custom workout (whether it be you, a friend, or a coach), Zwift generates a .ZWO file that contains the entire workout. You can share it with your friends or other Zwifters – or add their workouts to your device – by following the steps below.
PC / Mac
Go to your Documents\Zwift\Workouts folder, find the ".zwo" file, and send it to your friend. Any .zwo files you move to your Documents\Zwift\Workouts folder will be added to your custom workouts menu the next time you launch the game.
iOS
In order to add custom workouts to iOS, you need to also have a computer with iTunes installed. It's not currently possible to create custom workouts on iOS (as of 01/2017).
Plug your device into your computer and open up iTunes.
Click on your device in iTunes, then click "Apps" and scroll down to the "File Sharing" section.
You should see Zwift listed, and it should have a "Zwift" folder. Click that, click "Save To," and save it to a location of your choice.
Find the saved Zwift folder, and copy all the workouts you want into the Zwift/Workouts folder
Go back to iTunes, click "Add," and choose the Zwift folder with the new workout files. You'll want to "replace" the folder on the device with your newly modified folder.
Click "Sync" to save the changes to the device.
When you start Zwift, they will show up in your Custom Workouts section at the bottom of the available Workouts.
Source: Support Zwift