FREE Zwift Triathlon Custom Workout Plan – Russian Steps
As part of the TRI247 Workout Series on Zwift we now have available from last night (21st March) the 'Russian Steps' custom workout file used by TRI247 Editor John Levison in our latest weekly group workout session.
You can also find links to the files of all of our previous sessions below too.
The session…
A classic session that has been around for many years, the Russian Steps workout proved to be one of my favourites of the series so far. To be fair, I do seem to think that every week though…
It's not an easy workout, but with constant changes of pace and interval length during the three 'Steps' blocks, it keeps you focussed and you will make it to the finish. We had a fantastic turnout of 130 riders made it through a great hour online, all determined to Putin a great effort… among several other bad jokes!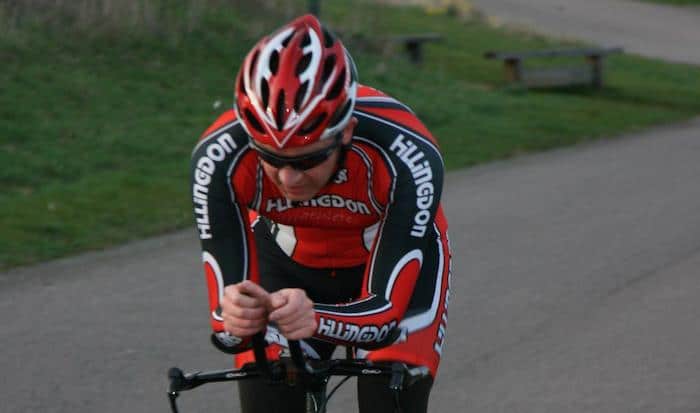 Main set:
The session comprises of FIVE blocks of efforts at different intensities:
Set one: 5 minutes at 100% FTP.
Sets three / four / five: Intervals at 115% FTP of 15 / 30 / 45 / 60 / 45 / 30 / 15 seconds – with the twist that as the intervals get longer, the rest gets shorter. 3 minutes recovery between each block.
Set five: 5 minutes at 100% FTP (which will feel tougher the second time around, but hang tough…).
You can download the file here (and check out the installation instructions below):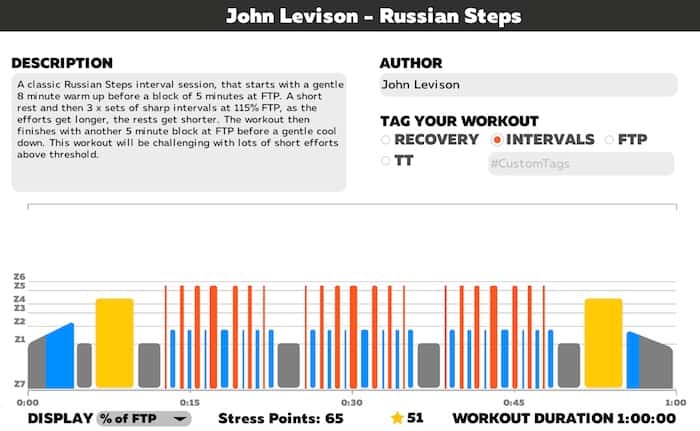 Custom Workout downloads from previous Zwift sessions:
For details on how to add workout files to Zwift:
The .ZWO file stands for a Zwift Work-Out file. When someone creates a custom workout (whether it be you, a friend, or a coach), Zwift generates a .ZWO file that contains the entire workout. You can share it with your friends or other Zwifters – or add their workouts to your device – by following the steps below.
PC / Mac
Go to your Documents\Zwift\Workouts folder, find the ".zwo" file, and send it to your friend. Any .zwo files you move to your Documents\Zwift\Workouts folder will be added to your custom workouts menu the next time you launch the game.
iOS
In order to add custom workouts to iOS, you need to also have a computer with iTunes installed. It's not currently possible to create custom workouts on iOS (as of 01/2017).
Plug your device into your computer and open up iTunes.
Click on your device in iTunes, then click "Apps" and scroll down to the "File Sharing" section.
You should see Zwift listed, and it should have a "Zwift" folder. Click that, click "Save To," and save it to a location of your choice.
Find the saved Zwift folder, and copy all the workouts you want into the Zwift/Workouts folder
Go back to iTunes, click "Add," and choose the Zwift folder with the new workout files. You'll want to "replace" the folder on the device with your newly modified folder.
Click "Sync" to save the changes to the device.
When you start Zwift, they will show up in your Custom Workouts section at the bottom of the available Workouts.
Source: Support Zwift