FREE Zwift Custom Workout Plan – 'The 13:50' from Karl Alexander
As part of the TRI247 Workout Series on Zwift we now have available from last night (11th April) 'The 13:50' custom workout file used by Karl Alexander in our latest weekly group workout session. Why 13:50? Well, the intervals go from 10 to 2…
You can also find links to the files of all of our previous sessions below too.
The session…
Now that was a tough one! Definitely not one to be attempted without being fully focussed mentally and pretty fresh physically. I made it to the end… but I will admit, I did have to dial down my FTP level a couple of times during the set. Note to self – next time you try this one, make sure you are rested!
Karl describes this session as:
"This will test your strength endurance and push your VO2 Max ceiling into unchartered territory but remember, it's 90% legs and 10% in your head (actual percentages may vary!)…"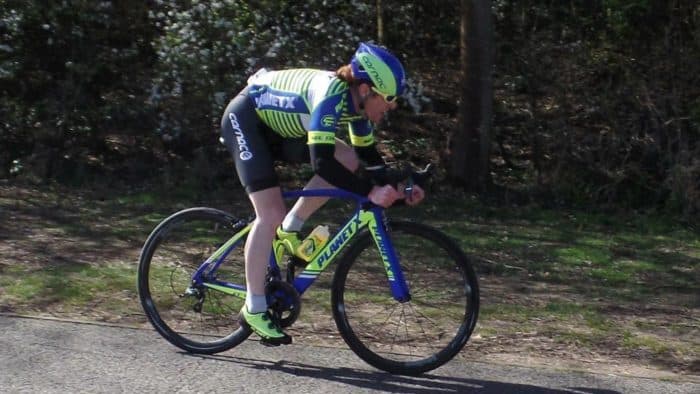 Big thanks to Karl for leading another TRI247 Workout Series session. Details of next week's session and ride leader coming very soon. Remember, every Wednesday night at 7pm, UK-time, a different triathlon-focussed workout (typically of around one hour), set and lead by a special guest.
Main set:
The main session structure, in power (FTP)/zone terms is:
10min Z4[100%]
2min Z2[60%] recovery
8min Z5[105%]
2min Z2[60%] recovery
6min Z5[110%]
2min Z2[60%] recovery
4min Z5[115%]
2min Z2[60%] recovery
2min Z6[120%]
You can download the file here (and check out the installation instructions below):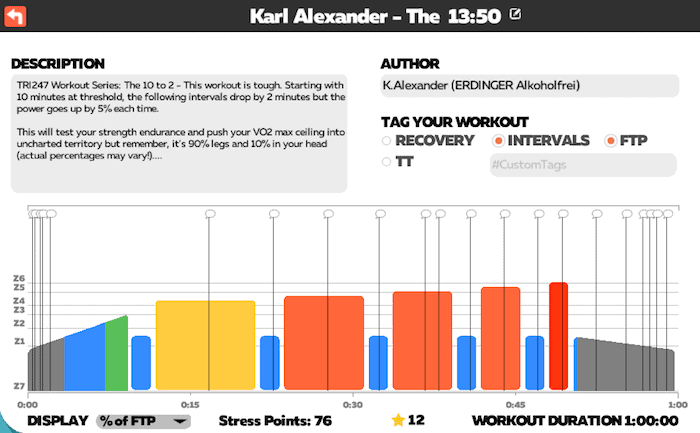 Custom Workout downloads from previous Zwift sessions:
For details on how to add workout files to Zwift:
The .ZWO file stands for a Zwift Work-Out file. When someone creates a custom workout (whether it be you, a friend, or a coach), Zwift generates a .ZWO file that contains the entire workout. You can share it with your friends or other Zwifters – or add their workouts to your device – by following the steps below.
PC / Mac
Go to your Documents\Zwift\Workouts folder, find the ".zwo" file, and send it to your friend. Any .zwo files you move to your Documents\Zwift\Workouts folder will be added to your custom workouts menu the next time you launch the game.
iOS
In order to add custom workouts to iOS, you need to also have a computer with iTunes installed. It's not currently possible to create custom workouts on iOS (as of 01/2017).
Plug your device into your computer and open up iTunes.
Click on your device in iTunes, then click "Apps" and scroll down to the "File Sharing" section.
You should see Zwift listed, and it should have a "Zwift" folder. Click that, click "Save To," and save it to a location of your choice.
Find the saved Zwift folder, and copy all the workouts you want into the Zwift/Workouts folder
Go back to iTunes, click "Add," and choose the Zwift folder with the new workout files. You'll want to "replace" the folder on the device with your newly modified folder.
Click "Sync" to save the changes to the device.
When you start Zwift, they will show up in your Custom Workouts section at the bottom of the available Workouts.
Source: Support Zwift