FREE Zwift Triathlon Custom Workout Plan
As part of the TRI247 Winter Series on Zwift we have available the custom workout that Team Freespeed's Ruth Purbrook used in her Zwift session last night for you to download.
This week's session was entitled 'Over Gears', and was set by Ruth's coach, GB Pro triathlete Will Clarke.
While spending significant time at and around your current FTP level, a key focus of the session was also to build strength, with a focus on higher gears / lower cadence during the efforts. Sticking to that lower cadence results in the ride being a very cycle-specific strength session.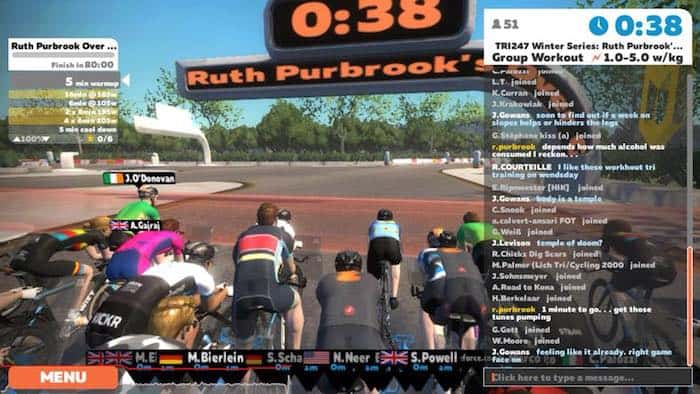 Over 50 riders joined us this week – and as far as I could tell, everyone was still there at the finish. It was a challenging session – but an interesting one too, with several riders commenting that they had done little 'over gear' work previously.
The longer intervals (16min / 2*8mins / 4*4mins – a total of 48 minutes within the 80 minute session), means that mental focus is required for a sustained effort, more than any explosive-type power efforts. In that sense, very much in line with the racing requirements of most (non-drafting) triathletes. I really enjoyed it. A tough session, certainly, but not one that should leave you totally destroyed. I'll find out whether that really is the case later, when I do today's session… but right now, my legs are feeling pretty good this morning.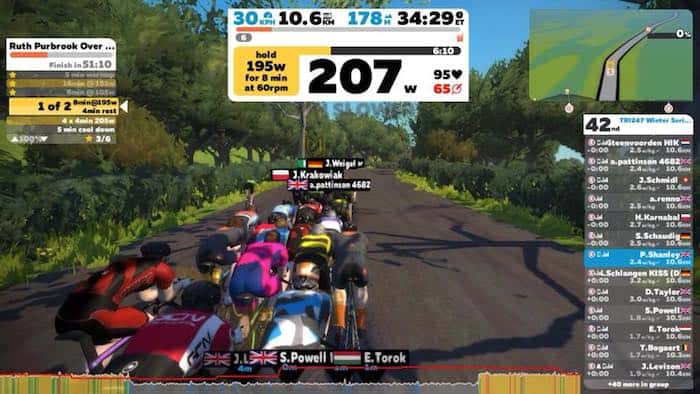 Huge thanks to everyone who joined in with the ride – your support is greatly appreciated. Special thanks also to Ruth for her commentary during the session – even revealing the cheesy disco tunes she likes to train to – and to Will Clarke for setting the workout plan.
If you missed the session then don't worry – you can now do it in your own time!
You can download the file here (and check out the installation instructions below):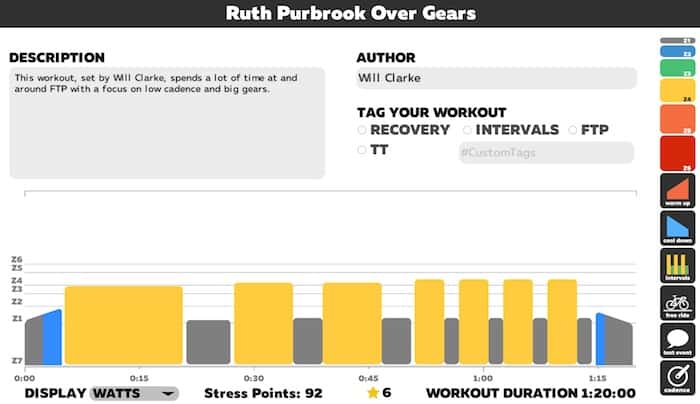 Custom Workout downloads from previous Zwift sessions:
For details on how to add workout files to Zwift:
The .ZWO file stands for a Zwift Work-Out file. When someone creates a custom workout (whether it be you, a friend, or a coach), Zwift generates a .ZWO file that contains the entire workout. You can share it with your friends or other Zwifters – or add their workouts to your device – by following the steps below.
PC / Mac
Go to your Documents\Zwift\Workouts folder, find the ".zwo" file, and send it to your friend. Any .zwo files you move to your Documents\Zwift\Workouts folder will be added to your custom workouts menu the next time you launch the game.
iOS
In order to add custom workouts to iOS, you need to also have a computer with iTunes installed. It's not currently possible to create custom workouts on iOS (as of 01/2017).
Plug your device into your computer and open up iTunes.
Click on your device in iTunes, then click "Apps" and scroll down to the "File Sharing" section.
You should see Zwift listed, and it should have a "Zwift" folder. Click that, click "Save To," and save it to a location of your choice.
Find the saved Zwift folder, and copy all the workouts you want into the Zwift/Workouts folder
Go back to iTunes, click "Add," and choose the Zwift folder with the new workout files. You'll want to "replace" the folder on the device with your newly modified folder.
Click "Sync" to save the changes to the device.
When you start Zwift, they will show up in your Custom Workouts section at the bottom of the available Workouts.
Source: Support Zwift