FREE Zwift Custom Workout Plan – What Goes Up, Must Come Down
As part of the TRI247 Workout Series on Zwift we now have available from last night (28th March) the 'What Goes Up, Must Come Down' custom workout file used by Sam Begg in our latest weekly group workout session.
You can also find links to the files of all of our previous sessions below too.
The session…
First off, a big thank you to Sam Begg. We'd spotted Sam as a regular on the Wednesday night session week after week, and thought it would be a great idea to ask him to host one of the weekly workouts. Sam is a quality athlete in his own right, winning many races in the UK and finishing in the top-10 at the Outlaw Half Holkham in both 2016 and 2017. He put together a great session for our athletes too.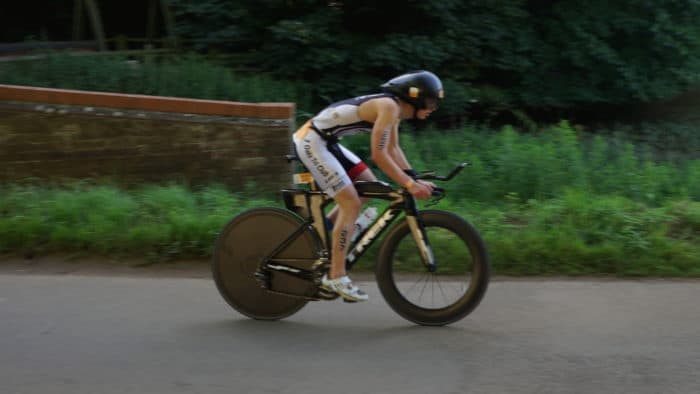 Sam described his What Goes Up, Must Come Down session as one that he has a "love / hate" relationship with in his training. Well, the (virtual) group environment of Zwift helped 77 riders get through an interesting and challenging session last night.
The session starts off relatively calmly, with 7 minutes of riding at 85% of your FTP (one hour max) power. Don't get carried away at this early stage, as it is a building block to a well structured session. Go too hard, too soon, and you will certainly pay for it later. Another great session. If you've not yet joined us for the weekly workouts, why not give it a try. 7pm, every Wednesday (UK time), a different session every week.
Main set:
A pyramid session featuring seven blocks of work, each one separated by two minutes of recovery. As the session progresses, the interval length decreases but the intensity increases.
Things start to 'bite' once you reach the 1minute efforts at 120% of FTP power in the middle of the set… but take comfort that you are halfway through! Once you are over the 'peak' of the pyramid, you'll really need to focus and commit to the second 3min (110%) and 5min (100%/FTP) efforts, as the accumulated fatigue kicks in. These are probably the toughest parts of the session. Don't worry – this is where the magic happens! Once you reach that final 7minutes, you will make it to the finish…
Here is the breakdown of those efforts:
7min Z3 [85%]
5min Z4 [100%]
3min Z5 [110%]
4x1min Z6 [120%], 1min Z2[65%] recovery
3min Z5 [110%]
5min Z 4[100%]
7min Z3 [85%]
You can download the file here (and check out the installation instructions below):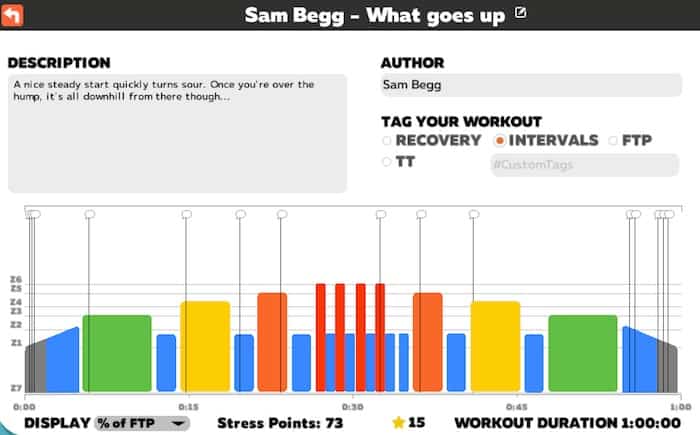 Custom Workout downloads from previous Zwift sessions:
For details on how to add workout files to Zwift:
The .ZWO file stands for a Zwift Work-Out file. When someone creates a custom workout (whether it be you, a friend, or a coach), Zwift generates a .ZWO file that contains the entire workout. You can share it with your friends or other Zwifters – or add their workouts to your device – by following the steps below.
PC / Mac
Go to your Documents\Zwift\Workouts folder, find the ".zwo" file, and send it to your friend. Any .zwo files you move to your Documents\Zwift\Workouts folder will be added to your custom workouts menu the next time you launch the game.
iOS
In order to add custom workouts to iOS, you need to also have a computer with iTunes installed. It's not currently possible to create custom workouts on iOS (as of 01/2017).
Plug your device into your computer and open up iTunes.
Click on your device in iTunes, then click "Apps" and scroll down to the "File Sharing" section.
You should see Zwift listed, and it should have a "Zwift" folder. Click that, click "Save To," and save it to a location of your choice.
Find the saved Zwift folder, and copy all the workouts you want into the Zwift/Workouts folder
Go back to iTunes, click "Add," and choose the Zwift folder with the new workout files. You'll want to "replace" the folder on the device with your newly modified folder.
Click "Sync" to save the changes to the device.
When you start Zwift, they will show up in your Custom Workouts section at the bottom of the available Workouts.
Source: Support Zwift