FREE Zwift Custom Workout Plan – Sweetspot Sandwich
As part of the TRI247 Workout Series on Zwift we now have available from last night, the 'Sweetspot Sandwich' custom workout file used and set by TRI247 Editor, John Levison, for our latest group session.
You can also find links to the files of ALL of our previous sessions below too.
The session
This is a workout that will allow you to spend a solid proportion of time at upper zone 3 / lower zone 4 'sweetspot' power (which is close to, or just above, 70.3 race pace effort for most). The session is challenging, but not of the 'extreme / brutal' variety. You'll know you have worked, but you should be good to go again the next day too. You want to finish tired, not destroyed!
All told, it is probably an ideal quality session for triathletes to include regularly within their training over the coming few months. A good way to keep some race pace efforts into your schedule without the need to seek peak performance with, for most, your next key races likely 3/4/5 months away. Not too many triathletes need to peak in January.
You start with a short, progressive warm/up which finishes with five, 20 second efforts to ensure that the legs are awake and ready for the bulk of the session.
The main set comprises of seven repetitions of the following:
15 seconds at 105% FTP (Zone 4/5)
4 minutes at 88% FTP (Sweetspot)
15 seconds at 105% FTP (Zone 4/5)
2 minutes at 65% FTP (Recovery)
The 15 second elements effectively sandwich (hence the session name…), the sweetspot blocks, to add a little twist. The logic here is that often you will start a ride fast (perhaps too fast), and then need to settle back into your sustainable effort. Similarly, there may be a pace increase at the very end of a ride, for example, get a good position going into transition.
As I suggested when posting the session, it requires as much mental focus as physical performance. The power is never huge at any point, but the gradually accumulating fatigue, long(ish) intervals and a recovery period which seems to pass with increasing speed as the hour progresses, means that you'll want to stay mentally switched on to maintain that strong effort through all seven blocks. It was a great one to do in 'group' format – with around 130 athletes riding together last night.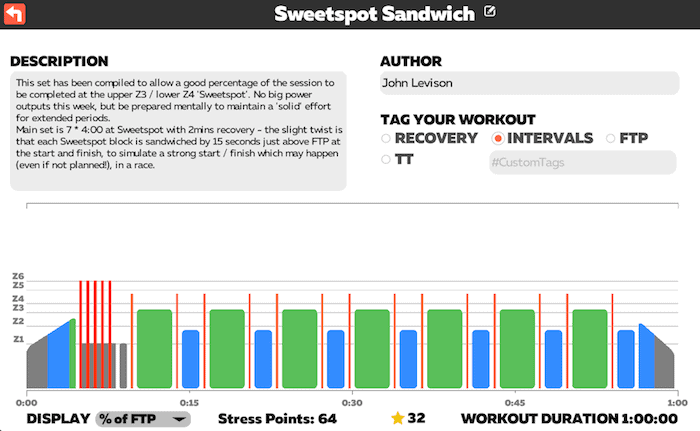 Join us at 7pm on Zwift, UK time, every Wednesday.
Custom Workout downloads from previous Zwift sessions:
For details on how to add workout files to Zwift:
The .ZWO file stands for a Zwift Work-Out file. When someone creates a custom workout (whether it be you, a friend, or a coach), Zwift generates a .ZWO file that contains the entire workout. You can share it with your friends or other Zwifters – or add their workouts to your device – by following the steps below.
PC / Mac
Go to your Documents\Zwift\Workouts folder, find the ".zwo" file, and send it to your friend. Any .zwo files you move to your Documents\Zwift\Workouts folder will be added to your custom workouts menu the next time you launch the game.
iOS
In order to add custom workouts to iOS, you need to also have a computer with iTunes installed. It's not currently possible to create custom workouts on iOS (as of 01/2017).
Plug your device into your computer and open up iTunes.
Click on your device in iTunes, then click "Apps" and scroll down to the "File Sharing" section.
You should see Zwift listed, and it should have a "Zwift" folder. Click that, click "Save To," and save it to a location of your choice.
Find the saved Zwift folder, and copy all the workouts you want into the Zwift/Workouts folder
Go back to iTunes, click "Add," and choose the Zwift folder with the new workout files. You'll want to "replace" the folder on the device with your newly modified folder.
Click "Sync" to save the changes to the device.
When you start Zwift, they will show up in your Custom Workouts section at the bottom of the available Workouts.
Source: Support Zwift