TRI247 Workout Series #46 – Micro Burst Intervals 2
Wednesday, 7th November 7.00pm UK time on Zwift
We've got another new session for this week's TRI247 Workout Series. This is a follow up to a session from a few week's ago called Micro Burst Intervals. That went well, had good feedback and was something a little different to the majority of our sessions… so here is the sequel, Micro Burst Intervals 2.
Innovative titles were missing from our imagination this week!
The Micro Burst Intervals 2 session
If you did the last session, this one is an adaptation of that. This time we are going to do three blocks of short intervals (5*20secs, 6*15secs, 7*10secs) at significantly above FTP level – and then repeat that. As the interval length decreases, the power targets increase and the rest intervals will also be reduced. My guess is that this one will feel a lot tougher the second time through!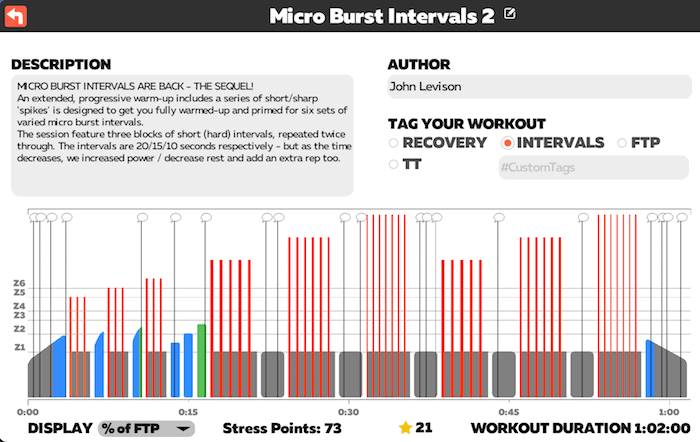 Because we are targeting some solid efforts during the bulk of the session, the warm up is relatively long, progressive and will include some sport sprint effort itself, to ensure we are ready to hit the big numbers later.
Join us on the virtual roads of New York City this evening!
You can find the custom workout files from all of the previous TRI247 Workout Series sessions on these links, to download and do ride again in your own time:
Custom Workout downloads from previous Zwift sessions:
Joining Instructions:
The workout will begin promptly at 7.00pm UK time, Wednesday 7th November 2018. It is worth logging in 10 or 15 minutes before the session to make sure you are set up and ready to go, where you will be able to warm up in the virtual 'holding pen'.
https://www.youtube.com/watch?v=XNTXAkky4qE
Look for the TRI247 Workout Series event in the list on the right of the screen once you have paired your sensors. Click to JOIN and you will be taken to the start line ready to begin the workout.
Make sure you have set your FTP level correctly before you join the workout as all the intervals are based on a percentage of FTP so it is important to get that right. If in doubt, dial the FTP number down 10 or 20 watts as it is better to finish the session than to feel like it is too challenging.
If you have never used Zwift before but don't want to miss out, head to the Zwift support page for tips on how to get the most out of your setup.
After the session head over to the TRI247 Facebook page for some post ride chat.
Zwift Group Rides: TRI247 Workout Series
The cool thing about a group workout on Zwift is that varying levels of ability can ride together in a group and all finish the session together having done the same relative effort, even if the actual watts are significantly different. It is not a race, but a shared goal to get a good session in the training log.