TRI247 Workout Series #69 – The Russian Steps
TRAIN WITH TRI247 EDITOR JOHN LEVISON ON ZWIFT
Wednesday, 24th

 April 2019 7.00pm UK time on Zwift
For tonight's TRI247 Workout Series session on Zwift, we return to a favourite session we first did in February 2018, The Russian Steps.
This is a classic workout designed to develop your VO2 Max. This session will have you Putin out some hard work.
Adding this set into our TRI247 library (links to all of our custom workouts are available below), was first inspired by a trip to Moscow last year, where I hosted the annual ETU Presidents' Gala Dinner and Awards evening.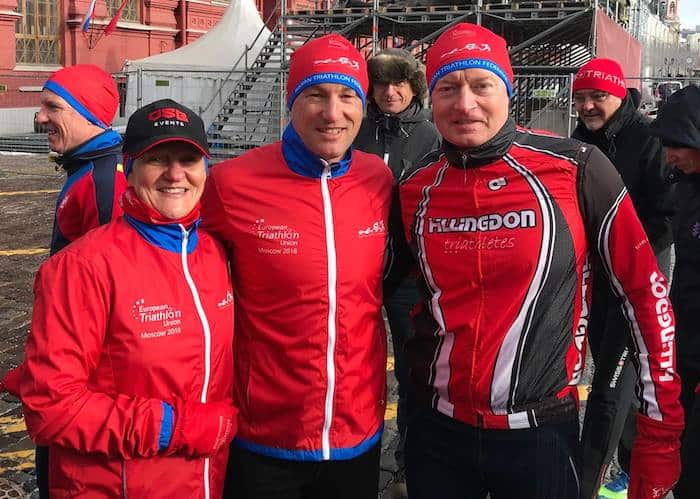 We also got to meet and run with a certain two-time IRONMAN World champion and former IRONMAN and Kona course record holder on one of the most enjoyable early Sunday morning's I've ever had; a guided tour of the city, including Red Square, the Kremlin and Saint Basil's Cathedral…
The Russian Steps session
The Russian Steps features three blocks of short, sharp (but increasing length) efforts… the twist being that at the interval length increases, the rest interval decreases.
The three blocks of intervals are book-ended by two, five minute efforts at your FTP level. That should provide a quality hour of work. Help yourself to a recovery Vodka afterwards!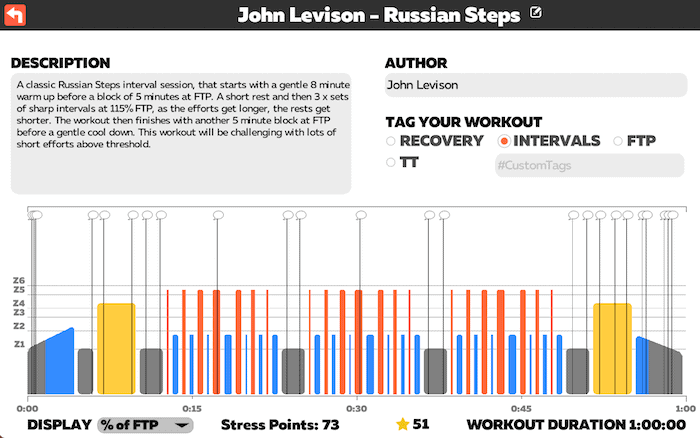 [TIP – It is always worth having the (free) Zwift Companion app to hand on your mobile device. Within the workout screen you can toggle your FTP by +/- 10% 'on the fly', which will immediately change your power targets during the session. Legs feeling heavy, can't quite hold your power targets? It happens! Rather than can the session, how about moving your targets down 5% first, before giving up completely? Alas, the body isn't a machine and can't always deliver as you hope/think it should, so a bit of flexibility and not getting too obsessed with the numbers can be a good thing!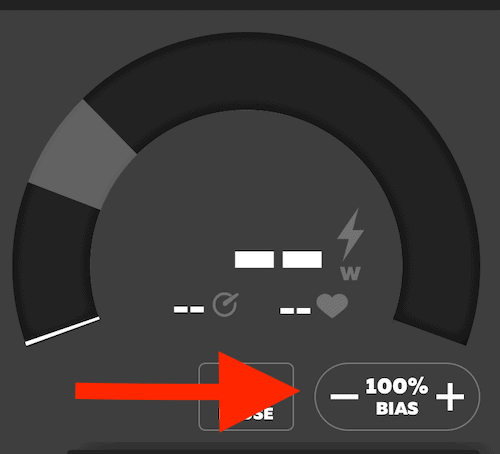 On the flipside, perhaps you are having a good day or increasing the overall training stress of the session better meets your own training goals for that day? In that case, you have the option of nudging your baseline up too in the same way.]
Join us at 7p.m. on Wednesday 24th April 2019 (UK time) for another quality workout. Set your reminder now on the link below or via the Zwift Companion app.
The session is genuinely open to everyone of ALL abilities. Group workout mode works fantastically in Zwift and ensures that the power targets are tailored to YOUR level. It makes no difference if your FTP is 400 watts or 100 watts, the targets you see will be specific to you – all while being part of the on-screen group.
You can find the custom workout files from all of the previous TRI247 Workout Series sessions on these links, to download and do ride again in your own time:
Custom Workout downloads from previous Zwift sessions:
Joining Instructions:
The workout will begin promptly at 7.00pm UK time, Wednesday 24th April 2019. It is worth logging in 10 or 15 minutes before the session to make sure you are set up and ready to go, where you will be able to warm up in the virtual 'holding pen'.
https://www.youtube.com/watch?v=XNTXAkky4qE
Look for the TRI247 Workout Series event in the list on the right of the screen once you have paired your sensors. Click to JOIN and you will be taken to the start line ready to begin the workout.
Make sure you have set your FTP level correctly before you join the workout as all the intervals are based on a percentage of FTP so it is important to get that right. If in doubt, dial the FTP number down 10 or 20 watts as it is better to finish the session than to feel like it is too challenging.
If you have never used Zwift before but don't want to miss out, head to the Zwift support page for tips on how to get the most out of your setup.
After the session head over to the TRI247 Facebook page for some post ride chat.
Zwift Group Rides: TRI247 Workout Series
The cool thing about a group workout on Zwift is that varying levels of ability can ride together in a group and all finish the session together having done the same relative effort, even if the actual watts are significantly different. It is not a race, but a shared goal to get a good session in the training log.