IRONMAN World Championship 2019 in (virtual) Zwift numbers
As you'll doubtless be aware, the rise of indoor training has been one of the biggest growth areas with the cycling and triathlon space for several years now. Huge advances in Smart Trainer hardware and an increasing number of software options have made indoor training a primary option for many, not just something to tolerated when the weather is too rough outside.
Leading the market in that arena is Zwift (www.zwift.com), the indoor training app used by thousands of cyclists – and runners – around the world.
Zwift, as you'll have seen, are the supporters of our 2019 #GBKona coverage, which is being added to several times a day HERE, with lots more to come over the next week. It's your one-stop-shop for what's going on, who is racing and how to keep track of the 2019 IRONMAN World Championship, with our unique British twist.

We are big fans of Zwift here at TRI247. Our popular Wednesday night, Group Workout Series (7pm, UK-time), sees athletes join us online from all over the world for a quality, structured training session – all tailored to the specific ability of the individual. It really is a fantastic way of bringing indoor training to life.
Zwifting to Pro success in Kona?
In Hawaii this year, we'll see 55 Pro Men (HERE) and 43 Pro Men (HERE) racing – and more than 60% of those athletes train on Zwift.
That's one of the statistics the Zwift have pulled together in the following Infographic.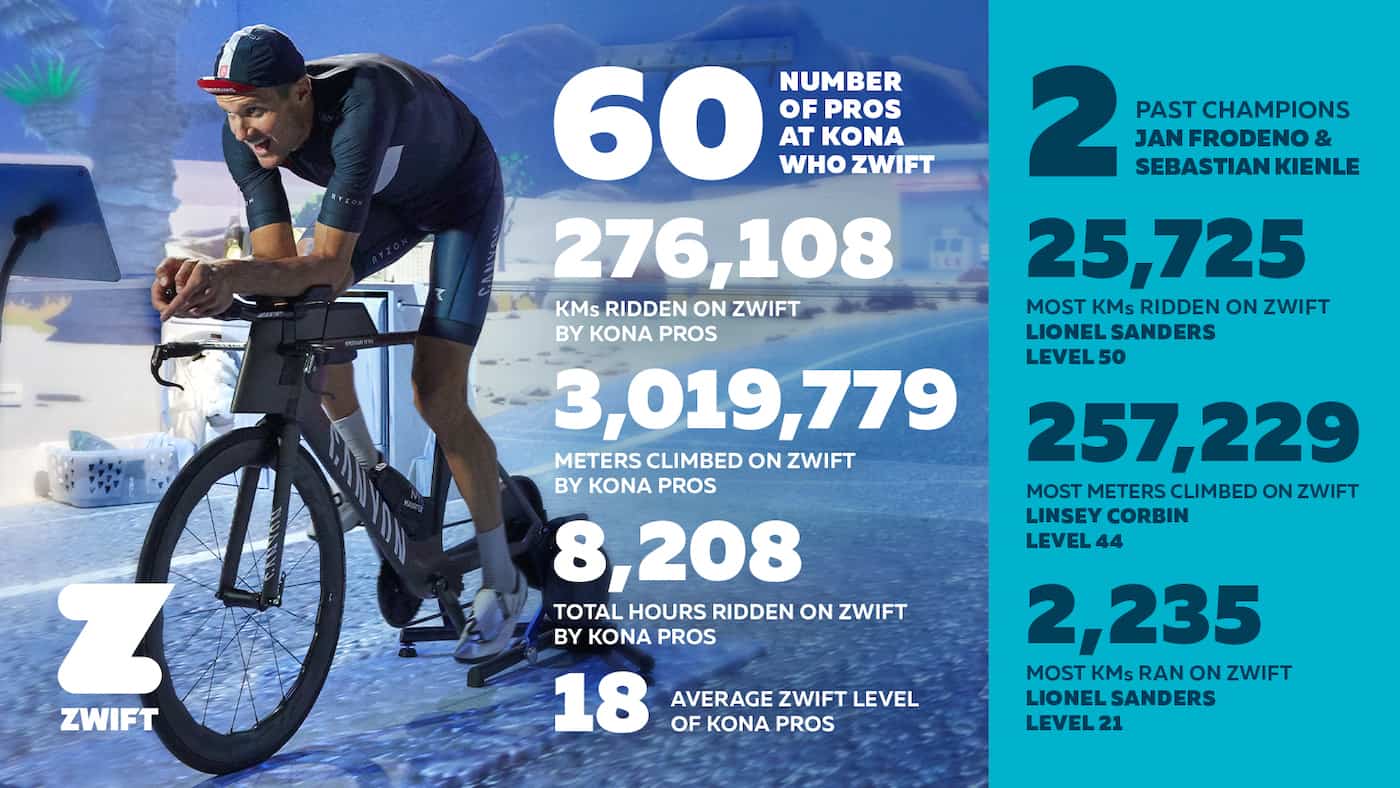 Given that the average 'Zwift Level' (which is accumulated over time, based on hours of training / distance covered / sessions completed etc) is 18 – with 50 being the highest level possible – it is fair to say that those athletes are committed to Zwift as a serious training tool.
I don't thank anyone will be surprised to learn that Lionel Sanders has ridden the most kilometres on Zwift amongst the Kona Pro athletes, given that he is almost the poster boy for benefits of indoor training. Take a look at his personal 'Pain Cave' HERE.
https://www.instagram.com/p/Bz_ZNHfnYhN/
It would appear he is not the 'King of the Mountains' however… as in that regard we actually have a 'Queen', with Linsey Corbin (USA) holding top spot in terms of metres climbed. I suspect she is a regular on the Alpe du Zwift!
https://www.instagram.com/p/BthQp08Ar5S/
If Lucy Charles-Barclay is going to reach the top step of the podium on Saturday and topple Daniela Ryf, then her extensive use of the Zwift platform will have played a significant part in helping her get there. She has ridden almost 18,000 virtual kilometres on Zwift which equates to more than 22 days of indoor cycling. Given her results, I think we can safely say that Zwift, and indoor training, works.
https://www.instagram.com/p/Bz07njKFcZk/