After being approved a slot as the newest Emerging Sport for Women in 2014, NCAA (National Collegiate Athletic Association) triathlon has gone from strength-to-strength. In February of this year, forty schools had varsity triathlon teams, hitting the key benchmark required for a recommendation to become an NCAA Championship sport.
Whilst the popularity of women's triathlon continues to grow in the US, little is still known about it on this side of the Atlantic. With the collegiate sporting system in America so different to what we have in the UK, it's sometimes overlooked as an option for British athletes.
Fortunately, we caught up with Chelsea Burns, a former US triathlete and current assistant coach of the University of San Francisco triathlon team, to get a better understanding of the system ahead of the 2022 Women's Collegiate Triathlon National Championships next weekend in Tempe, Arizona.
From WTCS athlete to NCAA coach
During her professional career, Chelsea Burns raced all over the world at the highest level, with podiums at World Cup events in Miyazaki, Tiszaujvaros, Huelva and Madrid. Since stepping away from professional racing, she has been sharing her experience with the next generation of talent at the University of San Francisco as an assistant coach.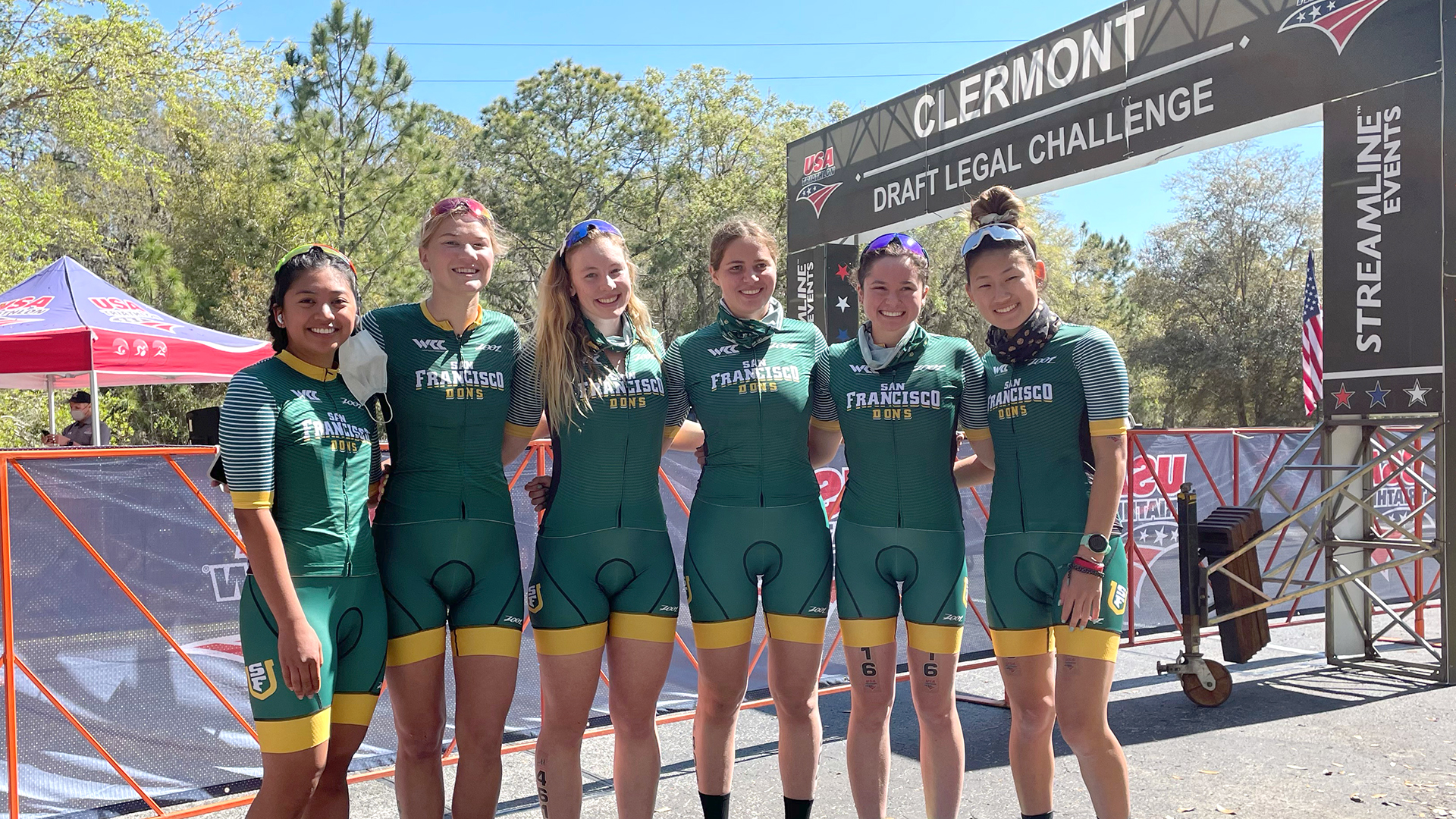 On a daily basis, Burns can be found doing a whole load of tasks other than writing training programmes, with her workday as an NCAA coach involving responsibilities in the office such as "NCAA compliance reports, travel logistics for races, recruiting and budgeting".
As a newer sport to the NCAA, the workload of a triathlon coach can be magnified significantly by the lack of resources available to the coaching staff in comparison to more established sports such as football, cross-country or swimming. Whilst triathlon "is certainly moving forward", Burns is keen to highlight that it "has a long way to go to match the depth and quality of a sport like soccer".
However, Burns believes that "once well-funded D1 athletic departments really take on and believe in the sport," then the world of triathlon, as well as the schools, will reap the benefits. She believes that moving forward, triathlon as part of the NCAA can develop by having "more D1 schools, improved race organization and appropriate funding to pay coaches and provide enough scholarships to attract USA and international athletes".
The benefits of having triathlon as an NCAA sport, Burns points out, impacts everyone, not just the athletes. She believes that for schools, having "smart and hardworking young women boosting department GPAs (Grade Point Averages)" is substantial, whilst for national federations, having more women in the NCAA pipeline means "we may see some 2028 Olympians come from this NCAA system, perhaps even 2024".
Nationals on the horizon
In just over a week's time, the 2022 Women's Collegiate Triathlon National Championships will head to Tempe, Arizona for the fifth year in a row as Arizona State University Sundevils (ASU) look to clinch their sixth team title in a row.
Last year, San Francisco's Kira Gupta-Baltazar and Gillian Cridge finished 1-3 for Chelsea Burns's team as the Dons came home second overall in the team standings. Ahead of this years race, Burns said that, "whilst we don't quite have the firepower up front that we had in 2021, the squad has a great team culture and I'm looking forward to watching the girls come together and be the best team they can be on November 12".
When asked if anyone can challenge ASU and prevent the Sundevils from clinching a sixth straight title, Burns tipped last years DII winner's Queens University, who in 2022 have been promoted to a D1 team. Burns said whilst "it will be tough" to beat ASU, she suggested that "keeping an eye on Queens to give them a run for it" would be a wise choice.
Teams qualified for the championships in Tempe by competing in regional championships in October. The West Regional Championships in Missouri were won by Arizona State University , whilst the East Regional Championships in Virginia were won by Queens University of Charlotte. The top four teams from each region will race at the National Championships in Tempe.
NCAA West Regional Qualifier Team Results:
Arizona State University.
University of Denver
University of South Dakota.
University of San Francisco.
NCAA East Regional Qualifier Team Results:
Queens University of Charlotte.
East Tennessee State University.
Delaware State University.
Wagner University.