Sunday's Super League Triathlon London was an hour of contrasting emotions for Commonwealth Games bronze medallist, Matthew Hauser. At least the day ended in smiles.
The Aussie has been in great form all year, winning on the Oceania Cup circuit and the French Grand Prix tour, before earning second place at WTCS Hamburg. That saw a familiar name in front, Sunday's winner, Hayden Wilde.
With that background, he had every right to be confident for both the West India Quay event and the series as a whole, but it was almost a disaster from the very first second.
I spoke to him shortly after he crossed the line on Sunday.
It wasn't me!
Exiting the opening 300m swim alongside Eagles team mate Jamie Riddle, Hauser arrived at his bike in T1 to find a Technical Official waiting to serve him a penalty for a false start. The only problem was, the penalty should have gone to the South African. Thankfully, it didn't ruin his day, as he explained:
"It finished off great, and that's all I could ask for. I knew I was In for a good one today, I was feeling good in training all of August and working hard to push for the win this series. I put myself in a good position – it was unfortunate what happened after the first swim, but it actually put my head into the game, and gave me the adrenalin to push on.
"I didn't quite have it in the end, but credit to those guys, I've been racing them all year and so to still be up with them is great."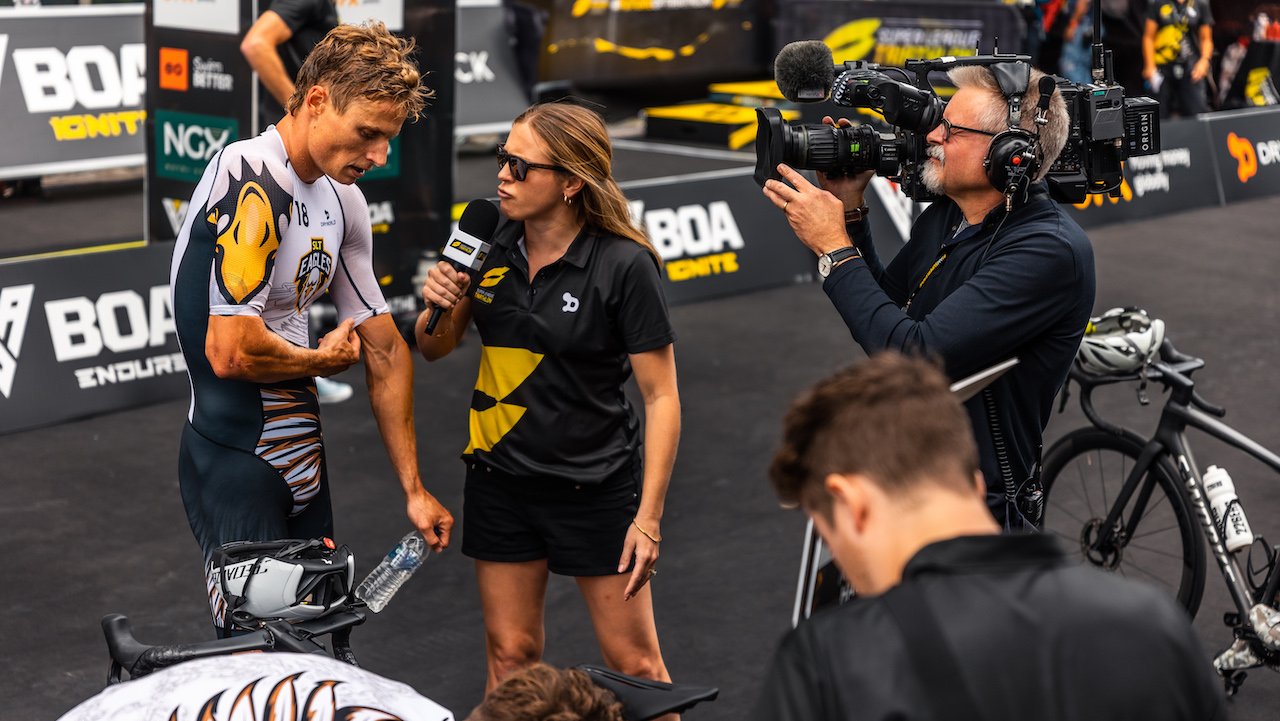 NextGen?
In Birmingham this summer we saw the same three athletes on the Commonwealth Games podium in Sutton Park, all just 24 years of age. A different order this time, but the same trio of athletes could be going head-to-head at the top of the sport for the next decade. That's something that Hauser is keen to be a part of.
"It's great to be involved with it and great to be a part of the changing of guard so to speak. To race with Alex on his home turf and to get all of second hand cheers is great, great for the confidence and you can ride that all the way. London and Great Britain crowds have been amazing for triathlon and this hasn't been any different today."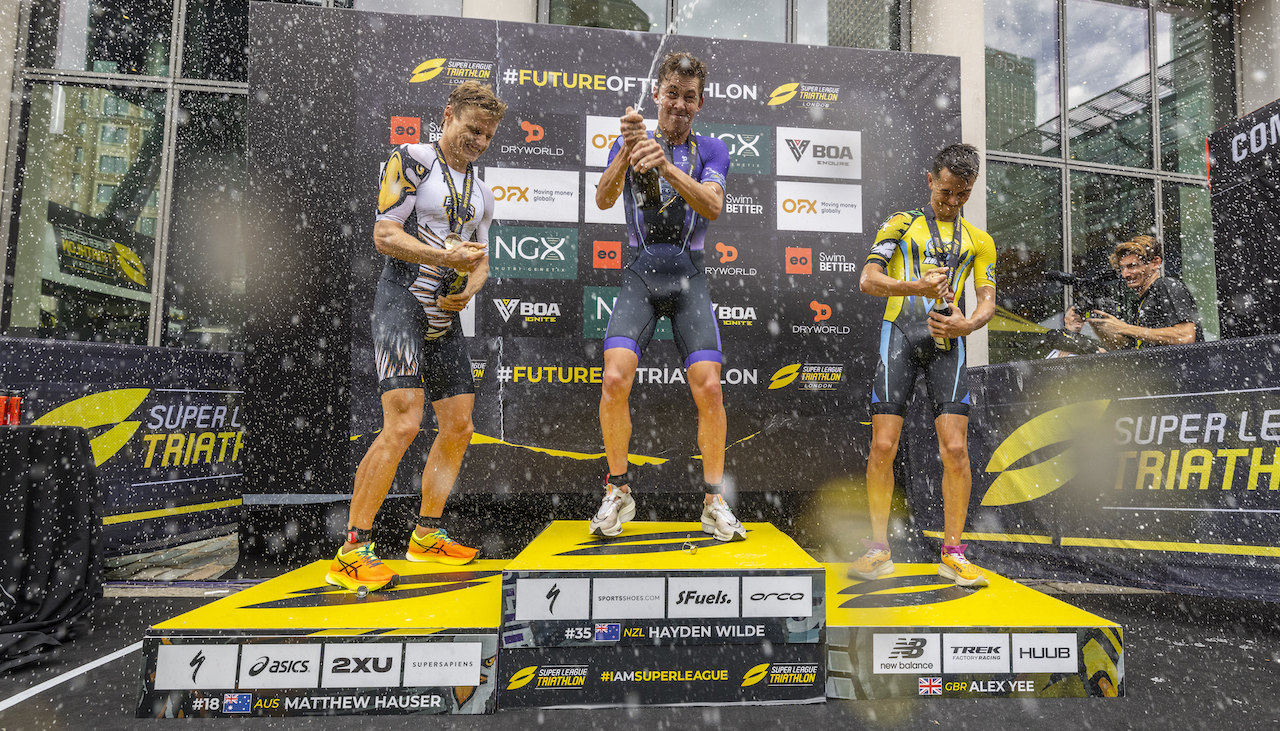 Nothing prepares you for SLT racing
"It definitely is a shock to the system. Nothing prepares you for the shock of the 180/190 heart rate off the gun. You've got the super sprint distance, but then you have three of them, so it all adds back up. It's great for the fans this short and sharp racing, and it's great for us to kind of like perfect our craft."
Looking ahead to Munich, Matt said, "Enduro is one of the most gruelling events, there's no opportunity to rest and you have to take the opportunities as you can. Munich has proved a tough course in the past, and with more cobbles, which I love, I can't wait to kick on. It's only the start of the series."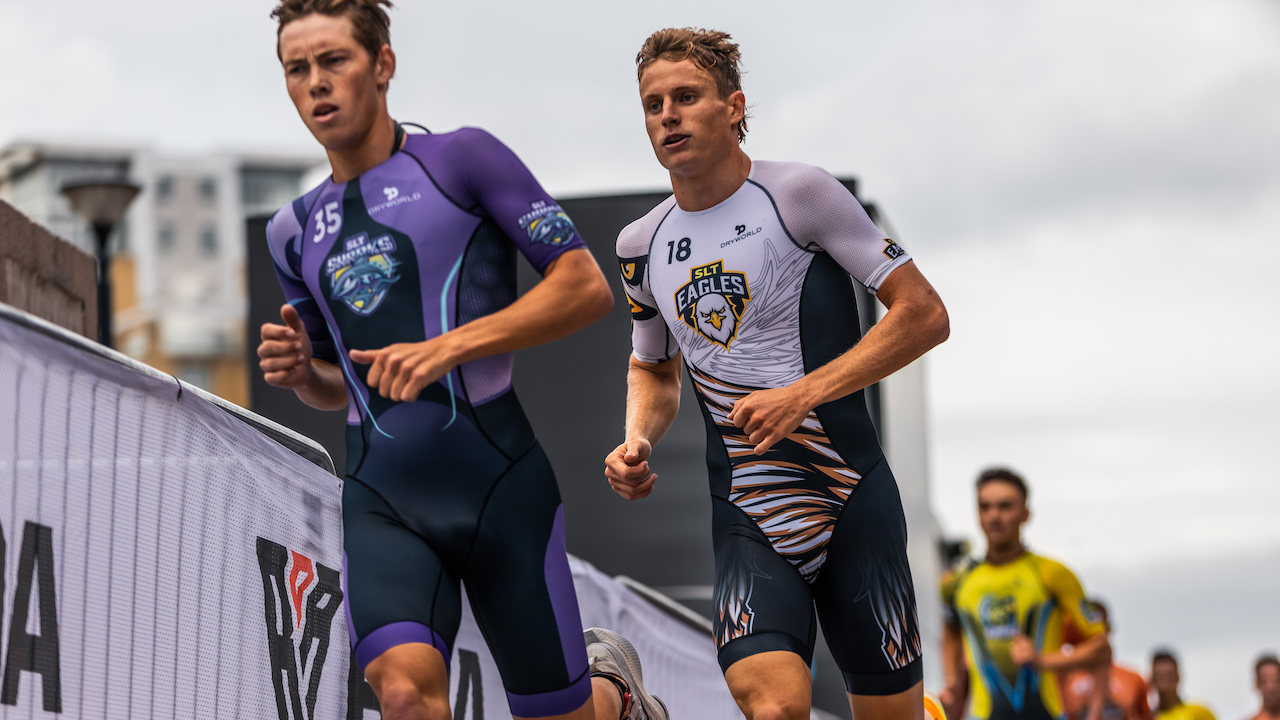 From zero to hero
We often reference on the site Hayden Wilde as being perhaps the poster child for how Super League Triathlon has played a key part in developing a star athlete. Matt Hauser's SLT history goes back even longer, and he's seemingly just reaching his own peak years. He believes Super League has been central to that development.
"I was given a wildcard at Hamilton Island back in 2017 as a sprightly 18-year-old. Macca reached out to me and gave me a chance to kind of prove myself against the older guys. And I've kind of stuck at it ever since and developed through the years and finally come to the stage where I can try and go for the crown which is like a really cool thing to go from zero to this point.
"They always say the best form of training is racing and you get thrown into the deep end with Super League and you have to really have to fight your way out of it. And it's not always the strongest guy who wins, but the smartest or the most dynamic racer. So there are lots of different factors involved but the more you race it, the more you expose your weaknesses and the more you can work on them to build your strengths and that's what it's been for me over the years and I really value this type of racing. I think it's invaluable to experience."