There are few more respected pundits in the world of sport than Michael Johnson.
The American achieved never-before-seen feats on the track during his career and over the last 20 years he's elevated the art of talking about it, to the huge benefit of a BBC audience in the UK.
He was also part of the PTO's broadcast team for the US Open in Dallas last year, coming at that from a very different angle as he tells us in the latest part of our in-depth interview with him.
The live coverage of triathlon – at all distances from Super League through to IRONMAN – has generated much debate, and that will likely be the case again this weekend when Kona takes centre stage.
So what does Johnson think the sport can do to help itself? And who does he feel it should be pitched towards?
'A very delicate balance'
The four-time Olympic gold medallist was brought in by the PTO to help amplify interest ahead of the 2022 US Open and placing him at the heart of the coverage also helped reach out to a wider audience, as he explained: "Before that broadcast in Dallas, we talked about how my knowledge of triathlon isn't very deep, but at that point I had a real curiosity.
"And so what I tried to do with being part of the event in Dallas is still what I do in my role with BBC – try to help the fans understand what's happening in a better way.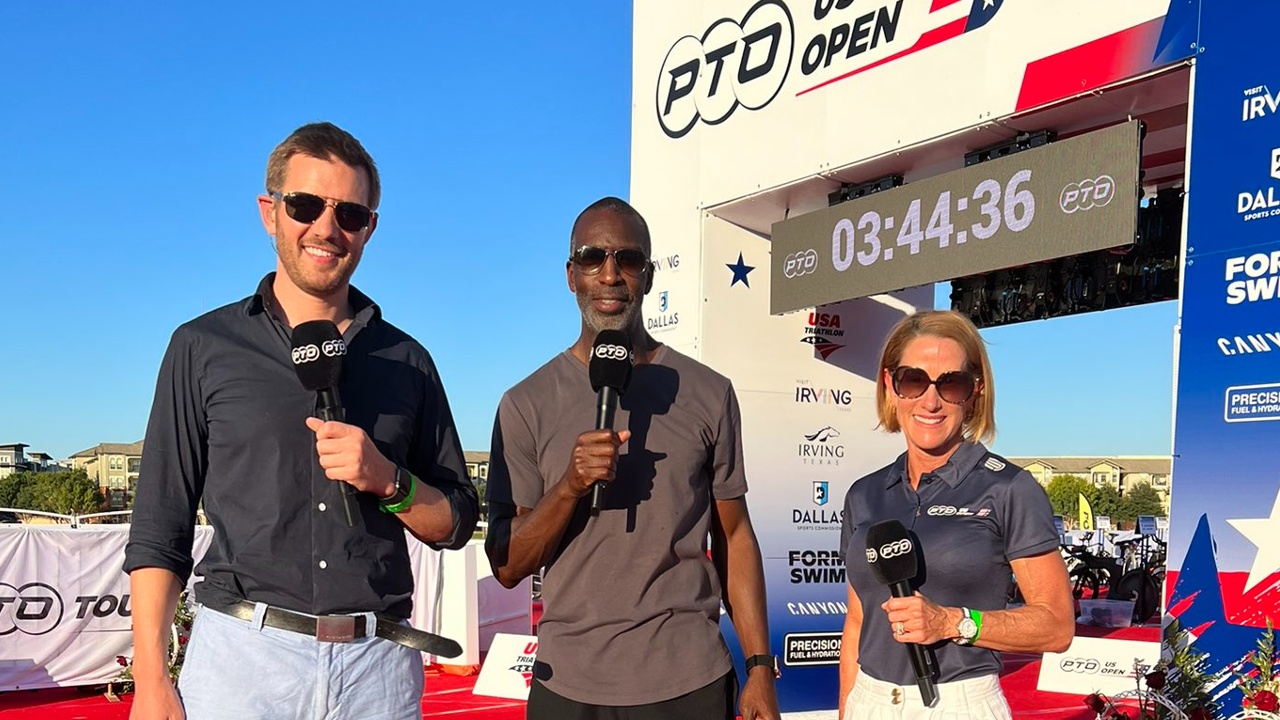 "But whereas my role with BBC is as an expert, my role with PTO last year was more about engaging with some of those new fans that they were trying to attract. I felt like they probably have some of the same questions I had because I don't know what the hell is going on here!
"We have to widen the lens beyond just the traditional fan – someone who in my sport absolutely loves track and field and will sit there for hours on end watching a sort of three-ring circus of people over here jumping and people over here throwing and people over here sprinting and going back and forth. That's great. And a lot of people who love track and field do that.
"And sure, there's some similar elements to triathlon, but if you're going to widen that audience to people who are sort of a casual fan, or isn't a fan at all yet but that you want to bring in, you have to then take the sport to them.
"But you might also need to change your sport a bit to fit what they're looking for, but at the same time retain some of those core elements of the sport and then help people to understand what makes that sport so great.
Having worked for the BBC for 20 years now, I know that there's a very delicate balance that you have to get right.
"My goal is always to help the viewer – whoever they are – have a better experience and understand what's happening."
'You've got to bring new fans into the sport'
Johnson is the first to admit that you're not going to please everyone, all of the time – and that you'll get plenty of feedback from all angles:
"So I have to balance between the fact that I know that some of our viewers are diehard track fans and they're going to feel insulted if I go down a little bit to explain things. They want a little bit more high level but really interesting insight that even they would have never thought about and that's one of the things that I've always been pretty good at. But at the same time I'm conscious that we have some casual fans, especially with the BBC when we're talking about an Olympics or a World Championship.
"These are people who don't normally watch track and field, but they're watching the Olympics. So it's about helping them to understand some of the rules around the sport or things that could be confusing as hell. My job is to help them understand that."
It's something Super League Triathlon have worked hard at doing, while the PTO race broadcasts have evolved rapidly over the last two seasons.
And Johnson himself is fan, explaining: "I think that they do a great job of that in the PTO broadcast because I'm certainly one of those people who would be a casual fan and I don't understand a lot of what's going on.
"But it is tricky. I mean, we look at a lot of the comments when we're broadcasting – people obviously are on social media and if they've got an opinion, you're going to hear it!
"On the one side we get comments saying there's too much talking in the studio, I just want to see the action. And then on the other – which I'm pleased to say is more – people do like the insights. I've had some very nice compliments.
"So I think it's just being conscious of that. I know that for that person who says they'd rather be seeing the action than listening to me, it's my job to make sure that when they are listening to me that I'm trying to make it as interesting as possible.
"I think it's absolutely necessary to have that balance because you've got to bring new fans into the sport."