Everything will be decided at in the SLT 2022 Championship Series on Saturday as the the women's, men's, team title and much more are settled in Saudi Arabia.
And courtesy of Graeme Acheson of Sports4Cast, who is SLT's data guru and created their StatsHub, we've crunched the numbers to predict what will happen in the final showdown.
Read on for his analysis and insights…
Women – Advantage GTB?
Only one place to start and that's the women's overall, with Georgia Taylor-Brown and Taylor Spivey locked together on 56 points.
So nothing at all between them but Graeme reckons: "The advantage probably lies with GTB, she has more wins this season than Spivey (two to one) and probably would have a lead had she not crashed on the bike in Malibu.
"However, Spivey has shown great form this year and will surely pounce on any mistake from her rival."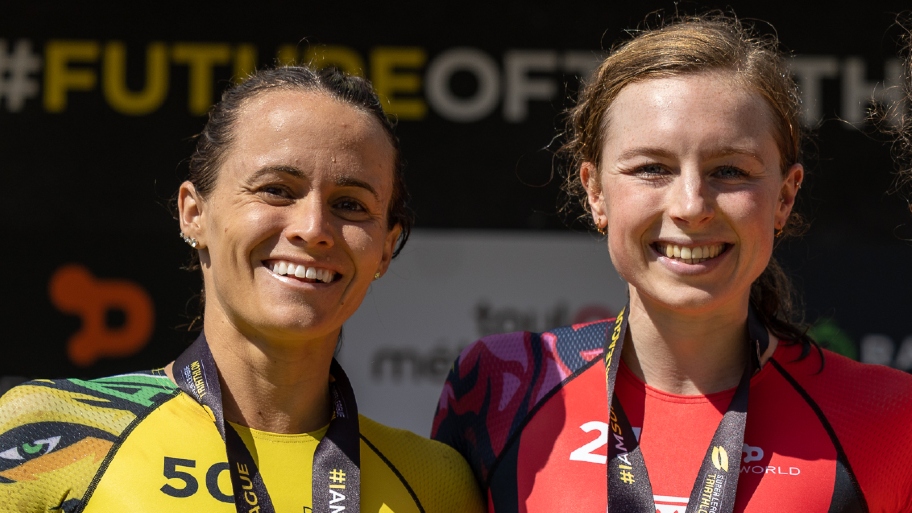 That view is echoed by the win percentage predictions for Saturday's race, with GTB at 33%, Spivey on 27% and Cassandre Beaugrand at 21%.
There's also big prize money up for grabs for the winners of the individual discipline standings – $15,000 for each. Here's Graeme's perspective on those:
Swim
"Cassandre leads the field, four points ahead of Sian Rainsley. If she finishes first or second in Neom she will take the swim prize. Given she missed the Malibu race and has finished first, first and third you would back her to do the business here. Emma Jeffcoat could mathematically take the title, but it would require Beaugrand and Rainsley to finish outside the points – something that hasn't happened so far this series."
Bike
"The bike is a race between two Scorpions – GTB and Jeffcoat. GTB holds a four point advantage, which means she needs to finish no more than one place behind her rival to take the prize. Two places behind would mean they finish equal on points and Jeffcoat wins it on countback."
Run
"The run is a similar story, but this time with Beaugrand leading Potter by four points. Potter has had a disappointing series in some regards, many might have expected her to challenge GTB and Spivey for the overall, but she has still been producing the goods in her best discipline, consistently scoring points here. However, Beaugrand has been faultless, with a maximum (given she missed Malibu) 24 points.
Men – All over bar the shouting
It's not a mathematical certainty that Hayden Wilde will take the title, but even with his trust in the numbers, Acheson can't see any other outcome.
He said: "Hayden took the win in Toulouse, and with it has all but claimed the title. Unfortunately for Hauser, he was caught up in a crash on the final bike stage – effectively taking him out of contention for the win, and therefore the series. Remarkably he managed to make up a huge amount of time on the final swim and run to stop Hayden winning the title in France, but he has almost certainly only delayed the inevitable."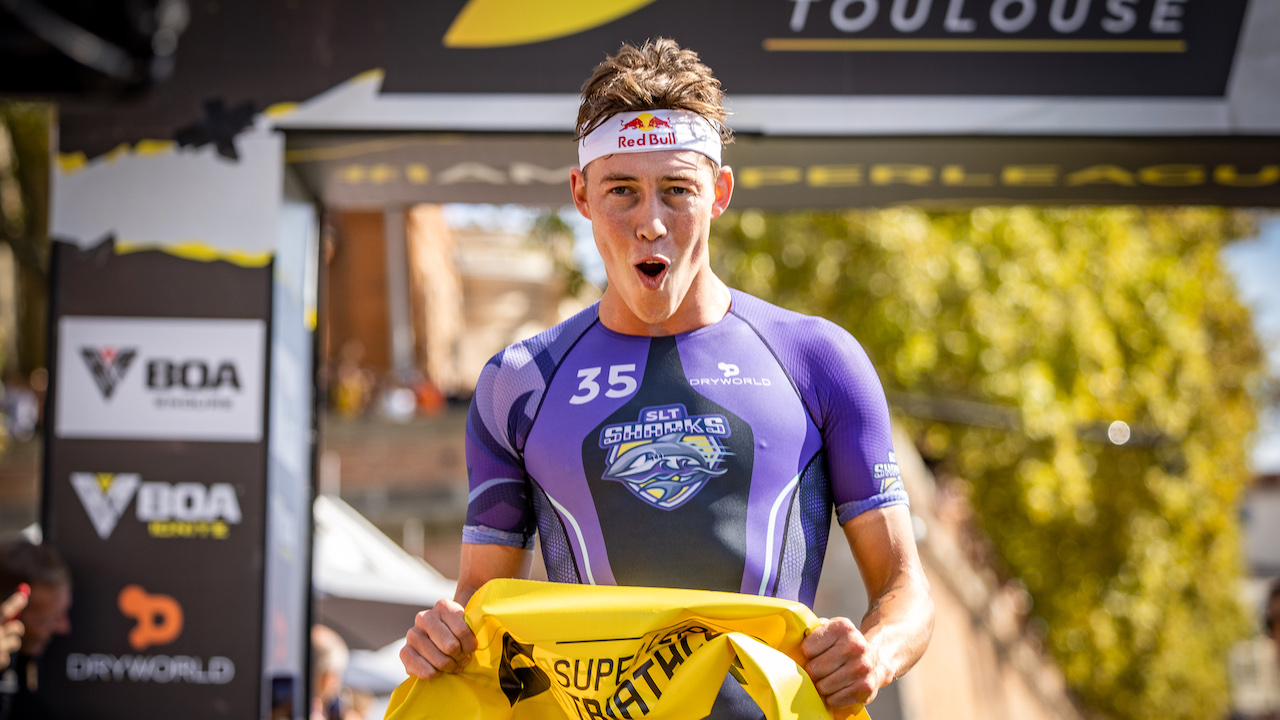 These are the only two scenarios where Wilde does win the crown:
For Hauser to win he needs Wilde to finish 15th or below, and take either first or second. If Wilde finishes 15th, Hauser needs to win. If Wilde finishes above 15th, then he will take the title.
There is also the possibility that Tayler Reid could take the title, but he would need to win the whole event, Wilde finish below 15th and have Hauser finish third or below.
As far as individual Neom predictions are concerned, the top five range from 26% down to 9%. No susprises that Wilde is top but Hauser isn't that far behind on 18% and then it's Vasco Vilaca, Jonny Brownlee and Kenji Nener.
Swim
"The swim leaderboard was very tight going in to Toulouse with Jamie Riddle, Tayler Reid and Hauser all within a point or two of each other. Unsually however, neither Hauser nor Reid scored in Toulouse, with the points going to Riddle, Dan Dixon and Chase McQueen respectively.
"This has left Riddle with an eight-point buffer going into Neom, meaning that any points scored by him here will guarantee the swim prize, with Reid needing maximum points and Riddle none to take the coveted swim jersey.
"To put that equation into perspective, Riddle has not yet failed to score any points in the swim in all Super League 2022 races so far, picking up four, six, eight and eight points in each of the races."
Bike
"The bike, conversely, is far more open. Sachar Sagiv leads the leaderboard currently, but is joint on points with Wilde on 16, and Vilaca on 14 just behind. Essentially, whoever finishes highest out of these three (in a scoring position) will take the bike jersey. One to watch out for for sure!"
Run
The run is over – Wilde has won it by a country mile. He is a full 20 points ahead of next best Hauser, who is joint on eight with Vilaca and Alex Yee – remember him from London?!"
Teams – Going down to the wire
While the men's may look relatively cut and dried, there's still a huge amount at stake in the team standings.
In terms of prize money the difference between first and fifth is $100,000, but who does Graeme think will take home the $120,000 top prize?
He said: "The Sharks have kept their lead heading into the Series finale, but the Scorpions are now just 20 behind heading into the season finale.
"The advantage is clearly with the Sharks, but given the dominance of the Scorpion women (GTB and Beaugrand particularly) I wouldn't be surprised to see the Scorpions take the lead after the female race, and make things exciting heading. The Sharks' big hitters, Wilde, Reid and McQueen will need to do the business to retake the lead and keep the prize from the Scorpions' pincers."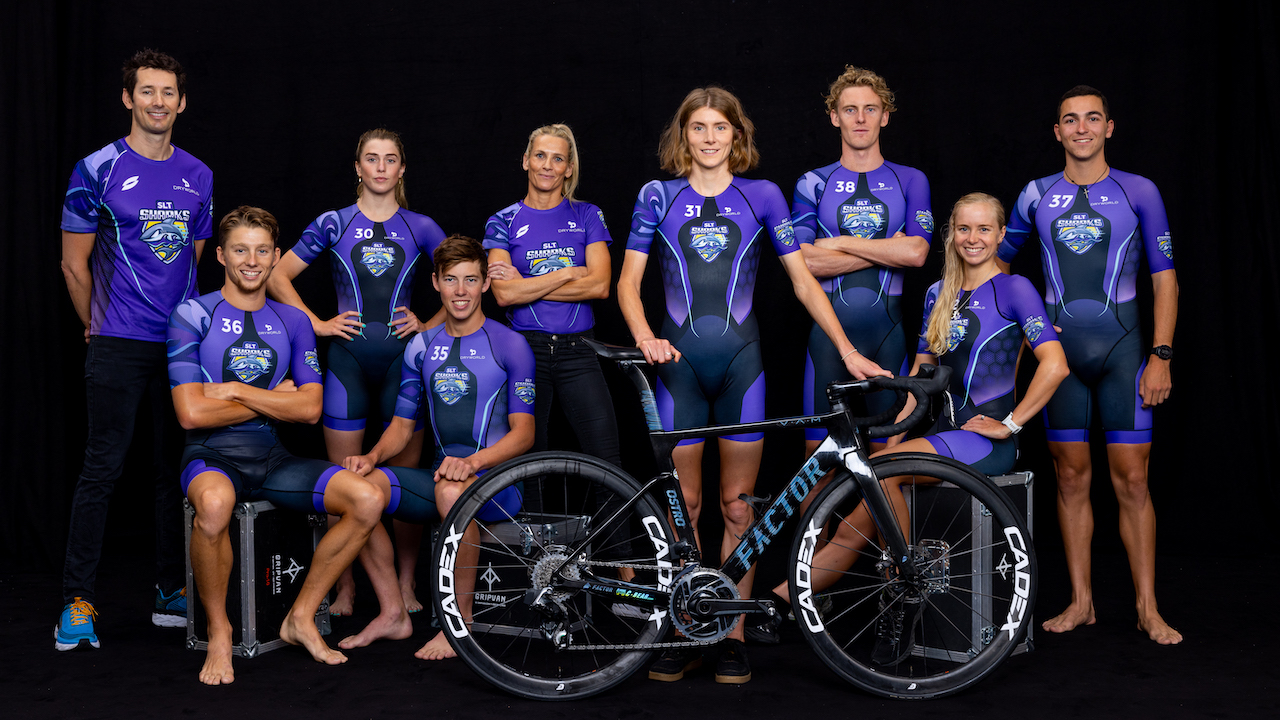 And if the Sharks do win then Acheson argues it's very much down to teamwork.
He explained: "There have been very solid performances throughout the team with nearly all the athletes contributing meaningfully to the team performance.
"Whereas the Scorpions are all about their women! They have scored 223 of the 283 (nearly 80%) of their points, with Kenji Nener the only male flying the flag for the Y chromosomes. Emma Jeffcoat is perhaps the most interesting one in this team, showing how many points are available outside of the traditional race finish. She has scored 32 discipline points for the team, and just two from race finishes, really using her strengths well."