"I just want to go to the Olympics"
If you are going to have your best race ever, then doing it in Olympic year – with Olympic selection potentially at stake – is a pretty good time to do it. Congratulations to Irelands Carolyn Hayes, who did just that on Sunday in Portugal at the World Triathlon Cup Lisbon, with an impressive second place to the, well, always impressive Nicola Spirig.
A week ago Hayes exited the swim at World Triathlon Yokohama with only Ai Ueda behind her, finishing a distant 42nd in what would have been a very isolated race. A much improved swim this week (a minute down on the leaders – in very choppy water – and ahead of Nicola Spirig), put her in the mix from the start. She grabbed that opportunity with both hands.
While Hayes does have a previous World Cup silver medal on her C.V. (Kazakhstan 2019), that event was converted to a duathlon, and certainly didn't match the depth on show in Lisbon.
It was not only a strong result, but a great performance. Taking the lead on the run from the start, this was no fly-and-die effort. She looked strong, controlled and there was never any danger that anyone – other than Spirig – had a chance to catch and stay with her. Indeed, her lead was a full 12 seconds after 5km, still six seconds at the start of the final lap as we had a situation of a lawyer chasing a doctor! Even when the Nicola finally managed to catch up, Hayes stayed controlled and the pair ran side-by-side.
Spirig finally pulled clear in the final kilometre, but she was made to work hard for it – and Hayes finished strongly with the likes of Kasper, Holland, Klamer and Rappaport behind her. A breakthrough performance – massive congratulations.
---
Nicola Spirig strikes again in Lisbon
The weekend has proved to be fruitful for two times Olympic medallist Nicola Spirig. After claiming the bronze medal this Friday in the World Triathlon Mixed Relay Olympic qualification event in Lisbon, and securing that the Swiss team will be at the Tokyo Olympics, 48 hours later the Swiss claimed the victory in the World Cup, storming an star-stacked field with another showcase of horse power on the bike.
Sixty athletes lined up for the start of the race on the beach at the Targus river, in Lisbon, for a swim that was rough and challenging. With the water slightly above 18 degrees – wetsuit swim again – American Summer Rappaport was the one that navigated better the choppy waters, with Chloe Pollard (IRL) and Australian Natalie Van Coevorden right at her feet.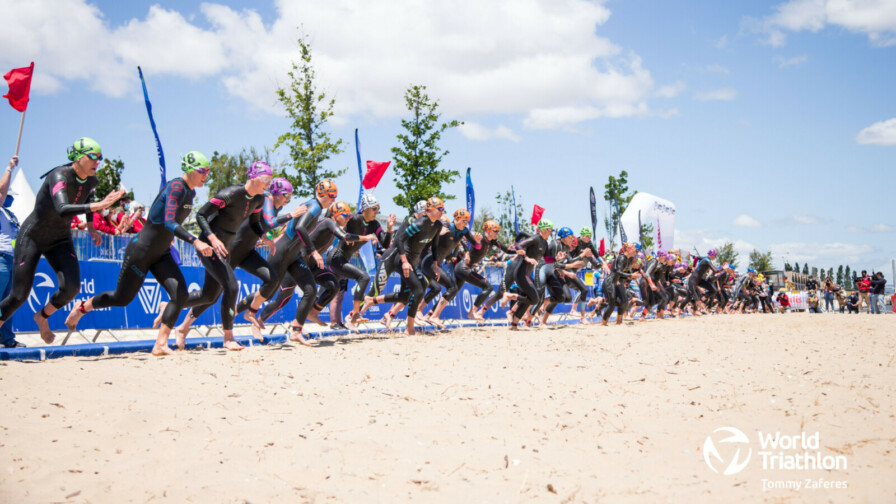 A group of nine athletes – including Rappapot, Pollard, Van Coevorden, Kirsten Kasper (USA), Melanie Santos (POR), Vicky Holland (GBR) and Lea Coninx (FRA) – managed to leave the first transition together, with a lead of almost 50 seconds over the chasers.
Behind them, it was just a matter of a couple of kilometres that Spirig launched the Nicola train. The swiss put her head down, and the likes of Alice Betto (ITA), Rachel Klamer (NED), Julia Hauser (AUT) and Amelie Kratz (CAN) followed.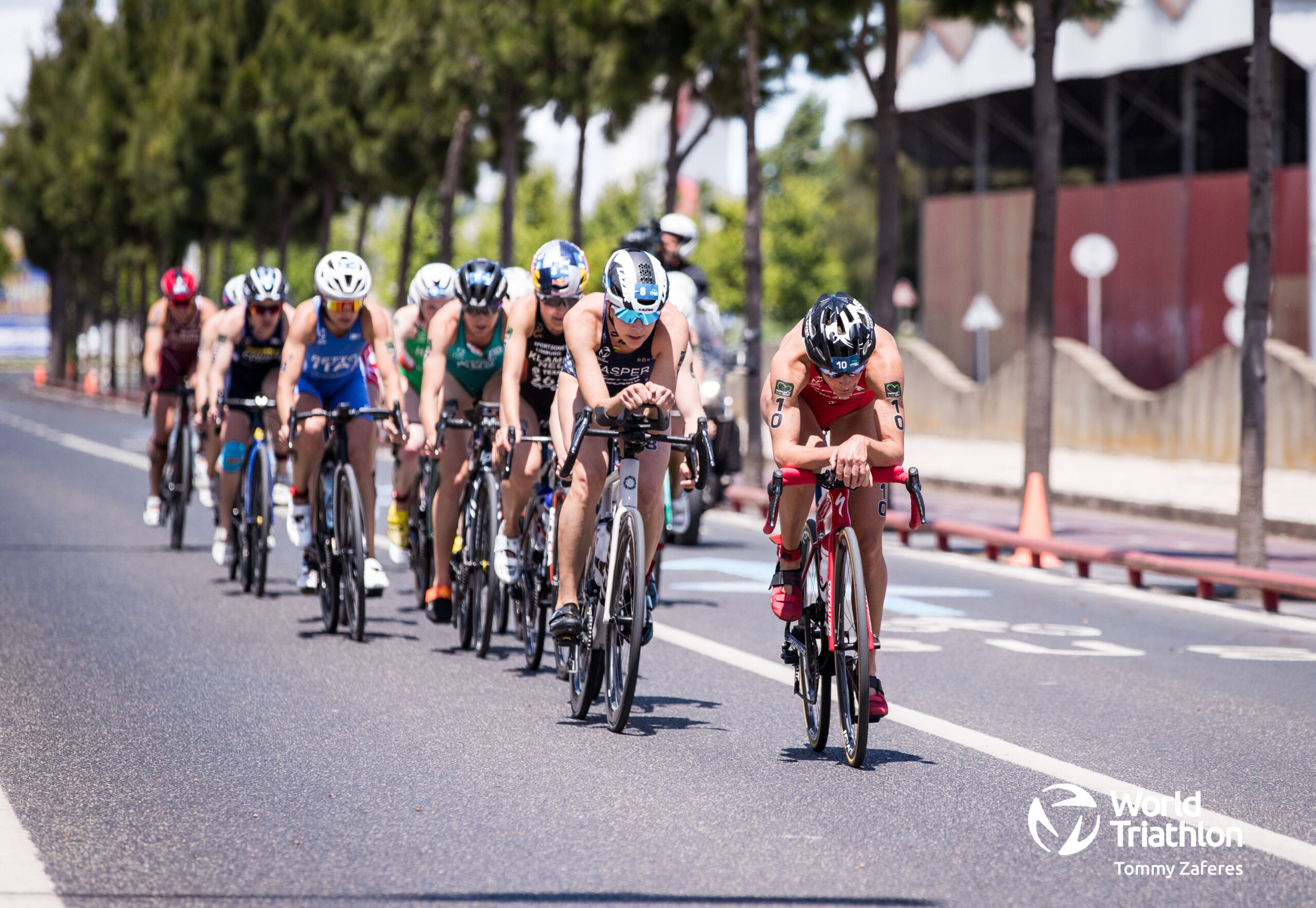 By the third of the eight laps on the technical and incredibly fast bike circuit in Lisbon, the leading nine were joined by the Nicola train, and with the Swiss still up at the front, the rest of the 19 athletes were trying to save some legs for the run.
It was when the athletes deposited their bikes in T2 and set and off for the final 10km run that Ireland's Carolyn Hayes decided to go full gas from the beginning, leaving even Spirig, Holland, Rappaport and Kasper behind.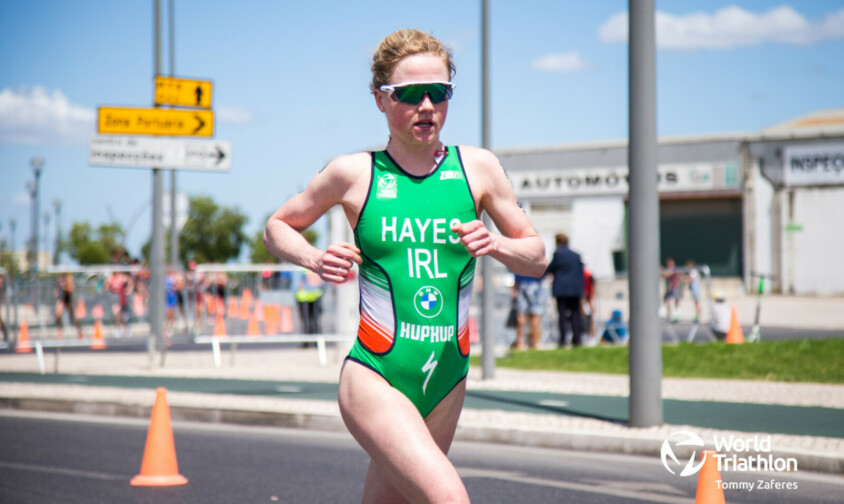 Hayes reamained leading solo, while behind her only Nicola was capable of keeping her on sight. The rest of the group split up with Kasper holding third place, and a group of five – Jolanda Annen (SUI), Holland, Kretz, Alberte Kjaer Pedersen (DEN) and Klamer – spreading behind.
With a just over one kilometre to go, the Swiss proved that she had still an extra gear, and passed Hayes to cross the finish line by alone, adding another gold medal to her incredible tally. "I am very happy, it's great to be back on the podium and on the top of the podium, I really appreciate it. I don't know how many World Cups I will still do so it's amazing to win again here", said the Swiss after crossing the finish line, focused on preparing her fifth Olympic Games.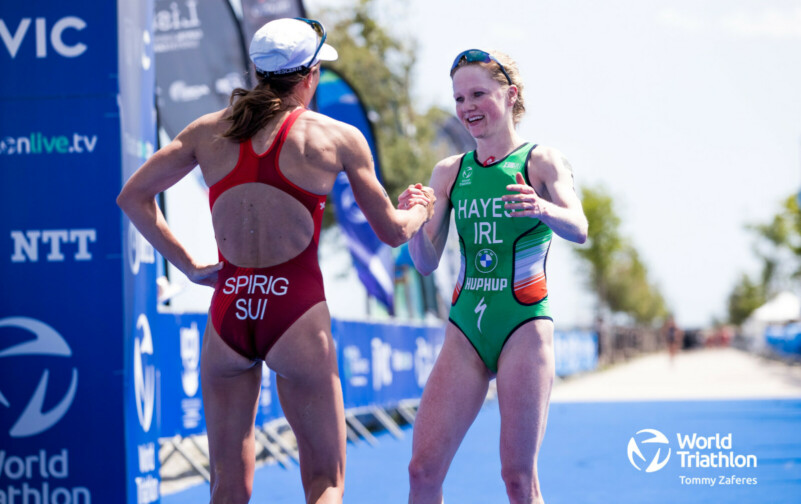 Behind her, Hayes claimed the second World Cup podium of her career and secured some valuable points that will put her in a more comfortable position on the road to Tokyo 2020, while Kasper claimed the third spot of the podium. "I am a bit annoyed that I lost it on the last lap but there are worse people you can come second to (than Nicola Spirig, two-times Olympic medallist). I am thrilled, really happy. I kept thinking, just keep running, don't look back. I wanted to come off with the best and really test myself. It gives me confidence moving forward. Hopefully it's enough to give me a ticket to Tokyo," said the Irish athlete.
"It means a lot for me. To come back after Yokohama and have a better run and honestly show what I know I am capable of is just what I came here for", said Kasper, back in the podium positions after almost two years with multiple injuries.
Annen and Holland closed the top five in Lisbon, followed by Kretz, Pedersen, Klamer, Rappaport and Coninx.
World Triathlon Cup Lisbon – Sunday 22nd May 2021
ELITE WOMEN – 1.5km / 40km / 10km
1st – Nicola Spirig (SUI) – 1:59:05
2nd – Carolyn Hayes (IRL) – 1:59:17
3rd – Kirsten Kasper (USA) – 1:59:39
4th – Jolanda Annen (SUI) – 1:59:55
5th – Vicky Holland (GBR) – 1:59:56
6th – Amelia Kretz (CAN) – 2:00:09
7th – Alberte Kjaer Pedersen (DEN) – 2:00:21
8th – Rachel Klamer (NED) – 2:00:25
9th – Summer Rappaport (USA) – 2:00:30
10th – Lea Coninx (FRA) – 2:00:39
14th – Sian Rainsley (GBR) – 2:01:09