One of the best highlights videos I've seen…
…from one of the best races in the world
By chance, I was present at the debut of IRONMAN Kalmar, Sweden in 2012. There has been a long distance race based in Kalmar for many years and it was taken over by IRONMAN for the first time that year, the recent 2017 race being the sixth edition under the M-Dot banner.
Way back in 2012 (you can read it, from the time, HERE!), I said even before the race had happened…
"Kalmar itself is delightful. Definite similarities I feel to Klagenfurt, Austria with cobbled streets, beautiful squares and plenty of restaurants and cafe's. Swim start, swim exit, transition, expo, finish and briefing are all within a very gentle stroll too, making everything very easy and relaxed. Ironman is tough enough without adding complexity through complex logistics."
The race delivered, and my post-race thoughts (HERE) came with a headline of IRONMAN Kalmar debut delights.
The reason I was in Kalmar five years ago was to support my sister-in-law, Boo Smith, at her second IRONMAN. She did great, smashed her time from Austria a year previously, and she wrote about it (and I made a video about it), HERE.
Five years later, just short of her 56th birthday, and having not raced over the iron-distance for four years, Boo was ready to go long again – and Kalmar was the chosen race. I couldn't wait to return.
The event is BETTER than I remember. Race day started with the National Anthem. Sung live. One voice, one truly stunning voice, thousands of spectators and athletes showing total respect – and quite a few with tears in their eyes – and the day started with a moment which I'll never forget. It would be a sign of things to come.
Times, for many Age-Group athletes at least, were somewhat slower than expected on the bike as the wind got up – but thankfully the rain that had greeted us at around 4 a.m. had stopped an hour before race start, not to be seen again. It was going to be a good day.
For Boo, it would be a very memorable day. Sixth in Age-Group out of the swim, she was up to third off of the bike and then by 8km into the run, she had moved into second and within ten minutes of the leader. Could we dare to dream? Of course, we did dream… but the Finnish athlete in front proved too strong on the day and was a worthy winner! Boo finished in 12:28:24, faster than she was at the same venue five years ago, her fastest Ironman, and would be on the podium!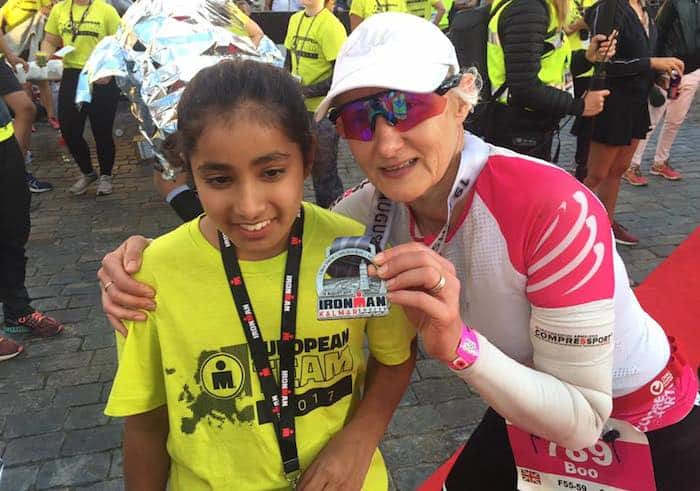 That meant of course, even more incentive to attend the Awards presentation and Kona slot allocation. And it was there – barely 12 hours since the last finisher had crossed the line – that this video package was played.
*** WATCH THE VIDEO! *** – and listen to the words of the song (it's by Nano, called 'Hold On'). Brilliant.
A perfect ending to a practically flawless event, where every tiny detail appeared to have been considered. And the athlete in the very last scene? She'd just missed the cut-off – and race winner, Clemente Alonso McKernan, decided to give her his own medal collected almost eight hours earlier. True story.
Well, it wasn't quite finished for us just yet, at the Kona slot allocation and roll-down followed… Boo has to to do it all again in Kona on 14th October after collecting her slot for the IRONMAN World Championship!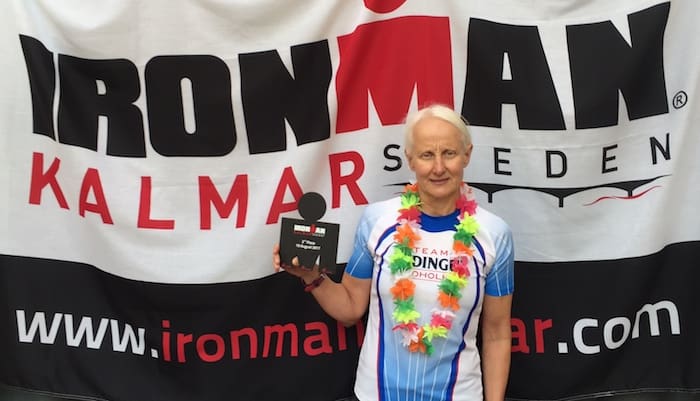 Considering reasons to do IRONMAN Kalmar in the future? I'm struggling to think of any reasons NOT to do it. I hope that wasn't my last visit.