We talk to Sam Brawn, IRONMAN UK Race Director, about the new bike course
In what is a case of Deja Vu, just over 12 months ago after IRONMAN UK announced some significant event changes to the 2018 edition of the race, we spoke to Race Director, Sam Brawn, to find our more about those plans.
Another year on and this time around, the next phase in the development of the Bolton-based event includes significant changes to the bike course which were announced earlier today.
Once again Sam has given us some time for a chat to find out more about the background to the changes, what they are trying to achieve. We find out that the last minute difficulties which impacted last years race (the wildfires on the moors), have – indirectly – helped to process of change for 2019.
---
Let's start at the beginning to clarify things – the IRONMAN UK changes for 2019, do they impact the swim course, bike course, run course, some or all of those elements?
The changes for 2019 relate to the bike course only. The swim remains at Pennington Flash; two laps with an Aussie exit. The run course (along with transition locations), were part of some major changes last year, and that move towards co-locating T2 and the run course into Bolton town centre was popular and worked well.
The next step in the development of the event – which will be the 11th edition in Bolton – the bike course was the next focus.
What are you trying to achieve with the changes?
For us, we think by making some changes to the route we can offer the athlete an improved experience, particularly in relation to the beauty of the environment they are cycling in, as we feel we've been able to include some stunning new roads in some great new locations.
Can you talk us through some of the major changes to the route?
After the swim there is the point-to-point section that takes you from Pennington Flash to Horwich. At this point the previous course would take you to Sheephouse Lane, but a big change is that you now head towards town. The bike course in Bolton will include Le Mans Crescent, where athletes will ride on the cobbles; we are really hoping that this will become a key spectator hub for the race, a bit of a Paris-Roubaix style section. This is also a part of the run course, so later on in the race we will have both runners and cyclists on this section of the course at the same time, with second lap cyclists seeing some of the leading runners.
Going into town will also signal the start of a two lap course, so athletes will actually pass transition (T2) three times; at the start of the lap, end of the first lap and then when they dismount for the run.
From town and starting the lap, you will head towards Ramsbottom where you will ride past the famous climb of The Rake – though with a maximum gradient of 22%, most athletes will be pleased to know they are not riding that particular piece of road!
From there, the course heads towards Bury, taking in Hazelhurst, Haslingden and Blackburn, past Haslingden Moor which includes several stunning reservoirs.
Riders will also see the Jubilee Tower on Darwen Hill, which will add further to the sights that we've been able to include within the revised course. We then go on to Hoddlesden and Edgworth. We are expecting and hoping to see lots of spectators in Edgeworth as it is very easy for spectators to get to.
In Edgworth athletes will also ride past the Wayoh Reservoir, which is both vast and spectacular.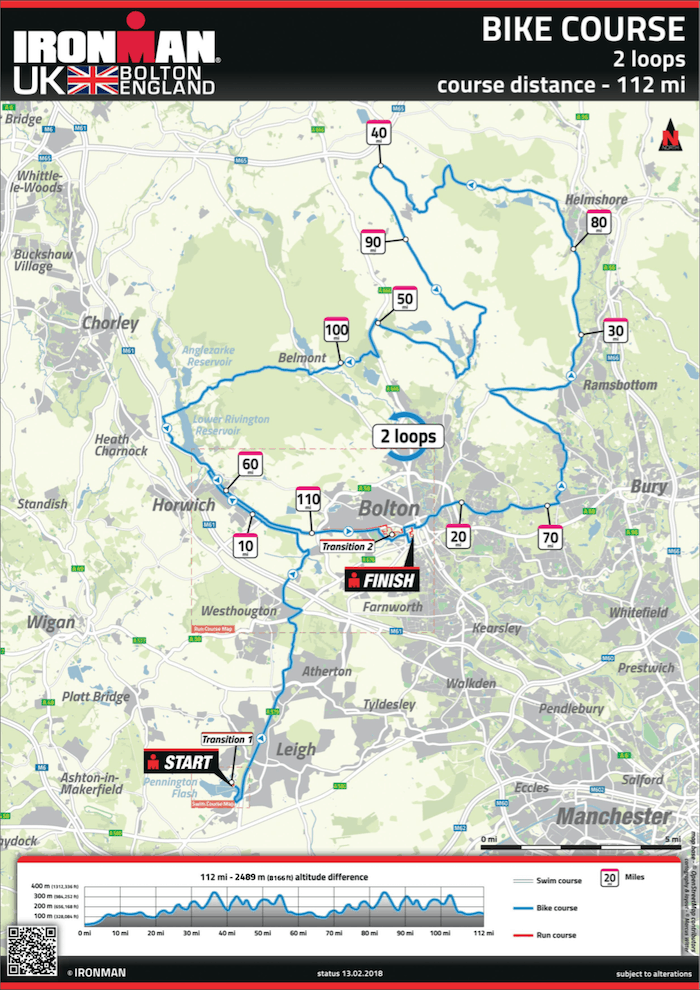 What about Sheephouse Lane?
After Edgworth the route goes towards Belmont – which we think will be another big crowd hotspot – and then joins the old course, but in reverse. We know that Sheephouse Lane has become closely associated with the race and athletes like it, so it does remain, but on the new course you will descend into Rivington, and then back to Horwich and on to Chorley New Road, which is also part of the run course.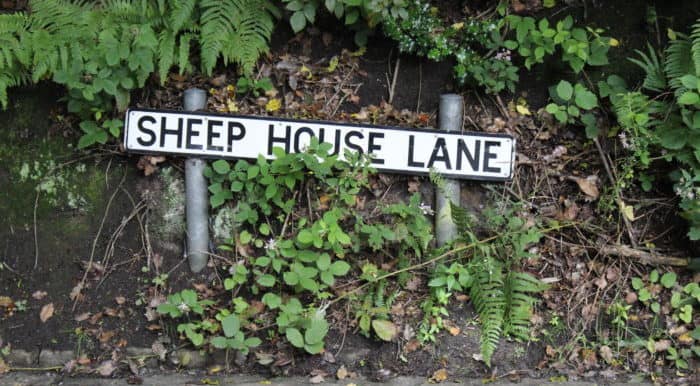 Is the route easier or harder overall?
I would say that the route is a bit tougher overall. It's certainly not a 'flat and fast' course, but the attraction of IRONMAN UK has never been that, either in Bolton or even back to its first venue (2005 to 2008), in Sherborne. It's always been a challenge, athletes have enjoyed that aspect of IRONMAN UK – and indeed IRONMAN Wales in Tenby too – and we think that the changes that we've made for 2019, will add further to the experience for entrants.
(Note – the IRONMAN UK maps of the 'old' and 'new' courses show an increase in total climbing in the bike leg from 2030m to 2489m, which would be consistent with Sam's "tougher overall" thoughts.)
And the popular Babylon Lane?
There's no Babylon Lane this year, but we are hoping that the crowds and in particular the COLT guys and girls [Ed. COLT = City of Lancaster Triathlon club] will be able to recreate and relocate their legendary energy, colour and enthusiastic support at Rivington Green.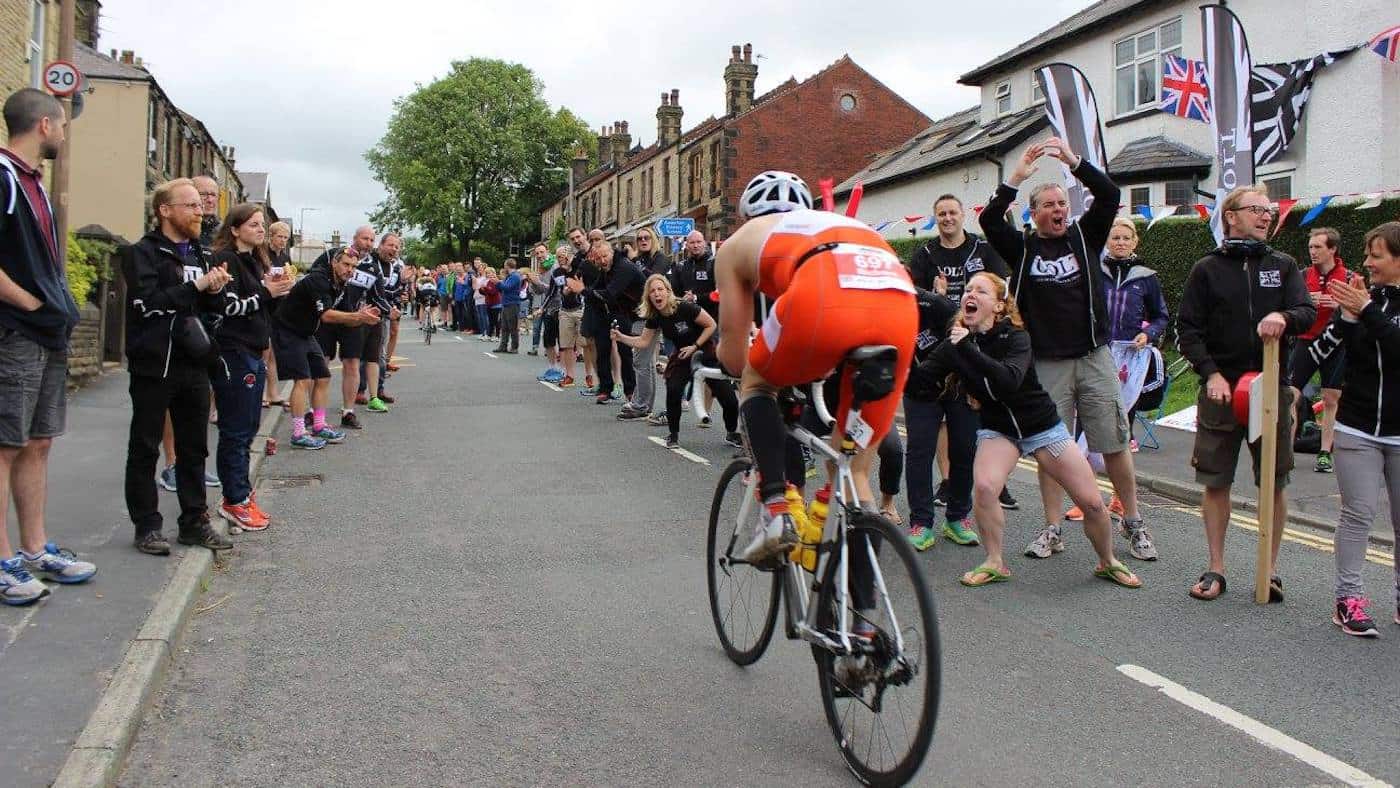 There were a lot of changes planned ahead of last year with regards to run course, transition locations and trying to simplify the athlete experience. Given these remain for 2019, I'm assuming that those worked well?
They were certainly warmly received by the athletes. We've always wanted to try and bring more of the event into Bolton, and with those changes it meant that we could create an 'event bubble' of T2 / finish / registration / briefing etc within 800metres. That provides a much more streamlined and enjoyable experience for competitors and their families and supporters. We were conscious previously that bases at Pennington Flash for the swim, Macron Stadium for T2 and then Bolton town centre for the finish, wasn't ideal for anyone.
Were there external concerns and pressures that lead to the bike course changes?
When you put on an event of the scale of IRONMAN then there are always concerns and issues – but no, we were not forced into changes or driven away from a particular area for example.
Last year's race was extremely difficult for us, with all of the last minute changes due to the fires on he moors [Ed. which resulted in a revised course of 95 miles]. As Race Director, I personally spent six or seven days in meetings with all of the stakeholders, driving new roads, going over maps and looking at every possible avenue available to us to initially just put on a race at all, and then to try everything we could to try and retain the full course distance. It was an incredibly difficult time.
We actually have five different local authorities to agree changes with – Wigan, Bolton, Blackburn & Darwen, Bury and Lancashire – and every change on one can have an impact on another, so there is a huge consultation process involved. Because of the impacts of the moorland fires last year, that opened up a lot more discussions and avenues with people who through that process got to better understand what we do, how we work, and were then keen to work more closely with us moving forward.
Having worked hard on the run course and transition / town centre elements for the 2018 race, indirectly, those discussions have helped open the door for us be able to work on making some changes and improvements for the bike route which was the next area that we wanted to develop. That still doesn't make it easy to do! I've been in an ongoing consultation processes with all of the stakeholders since last September in order to get to where we are today.
I really think it is a positive step forward and that athletes will enjoy the event on 14th July this year.