IRONMAN pushes back on PTO approach for acquisition talks
The next – but I'm guessing not last – news on the approach of the Professional Triathletes Organisation to "enter into discussions to acquire its Ironman® and related mass participation assets" is here. The result? 'Thanks, but not thanks', is the brief summary.
Well, more specifically – from IRONMAN Chief Executive Officer, Andrew Messick – the response was:
"I have discussed your letter with my Board. While we appreciate your interest, we are not prepared to engage in a discussion around a sale at this point."
As for the PTO, well, their response is:
"… our proposal to enter into discussions to acquire the WTC Triathlon-MP Business remains open. Together with North Point Advisors we are prepared to begin such discussions immediately should the WSG Board reassess its position."
What now?
Well, the PTO says that it will, "continue to implement its strategy for self-determination successfully followed by professional athletes in other sports such as golf and tennis, and we plan on moving forward with acquiring and operating events in the space to celebrate the sport we are so passionate about."
Two obvious issues spring to mind from that:
The Collins Cup
Third time lucky? Postponed in both 2018 and 2019, will the 'Ryder Cup of Triathlon' finally progress from concept to reality? If it does, will it provide the impact that is required from what, so far, has been the flagship (but unrealised) project of the PTO?
At the time of the 2019 event cancellation (which coincided with the appointment of North Point Advisors), the statement was, "The date and location of The Collins Cup in 2020 will be determined once we select our strategic partners." While there has been no official announcement that I'm aware of, the official website of the PTO – www.protriathletes.org – would suggest that will be hosted by Challenge Roth based on this graphic: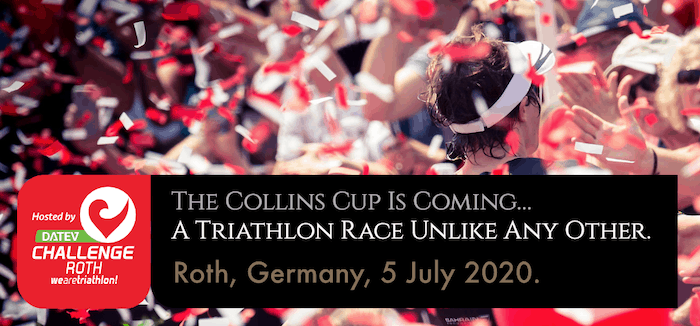 Challenge Family and the PTO?
Playing a game of 'join the dots', you get the following:
PTO has expressed its desire for IRONMAN acquisition
IRONMAN has said 'no thanks'
PTO has re-stated its intention for "acquiring and operating events"
The Collins Cup looks like it will be in partnership with Challenge Roth
The PTO has appointed Challenge Family CEO, Zibi Szlufcik to its Board of Directors.
Challenge Family has a significant portfolio of events…
Interesting times as they say.