Prepare for 2020 with an officially endorsed IRONMAN Training Camp
Three Training Camps designed to suit athletes of all levels and goals
If Middle and/or Long Distance racing is on your schedule for the new year, then there are few places more popular and suitable to prepare yourself than the Balearic Island of Mallorca.
Here are the details of what's on offer – along with some experienced advice on making sure you arrive well prepared to make the most of the Mallorca experience.
---
Based at the 5* Hotel Zafiro Palace in Alcudia, Nirvana (www.nirvanaeurope.com), are hosting a series of three, week-long Official IRONMAN Training Camps in March 2020.

Dates and Details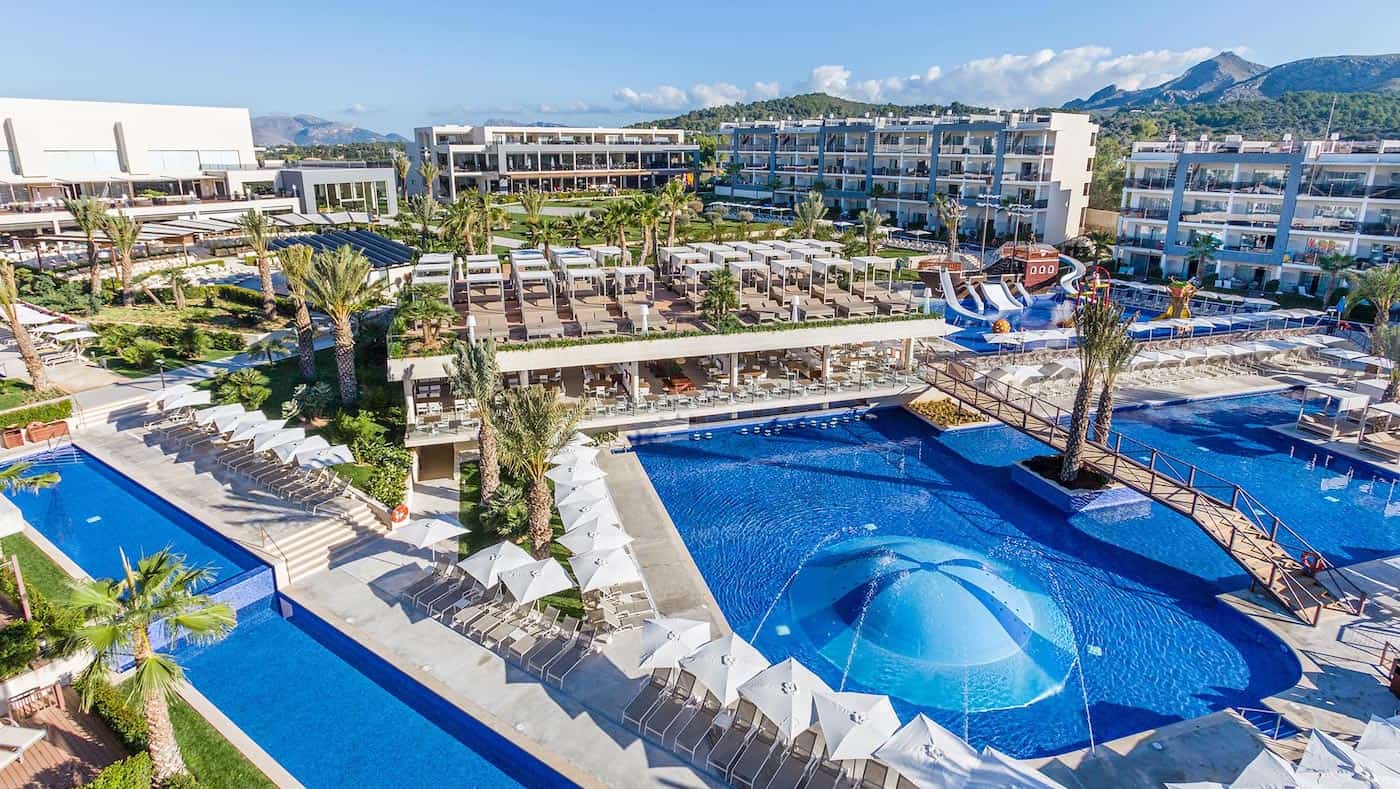 Why Nirvana?
Nirvana are a trusted and experienced travel agent, both ABTA and ATOL protected to provide you with the most secure and perfectly organised trip. Their Official IRONMAN Training Camps are designed to give you the tools and expertise required to take the step up to your first IRONMAN 70.3 / IRONMAN race, or develop your skills and fitness for the race season.
With everything from technique to nutrition and with all of your travel and accommodation arrangements taken care of by Nirvana, you are left at complete ease to launch yourself fully into the training experience.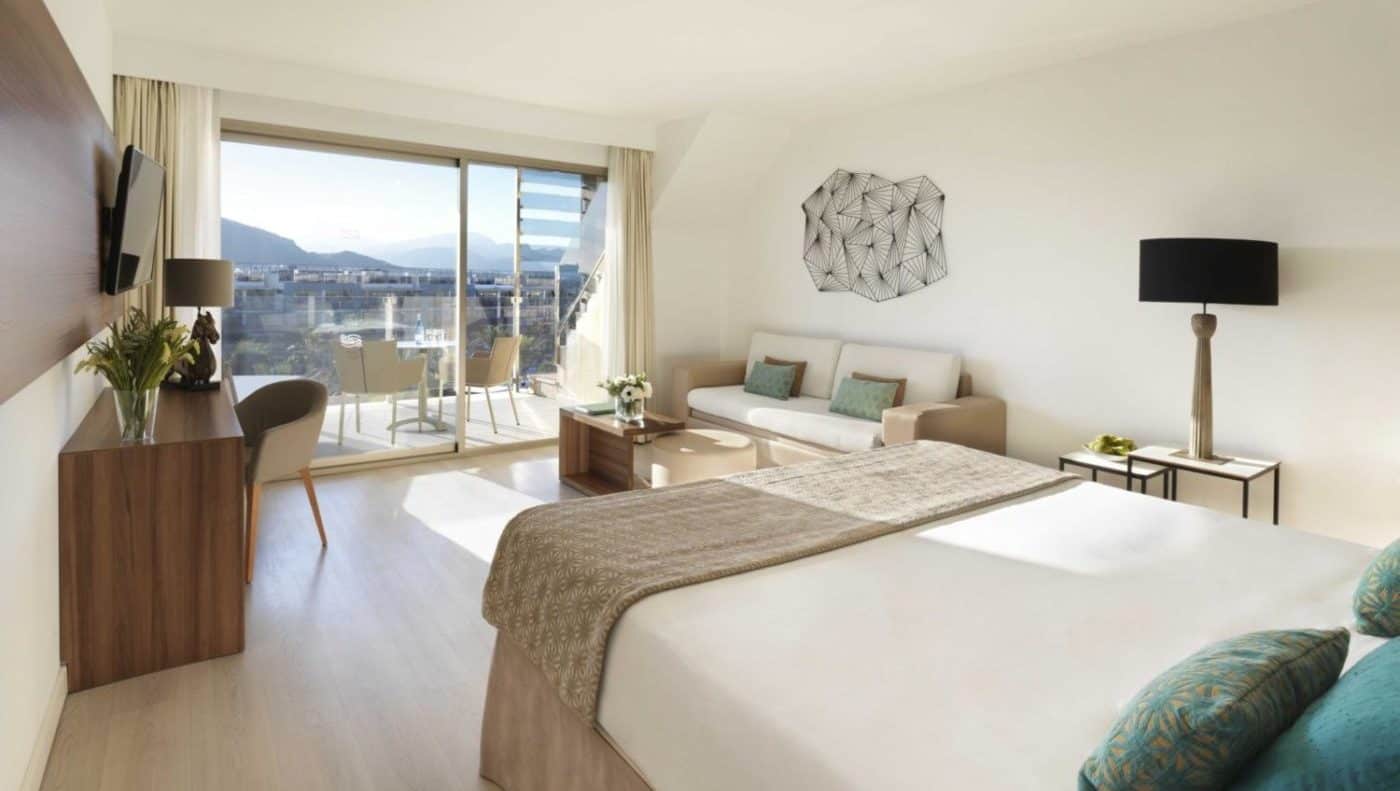 'Training Camp 101'  – The Beginners Guide!
It's the time of year where everyone seems to be setting goals for 2020. That might be a brand new target to jump into triathlon for the very first time, or maybe you have decided it's time to take the challenge up a gear and race your first 70.3 or long distance event. Either way, congrats… you are on the path to an awesome experience!
So you are signed up to your first event, now it is time to get training and begin to think about how best to prepare for your event. This might include looking for a coach or a club to join to help you get started. Another great way to kick-start your journey or give your training that added boost is to sign yourself up for a training camp – plus there is nothing better than escaping the British winter weather!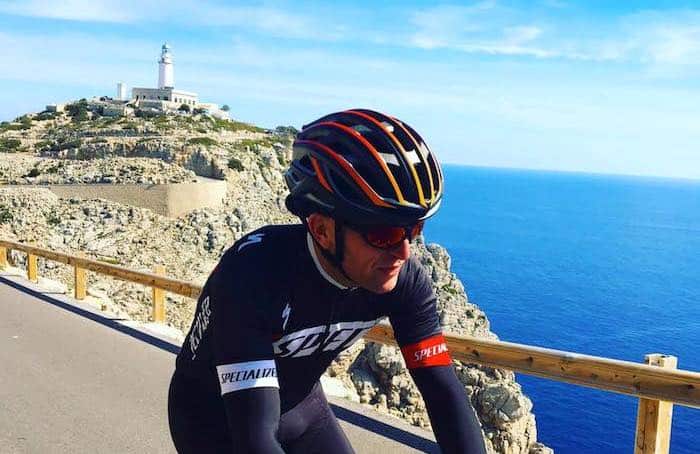 But, I hear you ask, is a training camp really for me? YES! You are exactly the type of athlete that will reap huge benefits from attending a training camp. It is a common misconception that training camps are only for experienced athletes, but that is simply not the case. Stepping up a distance can be a daunting undertaking but it doesn't have to be if you ask for the right advice and prepare properly. Remember, that this is a challenge which you should also find enjoyable and satisfying.
If you have never been on a training camp before, here is what to expect: expert advice, solid training hours and plenty of fun.
With a Nirvana organised camp you will have a fully coached experience with a Certified IRONMAN U Coach plus British Triathlon Level 3 coaches and, if you attend the Beginners Camp 29th February – 7th March you'll be joined by a great bunch of people in the same position as you – ready to start their IRONMAN 70.3 or IRONMAN journey.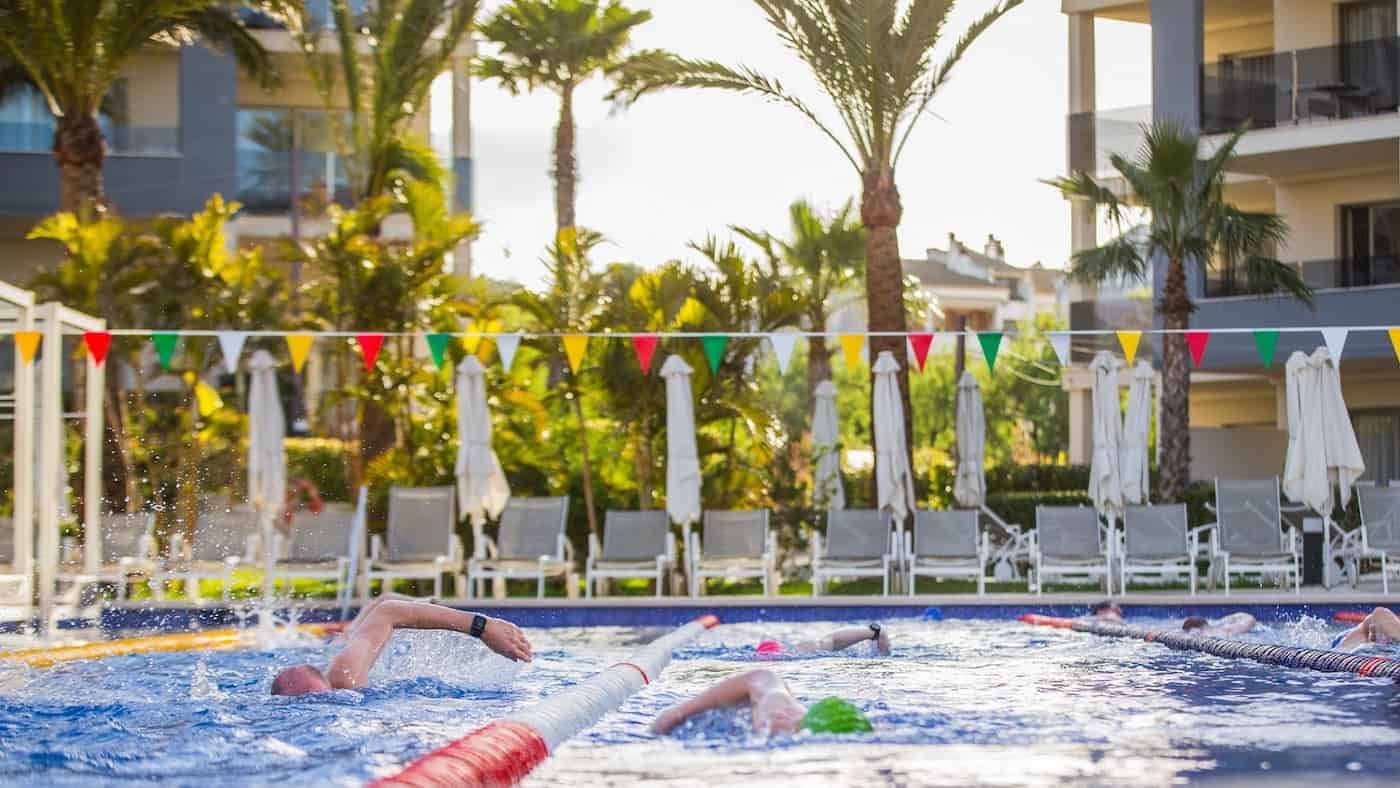 Swim, Bike, Run, Sun, Fun
The swim element of a race is often one of the areas where people need a boost of confidence. On this training camp you will benefit from swim technique coaching to help you on your way to becoming more efficient and confident in the water, both of which will allow you to conserve valuable energy for the longer bike and run legs of your event.
The warmer climate also welcomes the chance to get out on nice quiet roads to get the longer miles needed in the saddle whilst gaining bike handling skills in the hilly terrain. However, it's not all about the training. One of the most overlooked but important parts of being an athlete is having time to recover and there is nothing better than being able to do that in a luxury setting in the sun.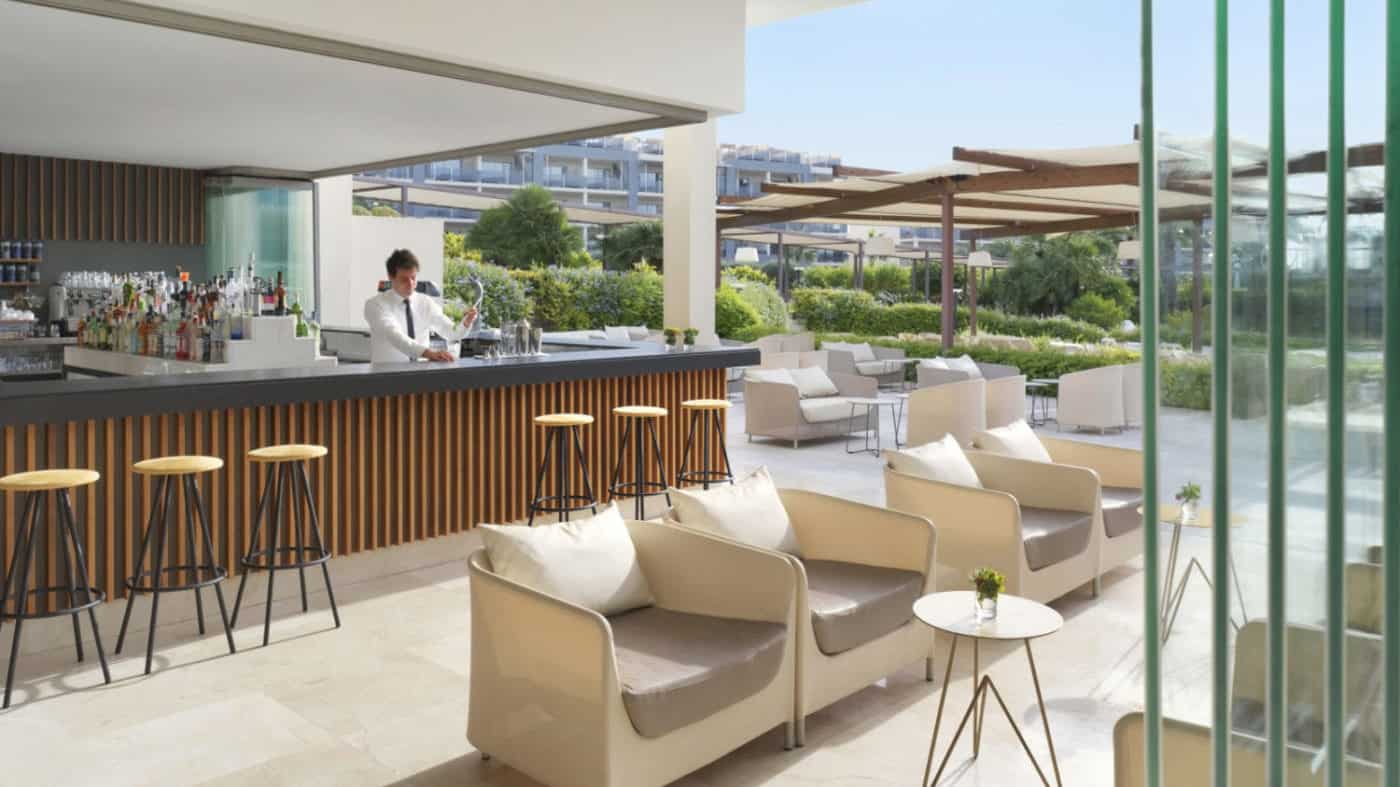 Key things to get done before you go away:
Start training. To get the most out of your training camp, don't wait to start training when you get out there as it will make for a fair shock to the system. Ideally you want to get to day one of training camp with a base level of fitness and having got some consistent training sessions in. This doesn't mean you need to be training non-stop, but be at a point where you feel physically comfortable getting in the pool, jumping on the bike or going for a run.
Pro tip: the key to getting ready for an IRONMAN 70.3 or longer is consistency.
Nutrition to fuel you in training. This is often an overlooked item to take with you when you go on a training camp but to get the best out of your training experience you need to stay fuelled. Remember, a training camp is not a 'slimming week' but a chance for you to reap the benefits of higher volume in training and kick-start your road to an IRONMAN or 70.3 event.
Being away on a training camp is also a good opportunity for you to try out nutrition bars, gels and energy drinks which you might want to use in races. Nirvana are looking to collaborate with Enervit, the Official Nutrition Partner for IRONMAN Europe events, to provide nutrition products and workshops.
Pro tip: never turn up to a race without a tried and tested nutrition plan. You can do all the training in the world but get your nutrition wrong and you could end up crawling to the finish line.
Hydration. If you are heading out to warmer climates then you need to ensure you have at least two water bottles on your bike (ideally three), and remember that you'll need to fit bottle cages that will allow you to carry these. A drop of just 2% of your body weight in fluids can lead to a performance decrease and, being dehydrated not only affects the day it happens but also has an impact on the day after. That's something you probably want to avoid as you are there to enjoy yourself, after all!
Pro tip: you should be looking to consume 750ml-1 litre fluids per hour in warm temperatures. Make sure you are using electrolytes or salts to ensure your mineral levels are kept stable.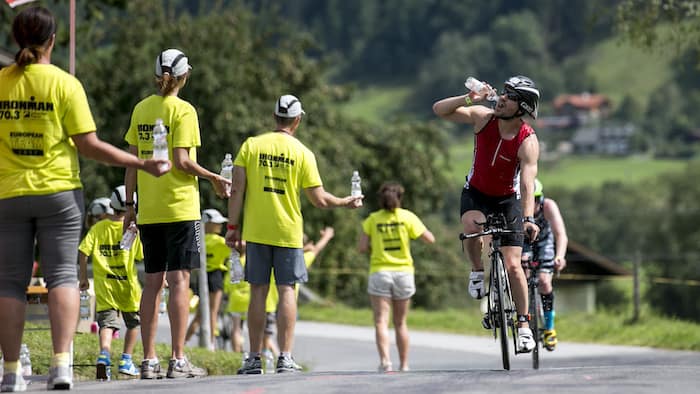 Bike fit. Make sure you are comfortable on your bike before you head out on a training camp. This might involve having a bike fit to make sure you are in the best position to both ride a bike for over three hours, and also help to ensure there are no unnecessary strains on your muscles from being overstretched or cramped.
Pro tip: ideally, take the bike which you are planning on racing to the training camp. If you are hiring a bike, then make sure you take your own pedals and saddle with you. Also, ensure you take the key measurements from your own bike before you leave… and bring those measurements with you!
Packing your bike for travel. Doing a test run of dismantling your bike and packing it in a bike box/bag is highly recommended to avoid the panic of not knowing what you are doing the night before you are due to travel.
Pro tip: it is often the removal of the pedals on your bike which catches people out. Make sure you take your pedals off before dismantling the rest of your bike.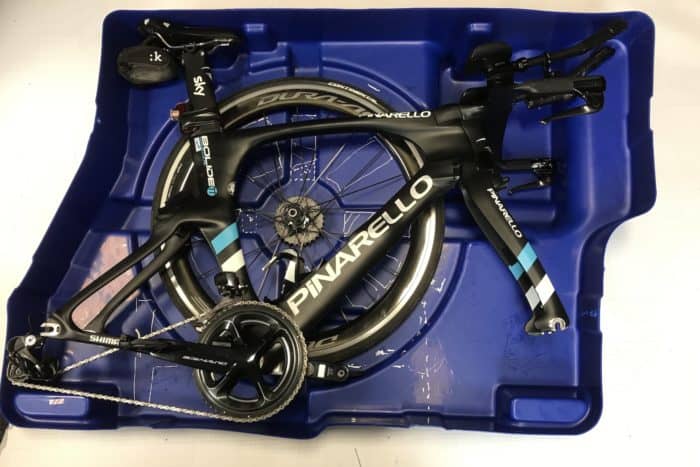 Want to find out more?
If this guide has helped spark your interest in the Training Camp, then further details, prices and booking options of the Official IRONMAN Training Camps can be found on the Nirvana website HERE.