We test out the Mee Audio X7 Plus earphones to find out how they perform on sonic and comfort levels.
---
Who is it aimed at?
Everyone
Best Bits?
Lightweight, sound quality
What surprised you?
Comfort and secure fit when active
Reasons why you would buy it?
Competitively priced, comfort, sound quality
MEE Audio X7 Plus Earphones – our experience…
Bluetooth earphones are becoming more important as key phone brands ditch the 3.5 mm jack socket and are supporting wireless headphones.
Mee Audio produce a range of headphones and earpieces for all, of interest here are the in-ear rechargeable model, the X7 Plus. Boasting nearly 8 hours of playback and sweat resistant properties they are perfect for the runner looking for a reliable way to listen to music without the tangle of cables.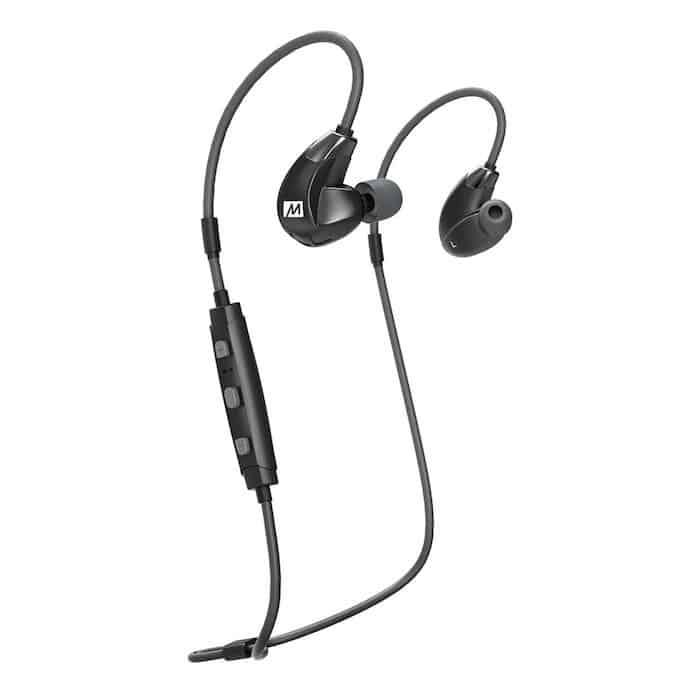 Out of the box everything is pretty straight forward, instructions are simple and you will be paired up to your chosen music source with ease. Pairing proved quick and everything from iPhone, iPad to desktop computer paired with ease.
The unit comes with three ear bud options for best fit your given ear size, again it's a simple job to swap them to ensure they fit snugly in the ear canal. They proved easy to locate and felt very comfortable when you get the correct position, you will know when they are in place, they will feel correctly located! The phones cable wraps around the top and back of your ear and the special memory wire keeps its shape and helps maintain the ear pieces secure location. A cable "cinch" further ensures a secure grip on the back of your head.
In place in the ear and out on the run the phones didn't move and delivered great sound whilst out training. The snug fit ensures very good sound delivery, effectively cutting out plenty of external sound allowing you to focus on the audio. The locked-in fit ensures you are not having to refit the phones on the fly.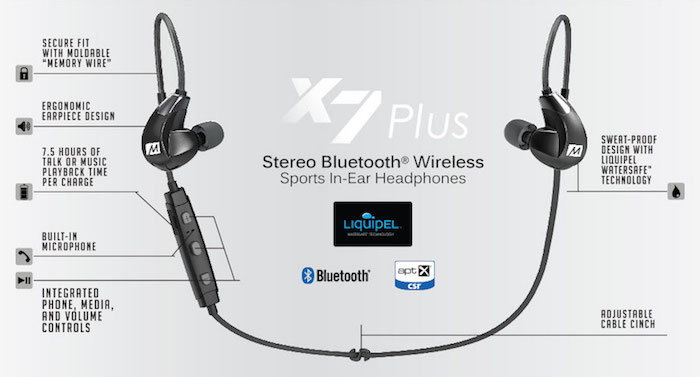 The earphones are lightweight and comfortable making them an exceptional option for longer use. Some comparable brands can become a little awkward after longer use making your ear feel a little sore. The X7 Pluses have shown to be really comfortable with extended wear.
Sound quality from the units has been top notch and with continued use is bedding in nicely. Clarity over various genres has proved very good from acoustic, pop and spoken word all being delivered without any issues in quality.
A nice addition to the package is the carry case, a tough little pocket sized hard case ensures your buds stay intact in a bag or pocket.
Details
X7 Plus stereo Bluetooth 4.1 earphones
Micro-USB charging cable
High fidelity sound with aptX and AAC HD audio codec support
Sweat-proof design with Liquipel Watersafe™ Technology
3 sets of ear tips
Carrying case
User manual
Battery life to 8 hours of continuous use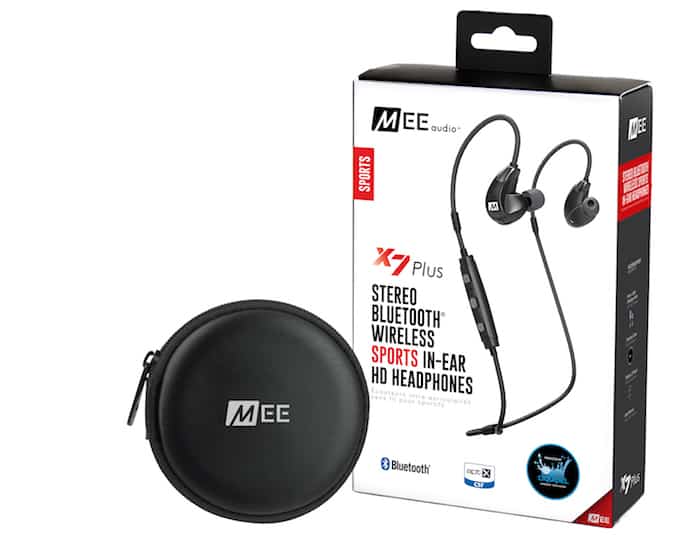 If you are looking for some new bluetooth earphones these should be on your short list. They have proved to be comfortable, easy to use and have great sound quality. All of which make the MEE Audio X7 Plus earphones a brilliant choice.
You can find out more about the Mee X7 Plus earphones at their website here