The sun is starting to appear more frequently, we are fast approaching May and many of the open water swim venues are now opening for business. Are you ready to (open water) swim?!
Given the last year – and perhaps even the prospect of some racing on your schedule soon – making the most of your time in the water is key.
Structure, safety, equipment and skills are just a few of the things that Coach Karen Parnell recommends you consider for both enjoyment and benefit of your time spent training, and has put together some great advice to help you along the way.
Open Water Top Tips To Get The Most From Your Swims
The weather is improving, and most open water venues are opening up to allow us to swim. The water may however still be a rather cool, so time spent in the water may be shorter to begin with.
To make the most of you swims here are my top tips for your sessions and also the kit you can consider.
Structuring your swim
If you are short on time or the cold water means sessions are shorter, then having a plan will help you get the most from your swim. It's also advisable to keep your sessions shorter if you have not been in the water for some time to avoid shoulder or other injuries. Swimming is a low impact sport, but you should take care not to over stress your shoulders, especially if you are wearing a wetsuit which will inhibit your shoulder movement a little, in the first few weeks back in the water.
Set a goal for your swim – it may be just to get acclimatised or to try out your new wetsuit, but whatever your goal put together a session plan.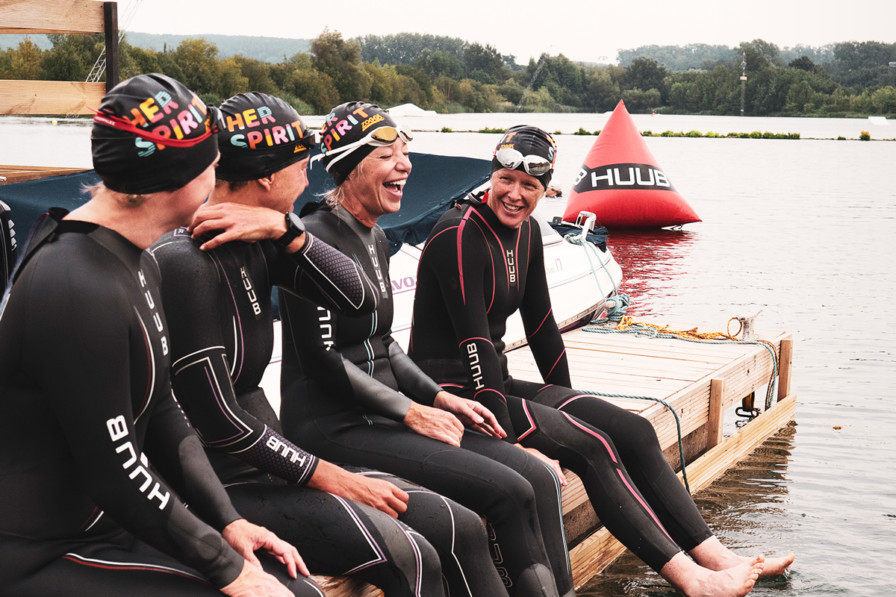 Acclimatisation
The best way to acclimatise to the water is to get you wrists and eye sockets wet as soon as you can. There are receptors in and around your eyes that if you get them drenched in cold water will let your brain and body quickly adjust. Your pulse points on your wrist will do the same thing. I find doing this by splashing water on these parts before you get your body fully submersed prepares my body in a less stressful way.
Make sure you breath and not hold your breath. When you take your first strokes make sure you breath out under the water – this sounds straight forward but many swimmers, especially in colder, open water can sometimes forget and hold on to their breath.
Drills and skills
Once you are in the water, try to get your face in the water as soon as possible and do 40-50 continuous easy strokes concentrating on exhaling under the water full before turning your head to take a breath.
Once I have gotten over the initial adjustment then I like to do some drills. Yes, swimming drills! These can be neglected in open water swims but if you have not swum for a while your feel for the water and technique may be a bit rusty. Scull #1 is a great one as your wetsuit will act like a pull buoy and this simple drill will get your body streamlined and you will start to feel the catch part of your stroke. You can then move on to Scull #2 and then Push Backs. After a few of these 20-30 strokes of full front crawl is good to embed the action of the drills.
Other great drills are kicking on your side, streamlined glute kicking, 6-1-6 and the fist drill. You may not spend as much time on these as in the pool due to the temperature but well worth it to get a feel for the water, get connected to it and also to feel relaxed.
After a few 100m of front crawl its always worth practicing Crocodile eyes sighting and bi-lateral breathing (breathing to both sides). Try to sight every five strokes and then every seven and then every 10 – which one works best for you? Did you veer off to the left or right? You can get to know the imbalances of your stroke. You can do the same for bi-lateral breathing. Breath every 3 for 25-50m then every 5 and then every 7, which one works for you? Did you go straighter breathing bi-laterally?
There are other open water swimming drills like buoy turns, starts and drafting but we will cover that next time.
Sprint finish
As your session comes close to ending then it's always worth a sprint finish. This will get you used to the last stages of a swim race or swim leg of a triathlon, warm up your legs and body and get your legs fired up so you can walk out of the water. If you are just getting back in to open water swimming then don't go too hard, just a little faster with arm cadence and with more kicking than your normal stroke. Remember to initiate the kick from the hip and not the knee.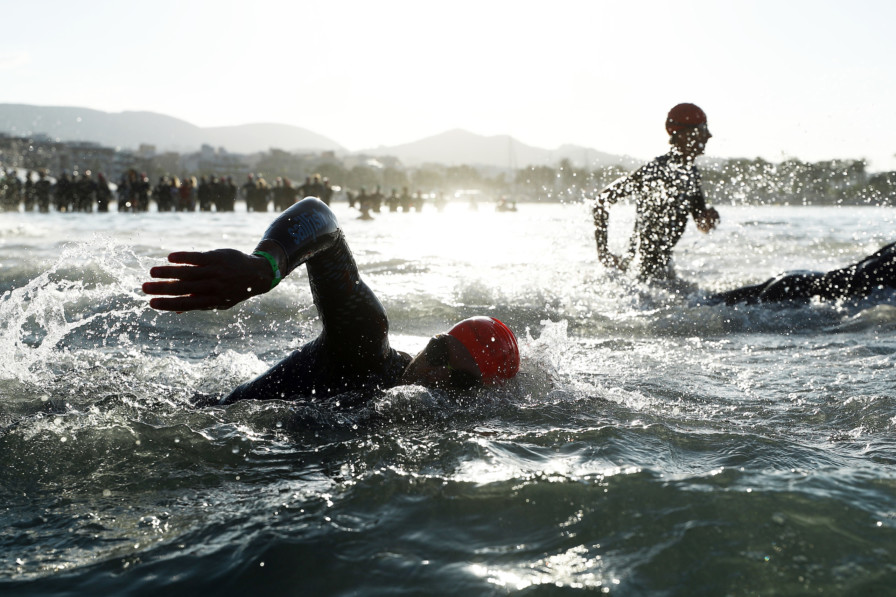 Open Water Swimming Kit Recommendations
To make your open water swimming as enjoyable a possible it's worth making sure you have the best kit for the environment.
Most people need to wear a wetsuit in the cold water to keep warm and get buoyancy in the water. Everyone is different so it's always worth trying a wetsuit before you buy if you can (Covid restrictions permitting). Some managed open water venues have loan wetsuits and shops that stock multiple brands..
#BeSaferBeSeen
It's really important to be safe and seen in the water so a brightly coloured hat and tow float is a must. I recently discovered the Swim Secure wild swim bag and it's a great tow float and also a rucksack. It has a large daysack area and can keep quite a lot of kit dry while you swim and use it to transport wet kit home. There are many types of tow float, some with dry areas for your phone and keys and other simpler inflatable rugby ball type inflatables. All are designed to be seen in the water and they don't cost that much to help keep you safe.
I love the feeling of new goggles as they are so clear and don't fog up. I used to change my goggles very regularly until I found Cressi anti-fog. It works like a dream to make your goggles like new and is reef safe so wont impact the environment. Some swear by baby shampoo, but this is not great for natural environment and in reality, costs about the same. Having fog-free goggles helps you to feel more relaxed and the whole swim experience more enjoyable. I use Zoggs Predator Flex polarized goggles so I can use them outside and in the pool. The polarized lens's are great if the sun is in your eyes when you are sighting.
Sometimes getting in the water can involve walking over stones or rocks so I use Skinners. They are great for getting into the water and have a 3mm protective sole and you can use them in the water as well. You can also pop them in the washing machine which means they are easy to clean after your swim.
After you swim
You will need to wrap up warm after the swim and don't have a shower until you are warm as the shock between the cold and hot water can be severe and cause pain. I like to learn from surfers when it comes to after swim kit and use a surfers poncho which is large enough to change under and warm enough to when you get out of the water. They are also not very pricey. I also use a surfers wetsuit bag which you can step on to get changed on so no sandy feet and then once out of the suit you pull the drawstring and can carry your suit in it and not get your car or other kit wet.
It's also really nice to end the swim with a flask of tea, coffee or old-fashioned Bovril!