If you needed just one more reason to be convinced it's time to take up triathlon, this is it. There are hundreds of incredible triathlons around the world, so you can combine your love of sport and staying active with travel. With that in mind, we've drawn up a list of the best triathlons for beginners in Europe.
Almost ready to commit? Check out the top ten things you need to know before you do your first triathlon.
European Beginner Triathlons
Take on your first triathlon among the history and culture of Europe. To help you get started this is our pick of the best triathlons for beginners in Europe.
Lanzarote Volcano Triathlon
Date: 25 February 2023
Location: Club La Santa, Lanzarote
Course: Lagoon / Hilly / Spectacular
Distances: Olympic
A favourite of many professional triathletes, Lanzarote Volcano Triathlon is Spain's oldest triathlon event. As the word 'volcano' suggests this isn't the easiest course on the list so expect a hilly bike and run section. However, the surrounding views of Lanzarote are sure to distract you from burning legs, while the calm waters of the saltwater lagoon will make for an easier swim.
As part of the event you can stay at Club La Santa, a sports resort perfect for anyone who loves to stay active on holiday. There's only Olympic (1.5km swim, 40km bike, 10km run) distance on offer here, so we recommend taking it on as a relay team if it's your first time.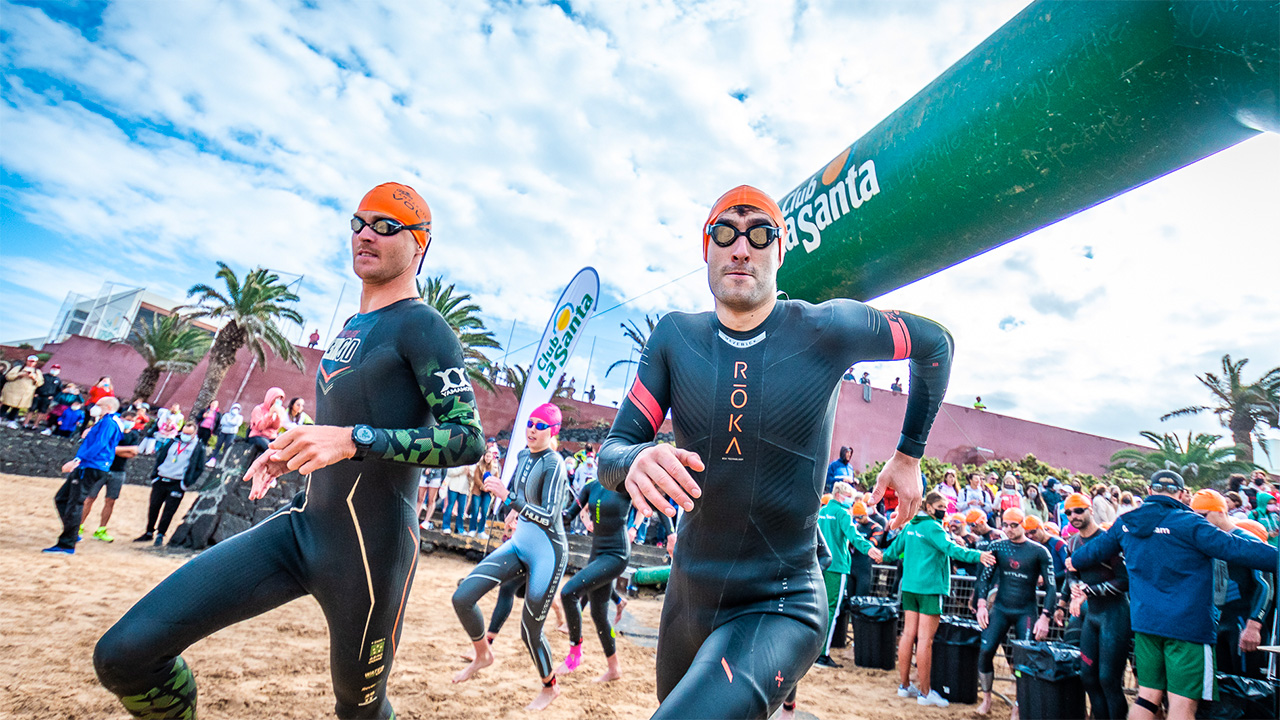 ---
Château de Chantilly Triathlon
Date: 20-21 May 2023
Location: Chantilly, France
Course: Closed Roads / Rural
Distances: Starter / Super Sprint / Sprint Sprint Plus…plus many more
Part of the Castle Race Series, alongside Castle Howard Triathlon, expect the same level of quality and selection of races but set in the beautiful French town of Chantilly.
The Starter (200m swim, 10k bike, 2.5k run) triathlon is the perfect event for beginners, but there are also Super Sprint (400m swim, 20km bike, 4km run), Sprint (750m swim, 20k bike, 5k run) and Sprint Plus (800m swim, 40km bike, 8km run) options available.
You'll enjoy a dip in the Grand Canal, ride the straight bridleways of Chantilly Forest and run in the shadow of the Maison de Sylvie. With exclusive discounts from travel partners on offer this is an obvious first choice for those looking to try a triathlon in Europe.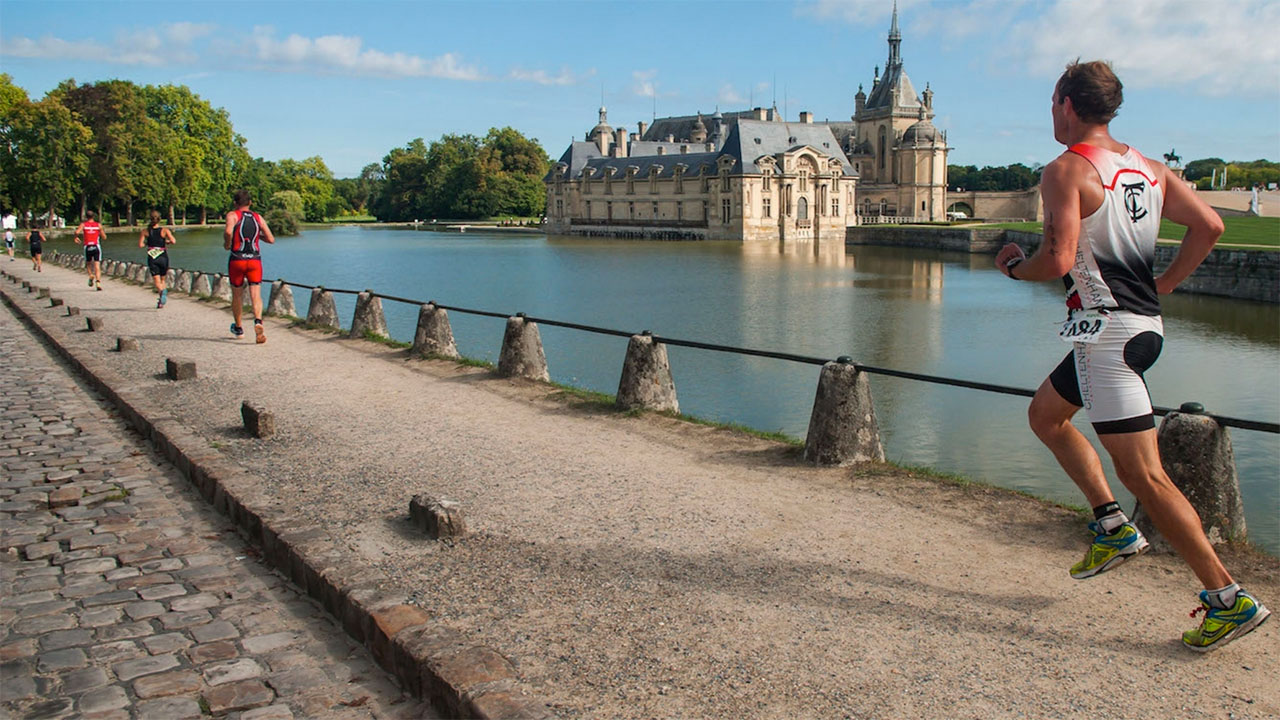 ---
Berlin Triathlon
Date: 03 June 2023
Location: Berlin, Germany
Course: River / Flat / Fast
Distances: Fitness / Sprint / Olympic / Middle
Kicking off at the Island of Youth in Treptower Park, Berlin, triathletes will enjoy a dip in the Spree River and an incredibly flat and fast bike and run. The straightforward course, family-friendly atmosphere and accessible distances (starting at 400m swim, 12.7km bike, 2.8km run) makes it an obvious choice for first timers. With all of the history and culture that Berlin has to offer only only a short car ride away, if you're looking to combine sports and travel this is one of the best triathlons for beginners in Europe.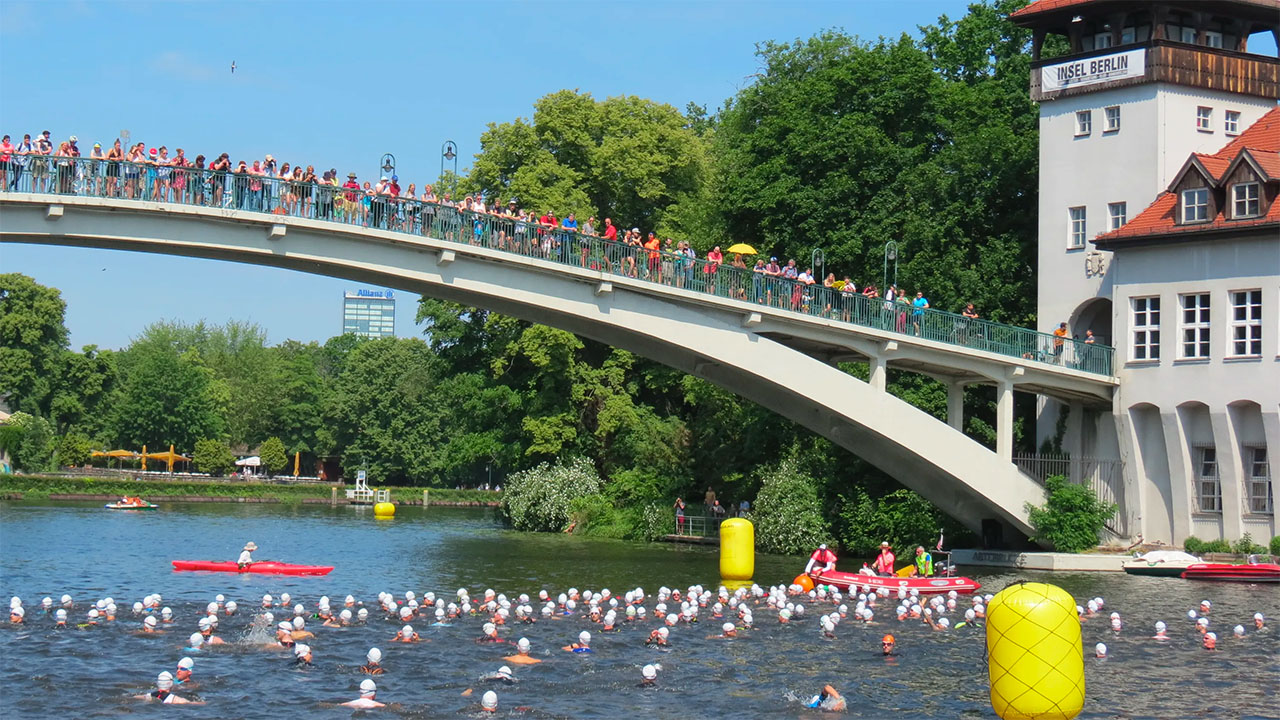 ---
Stadt Triathlon Erding
Date: 18 June 2023
Location: Erding, Germany
Course: Town
Distances: Sprint
The organisers of Stadt Triathlon Erding want their triathlon to represent fun and joy in exercise. So what better triathlon to choose as your first? Hosted in the small Bavarian town of Erding, this event has a reputation for being well-run and incredibly friendly. Home to the world's biggest wheat beer brewery and Europe's biggest spa there's plenty to enjoy once you've crossed the finish line.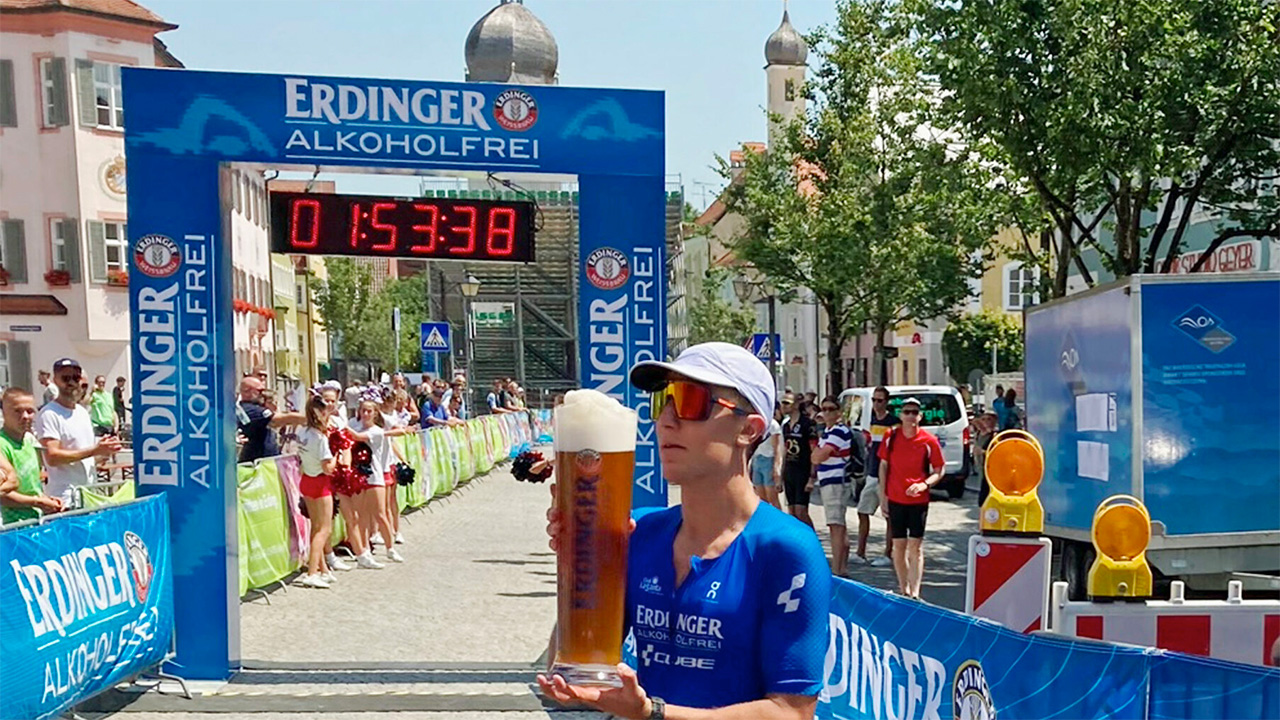 ---
Triathlon de Paris
Date: TBC for 2023 (June in 2022)
Location: Paris, France
Course: Flat / Closed Roads / City Center
Distances: Sprint / Olympic
Running since 1987, this triathlon gives you the chance to see some of the city's most iconic landmarks. With a focus on sustainability and accessibility, first timers will feel more than welcome.
The calm waters of Canal de l'Ourcq make for an enjoyable swim, and the closed-road cycle section takes in the Eiffel Tower and Arc de Triomphe to name just two. This well-organised event is known for its festival atmosphere, another plus for triathlon beginners looking to explore the sport.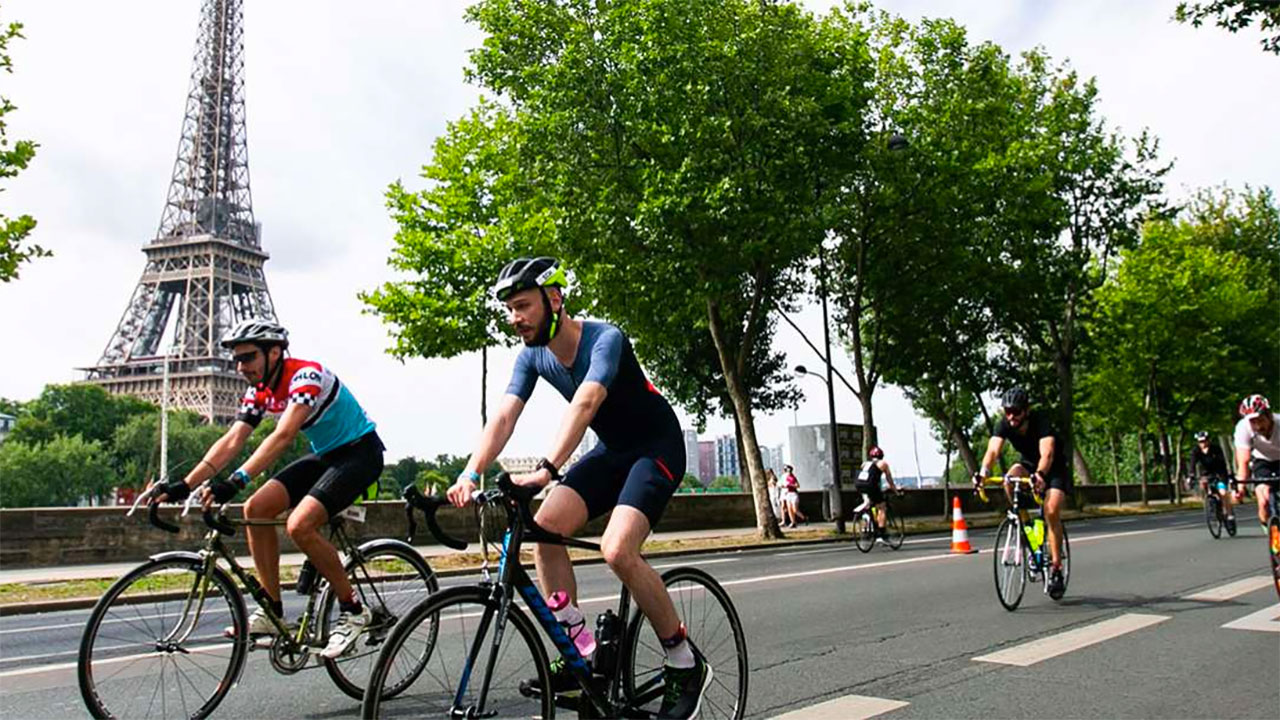 ---
Holten Triathlon
Date: 2023 dates TBC (July in 2022)
Location: Holten, The Netherlands
Course: Lake / Flat / Closed Road
Distances: Recreational / Olympic
Another favourite with elite athletes, you can be sure of an excellent course and impeccable organisation at this Dutch triathlon. There's plenty here for beginners too though with the 1/8 distance (500m swim, 20km bike, 5km run) on offer and both an opening and closing party. The organisers want Holten Triathlon to be a celebration of sport, not just a race. We think that's the perfect atmosphere for beginner triathletes to try out the sport.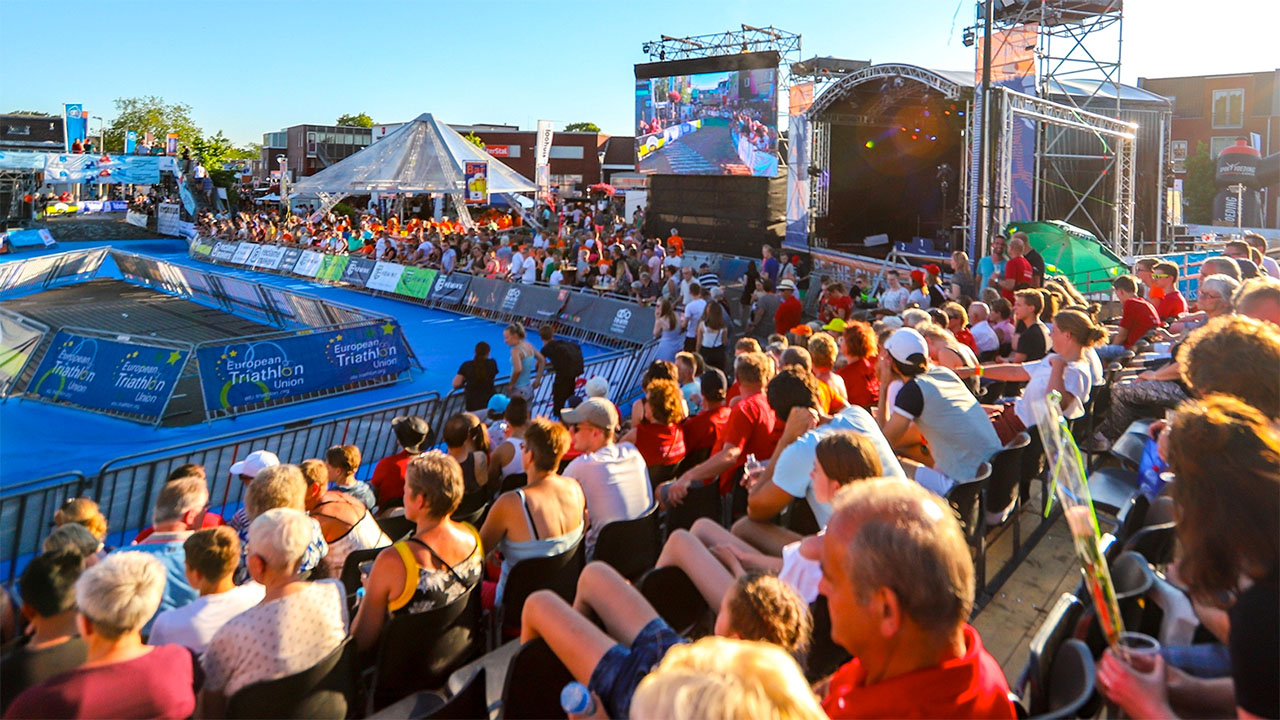 ---
Hamburg World Triathlon
Date: 13-16 July 2023
Location: Hamburg, Germany
Course: City Center / Atmospheric / Festival
Distances: Sprint / Olympic
While some city triathlons simply skirt around the edges, Hamburg World Triathlon is renowned for taking over the German city. The flat but technically challenging cycle section will have you weaving through historical streets. While the run ends at the awe-inspiring Hamburg City Hall.
With a field comprised of more than 40% first-time triathletes you'll be side-by-side with other beginners. Expect an incredible atmosphere. Hamburg WASSER World Triathlon boasts the world's biggest triathlon crowds, with over 300,000 spectators showing up to cheer on participants.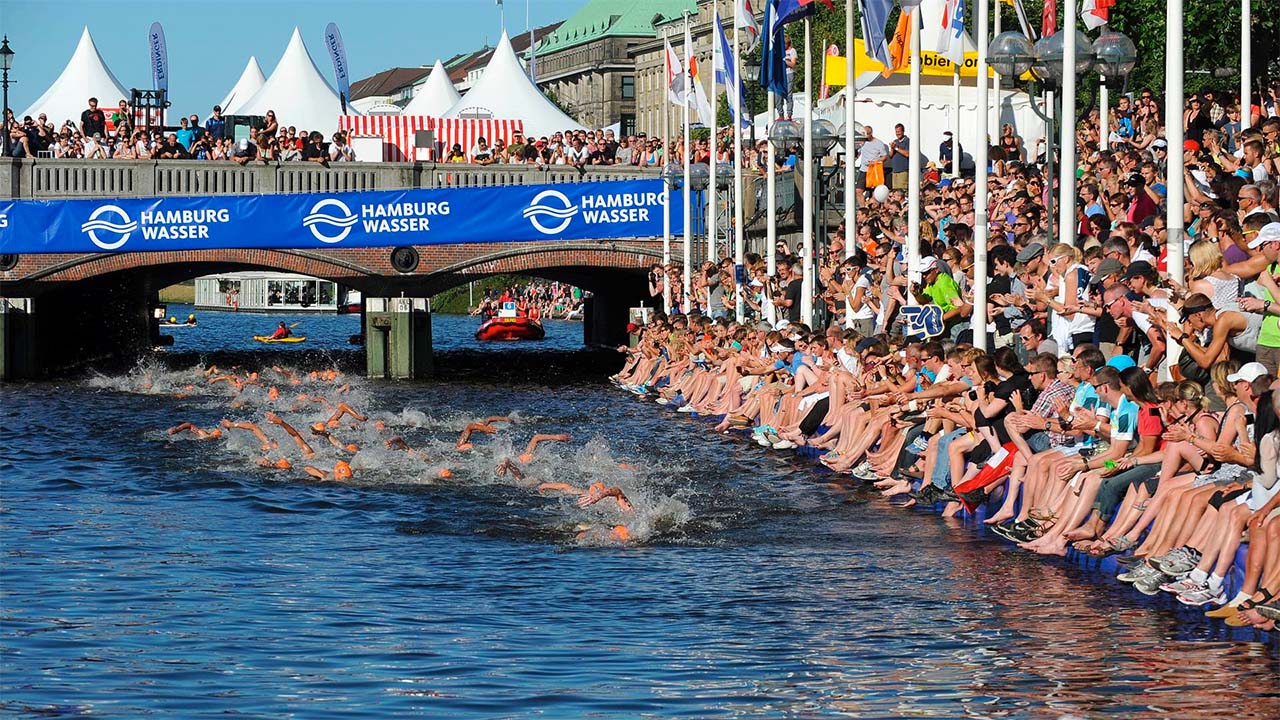 ---
Bosbaan Triathlon
Date: 17 September 2023
Location: Amsterdam, The Netherlands
Course: Lake / Flat / Closed Road
Distances: Sprint
Usually home to professional rowing competitions, the Bosbaan is a man-made lake perfect for swimming. Surrounded by the picturesque Amsterdam Forest, it's no wonder runners and cyclists also flock to this location. With a Sprint (750m swim, 20km bike, 5km run) distance on offer and the opportunity to rent a race bike if necessary, this is a great triathlon for beginners. The bike section takes place on straight-forward, closed cycle lanes. Ideal if you're new to the sport or are wanting to nail a personal best.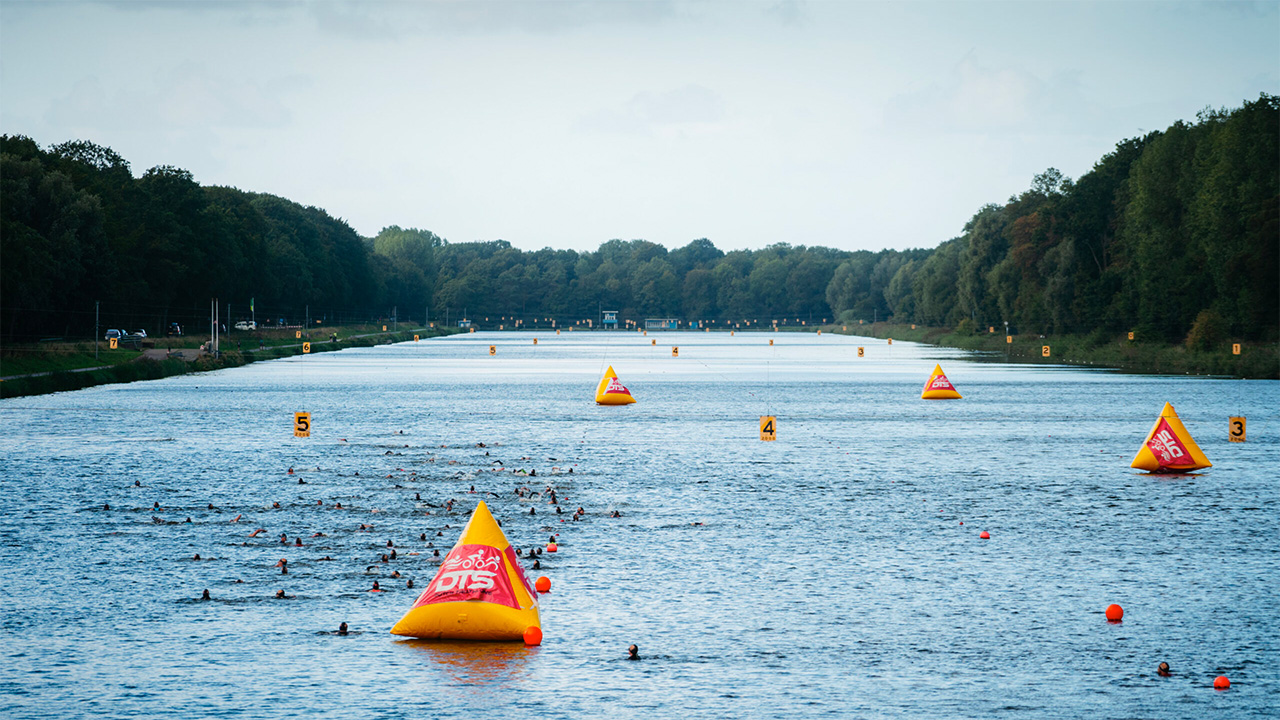 ---
Quinta do Lago's Tri-Triathlon
Date: 2023 dates TBC
Location: Faro, Portugal
Course: Lake / Trails
Distances: Super Sprint / Sprint
With gold-medal winning Irish Paralympian Mark Rohan as one of the organisers, expect a premium experience at Portugal's Quinta do Lago's Tri-Triathlon. Featuring natural trails, a private lake and quiet roads it's a great course for beginners, surrounded by stunning scenery and benefitting from a warm climate. With plenty of professional athletes on-hand offering advice and support, plus a Super Sprint (350m swim, 10km bike, 2500m run) and Sprint (750m swim, 20km bike, 5km run) distance, this triathlon looks to give first-timers a fun and enjoyable entry into European triathlon events.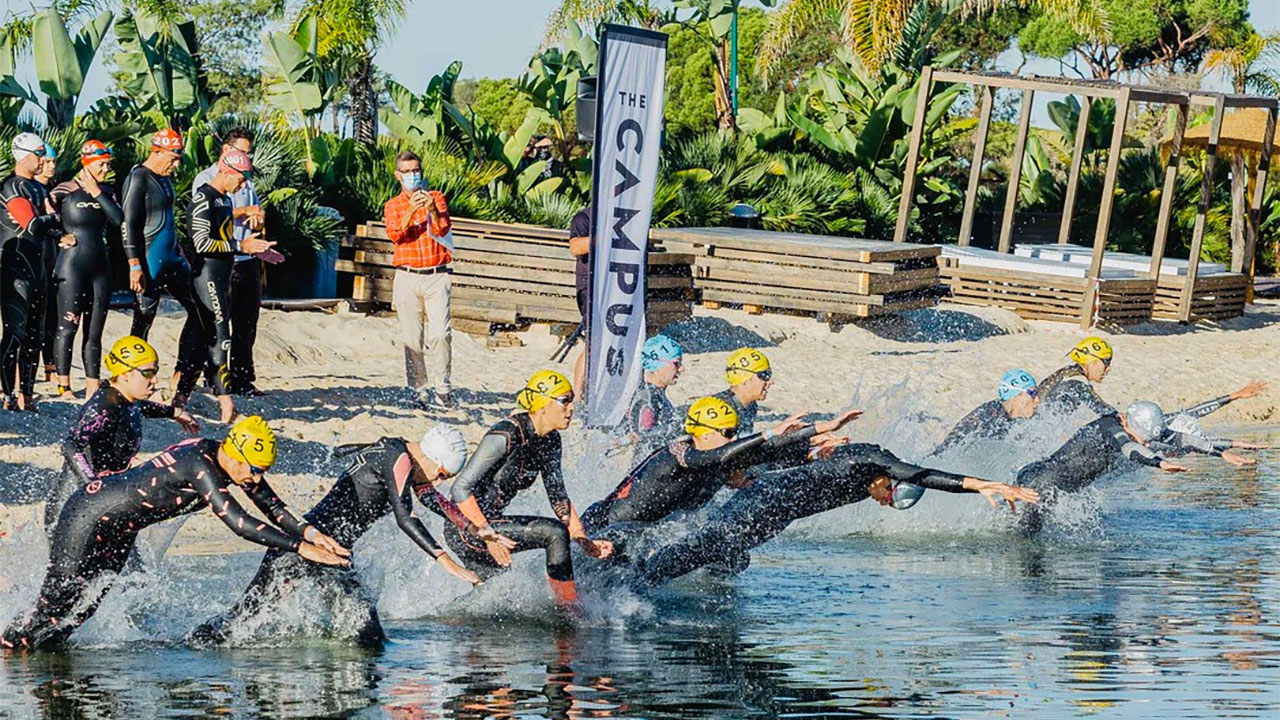 ---
Triathlon Bled Bohinj
Date: 2023 dates TBC (September in 2022)
Location: Bled, Slovenia
Course: Lake / Hilly / Spectacular
Distances: Super Sprint / Olympic
If you're looking for breathtaking scenery to be the backdrop to your first triathlon, then look no further than Triathlon Bled Bohinj in Slovenia. Popular with tourists, Bled is found at the foot of the Julian Alps but is only 30 minutes from Slovenia's capital city, making it incredibly accessible despite the stunning natural location. With both a Super Sprint (300m, 13km, 3.3km) and Olympic option available, first timers will feel completely welcome. You'll swim in the crystal clear waters of Lake Bled and then bike to Bohinj Lake (expect some decent elevation, these are alps after all) and run on its banks. With incredible mountain, forest, castle and lake views at every turn, this really is one not to miss.