So you're thinking about taking on a triathlon? We don't blame you. The multi-sport event has continued to grow in popularity over recent years.
Whether you're after a new hobby or want to tick this sport off your bucket list, the number of triathlons to choose from can be overwhelming. To help you get started we've rounded up ten triathlon events for beginners across the UK and Ireland.
Ready to book your first triathlon? Start with the list of events in the UK and Ireland below or check out triathlons near me:
London Triathlon
Date: 05/06th August 2023
Location: London, England
Course: Flat / Closed Roads / City Centre
Distances: Super Sprint / Sprint / Olympic / Olympic Plus
As the biggest city-centre run/bike/swim in the world, London Triathlon is an easy first choice and one of the best triathlons for beginners. The route is fast and flat and zips past some of London's most iconic landmarks.
Taking place on closed roads, the route is easily sign-posted and offers both Sprint (750m swim, 20k bike, 5k run) and Super Sprint (400m swim, 10km bike, 2.5km run) distances, perfect for first-timers, though the more ambitious maybe tempted by the Olympic distance course (1500m swim, 40km bike, 10km run). With great transport links it's a popular event with spectators so expect plenty of support to see you through.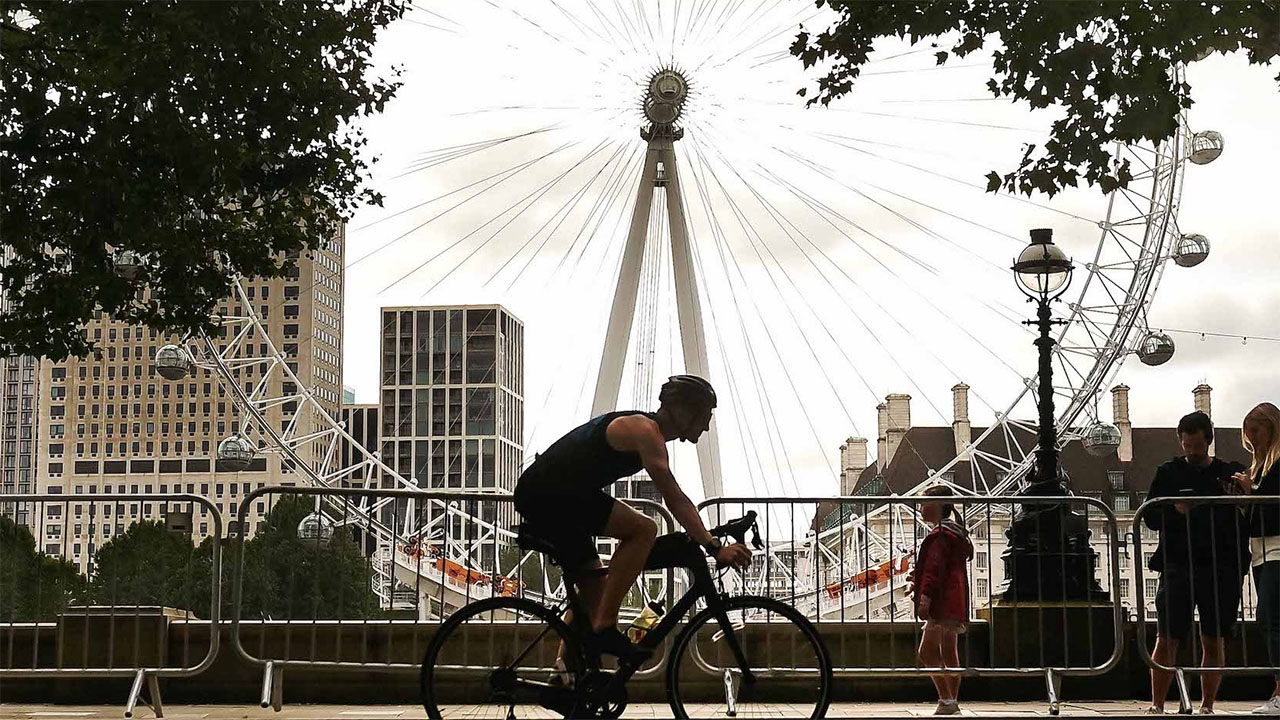 ---
Castle Howard Triathlon
Date: 23rd – 24th July 2023
Location: North Yorkshire, England
Course: Hilly / Rural
Distances: Starter / Super Sprint / Sprint Sprint Plus….and many more!
With 23 different races taking place over one weekend, this Yorkshire-based events, part of the Castle Race Series, has a lot to offer. For beginners, we'd recommend the Starter triathlon (200m swim, 10k bike, 2.5k run), but there are also Super Sprint (400m swim, 20km bike, 4km run), Sprint (750m swim, 20k bike, 5k run) and Sprint Plus (800m swim, 40km bike, 8km run) options available.
Expect stunning English countryside, a dip in the Great Lake and a packed festival village. With live music, kids' entertainment and plenty of food and drink options, this one is a real family day out.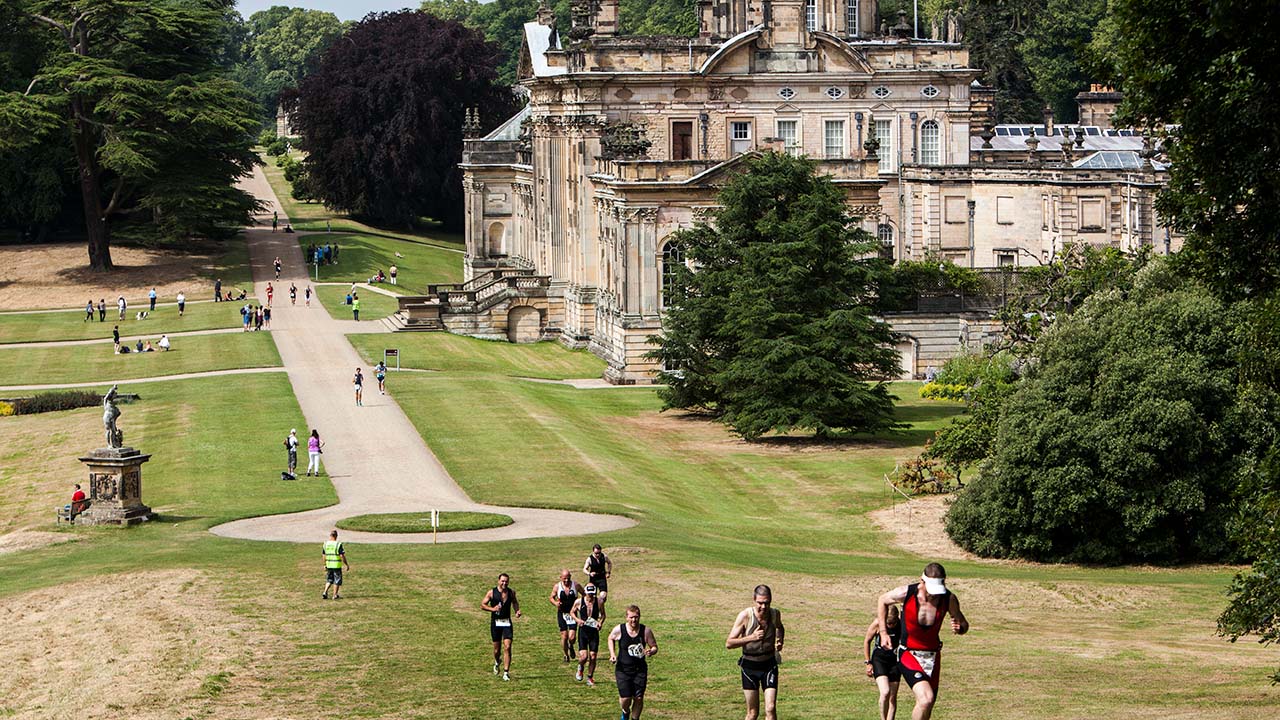 ---
Blenheim Palace Triathlon
Date: 3rd – 4th June 2023
Location: Oxforshire, England
Course: Undulating / Closed Roads / UNESCO World Heritage Site
Distance: Super Sprint / Sprint / Super Sprint Relay
As the only triathlon set in the grounds of a UNESCO world heritage site, Blenheim Palace Triathlon offers an idyllic route crammed full of culture and history. Featuring an open water swim and an undulating ride and run, this triathlon is beginner friendly while still offering a challenge.
As well as the usual Sprint (750m swim, 19.8k bike, 5.4km run) and Super Sprint (400m swim, 13.3km bike, 2.9km run) options, novices can also benefit from the Sprint Relay (750m swim, 19.8km bike, 5.4km). In teams of three you'll each tackle one discipline, giving you the chance to see what run/bike/swim is all about before you face it alone.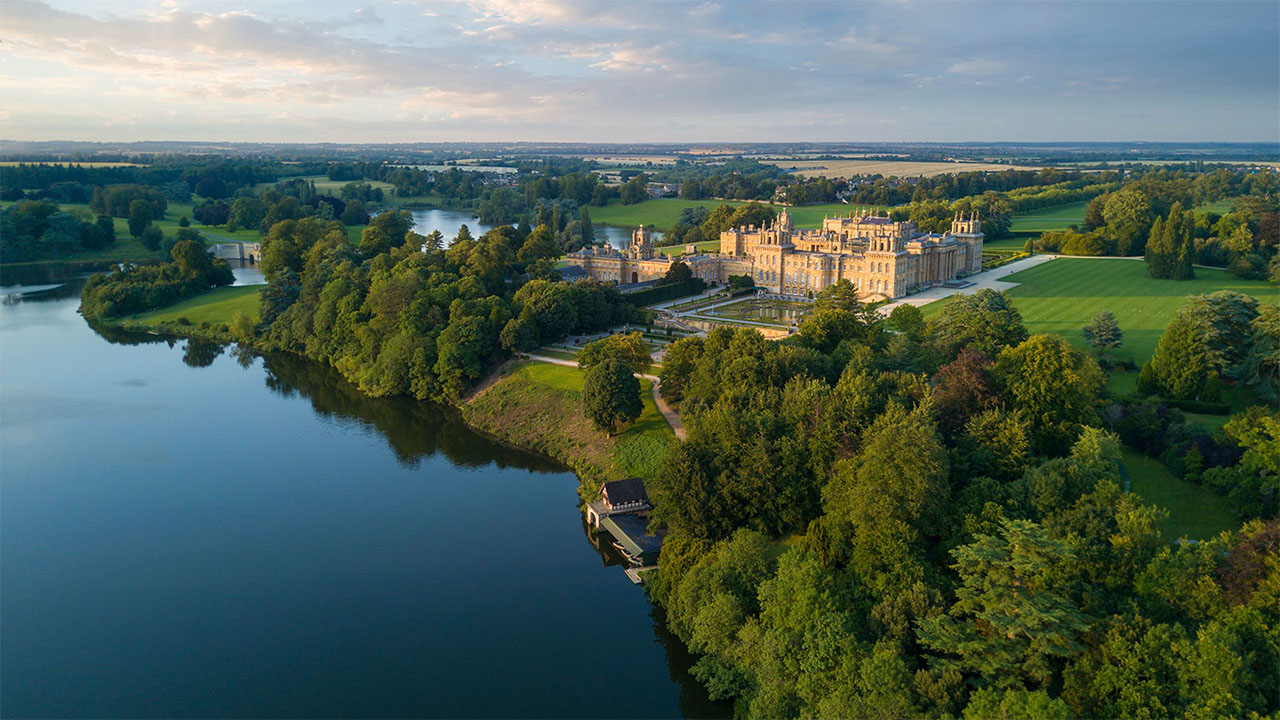 ---
Royal Windsor Triathlon
Date: 11th June 2023
Location: Berkshire, England
Course: Flat / City Centre / Iconic
Distance: Sprint / Olympic / Relay
The UK's longest running triathlon and a mainstay in many triathletes calendars, the Royal Windsor Triathlon is much-loved by beginners and experts alike. Like many of the other triathlons it boasts a stunning route. Starting with a swim in the Thames, you'll ride through the shadow of Windsor Castle and a run through Windsor Great Park.
What really appeals to newbies though is the option to take part in the dedicated beginners wave. Designed to welcome first timers to the sport, you'll receive entry to the Sprint (750m swim, 20km bike, 5km run) along with extra support and guidance along the way, including a separate beginners briefing and wave.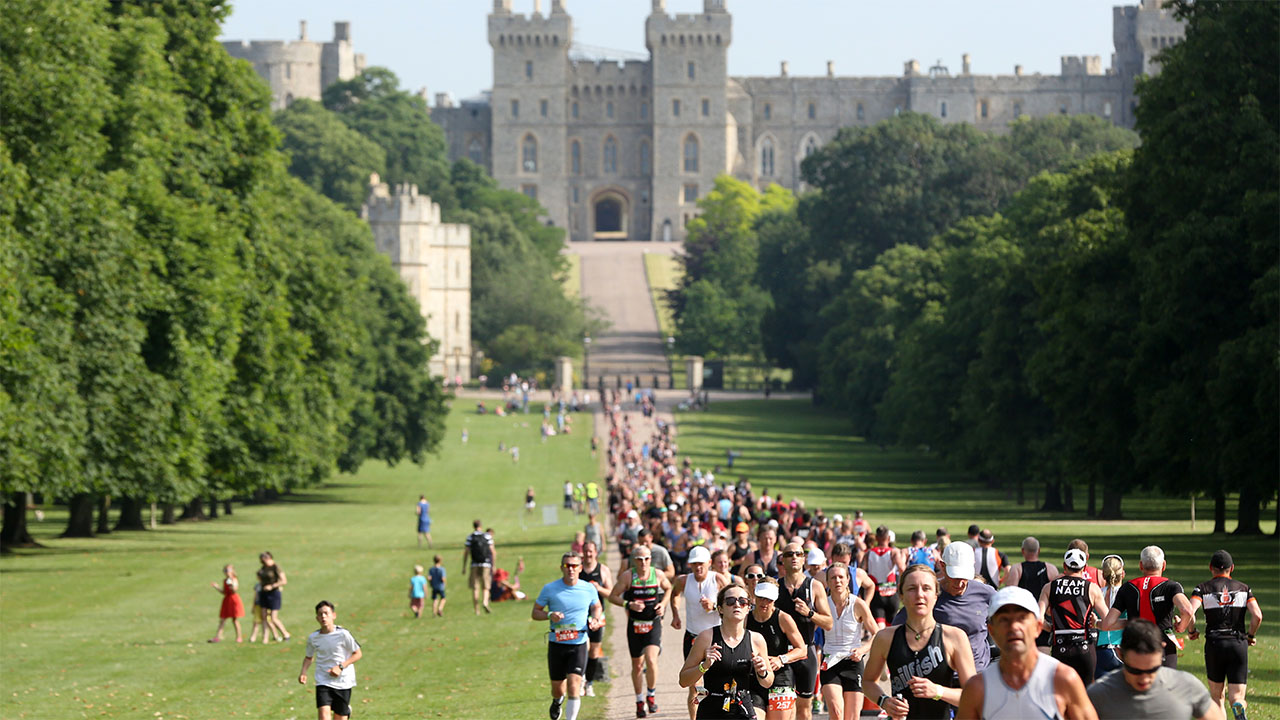 ---
Thames Turbo Sprint Triathlon
Date: 2023 date TBC (usually May)
Location: Surrey, England
Course: Swimming Pool / Undulating
Distance: Sprint
Founded in 1983, Thames Turbo Triathlon Club is one of the oldest and largest triathlon clubs in the UK. It stands to reason then that they would host an excellent, beginner-friendly Sprint (426m swim, 21km bike, 5k run) triathlon.
Offering only one distance the Thames Turbo Sprint Triathlon begins in Hampton Open Air Swimming Pool and finishes at the spectacular Royal Bushey Park. The perfect tri for anyone who might be intimidated by the idea of open water swimming.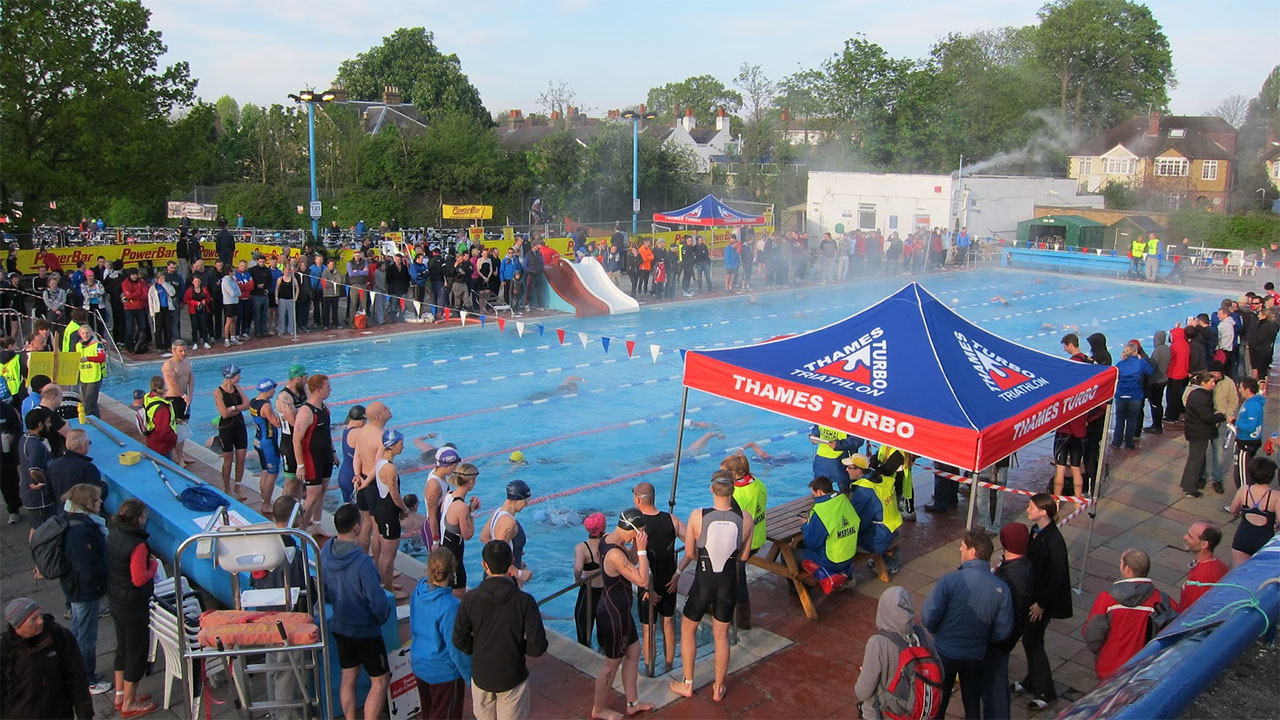 ---
Live Borders Triathlon Series
Date: Multiple Dates
Location: Borders, Scotland
Course: Swimming Pool / Stunning
Distance: Come & Tri / Sprint
The full Live Borders Triathlon Series consists of eleven separate events. But if you're looking for an entry-level triathlon then it's the four Come & Tri (400m swim, 10k bike, 2.5k run) and four Sprint (750m swim, 20k bike, 5k run) options you'll be interested in.
Both the Sprint and Come & Tri events kick off with a pool swim followed by a cycle and run through stunning Scottish scenery.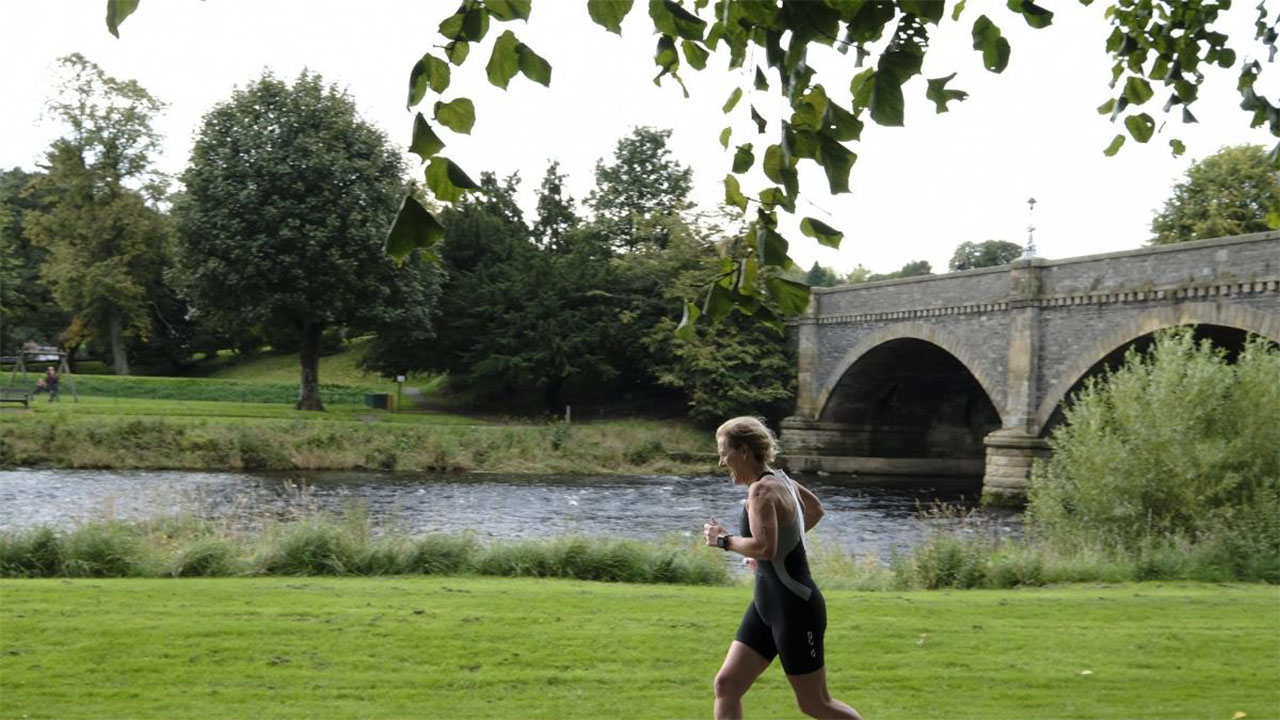 ---
TriAthy Triathlon
Date: 03rd June 2023
Location: County Kildare, Ireland
Course: River / Closed Roads / Flat
Distance: Try-Athy / Sprint / Olympic / Double
Held in Kildare, Ireland the TriAthy Triathlon offers the aptly named Try-Athy distance (250m swim, 20km bike, 4km run). The 150m swim is entirely downstream making it a great option for those dipping their toe into open water swimming. While the 20k cycle is on largely flat, closed roads. You'll finish with a picturesque riverside 4k circuit.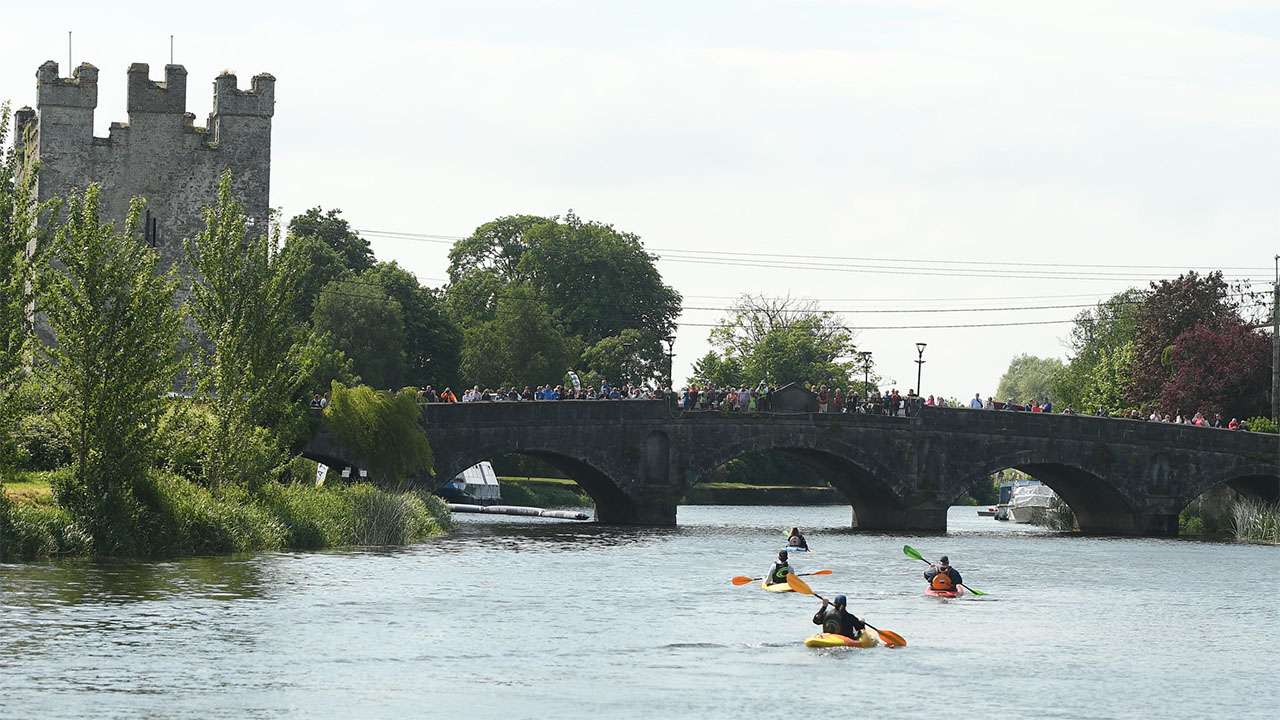 ---
Long Course Weekend
Date: 30th June – 2nd July
Location: Pembrokeshire, Wales
Course: Individual Sports / Scenic
Distance: Multiple options per sport
Long Course Weekend is something a little different and we admit on the face of it isn't beginner friendly! The biggest multi-sport festival in Europe, Long Course Weekend isn't actually a triathlon. But it is a great place to start for those who have their first triathlon booked in or are wanting to see what it takes. Across three days you can take part in swim, ride and run events of all different distances. This allows you to try each discipline with a bit more breathing space than a traditional tri will give you.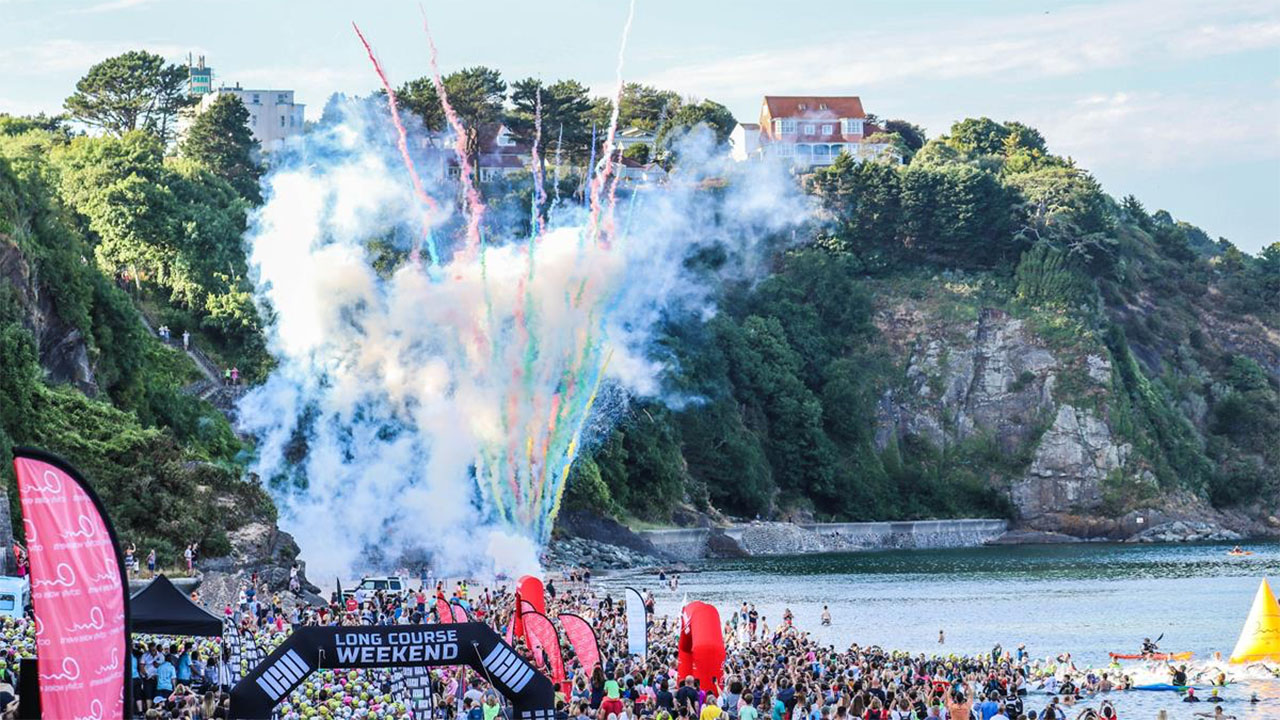 ---
Slateman Triathlon
Date: 10th – 11th June 2023
Location: Gwynedd, Wales
Course: Hilly / Stunning / Rural
Distance: Sprint / Standard / Savage / Legend
It might not be a strictly beginners event but we couldn't leave it off our list. This stunning triathlon has Snowdonia as its backdrop, so as you can imagine we won't be using the words 'flat' or 'easy'.
On the Sprint (750m swim, 20km bike, 5.8km run) course you'll swim in Llyn Pardan lake, cycle past slate quarries and run some of the most beautiful and challenging trails in the UK. Surrounded by dramatic Welsh mountains and forests, this is an awe-inspiring event for those after a real adventure. It's also a great event to start with if you have a longer distance in your sights.
---
Dorney Lake Triathlon Series
Date: 2023 TBC (May to September)
Location: Berkshire, England
Course: Flat / Enclosed Venue / Closed Roads
Distances: Sprint / Standard
Nestled just outside of London, the Dorney Lake Series is a three race series hosted by Human Race that makes the most of its purpose-built rowing lake and flat grounds. The Eton Sprints Weekend, Banana Tri and Season Finale span May to September. They only offer a Sprint and Standard distance but the clear, calm water and lack of elevation make this a real favourite with beginners and PB-chasers alike.