The USA's range of triathlons is as varied and unique as its landscapes, so while there's a mix of difficulty available you can always expect stunning scenery and some good old fashioned American charm. To help you kick start your triathlon journey we've collated some of the best triathlons for beginners in the USA.
Only just entering the world of triathlons? Go back to basics with our jargon-busting guide to the sport's terminology.
American Beginner Triathlons
The USA was where the triathlon was founded and despite the passion for all things long-course, beginners will be delighted to find that there are still a range of distances on offer.
Lake Lure Triathlon
Time Of Year: August
Location: Lake Lure, North Carolina, USA
Course: Lake / Hilly / Breathtaking
Distances: Sprint
Regularly featured on top ten lists of the best destination triathlons, Lake Lure Triathlon in North Carolina is a favourite training spot for many professional triathletes. There's only a Sprint (750m swim, 22.3k bike, 5k run) distance available but you can join the novice waves, or share it with friends and try the relay. The benefits come from Lake Lure's stunning surroundings, including a bike ride through the Blue Ridge Mountains and a downhill finish onto the beach.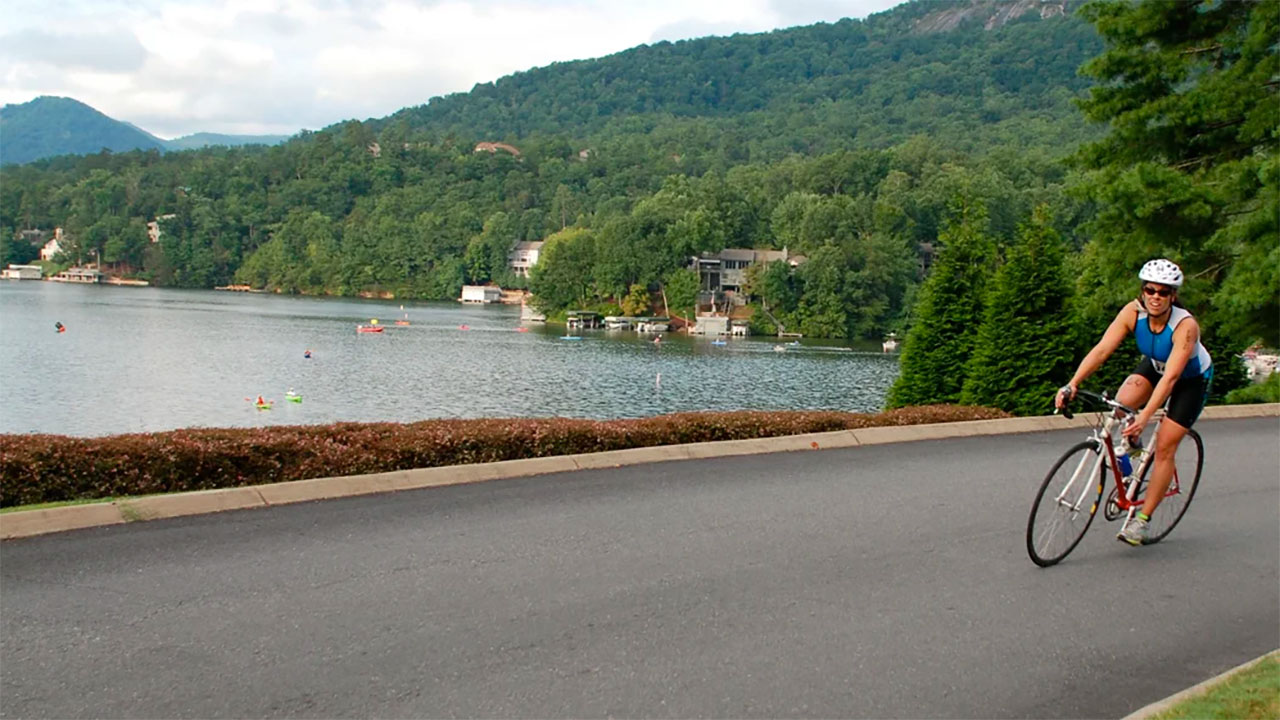 St Anthony's Triathlon
Time Of Year: April
Location: Tampa, Florida, USA
Course: Pool / Flat / City
Distances: Meek and Mighty / Sprint / Olympic
In its 39th year this year St Anthony's Triathlon, Florida is a stalwart of the US triathlon calendar. As an event it welcomes a great mix of recreational runners and pros and there are a couple of options available for first timers. St Anthony's Triathlon offers Olympic, Sprint and what they call 'Meek and Mighty' distances (200yds swim, 5.4 mile bike, 1 mile run). The Meek and Mighty event is aimed at beginners, with the 200 yard swim taking place in a pool, followed by a 5.4 mile bike and one mile run. If you decide to go for the Sprint, then you'll enjoy a fast and flat course through Tampa.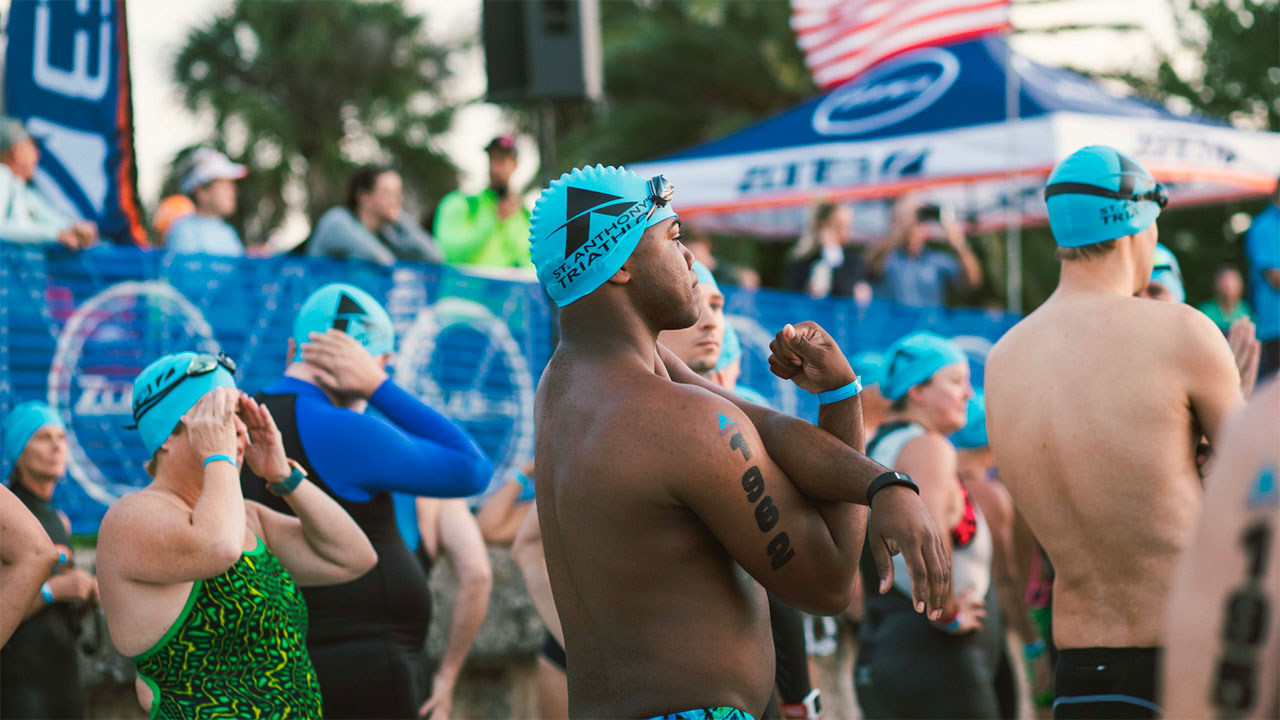 Callaway Sprint Triathlon
Time Of Year: June
Location: Pine Mountain, Georgia, USA
Course: Lake / Flat / Scenic
Distances: Sprint
The Callaway Triathlon, Georgia positions itself as a triathlon for those who, 'don't swim well', 'don't bike much' and 'don't like to run hilly courses'. With a 400m swim around Robin Lake, a nine mile bike and two mile run through the beautiful Callaway Resort and Gardens this is another beautiful course. Nestled in the Appalachian mountains, expect panoramic views of forests, streams and of course the botanic gardens.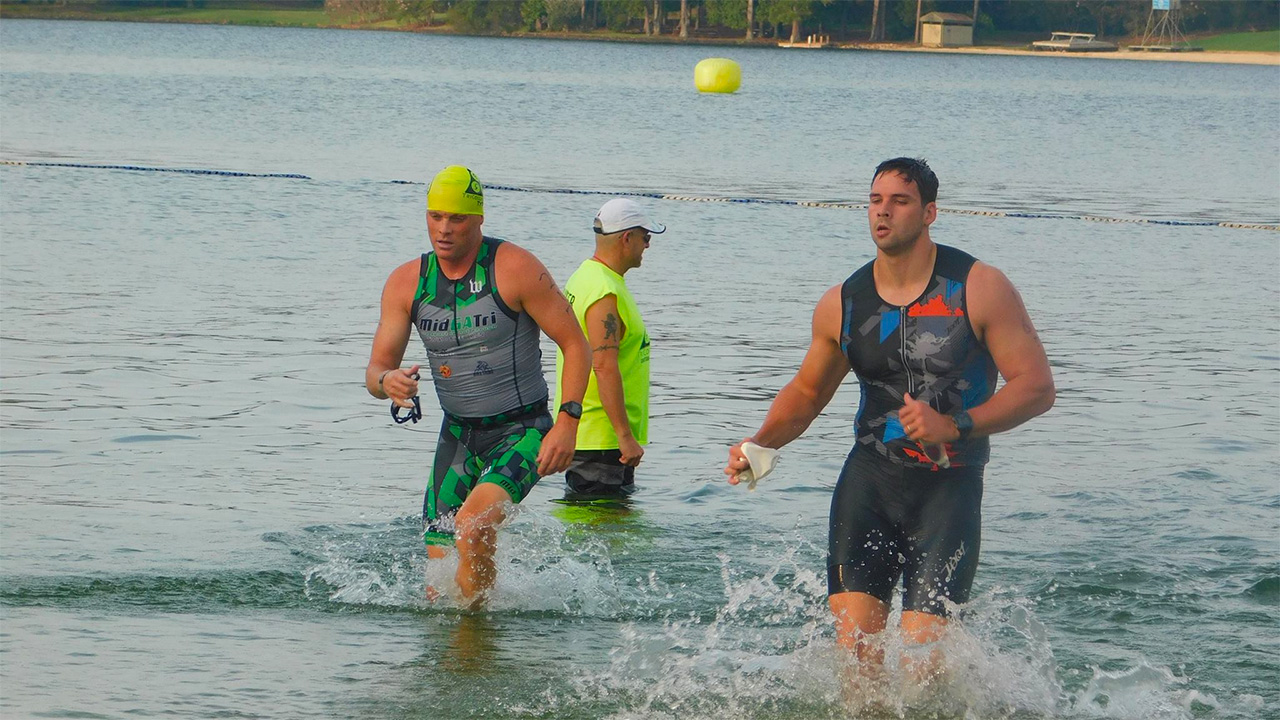 New York City Triathlon
Time Of Year: July
Location: New York City, New York, USA
Course: River / Flat / City
Distances: Olympic
Could we have a list of American triathlons without mentioning the most famous city in the world? Of course not. To help beginner triathletes get involved in what can seem like an intimidating event, the New York City Triathlon has two recreational divisions; First Timers and Friends & Family. The former will see you run with fellow novices in a non-competitive wave, while the latter allows you to run with loved ones. Both divisions benefit from extra support from event staff, coaches and officials. However, there is only an Olympic distance (1500m swim, 40k bike, 10k run) available. Despite that this truly is an iconic triathlon which offers a tour around the city taking in Manhattan and The Bronx and finishing in Central Park.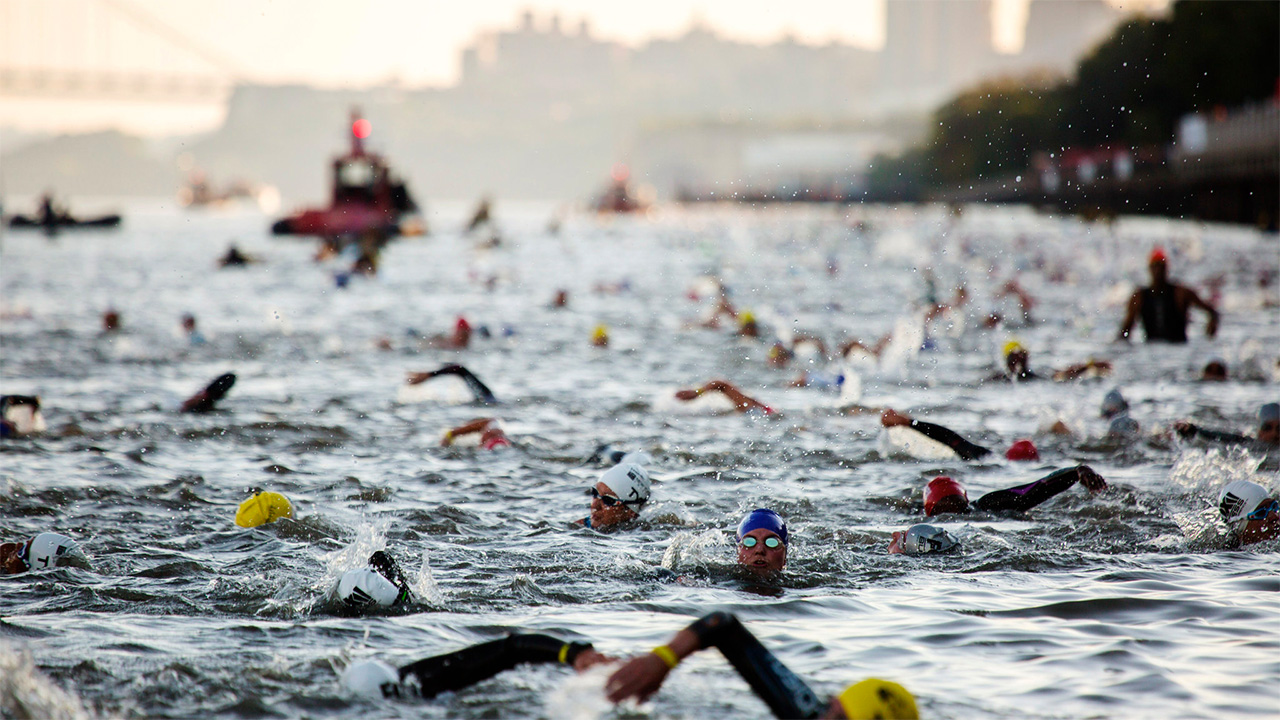 The TRI For FUN Sprint Triathlon Series
Time Of Year: August
Location: Herald, California, USA
Course: Lake / Flat / Trail
Distances: Sprint
As the name suggests this series is one of the best triathlons for beginners in the USA. Set in the 400 acre Rancho Seco Park, Herald, California the TRI For Fun series includes a lake swim, road bike course and dirt trail run. With a flat course and only the Sprint (1/2 mile swim, 16 mile bike, three mile run) distance available, the organisers have done everything they can to welcome beginners. Plus, with 39 plus series of these triathlons, expect a smooth operation and plenty of experienced support on hand.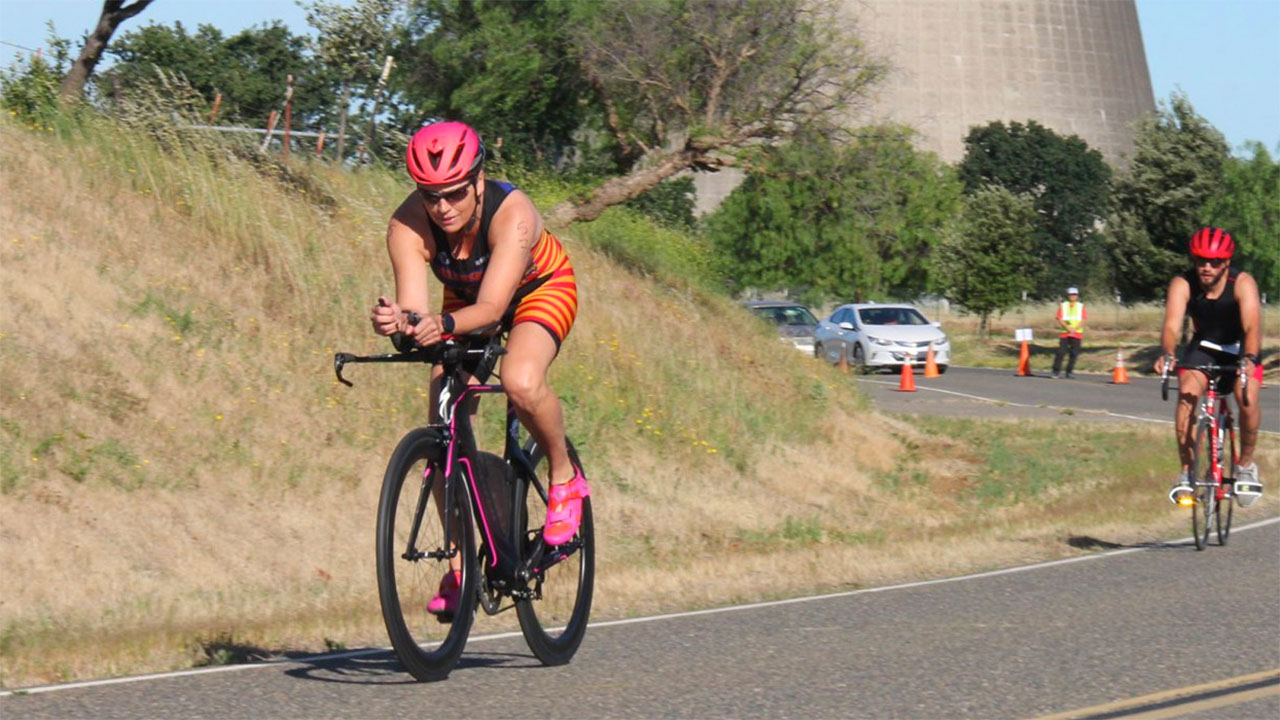 Monterey Bay Triathlon
Time Of Year: October
Location: Monterey Bay, California, USA
Course: Sea / Coastal / Beautiful
Distances: Sprint
If you're not a fan of the urban jungle tris like New York and Chicago then maybe Monterey Bay Triathlon, California is more your style. Expect unbelievable coastal views and maybe even the chance to see some wildlife. Monterey Bay is famous for the marine animals that make it their home including penguins and sea otters.
Take on the Sprint distance and you'll enjoy a swim in the bay followed by a two loop bike ride round the headland, taking in Point Pinos Lighthouse. Finally, the run is an out and back along the coastal trail – we reckon you'll forget what hurts and maybe even that you're taking part in an event, the views are that good. This is another long-running event, so beginners can relax and be reassured that it will run like clockwork.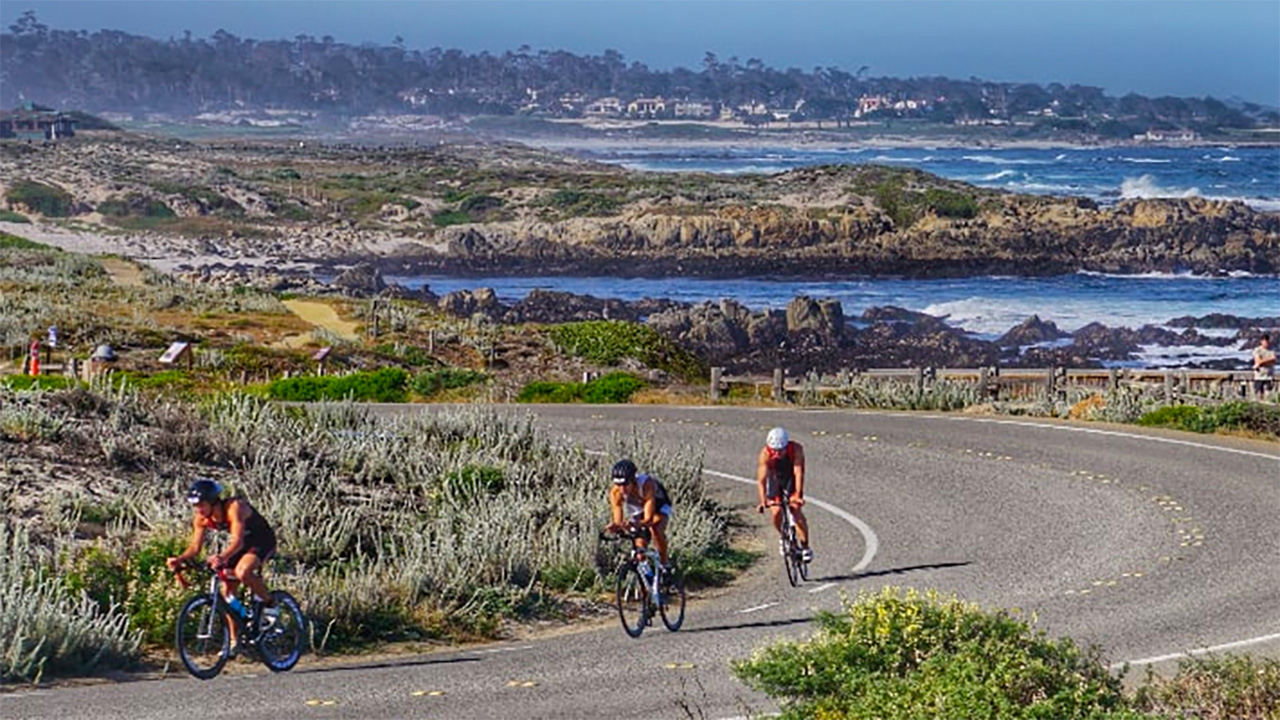 Chicago Triathlon
Time Of Year: August
Location: Chicago, Illinois, USA
Course: Lake / City / Windy
Distances: Sprint
As one of the world's largest triathlons, Chicago is another beloved tri we just couldn't skip. With a Super Sprint (375m swim, 10.5km bike, 2.5km run) and Sprint (750m swim, 20km bike, 5km run) option, the Chicago Tri welcomes triathletes of all abilities and experience. You'll start on the lakefront and head through the city on a fairly straight-forward course, however winds off the lake can make this an unpredictable triathlon. You probably won't mind though as the atmosphere is incredible in the Windy City and will keep you going through any challenge.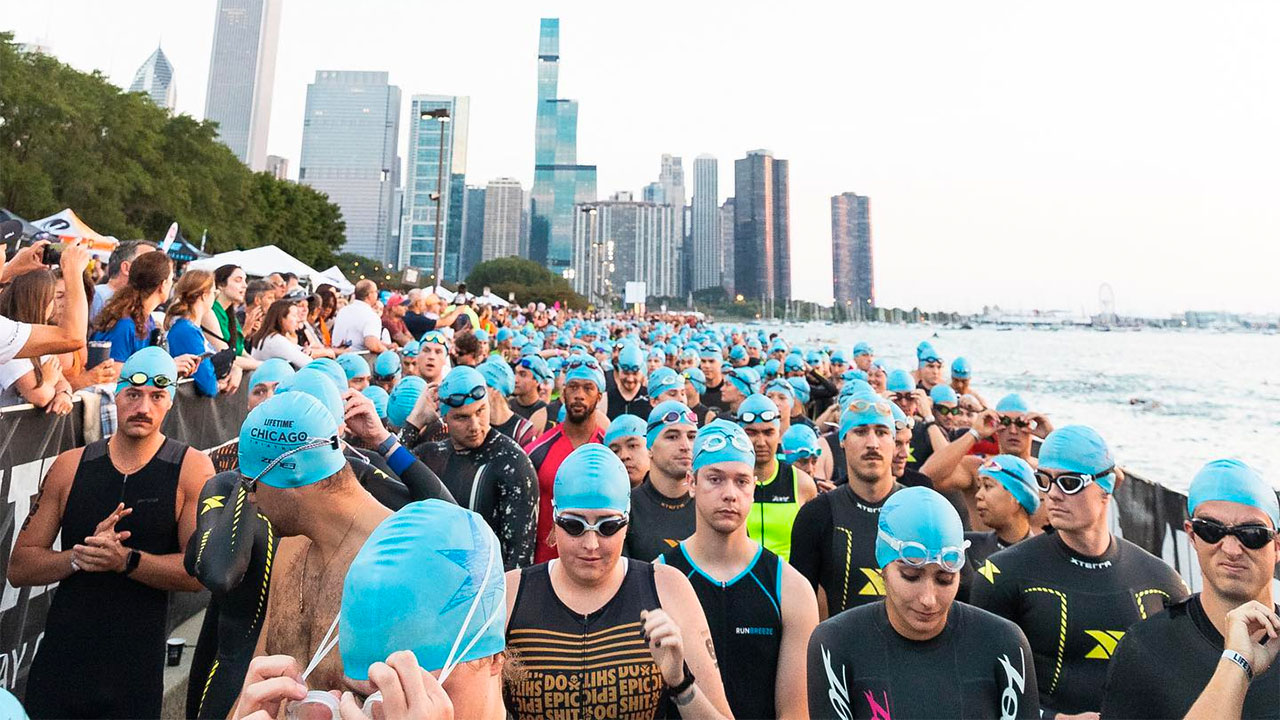 Xterra Portland Triathlon
Time Of Year: August
Location: Portland, Oregon, USA
Course: Lake / Flat / Off Road
Distances: Super Sprint / Full
If the thought of your first triathlon being hilly gives you nightmares then Xterra Portland will be your dream triathlon. This flat (but still challenging course) in Portland, Oregon offers both a Standard (swim 1km, bike 27.5km, run 8km) and a Super Sprint (swim 200m, bike 6k, run 3k) distance perfect for first timers. The 200m swim takes place close to the shoreline of Henry Hagg Lake, so you'll never be in deep water. While the bike ride is on 50% paved pathways and the run on trails. Known for its great organisation and family-friendly vibes this is easily one of the best triathlons for beginners in the USA.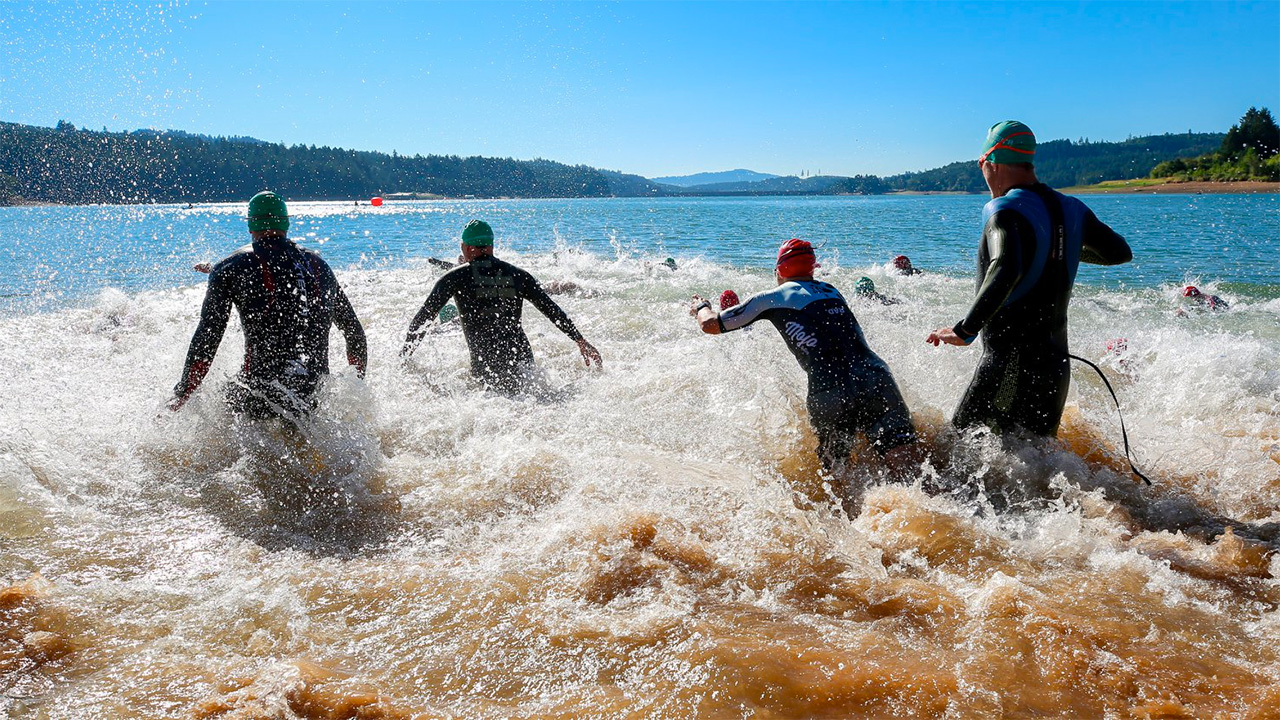 Door County Triathlon
Time Of Year: July
Location: Door County, Wisconsin, USA
Course: Lake / Flat / Coastal
Distances: Sprint
The next stop on our tour of beginner-friendly American triathlons is Door County Triathlon, Wisconsin. Described as 'extremely flat' this popular triathlon welcomes plenty of first timers for the Sprint (¼ mile swim, 18 mile bike, 3.1 mile run) distance, as well as spectators from nearby Milwaukee and Chicago. You'll swim in the bay and then cycle and run through woods, farmland and along coastal paths. This is another beautiful triathlon if sprawling natural landscape is your bag.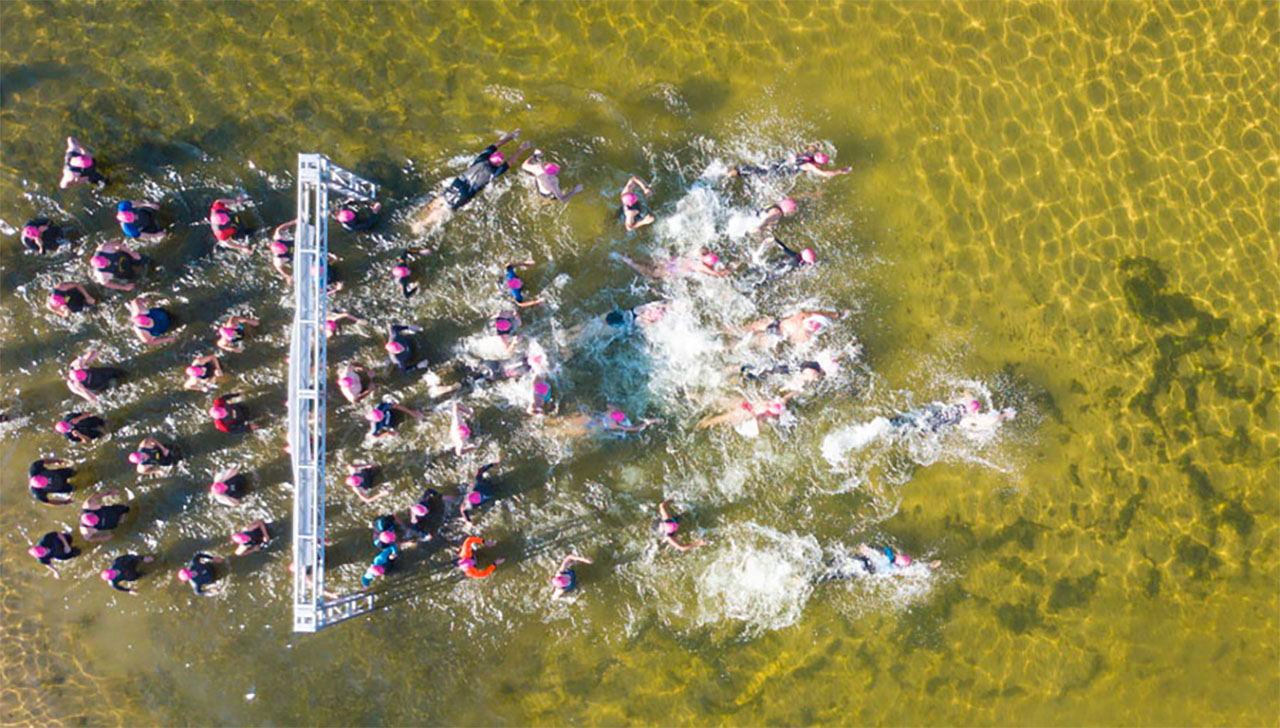 CapTex Tri
Time Of Year: May
Location: Austin, Texas, USA
Course: Lake / City / Party
Distances: Super Sprint / Sprint
Another chance to explore one of the great cities of the USA. CapTex Tri is a popular urban triathlon that takes you through the heart of Austin and into the Texas Capitol. With both Sprint (750m swim, 19.8km run, 5k run) and Super Sprint (300m swim, 19.8km bike, 3.2km run) distances available this is an accessible race for all abilities. What might just push this triathlon in front of the others is the post-event party at Auditorium Shores, with Austin being the live music capital of the world, you're in for a good time.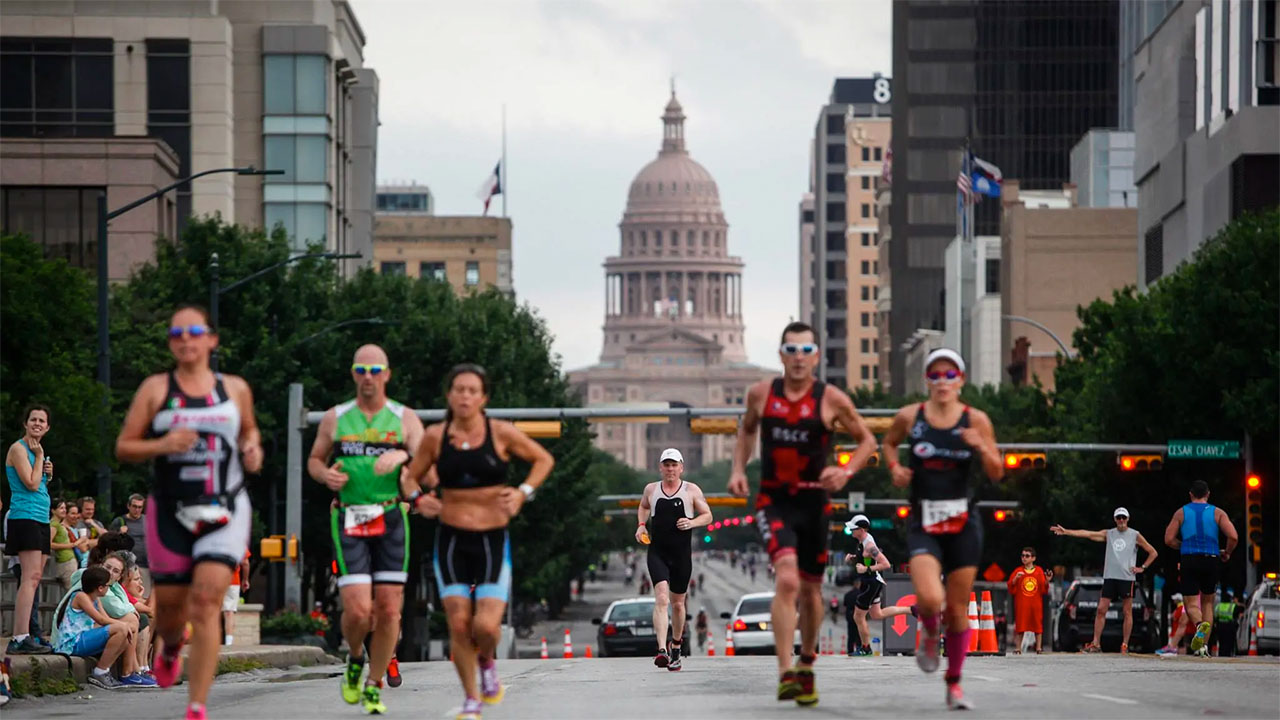 Your Triathlon Journey Starts Here
That's quite the list of the best triathlons for beginners in the USA. Whether you choose a city-centre Sprint or head to the coast with a relay team, it's time to commit and start training.