Taking place in Australia's iconic capital city, nestled between Sydney and Melbourne, Challenge Canberra middle distance triathlon is set in the world's most sustainable city. With beautiful forest trails, multiple outdoor pools and miles and miles of quiet country roads, it's no surprise that Canberra is also Australia's most active city, too.
Hundreds of athletes descend on the capital in November to take part in the triathlon, soaking up the incredible culture and history as they swim in Lake Burley Griffin, ride through the beautiful National Arboretum and run through famous landmarks such as the Commonwealth Park and Commonwealth Bridge, and past Parliament House.
And at the end of the race, rejoice and refuel in one of the many delicious restaurants – or why not take a trip to a local vineyard?
Location – Soak up the culture
One of the most exciting courses in Australia, Challenge Canberra takes in landmark after landmark as you swim, bike and run your way around the scenic and culture-packed city.
Just a three hour drive from Sydney or a short 6 km drive from Canberra Airport, travelling to the race should be quite smooth for local and international athletes alike – and will certainly be worth the long flight if you're travelling from far afield.
Canberra is Australia's eighth largest city, with great connection links from the airport and in the city itself, so it isn't imperative that you have a car – unless you want to go exploring. There are plenty of hotels and apartments in the city, and the official race hotel, Abode Hotels, offers discounted room rates to Challenge Canberra athletes.
If you stay near the centre, shops, cafes and delicious restaurants are all within walking distance. Braddon neighbourhood is home to several award-winning restaurants, with everything from Italian to modern Australian cuisine. If you're a fan of Asian food then head to Dickson, known as the Chinatown of the city, where you can find delicious dumplings and warming bowls of Pho.
THE VOICE OF EXPERIENCE
"This is truly going to be a spectacular course not only for the competitors, but also for the spectators who will be able to follow their loved ones/friends as they watch them swim in the lake, see them multiple times on the bike, to watching them run the 3 lap run hopefully down the finish chute. With me spending 20 years growing up in Canberra it will be very special to be able to bring my identical twin boys – Riley and Ryan @billinghamboys here where we will race together in their first long/middle distance."
Leon Billingham, AUS
If you're arriving a few weeks before the race, there are plenty of places to train in the city, with over 100km of undulating scenic roads and off-road trails, including the 20km path around Lake Burley Griffin. If you want some altitude training, you're just 1 hour 30 minutes from Jindabyne, where you can visit the NSW snow fields.
Course – Rolling hills and a fast, flat run
The swim goes fairly deep water, so athletes must be comfortable swimming in this type of water. However, it's a still, warm lake, which should give any first-time racers some comfort. The bike ride is challenging but rewarding and the run course is a dream for runners with minimal elevation and plenty of fuelling stations.
This course is ideal for first-timers and more experienced age-groupers could easily notch up a fast time – brick training and speed sessions will help you here!
SWIM – 1.9km
The swim starts in the central basin of Lake Burley Griffin, with a single lap, circular course that offers spectators views of every stroke. Professional athletes will have a deep water mass start with a clean swim loop, while the age group athletes will enjoy a rolling start. With Spring making way for Summer, the outside temperature is a warm 23°C / 73°F and the water a balmy 20°C / 64°F – so wetsuits won't be necessary. After the swim, athletes will then have a 200m run to transition.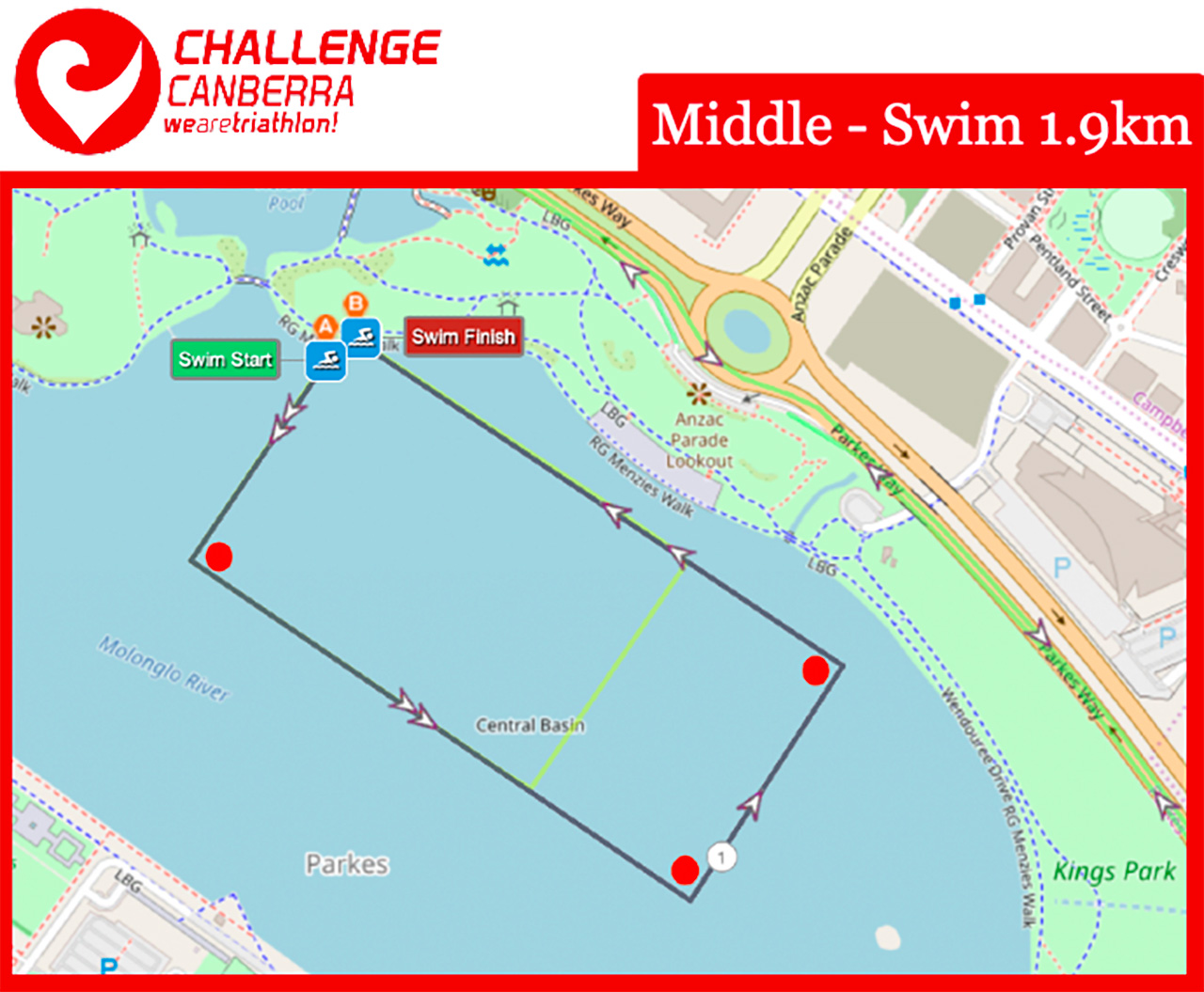 BIKE – 90km
The bike is a stunning but challenging closed course 2 loop route (45km), which goes through the beautiful National Arboretum, where you can soak up the views of Canberra as you take on the heart-pumping climb. This is followed by a short technical section, before descending and smoothing out, giving athletes the chance to really get up some speed. Soak up the atmosphere of the crowd-lined streets cheering you on every step of the way.
RUN – 21km
The 21km run is a flat and fast three lap course (7 km each), around the central basin of Lake Burley Griffin, which takes in the beauty of the Commonwealth Park and Nerang Pond. Once on the foreshore, athletes will be greeted with views over the National Museum and Parliament House, before turning onto a fast and flat stretch along the foreshore passing the Red Bull aid station – a great spot for spectators to cheer on the runners as they pass by the National Library, Reconciliation Place, and the High Court of Australia.
After crossing Kings Avenue Bridge, runners can hydrate at the aid station before reaching the only u-turn point. The return leg to the race venue is another quick and flat section. On the loop there are three aid stations stocked with refreshments and fuel, providing a great running experience for athletes.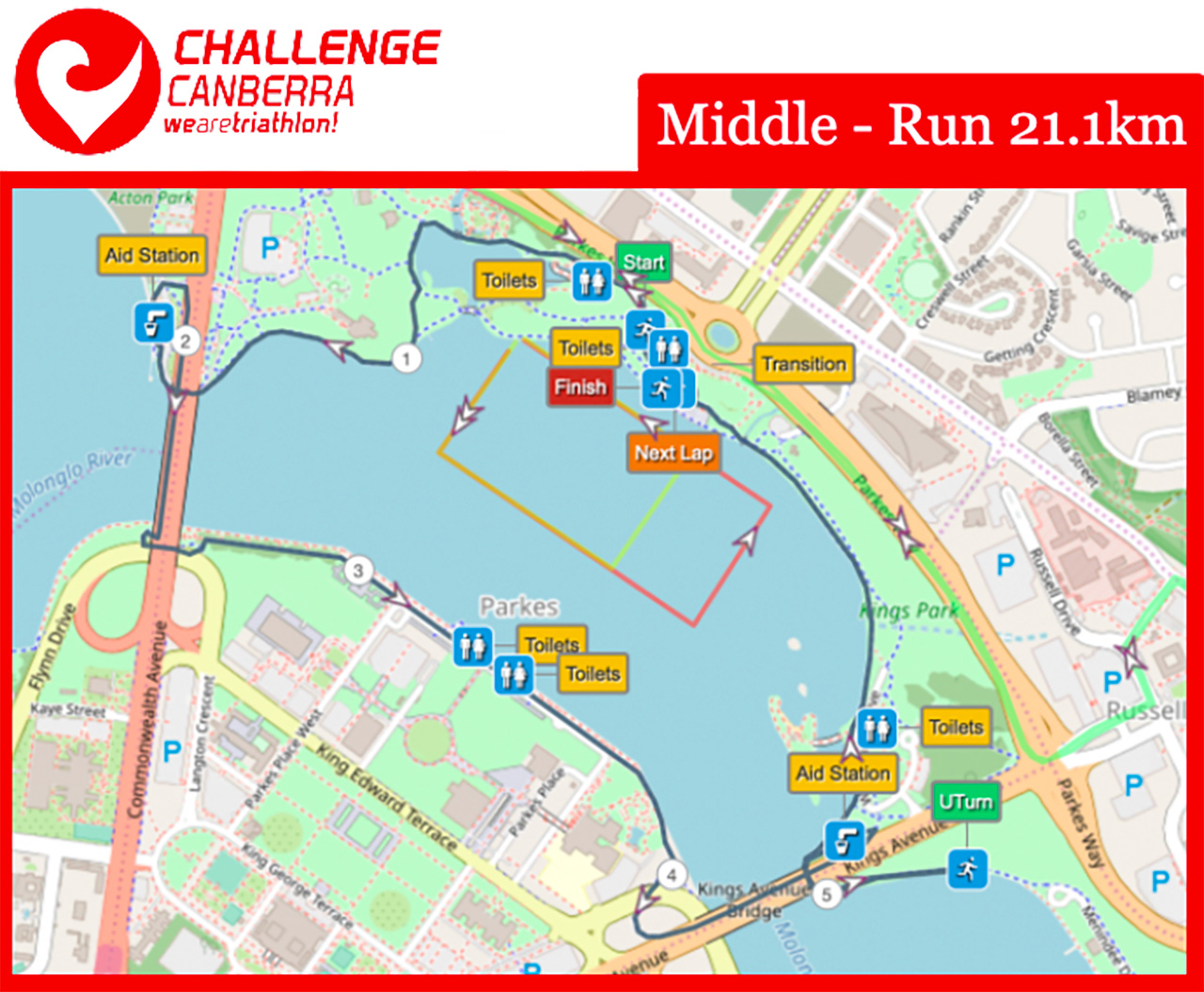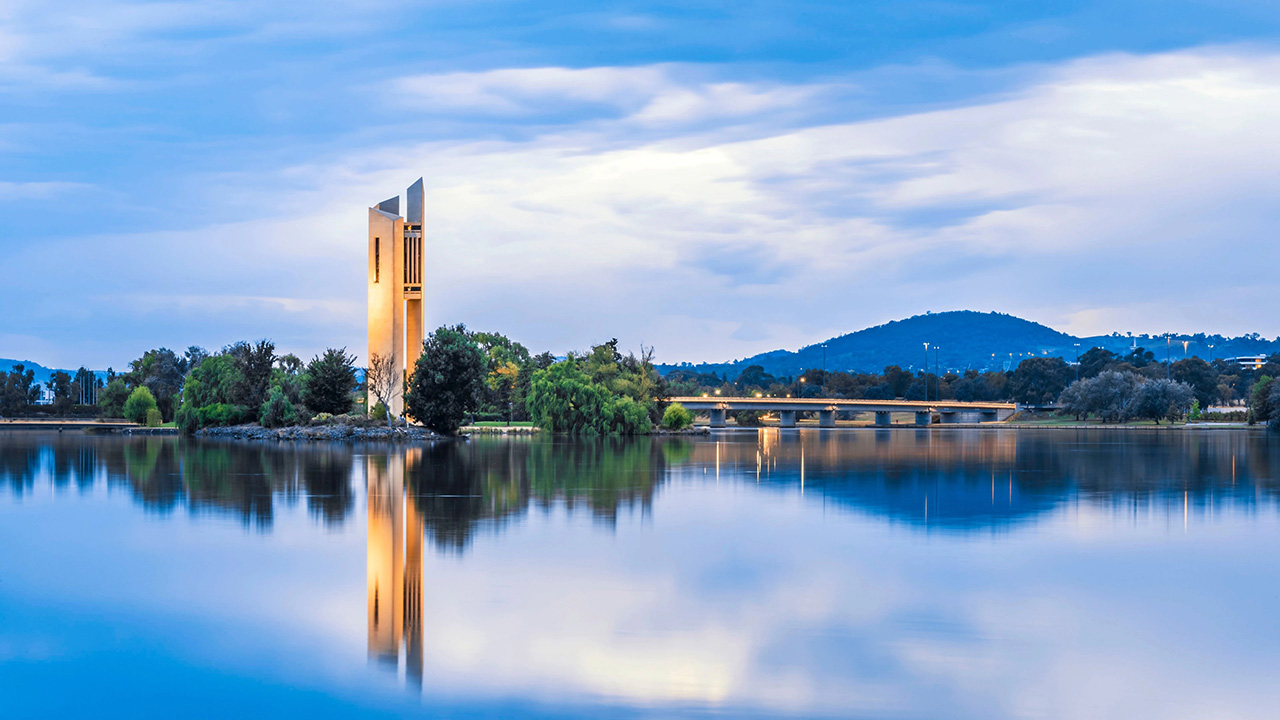 PRO TIP
"One of the main reasons why I stay at home to train so much is the awesome riding we have around Canberra. The Challenge Canberra bike course will be no exception which has a bit of everything; flat fast sections, rolling hills and some punchy climbs to get the lungs burning.
To get ready to race for the bike you'll want to practice some short (4-7 mins) steeper climbs on your bike and work some rolling hills into your TT efforts and practice pushing over the top of them and down the other side."
Penny Slater, AUS
Spectators – Support around every corner
With so many viewing points on the routes, it's hard to beat the atmosphere of this race. Spectators who can watch the whole swim from the foreshore, see their favourites on the bike several times as they pass the magnificent Rond Terrace event site and then catch them multiple times on the run, thanks to the three-loop course.
With the race in the shadow of the Parliament Buildings, and right in the heart of the city, there is plenty to see and do before, during and after the race.
Why Race…Challenge Canberra?
Cycle and run in the vicinity of some of Canberra's and Australia's iconic landmarks such as, the National Arboretum, the Australian War Memorial, the National Museum of Australia and more.
Race through spectacular scenery on a course which offers variety, speed and plenty of atmosphere, with great spectator spots.
Bring the whole family and go on a road trip afterwards, visiting scenic landmarks, mountains, and maybe even a few vineyards while you're there.
THE VOICE OF EXPERIENCE
"To be racing my first middle distance event alongside my twin brother and my dad will be something that I cherish forever and a surreal moment for our family. It makes it even more special that it is the place where dad grew up and somewhere we have visited on many occasions and wondered what it would be like to ride up and past monuments like the Arboretum, views of the War Memorial & old/new Parliament House."
Riley Billingham, AUS
RACE-cation – Stay for the culture (and community)
Whether you've travelled from overseas or made the journey from another area of Australia, surely it makes sense to stay and do some exploring…there is plenty to experience close to Canberra, whether you stay and visit some of the museums and galleries, grab bikes and wind along the forest trails, go for a bimble in the bushland or taste your way around the bustling neighbourhood of delicious delights. For something totally different, take a trip out to Mount Majura Vineyard, a boutique vineyard for natural wines.
If you're with the family or have children with you, there are some great local activities you can do too, like visiting the National Zoo & Aquarium, with a whole host of animals from red pandas to rhinos. Feed the giraffes, watch the white lions bask in the sun, and enjoy a picnic in one of the dedicated areas. Another great place is Gold Creek Village, a wonderland for small children, where they can visit the dinosaur museum, take a walk through the miniature gardens and join a treasure hunt, too.

LET's RACE Challenge CANBERRA
Australian racing at its best in a remarkable setting – enter now and discover this unforgettable course!