How fast can Gwen go over 26.2?
One woman has already followed a similar path…
There is little doubt what triathlon's biggest news story has been this week. On Tuesday, Gwen Jorgensen – the reigning Olympic Triathlon Champion – announced that she was departing from triathlon, with the goal of switching to the Marathon to target Gold at the Tokyo 2020 Olympics in her 'new' sport.
At 31, Gwen is young in triathlon terms, and having dominated the sport in the ITU draft-legal discipline, the opportunity to return to the top – had she chosen to – following the birth of her son, Stanley, was certainly there. Given her success, sporting and commercially, that would have been the logical option. A second Gold medal – in triathlon – in Tokyo would have been a very realistic goal. Olympic Gold over 26 miles, 385 yards? That, without question, is going to be a much tougher challenge.
https://twitter.com/gwenjorgensen/status/927929085539491840
As I outlined in this week's Newsletter (do sign-up HERE – it's free! –  to get yours each week if you aren't on the list yet), athletes entering triathlon from other backgrounds is common – but triathletes, in their prime at least, switching to single discipline (especially running), and then achieving world class status is very far from the norm.
Triathletes and the Marathon
Given the news, not surprisingly, people have looked back at other high-profile triathletes who have dabbled and/or switched to marathon running to see how they did, typically coming up with the following names:
Nicola Spirig
Olympic triathlon champion in 2012, second to Gwen in 2016, few triathletes can match the big race success of Nicola Spirig. The multi-talented Swiss athlete (who has also won over 70.3 and IRONMAN too), has run several marathons, even qualifying for the European Athletics Championships over the distance in 2014 (Zurich), where she finished 24th in 2:37:12, her PB to date. Prior to that, Nicola had finished 7th (2:42:52) in the Zurich Marathon on 6th April 2014.
Vanessa Fernandes
Olympic Games triathlon silver medallist in Beijing (2008), Fernandes was one of the most successful and active triathletes of her generation. With World and European Championship titles in Triathlon and Duathlon, plus 20 ITU World Cup wins (achieved in the pre-WTS days), Fernandes is an all-time great in the sport – reflected in her inclusion in the Triathlon Hall of Fame. A fine runner, Fernandes achieved an impressive marathon best of 2:31:25 at Valencia in 2015, along with a Half Marathon PB of 1:12:37. She's now back racing in triathlon, winning IRONMAN 70.3 Cascais in September 2017.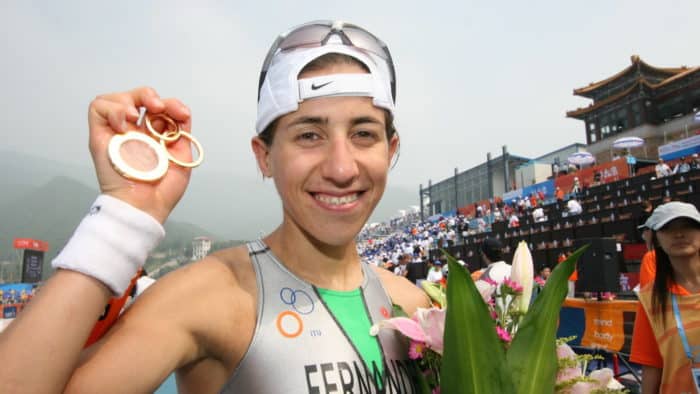 Jackie Gallagher
Another triathlon World Champion (1996), and three time Silver medallist, the late Jackie Gallagher switched to the Marathon and won a major Championship medal in 2002 when finishing third at the Commonwealth Games in Manchester (2:36:37), to add to a PB time of 2:32:40 from the Nagoya Marathon.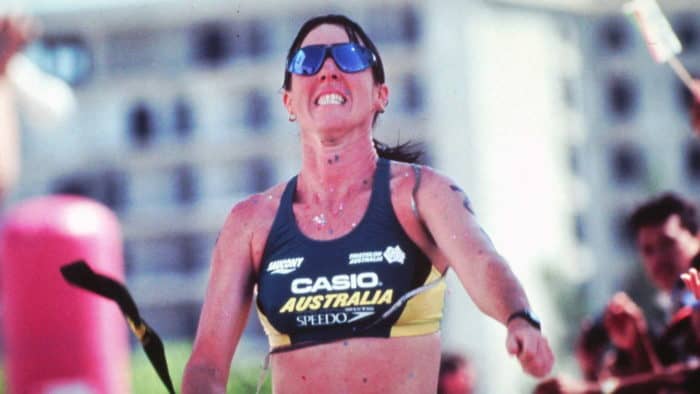 Sara Dossena
Less high-profile, but on Sunday Italy's Sara Dossena finished sixth in the New York City Marathon with a 2:29:39 time. Dossena is an ITU World Cup podium finisher (Tiszaujvaros, 2015), and also finished second in the ETU Middle Distance European Championships the same year (full ITU results HERE). Her 1:10:39 Half Marathon PB set in Lugano in May, is arguably just as impressive.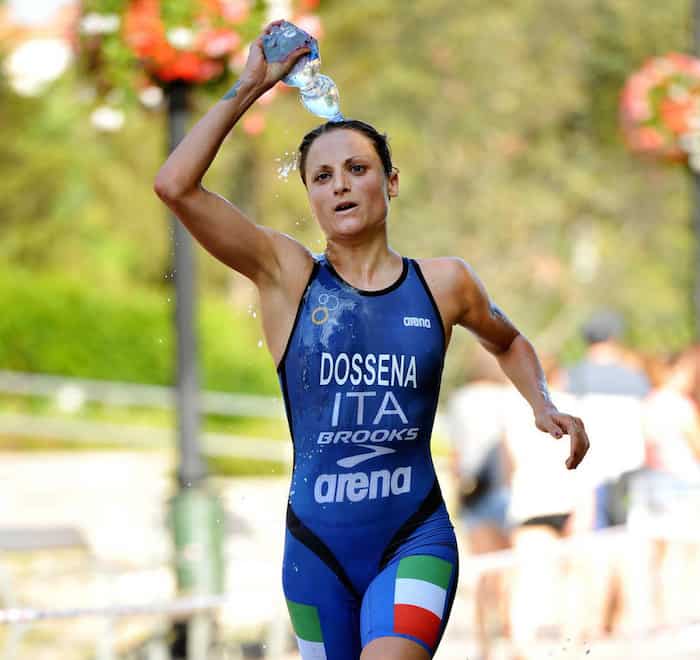 That's all well and good… but Gwen Jorgensen has explicitly stated that her goal is Olympic Gold in the Marathon!
It doesn't take a genius (or indeed, any analysis of any kind whatsoever – let alone a vast number of statistics), to realise that is an exceptionally tough, verging on impossible task.
Before you consider suggesting that is a negative or dismissive comment… take this simple fact. Then read it again to fully digest the level of Olympic history that Gwen is hoping to take on and re-write:
No woman, in the entire history of the Olympic Games, has won Gold medals in two different sports at the Summer Olympics
Is that a tough enough target?! Hopefully that gives some additional perspective on the task – and perhaps suggests that anything less than success (Olympic Marathon Gold in Tokyo), should not be considered 'failure'.
(As an aside that puts into some perspective the achievements of Great Britain's Rebecca Romero, who won Silver (2004, Rowing – quadruple sculls) and Gold (2008, Track Cycling – Individual Pursuit). As if to complete the triathlon connection, Romero qualified for and raced at the IRONMAN World Championships as an Age-Group athlete in 2012).
Ok, so does that mean there is absolutely no hope whatsoever? Is even contemplating qualifying for the Olympic Marathon a dream? Surely no triathlete could ever convert and then win major big city Marathon medals and finish in the top-10 at the Olympic Games?
Except… ONE ATHLETE ALREADY HAS.
Is Sonja Krolik the forgotten German?
There is one benefit to being a combination of old and having a half-decent memory for sporting facts. The best 'top level triathlete turned Marathon runner' is none of the above. It is, without question in my eyes, Sonja Krolik. Married in 1997, the majority of Sonja's Marathon career was under the name of Sonja Oberem.
Way back in 1993, the ITU Triathlon World Championships were held in Manchester. I was there, watching on the finishing straight where I remember seeing Michellie Jones (AUS) outsprint Karen Smyers (USA) for the Gold. In fourth place that day – and just 20 at the time – was first year senior athlete, Sonja Krolik.
Sonja was an incredible triathlon talent. She won the World Junior Championship in 1990, 1991 and 1992 (in those days, Juniors raced Olympic Distance too), and also the European Senior Championships in both 1992 and 1994. Make no mistake, Sonja was a fast-improving, young triathlete at the very top tier of the sport, before she then switched to the Marathon.
How did she do? Rather well…here are a few selected highlights:
1994
Berlin Marathon – 2:26:53 – 5th
1995
World Championships – 2:32:17 – 8th
1996
Boston Marathon – 2:29:24 – 4th

Olympic Games – 2:31:16 – 8th
1997
London Marathon – 2:28:02 – 4th
World Championships – 2:35:28 – 7th
1998
London Marathon – 2:29:39 – 6th

European Championships – 2:32:36 – 12th
1999
World Championships – 2:28:55 – 9th
2000
Olympic Games – 2:33:45 – 24th
2001
Hamburg Marathon – 2:26:13 – 1st (Personal Best)

World Championships – 2:28:17 – 5th

Athens Classic Marathon – 2:36:16 – 1st
2002
Hamburg Marathon – 2:26:20 – 1st

European Championships – 2:28:45 – 3rd

Athens Classic Marathon – 2:37:29 – 1st
2004
Berlin Marathon – 2:26:53 – 3rd
Can we take anything from the career of Sonja Krolik?
A top-level triathlete who transitioned to a long, consistent and successful Marathon career
A personal best time of 2:26:13 (with several other '2:26' performances too)
Qualified for the Olympic Games – and finished inside the top-10.
Finished in the top-10 (with a best of 5th), in four consecutive World Championships
Ran Sub 2:30 at least 13 times.
While none of the above matches 'Olympic Gold medal in the Marathon', were Gwen Jorgensen to match or better some of those performances, I think that would be very impressive.
How fast can Gwen go?
What do we actually know of Gwen's (pure) running ability to date?
Gwen has run one Marathon already:

What does this tell us? Frankly, nothing! This was post-Olympic triathlon Gold, a week after winning the three-day Island House Triathlon and with almost no specific preparation. It's an interesting piece of history – but irrelevant for forecasting her sporting potential over 26.2 miles – in my opinion, of course.
So, what else is there to go on?
Sydney: 10km (Road), 3rd May 2014 – 1st, 32:21 (Results)
Sydney: 10km (Road), 2nd May 2015 – 1st, 32:12 (Results)
US 10-mile Championships, 4th October 2016 – 3rd place, 53:13 (winner was Jordan Hasay, 52:49) – Results
Interestingly, both the 10km and 10-mile times are, in my view, very similar in 'equivalent' terms.
I believe those performances, at that time, indicate (based on courses of similar difficulty)
a half marathon equivalent close to 1:11:00
a marathon around the 2:28 / 2:29 mark
How does that compare?
As above, Sara Dossena ran a 1:10:39 Half and then 2:29:39 for New York, which would be considered – relative to London / Chicago / Berlin for example – a slow course.
Sonja Oberem's best Half was 1:10:13, with a Marathon PB of 2:26:13
Great Britain Marathon runner, Alyson Dixon (who finished 18th in the Marathon World Championships this year in London), has a Half PB of 1:10:37 and a Marathon best of 2:29:06 (the fastest British athlete this year, set at the London Marathon).
Based on predictions from Gwen's (limited, granted) recent road race performances and times, and in comparison to a selection of other athletes, those (triathlon-trained) predictions in the region of 1:11 / 2:28-2:29 feel about right to me.
The big unknown of course is… with dedicated run training, how much faster – if any – can Gwen raise her potential? I'm pretty sure there is an upside – the million dollar question is, how much?
"But Olympic Marathon's tend to be tactical, fast times are less important"
Let's look at the evidence. Here are the Women's Olympic Marathon winners, their winning times… but also, their career PB times added too.
2016 (Rio) – Eunice Jepkirui Kirwa (BRN) – 2:24:13 ** – (PB = 2:21:17)
2012 (London) – Tiki Gelana (ETH) – 2:23:07 – (PB = 2:18:58)
2008 (Beiing) – Constantina Tomescu (ROU) – 2:26:44 – (PB = 2:21:30)
2004 (Athens) – Mizuki Noguchi (JPN) – 2:26:20 – (PB = 2:19:12)
2000 (Sydney) – Naoko Takahashi (JPN) – 2:23:14 – (PB = 2:19:46)
1996 (Atlanta) – Fatuma Roba (ETH) – 2:27:38 – (PB = 2:23:21)
1992 (Barcelona) – Valentina Yegorova (EUN) – 2:32:41 – (PB = 2:23:33)
1998 (Seoul) – Rosa Mota (POR) – 2:25:40 – (PB = 2:23:29)
1984 (Los Angeles) – Joan Benoit (USA) – 2:24:52 – (PB = 2:21:21)
(** NOTE – I have excluded first across the line, Jemima Sumgong (KEN), based on her doping ban announced this week).
What does this tell us?
Yes, it is true that Olympic Games (and Championship Marathons generally), are typically won in slow(er) times than many big city Marathon events.
The Olympic Marathon record of 2:23:07 from Tiki Gelana (London 2012) is currently ranked just outside of the top-200 times ever, while the 'average' winning time – which I would say is of debatable value, given the small sample size and the specific conditions/courses at the Olympic Games – is 2:26:03 – with that further reducing to 2:25:14 if you exclude the particularly slow / tough course in Barcelona (which was particularly slow, a five minute plus outlier).
Far more important however, are these facts:
The Olympic Marathon has never been won by a women with a lifetime best slower than 2:23:33
The average lifetime best time of an Olympic Marathon Champion is 2:21:24
The last five Women's Olympic Marathon Champions have run 2:21:30 or better in their PB races (average is 2:20:11) – with three of those running Sub 2:20 at their peak.
My (statistical) conclusion?
Irrespective of the winning time of the Marathon at the Olympic Games, you need to be capable of running a very fast marathon to be capable of winning under Olympic Games conditions.
In other words, while an Olympic Marathon my be tactical / slow relative to a big city Marathon, they are still not won by 'slow' athletes, getting lucky that the tactics fell their way on the day. YOU NEED TO BE FAST!
Can Gwen Jorgensen win the Olympic Games Marathon in Tokyo?
I'd rate her chances, based on objective analysis, of meeting that particular target as somewhere between exceptionally slim and none. Make no mistake, should she step onto the podium in Tokyo to collect the Olympic Marathon Gold medal, she would have to be regarded as one of the greatest athletes, across all sports, of all-time. (Go back to the Olympic 'two sports' statistic above, before accusing me of exaggeration…).
That said, I think her reasons for making the switch are admirable, brave and frankly… why not?! There are many reasons not to continue in triathlon and Gwen has a passion and desire to see what she can do in her new discipline, which will far better fit her new (family) life. "Don't Die Wondering" is the mantra that British Age-Group athlete turned Pro, Laura Siddall, has based her career on. Gwen's decision is of the same nature – and huge respect to her for it.
I believe she does have the capacity to challenge and potentially surpass the C.V. of Sonja Oberem and be regarded as the best 'triathlete' Marathon runner in history. I also believe that she can feature well inside the top-10 at the Marathon Majors over the next three years. If Gwen Jorgensen is able to progress significantly faster than say 2:25/ 2:26 during her marathon career, that would be a fine achievement.
If she reaches the Olympic Marathon podium in Tokyo, we should all raise a glass to a sporting legend. I look forward to following the journey. Best wishes to you Gwen.