From 4th team hockey and partying, to Outlaw Triathlon champion and Britain's fastest female amateur at the IRONMAN World Championships – the remarkable rise of Alison Wilson
In 18 months, Alison Wilson had gone from "I didn't have a clue what I was doing" to the IRONMAN World Championships in Hawaii, finishing just two minutes short of earning a podium position in only her third iron-distance start.
It's been quite a journey – and a remarkable transformation, as the pictures below show – for the now New Zealand-based British Age-Group athlete who in July this year dominated the Outlaw Triathlon in Nottingham, setting a course record in the process.
Having interviewed already the fastest British Pro athletes from Kona 2016 (David McNamee and Lucy Gossage), I wanted to find out more about our swiftest amateurs this year, starting with Ali.
Alison Wilson's iron-distance record
| Race | AG/Pos | Swim | Bike | Run | Total |
| --- | --- | --- | --- | --- | --- |
| Ironman Wales 2015 | 25-29 - 1st | 1:09:34 | 6:29:51 | 3:53:04 | 11:46:54 |
| Outlaw Triathlon 2016 | 25-29 - 1st | 1:07:53 | 5:19:05 | 3:13:18 | 09:45:36 |
| Ironman World Champs 2016 | 25-29 - 6th | 1:04:36 | 5:36:15 | 3:22:58 | 10:10:38 |
The interview…
Can you tell us about your sporting background and how you ended up in triathlon? Having had a search around – unless I've missed it (!) – it looks like your time in the multisport / triathlon world is relatively recent… I'm guessing you may well have started in another sport or sports?
Yes, correct, I am new to the world of triathlon.
When I was young I remember saying "I want to do an Ironman by 25." But then university life gets in the way, you discover alcohol and going out with your friends. Growing up I was always outside and running around with friends (the benefits of growing up in the country).
I'd always played sport at school but that was it really, I never trained with a club or focussed on any particular sport.
I always had an interest in sport which is why I went to The University of Bath to study Sport and Exercise Science, but that was probably the least sporting time of my life. I played hockey, 4th team at a push and primarily for the social side of things.
My first ever triathlon was as part of a family team where I did the swim, mum biked and dad ran. Then came the 'bet you couldn't do that yourself'…like a red rag to a bull, a few years later… I did Ripon Olympic Distance triathlon, and said I'd never do that again, worst DOMS ever!!
It may not look like the same person… but I promise it is me!
University turned to gap year and ski season, more partying and weight gaining…and having fun. I then started an MSc in Physiotherapy and had the view that if I'm going to be a role model as a physio I need to get fit and tone up.
The story goes on somewhat here, over the next two years I took up and stopped running after being told to "stop running or see an orthopaedic consultant in 10 years for a total hip replacement".
Again, being the stubborn person I am, I was out to prove the specialists wrong…and that I have. I did all the classic 'low impact exercises' and joined 'globo gym' for a once or twice weekly spin class. In 2012 I took up CrossFit (I'm a lover, not a hater of it). I got big shoulders, lost weight and got strong.
Getting back into exercise I started running again and my first race was the Portsmouth Duathlon 2014…where I managed to beat Kelly Holmes (claim to fame). It snowballed from there… I didn't have a clue about training, I just went running mainly up big hills, cycling…mainly up big hills and did CrossFit (rarely/never swam…weakness #1), still had never gone to a club training session or had any coaching.
I had fun with my training and enjoyed turning up to events quiet and unassuming. I then kept increasing the race distance and realising I was finishing top three each time, if not winning them (local events in Portsmouth, Eton Man Middle, Midnight Man). I did my first marathon in 2015 at Brighton (3.29…someone told me sub 3.30 was a respectable time, so that was my goal).
In 2015 after a couple of friends entered Ironman Wales I followed suit and roped Liz my partner in too. I started with my first coach, Dewi Winkle, at the beginning of 2015 as people kept asking me what training I was doing and I would just say 'going for a run and maybe a cycle'… questioning my answer as I was saying it. Let alone did I know what a brick session was, or this 'catch' they talk of in swimming.
Dewi, came in at the perfect time and I put a lot of my progression down to him. He spotted that I didn't have a clue what I was doing, but that I was having fun doing it. He encompassed my enthusiasm and his knowledge and worked wonders for my first Ironman in Wales.
People would ask me what time I was aiming for and what's your this and what's your that… I didn't have a clue. I just said I want to get round it as quick as I can. Wales went well, it suited my strengths…hills. And there I was fortunate enough to meet Mark Turner from Cambrian Tyres/Edco Wheels whom has supported me ever since.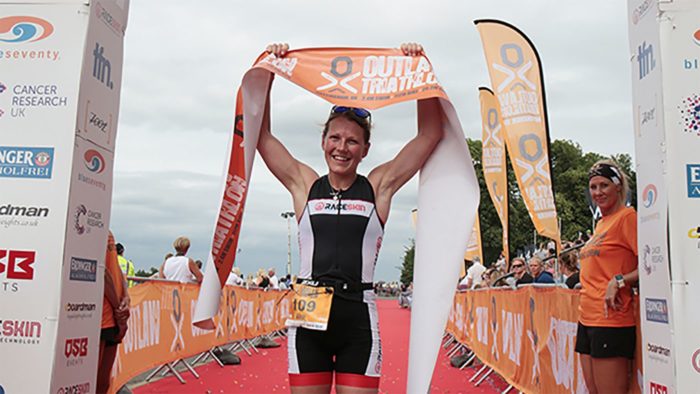 It looks as though you've headed towards the Ironman distance relatively quickly in your triathlon career. Was Ironman something you knew about and was a particular goal from the start, or something you found out about along the way?
I'd always known about Ironman having seen that famous video of the two ladies crawling across the line at Kona, that's when I set the goal of doing one by 25 (I was few years out due to my hip problem). When my friends said they were doing one in 2015 I was only out to 'tick the Ironman box'…and here I am today, still ticking that bloody box.
You qualified for Kona at Ironman Wales 2015 in your first race over the distance. What was your approach ahead of that, and was securing a World Championship slot something you had given any thought to?
I just wanted to get around Ironman Wales.
I'd done Helvellyn Triathlon in the lead up to it, got knocked off my bike by another competitor in the first mile, managed to carry on to get a front wheel puncture flying back down to transition and falling off…so mechanicals, punctures and the bike section are always a concern for me…the only thing that can go wrong that you can't control. (I finished that race by the way, the only race I've cried in…ha.
And probably for my mate the most soul destroying race for him, being over taken by me four times and still finishing ahead). So, I always say I just want to get round a race, I never set myself up for disappointment.
A successful race is knowing 'I've pushed as hard as I could for as long as I could.' My approach to Wales, with thanks to Dewi, was enjoy it! No race plan…just go for it…the best plan I could have asked for.
As much as I recall that video from Kona, I'd never really heard about what Kona was until the few weeks before, when someone said I was in with a chance of qualifying. Kona was the last thing on my mind. I crossed the line not even knowing I'd qualified.
How did you enjoy the Ironman Wales experience – and did your approach to 2016 then change once you accepted the slot for Kona?
I absolutely loved Wales! The atmosphere and the hills. I loved the bike course, tearing up the hills on my Boardman Team Carbon road bike (I still didn't know what a TT bike was).
The run was the tough part, four cheeky 10kms. Race plan; first two 10kms smash them hard, 3rd you know its going to hurt, 4th…well its only a cheeky 10km…
Following Wales, yeah, my approached changed and I realised I could push harder and be quicker.
I was still making massive gains with Dewi, but following a training camp in Portugal I met Philip Hatzis, who showed me ways to really focus in on my training, especially with more intensity training sessions. I changed coaches I think in April 2016, and have continued to get faster and stronger.
You probably first came to wider prominence when you won the Outlaw Triathlon in July and set a course record in the process. What were your expectations and hopes before that race, because pretty much everyone thought the women's race was wide open yet you dominated it and won by more than half an hour?
I entered Outlaw (second ever iron-distance), to 'check I still had it in me.' I was knackered in the run up to the race as we didn't want a big taper from training. I was fortunate enough to be sponsored by Raceskin who have continued to support me throughout, again another sponsor which I fell upon.
I went into Outlaw in the back of my mind wanting to be in the top three, but you never know who turns up on the day, so an unrealistic goal. I'd done a 3.13 marathon by this stage so I was gunning for a similar time. The swim was rubbish… at one point I thought I saw Liz and waved… yes I waved whilst swimming… I'd already lost focus.
So I was rather annoyed coming into T1, for which I got my head down and pushed hard to catch whoever was in front of me. Not the race plan my coach had given me…but it was the race plan I used when I started: push as hard as you can for as long as you can.
I'm still learning that is not the most ideal way of racing, but hopefully that will come with experience. The Outlaw was fun, it was a confidence booster. Coming off the bike I thought…don't crash and burn now, otherwise you will look like a tit. Ha! Seeing Dewi and some other familiar faces on the run course massively helped me along as well.
Tell us a little bit more about that link up with Philip Hatzis / Tri Training Harder, and how that changed your approach to training?
I met Philip in Portugal, having not realised I'd actually met him before in Wales for the swim recce. Funny story really… I was trying to blag a weeks work and training in Portugal so I sent in my C.V. That didn't come about but we still went for a holiday.
I liked his approach to training and structure, although one of the first questions I asked him was "where is the gym?". You have to 'click' with a coach and trust them and I found that I was fortunate with both of mine and we work well together. It changed my approach quite a bit, by then I had a TT bike, but was still riding in my cycle shoes of about 10 years.
He introduced me to cycling with power, HR and zones…all of which I'm still learning. I used to just train, press start and stop and then go 'yes!' my exercise level was 'intense' today!
I love training and pushing myself further and am learning that sneaking in gym, CrossFit, running up big hills, surfing, mountain biking, dodging swimming sessions…may not be the best way to manage a training load, which slightly defeats the object of a coach. Still a huge learning curve.
On to Kona – let's put the race itself aside for one moment, how did you enjoy the overall Kona experience and was it what you expected?
Going into Kona, Philip asked me what was my goal? I looked blankly and said to get round it. And he said ok, lets do that and have fun. Job done. I'm not your typical triathlete, I don't like numbers/data/talking about bikes/kit/etc… so I stayed away from Kona itself and went exploring round Hawaii with Liz, swimming with dolphins, surfing, and exploring.
The hype and the atmosphere was a little too much for me, as fun as it was on the day. I'm not a fun sponge honestly. It was what I expected and it made me think, yea, I've got this…enjoy it.
The race in Kona is often a humbling experience for the first timer – what was your plan / approach leading into the race?
There was a race plan…the main point I took from it (I probably should have taken more from it), was when you get to the climb, don't just smash it up there (like you normally do), the race starts at the top.
I gave it all I could on the bike, with Philip's plan in the back of mind and me thinking…jeez its hot, just maybe hold back a little. The run, again four cheeky 10kms, get the 3rd one done..it will be hard, but then its home…well that didn't go to plan.
The lava fields and highway, mental battle. I'm sure they moved that Energy Lab turnaround point. I lost focus and motivation, I didn't know where I was in the race, it was the first time in a race, I thought…mmm I might not be able to run this all.
I saw Philip in the last few miles and that gave me a little injection of pace but by that time I was shot. I crossed the line and shook my head…why?! Daft I know. I gave it all I could at that time, that to me is a good race.
You ended up with the fastest British female Age-Group time this year against some quality athletes – that's quite a debut?
Yea it was a great debut, more training in the heat needed. I'm a Yorkshire lass, I burn easily and moving to New Zealand where it was their end of winter wasn't probably the best set up for race conditions. And yes the quality of athletes is phenomenal, its such a great experience to race against such quality names and knowing that everyone in that race is going through the same level of pain…so just get it done.
On the other side of that, finishing sixth in your division (two minutes from fifth), meant that you missed out by just one place on earning the coveted Umeke trophy given to the top five. How frustrating – if at all – is that… and did you give any thought beforehand that a podium result was even possible?
Agreed, yes it was frustrating to find that out with only a few miles to go and then not be able to catch fifth, but again, I don't mind. I gave it all I could, they were stronger than me, so I take my hat off to them all and look forward to training for next season where I can come back stronger and faster.
Often life gets in the way of training – yet you also had the additional challenge of moving to New Zealand in the your final weeks of preparation. Can you tell us a little more about that?
Emigrating is something I've always wanted to do, and meeting Liz who had the same plans was the best thing that could have happened. NZ has everything we want…the endless outdoors, the beach, the mountains, the surf, the snow and their relaxed way of life which allows a perfect work / life balance.
It probably wasn't the best of timings, but there's no better way of exploring a new country other than getting out on your bike.
What did you learn from your experiences this year generally and from Hawaii?
What have I learnt from my experiences? From this year I have learnt what 'the catch' is in swimming, how to change an inner tube and that a bike is to be ridden, not to have your life taken over by looking after it and admiring it… it's a bike. Ha!
Alongside that… the most important part of training is to have fun and to push yourself to see what you can achieve. As an athlete with limited training background I'm learning every day, and sometimes learning the hard way. But I also know the importance of staying humble and not letting my competitive edge take over.
Having had such a great year, do you have any plans and triathlon objectives for 2017? Is a return to Kona something that appeals?
Next year I have a schedule already in place with a few races in place and a race is a race for me, I will give it all on the day and see where I get to. I'd love to go back to Kona, without a doubt, maybe this time with more sunscreen and more training in the heat. But the main thing is I'll be exploring NZ in our campervan, fitting in training around that.
Any supporters, sponsors, coaches etc. that you want to recognise / thank for helping you along the way!
I'd like to thank Mark Turner at Cambrian Tyres/Edco, Colin McNeil at Raceskin and Laura Mundy at Threo. Furthermore, to Paul Lew at Ventum who came to the rescue with some race wheels. Additionally, I wouldn't be where I am today without the support from Dewi Winkle, Philip Hatzis, Liz and my family for their consistent support. And finally, to my friends who think I'm a 'fun sponge' for going to bed early and not having a drink…cheers guys.